Get to Know the New 17hats Tool
If you are a freelancer or self-employed professional, you are probably always on the lookout for tools that can make life easier. There's just not enough time to get all your work done and then follow up with paperwork.
17hats, a new cloud software tool, takes a lot of the work out of that paperwork. It integrates contracts, invoices, questionnaires, e-mail, to-do lists, time tracking, bookkeeping, calendars and more into a single login. Here's a look at the tool, some of the key features, pricing and information on how to try it out.
Get unlimited downloads of 2 million+ design resources, themes, templates, photos, graphics and more. Envato Elements starts at $16 per month, and is the best creative subscription we've ever seen.
What is 17hats?

17hats is a pretty new tool that combines many of the apps you are likely using into a single interface. The people behind the tools say is it built for a business of one and includes almost everything you might need to keep your business running smoothly. And the real bonus in this tool is that it includes everything, so you don't have to subscribe to multiple services and have a bunch of windows open to get everything done.
The people behind 17hats are similar to the people they are creating software for. The team is made of seven designers and developers from four countries that have backgrounds in small business, "and just like you, we're trying to build our business," says the 17hats website. "We're committed to staying small so we can keep costs low, which benefits everybody. We have this crazy belief that there are other good-hearted people out there willing to help us get a fair shot against the big corporate players."
The tools include in 17hats are essential components for any business. And after using it for a couple days, you can see how well they integrate with each other. Create a few contacts or projects, link your email or calendar and manage everything through the beautifully-designed interface. All you need to make 17hats work is an internet connection and a few minutes to really set it up and link existing accounts.
Key Features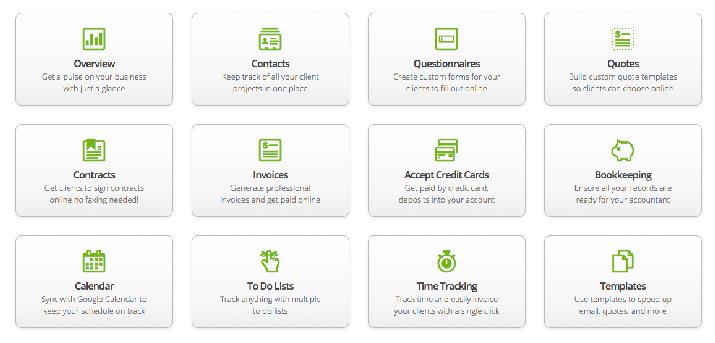 Most of us who are working for ourselves know there is a lot to keep up with. And trying to manage it with a lot of tools can be frustrating. 17hands comes ready to go with 12 integrated "apps" and more are on the horizon.
Here's a look at what you can do with 17hats:
Dashboard/overview: Everything you need at a glance, from calendar items to upcoming to-dos.
Contacts: Keep track of your clients in one place.
Questionnaires: Create custom forms that clients can fill out online.
Quotes: Create custom quote templates for jobs to send clients.
Contracts: Create, send and get documents signed digitally.
Invoices: Create a standard invoice, add jobs and get paid online.
Accept credit cards: Make it easy for clients to submit payments and have them deposited right to your bank.
Bookeeping: Keep track of records for tax purposes or to make your accountant happy.
Calendar: Sync with Google to keep track of all your appointments, clients and jobs.
To-do lists: Track anything you need to get done, even if it's not worthy of a note in your calendar. (You can also assign to-dos to specific projects or clients.)
Time tracking: Invoicing by the hour has never been easier. You can also monitor how much time you really are spending on certain jobs to better billing and efficiency.
Templates: Set up templates for email correspondence, quotes, contracts or other common information so that you don't have to start from scratch every time.
A recent addition is a workflow feature that helps users manage projects even better. Other recent additions include a feature that helps you track your time and including Authorize.net as a payment processor (in addition to Stripe and PayPal).
Who Will Use It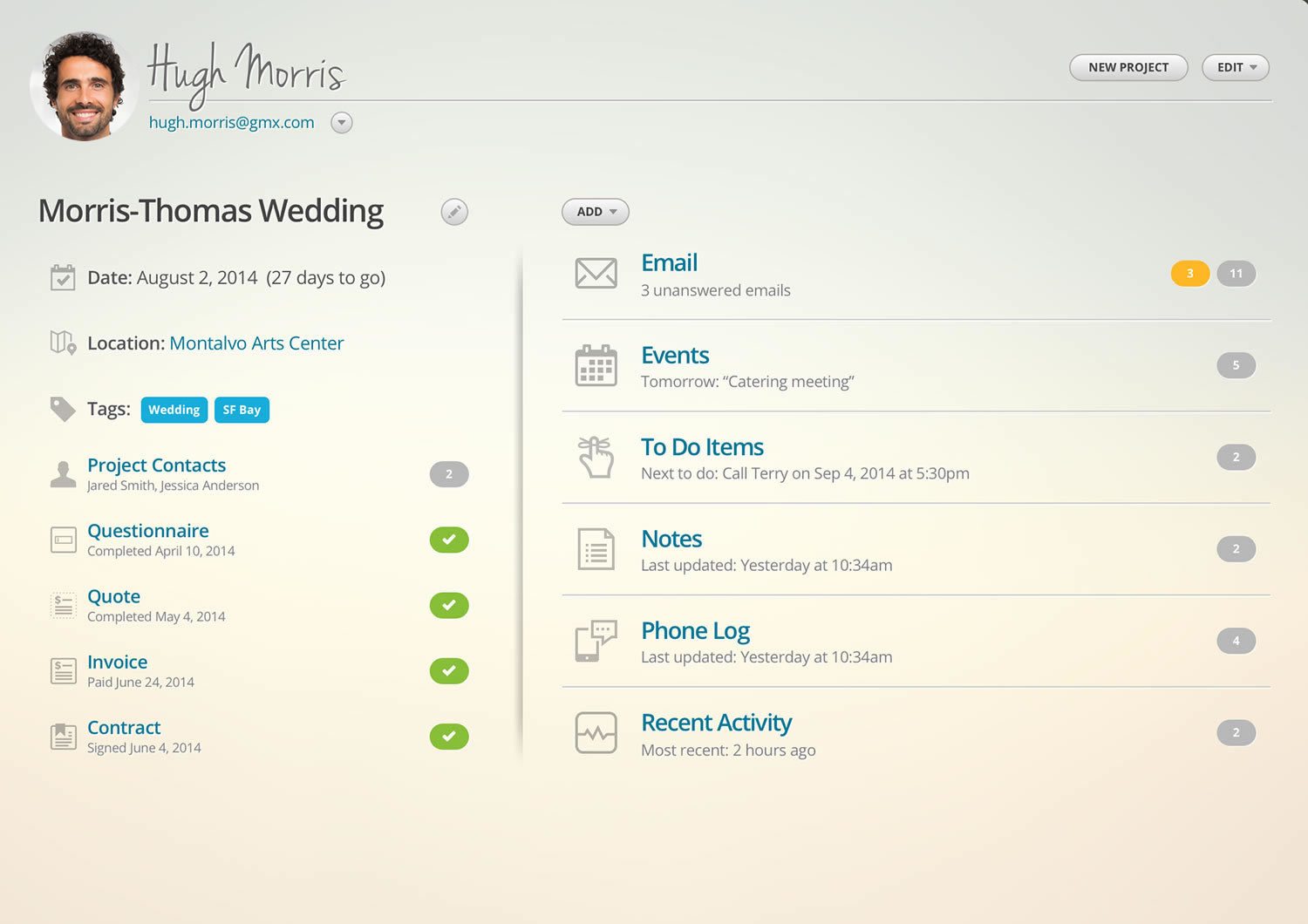 17hats is designed for a variety of professionals and really is made for anyone who is self-employed. This can include freelancers and creatives or almost any other small business owner. Users of 17hats include photographers, designers, developers, virtual assistants, attorneys, entertainers, caterers and many others.
From the 17hats testimonials: "Photographers: I just started using 17hats as the non-photo workflow of my business. It is the Holy Grail in workflow management. I swear! It manages email, bank account, calendar, projects, clients, and a whole lot more. You have to start using it! Gold!" says media producer Kelly Hofer.
Cost
What's surprising about 17hats is that you can get the full set of apps and tools at a pretty affordable price. It really is something that freelancers and small business owners can stomach easily.
There are three plan levels available:
Two year plan: $299 every two years ($13 per month)
Annual plan: $199 every year ($17 per month)
Monthly plan: $29 per month
Start with a free trial – it lasts 15 days and you don't need a credit card – to see if 17hats makes your business life easier. And once you sign up for a plan type you get every tool that comes with 17hats with no restrictions; you can cancel without fees at anytime and the price level you sign up at is locked in forever. (That's pretty sweet!)
What's Coming Next?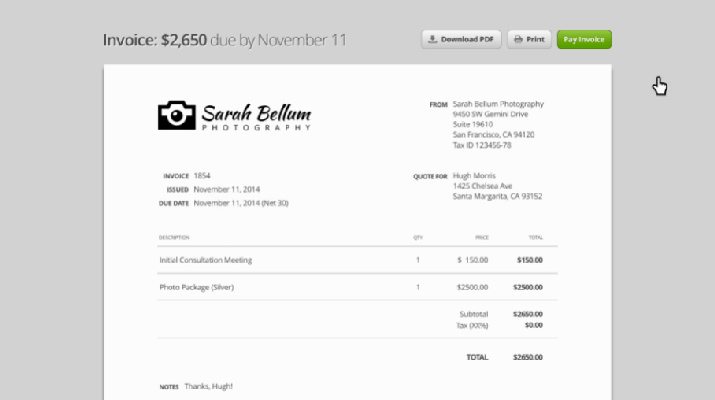 Since 17hats launched in beta (by invitation only), new features have continued to be added. Plans are to keep adding to the toolset as the interface continues to develop as well.
Users can learn about new features, tools and best practices for using the tools in the many webinars put on by 17hats. Find what lessons are coming up and register for one that best works for you.
Conclusion
The 17hats platform is intuitive, useful and well-designed. As a freelancer, I was able to set up everything I needed in just a few minutes with the help of a few on-screen prompts and feel like this tool puts together a bunch of other tools into a single package.
It's easy to use and manage. The 17hats features are simple and powerful for freelancers or small business owners. The 17hats tagline – "Business just got easier!" – is true with this cloud-based software package.