The Best Online Portfolio Service: Three Free Options Compared
Whether you're a freelance designer, a full-time-employee or an out of work designer actively seeking a position, it's a good idea to increase your web presence as much as possible. It's always great to have your own site and domain, but you can easily supplement that with some awesome free online services created specifically to host creative portfolios.
Rather than give you another roundup of twenty of these services and force you to do the research yourself, I've gone through and picked three of my favorites for comparison so you can quickly see which is best for you. Let's get started!
Get unlimited downloads of 2 million+ design resources, themes, templates, photos, graphics and more. Envato Elements starts at $16 per month, and is the best creative subscription we've ever seen.
Meet the Three
To start I'll say that there are a million of these services out there. This article is not meant in any way to be exhaustive but instead serves as a starting point for anyone looking to find a great portfolio site without a lot of effort and research. I've done the work for you, so take advantage of it!
The great thing about the fact that many of these services are free is that you don't really have to choose between them and can easily sign up for all of them! However, from a practical standpoint, I know from experience that it becomes difficult to keep up with more than one or two of these if your resume and work history is constantly changing.
It's also a mess to have several links that you're constantly sending people to, making it difficult to remember who you sent where. For this reason, it's a good idea to pick one service that you can really focus on!
The three that services that I've chosen are Krop, Coroflot and Carbonmade. All three are good enough to sign up for immediately but each has their own unique spin and business model so let's look at each individually and then come to a conclusion about which you should use.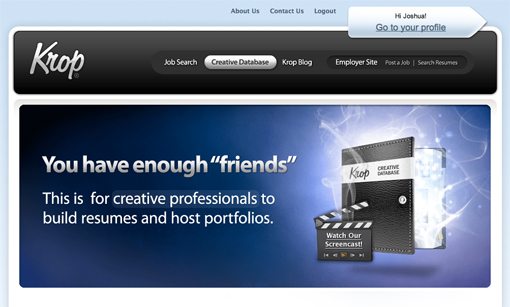 Krop Sells You… In a Good Way
Krop has a fairly unique business model among these types of sites. For most portfolio sites, anyone can stop by and browse/search the public portfolios. Not so with Krop. Instead, they keep their database private and then sell access to that database to businesses looking to hire top-notch creative professionals.
This is actually a great thing for you as a Krop user and I can attest that it can and does lead to you being contacted by great businesses and head hunters looking for qualified candidates.
Your Portfolio
As I said, no one but paid subscribers can stop by and search the Krop database, but your membership as a creative is completely free. Further, your profile is in fact public: you can post a link to it anywhere you like and any non-members can stop by and check out your work.
By default, Krop only gives you one design option for your portfolio, which seems like a bummer but in reality it's one of my favorites on the market simply because it's a great looking and professionally designed page.
As you can see in the image above, the classic template gives you an area to stick a brief bio, three featured images and the option to create various sets to hold your work. Each image can be clicked on for a bigger preview and a brief description.
It's important to note that the free plan is limited to ten images.
Resume
One of my favorite Krop features is the option to include your resume. You don't upload a PDF mind you but instead actually go through and build your resume on the site.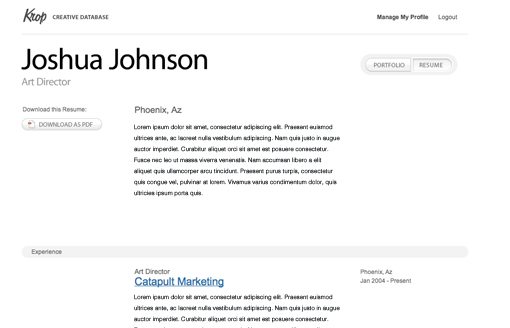 Like your portfolio page, the design is nice and clean and looks very professional. Interested parties can click a link and download a similarly formatted PDF, a great feature for those looking to get hired!
Pro Account
As I mentioned above, there are two account types for Krop: Free and Pro. The Free account limits you to ten images and one design while the Pro account gives you unlimited uploads and a full style gallery to choose from. Added bonuses for the Pro account include video embedding, a custom URL and RSS support.
Job Board
One final feature of Krop.com is the job board, which anyone can access directly from the Krop homepage. The offerings on the Krop job page are both limited and impressive. Typical job boards force you to sift through thousands of crap offerings to find a few quality possibilities, Krop ditches the clutter and only offers up the few solid potentials. You can even have Krop alert you of interesting jobs as they arise in your area.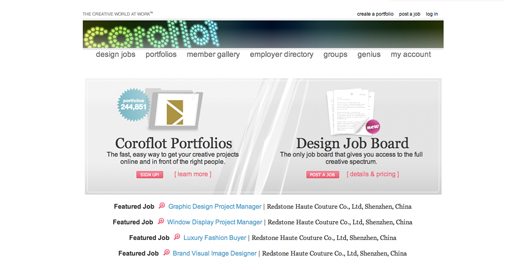 A More Social Experience
Coroflot differs from Krop in that it's much more of a social network. You can follow other creatives and be notified of their activity, update your status, and send private messages to other users. You can also "Like" individual works by other designers, which go into a "Likebox", a great way to store and organize creative inspiration.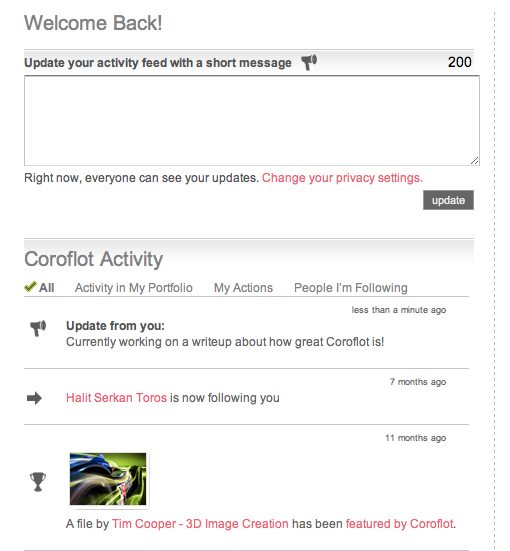 If you're not crazy about having yet another social network to manage, don't worry, these features are fairly optional. Without them, Coroflot is still a major contender with a lot of competitive advantage in the online portfolio service industry.
Your Portfolio
Though not quite as classy as Krop, the basic Coroflot portfolio design is still very clean and attractive. Plus, you get free unlimited file uploads. That's right, no upload limit means you can showcase as much of your work and create as many sets as you want. If you have a lot to show, this is a clear advantage over Krop.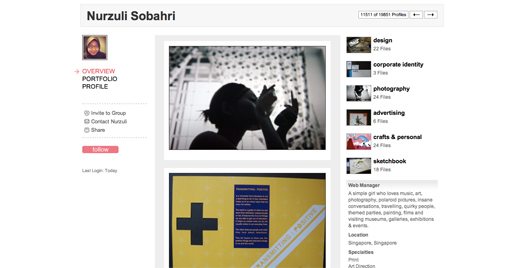 Just as with Krop, your portfolio here has a brief bio, three featured images and previews for your various sets of work. Other Coroflot users will also see the option to follow you.
Visitor Statistics
Another killer feature of Coroflot is the ability to see how many people are stopping by. With any of these portfolio sites, you always wonder if it's really increasing your visibility, but with Coroflot you get hard facts about how many hits your portfolio is getting.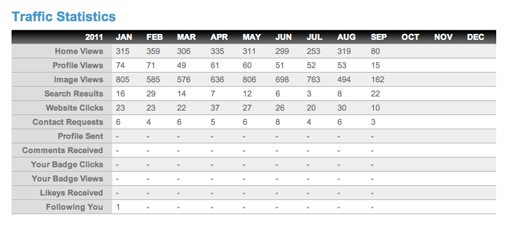 Open for Business
If you didn't like the way that Krop charges people to search the creative database, you might like the openness of Coroflot. They have both member and employer directories that are completely searchable/browsable and open to the public.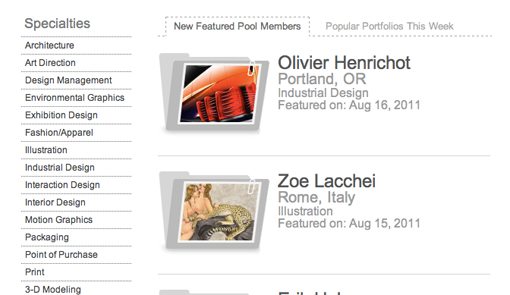 As a designer, I absolutely love browsing through the wealth of amazing work on Coroflot. It provides great inspiration and even helps you build some some solid contacts in the design community.
Job Board
As with Krop, Coroflot also has a job board. They charge job posters and therefore keep the board itself free and open to anyone. If you're looking for work, this is a really solid place to start. Coroflot has a ton of great job listings for everything from art directors to 3D modelers. No matter what you're good at, you're sure to find a few solid leads here. As with Krop, you can setup job alerts to keep you informed while you're away.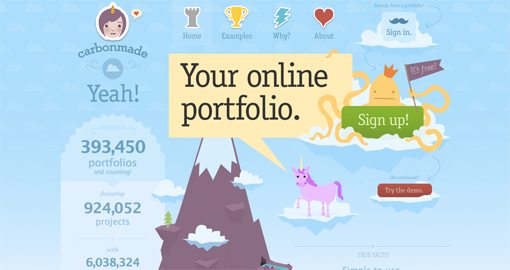 The Friendlier Portfolio
I'm typically drawn to the clean and professional look when it comes to portfolio services but if you're instantly bored to death looking at the rigid, corporate-looking sites above you might want to check out Carbbonmade.
As you can tell from the screenshot above, Carbonmade instantly sets itself apart as a friendlier, not-so-serious way to create a page for showcasing your work online.
Two Plans
Just as with Krop, Carbonmade has both a free and premium plan to choose from, cleverly named Meh and Whoo!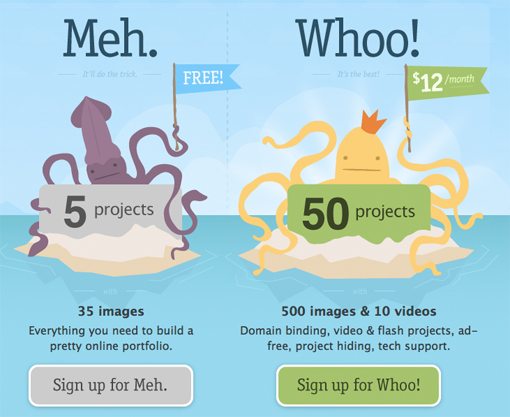 As you can see in the image above, the premium plan gives you more projects and images, strips away the ads, allows you to have a custom domain, enables Flash and video uploads and gives you more customization options like replacing the Carbonmade logo with your own.
As you set up your free account, you'll see several additional options along the way that can be unlocked with a premium account.
Your Portfolio
Carbonmade portfolios are extremely simple but quite attractive. You basically get a page of thumbnails or horizontal stripes, each of which represent your various projects. The level of image, text, and color customization available on this page depends on your account, the free plan offering mostly generic text and color options.
Obviously, with the premium plan you have much more freedom. Notice how Brian Hoff's logo is displayed in the top left of his page below: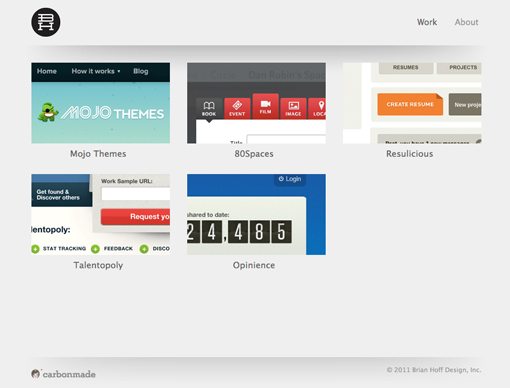 Clicking on a project will take you into the collection of images associated with that project. Here you can choose to have the images contained in a slider or just inline on the page. Once again, free users get a very basic offering.
Which Should You Choose?
Now that we've taken a close look at each service individually, let's compare the three to see which will work best for your needs. Here's a quick visual rundown of the various features and options: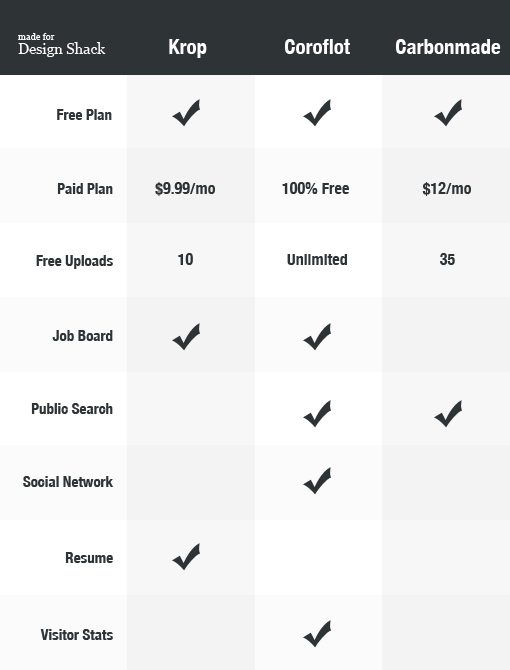 As you can see, all three have a free plan while only Krop and Carbonmade have premium options (Krop being the cheaper of the two). However, Carbonmade gives you quite a few more images on your free plan than Krop does, though neither can touch Coroflot's offer of unlimited free uploads.
Going down the line, both Krop and Coroflot have job boards and are even fairly well constructed as a place to actively search for a job and remain visible to potential employers. However, Krop restricts public search while Carbonmade and Coroflot let anyone browse their user database. This could be either a pro or con depending on your needs.
In the unique features, only Coroflot has the social network aspect that allows you to follow and communicate with other users and only Krop offers a resume builder and the option for visitors to both view your resume online and download it as a PDF. Coroflot also has the awesome stats feature that no one else offers.
And The Winner Is…
If you look purely at the chart, Coroflot comes out as a clear leader in many areas. If you're looking for a nice all in one solution, this is your best bet: display tons of work, connect with other designers, track visitor stats, browse jobs and a lot more.
However, Coroflot doesn't win everywhere. For instance, the customization features are pretty weak. Unfortunately, this is fairly true of all the options if you're looking at the free accounts. If you're willing to spend though, both Carbonmade and Krop offer plenty of customization features. Krop even offers a complete style gallery of great design options to choose from.
In many ways, Krop is the most limited of the three, allowing only ten uploads and restricting public search of portfolios. However, you can still share your portfolio with whoever you want and it's one of the most professional looking options out there, even on the free plan. The resume feature also earns Krop some major points above the others.
Carbonmade is more expensive than Krop for the premium plan, but you do get over three times as many uploads in the free plan. There's also something to be said for simplicity and friendliness, which Carbonmade excels in.
Overall, I would say Coroflot is the best all out free service with the most to offer. Krop stands out as the option to go with if you really value clean design, a professional appearance and the ability to easily build and share your resume. Carbonmade is the option for people that want more customization options than Krop or Coroflot without the other features that don't matter to someone who simply wants a page to show their work. If you're looking for simple, straightforward and fun, your best bet is definitely Carbonmade.
Alternatives
Don't see your favorite portfolio service? Don't be angry, these are just three options that I've tried and wanted to share. There are tons of other really solid other choices:
Which Service Do You Use?
Now that you've seen our in-depth comparison of Krop, Coroflot and Carbonmade, it's time for you to weight in and let us know which service you think is the best and why.
If we didn't mention the site that you use, leave a comment and tell us all about it. For quick comparison, be sure to let us know how it stacks up to these sites in the areas listed in the chart.