Web Design Critique #79: Chique Drupal Theme
Every week we take a look at a new website and analyze the design. We'll point out both the areas that are done well in addition to those that could use some work. Finally, we'll finish by asking you to provide your own feedback.
Today's site is Chique, a premium Drupal template from More Than (just) Themes. Let's jump in and see what we think!
Envato Elements gives you unlimited access to 2 million+ pro design resources, themes, templates, photos, graphics and more. Everything you'll ever need in your design resource toolkit.
If you'd like to submit your website to be featured in a future Design Critique, it just takes a few minutes. We charge $49 for critiquing your design – considerably less than you'd pay for a consultant to take a look at your site! You can find out more here.
About More Than (just) Themes
"More than themes proudly presents some of the best Drupal, HTML & PSD themes & toolsets around. Some awesome freebies too. With pixel-perfect design, automated installation procedure, unique support and detailed installation instructions, all created by people you can easily reach, people like you; bloggers, web designers, coders and drupal geeks."
Here is a screenshot of Chique, the specific theme that we'll be looking at today: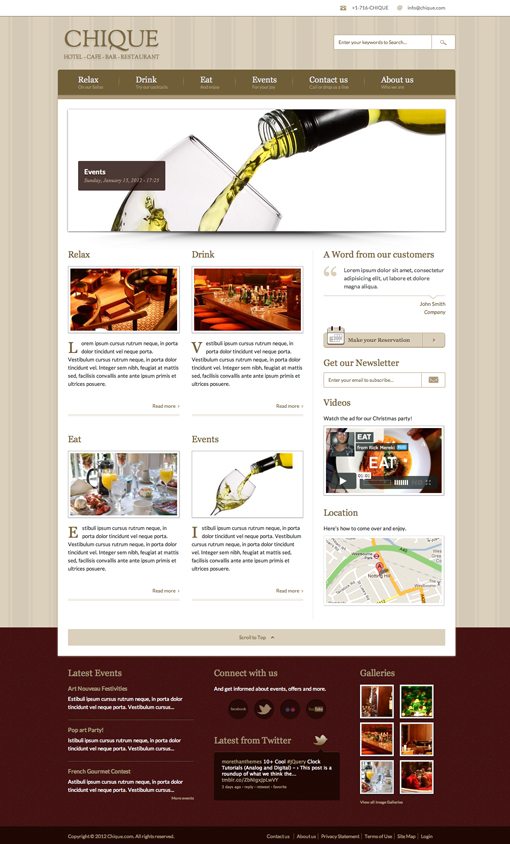 First Impression
This critique is going to be a little bit different than our typical one because the item that we're looking at is actually a product for sale. This means that we should not only judge it based on the usability and design, but also the options and features that the purchaser will be able to utilize.
Fortunately, right off the bat I'm quite impressed all around. The theme is stocked full of great, powerful features that are good enough for both beginners and professionals to enjoy. Further, the aesthetic is quite nice and, as we'll see, flexible enough to fit many different styles. Let's jump in and look around.
Layout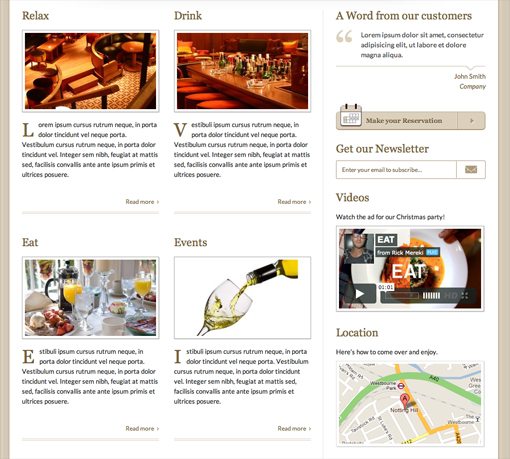 The main section of the homepage is a solid three column layout with the sidebar being slightly wider than the primary columns on the left. These two columns are mainly used to drive traffic to other parts of the site, with thumbnails and teaser paragraphs. The sidebar is your typical "widget" area, containing various interactive features.
This theme is particularly suited for restaurants, hotels and the like, and the sidebar widgets reflect this: customer quotes, a reservation calendar, a quick map, etc.

The footer continues with the three column format, though this time with slightly modified proportions. Here you'll find a section for events, another for social media and a third with thumbnail images that lead you to a gallery.
Secondary Page Layout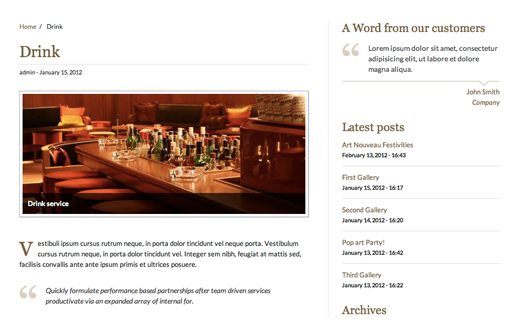 As you can see in the image above, the secondary pages use a simpler two column layout, often with a large header image topping the left column of text, and a list of links with a login form on the right (you can optionally use a single column layout with no sidebar).
Overall, I think the layout throughout the site is great. The bones for the site are solid will work well for showcasing not only several different types of content, but lots of it without looking the least bit cluttered. It's easy to over think content presentation and with multipurpose themes like this it's almost always best to keep things simple.
Typography
I'm pretty picky about typography, especially little things like the ratio of font size to line height and width. The type on Chique looks great though, I can tell that the designer invested some time in getting it right. There are even some nice artistic touches like drop caps scattered throughout the site.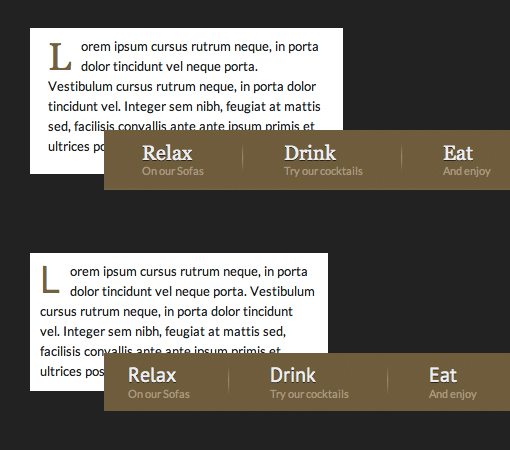 One of the really cool features in Chique is the ability to customize the fonts that are used via the admin panel. It's really easy, all you do is click on "Font Settings" and choose from several different font families for the site name, headers and paragraph copy.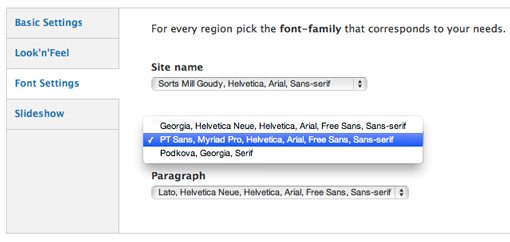 The Chique theme goes all out with customization options and lets you choose a lot more than your font. Next let's take a look at how you can change the color scheme and background to suit your needs and preferences.
Color and Backgrounds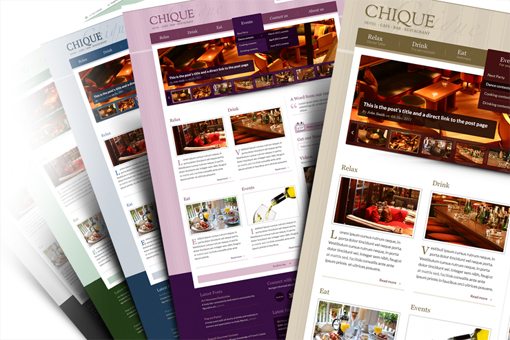 Changing the fonts in the theme actually creates a pretty subtle aesthetic shift, if you want to go big you can swap out both the color and the background pattern. You can create your own style by choosing between five different color schemes (brown, purple, blue, gray, and green) and a whopping twelve different background patterns.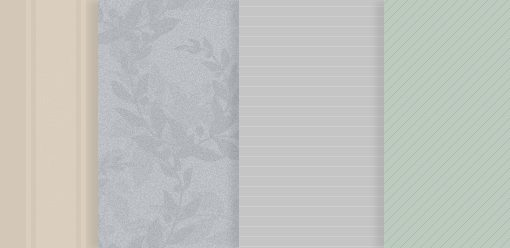 Swapping between all of these choices is just as easy as switching fonts. Simply go into the setting and choose from the drop down menus. One thing that I was hoping I'd see is a way to turn the background texture off completely and just use a solid color background. As far as I can tell, this option isn't present. I'd definitely recommend adding it in for those that aren't crazy about the pattern options.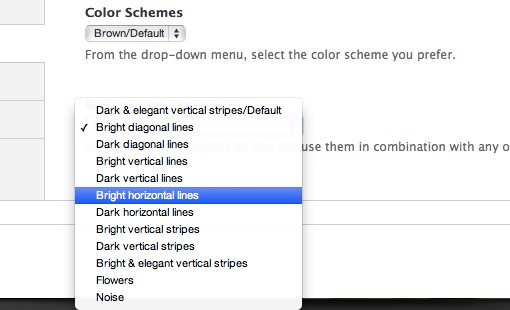 Images
One of my favorite things about this theme is that it shows off image content really nicely. There's a huge animated slideshow at the top of the page, nice border treatments on the body images and a gallery in the footer that links to a dedicated lightbox page where you can show off a bunch more photos.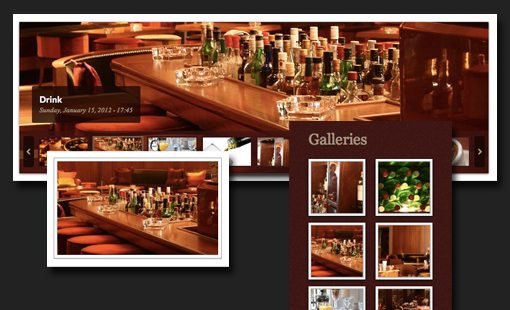 I always say that nothing complements good design quite like good photography, and this theme will allow you to let your beautiful imagery really shine. The slideshow even comes with a ton of customization options so you can tweak anything you don't like.
What Do I Think?
Thus far this has been one of those critiques where I spend more time telling you what's right instead of what's wrong. That's because this is a really solid, professionally designed theme and I really don't have anything serious to complain about. As I mentioned, I'd like to see an option to ditch the background texture but other than that, there's a great mix of features and flexibility.
Perhaps it's too early to start taking points off when a site isn't responsive, but I can't help but think that prebuilt themes especially, which are meant to meet a wide array of needs, should start taking this route. The same site actually does sell one responsive theme and I'd like to see them take a shot at adding similar functionality to others like Chique.
Ultimately, I can tell that a good deal of time and effort went into this and I think it's well worth the sixty bucks you pay to get the HTML, CSS, Drupal theme and PSD.
Your Turn!
Now that you've read my comments, pitch in and help out by giving the designer some further advice. Let us know what you think is great about the design and what you think could be stronger. As always, we ask that you also be respectful of the site's designer and offer clear constructive advice void of any harsh insults.