What Are Email Credits?
In addition to providing unlimited monthly plans, ActiveCampaign offers pay as you go credit-based pricing options. These allows you to ditch the monthly fees and only pay for what you need, which is perfect for small businesses with a modest subscriber base.
The normal price for 5,000 credits is $100, which works out to only $0.02 per email. With this amazing discount, you'll pay only $0.006 per email! This is an excellent way to create a custom-tailored email marketing campaign perfectly suited for your budget and client base.
Powerful Email Marketing
Using the built-in email designer you can work on your content, insert images, and style your email without having to know any special programming skills. You'll also take advantage of several gorgeous, professionally designed templates.
Once you're finished, see how your email will look in the various email clients (Such as Outlook, Gmail, Yahoo, Live Mail, Apple Mail, Lotus Notes, iPhone, etc..) ActiveCampaign will even tell you what is wrong with your email design (if there are issues) so you can quickly fix it.
Comprehensive reporting and analytics are provided to help you analyze your contacts and your campaigns. Learn more about your contacts and use that information to help improve your overall marketing.
Learn More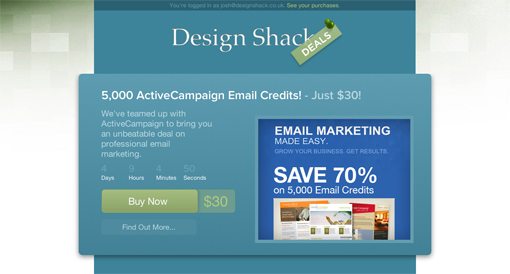 Remember, this fantastic deal is already almost over! Be sure to head on over to our deals page for more information on what's included and how you can take advantage of this offer.