What's Included?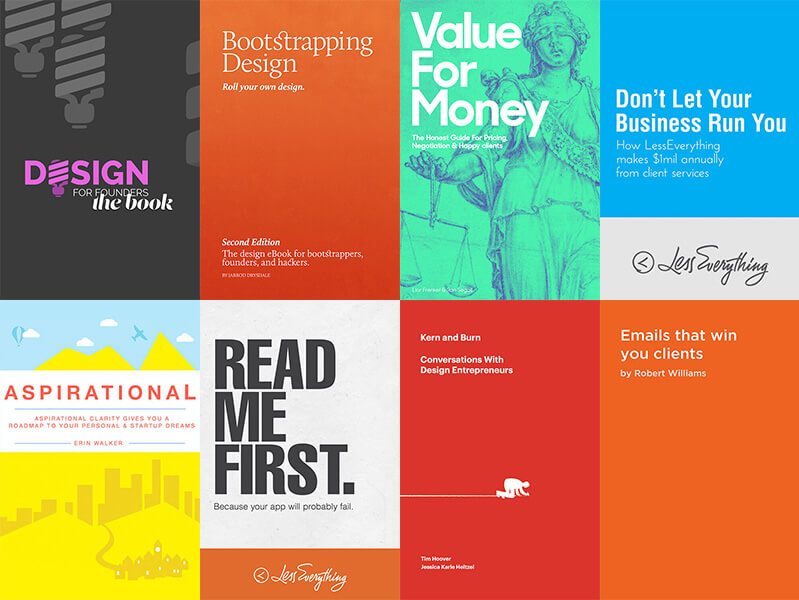 Design for Founders, by Heidi Pungartnik
Great design feels out of reach for many startup founders. They tell themselves they'll focus on it later. That other things have priority.
But let's face it — how often do you buy things from businesses you don't trust? Good design is not just pretty pictures. It will help you build a trustworthy brand and keep your users from leaving you for your competitors.
The Design for Founders book was created from years of experience from both design and growth side of business. It will help you understand how design can revolutionise your startup and where to start — without hiring expensive designers!
Value for Money, by Lior Frenkel & Ran Segall
No matter who you are, how much experience you have and what your portfolio looks like, your clients are probably still undervaluing your work.
The reason for this is simple: your clients know nothing about design. All they know is that they need someone to do their logo / website / app, and they heard that people over at Fiverr will get it done for $5.
By the time you finish reading this book, both your workflow and your mindset will be transformed. No more guesswork when pricing your projects, no more trying to argue with your clients over every penny.
Emails That Win You Clients, by Robert Williams
What if you knew the exact recipe for writing a perfect email? What you sent emails that gave you the best chance at landing a client?
This book comes from a 12-month long series of strategy sessions with over 50+ freelancers who were struggling to hear back from clients. Every chapter and resource included is pulled from the best breakthroughs in these sessions and have been tested by hundreds of freelancers (including myself).
The problem isn't the quality of work you do. It's that you're bad at writing emails. I can help. You can send better emails and unlock your dream business.
…And Much More!
Bootstrapping Design, by Jarrod Drysdale
The Dark Art of Freelancing, by Vangos Pterneas
Conversations With Design Entrepreneurs, by Kern & Burn
What The Hell Do You Charge as a Designer?, by Ken Westgaard
Don't Let Your Business Run You, by Less Everything
The Creative's Guide To Freelancing, by Jake Jorgovan
Read Me First, by Less Everything
Aspirational, by Erin Walker
Grab the Bundle
The bundle only runs for another couple of weeks, so act fast to grab your copy now. It's a great way to fill up your library of reading for 2016!