QuickPost: Installing Internet Explorer on a Mac
If you've ever done web development, you know that the one browser you have to watch out for the most is Internet Explorer. Nine times out of ten, even if you're good to go on every other major browser, IE will do its best to leave you cursing its downfalls.
Now if you've ever done web development on a Mac, you know that testing on IE can be rough. You either have to have Parallels, Boot Camp, or some equivalent installed or use a service like Adobe Browser lab to snag a screenshot. The former involves actually installing windows on your Mac and takes far too much time and hard drive space if all you want is IE, and the latter only allows you too see how things look in IE, not how/if they actually work.
Get unlimited downloads of 2 million+ design resources, themes, templates, photos, graphics and more. Envato Elements starts at $16 per month, and is the best creative subscription we've ever seen.
Recently, I discovered Wine Bottler, a free app that lets you install windows apps natively on OS X.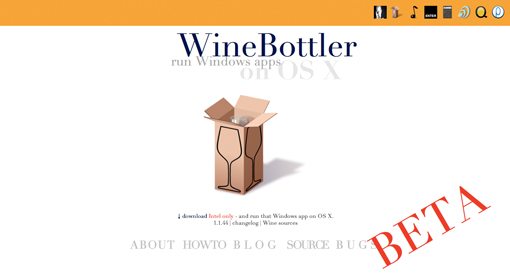 Setting up applications to install can be complicated but Wine Bottler actually comes with a list of pre-built "Prefixes" consisting of popular Windows applications. These happen to include IE 6,7 and 8.
Simply click on an version of IE and go through the installation menus (the installation process is pretty lengthy but mostly automated) and you'll have IE running as a real life ".app" application right in your Applications folder!
Keep in mind that the software is in beta so it still has some issues. I was able to get IE6 installed without a hitch but IE7 has been giving me problems. Let me know if you run into or overcome this problem!