Discounts, Benefits, Resources, and Goodie Bags!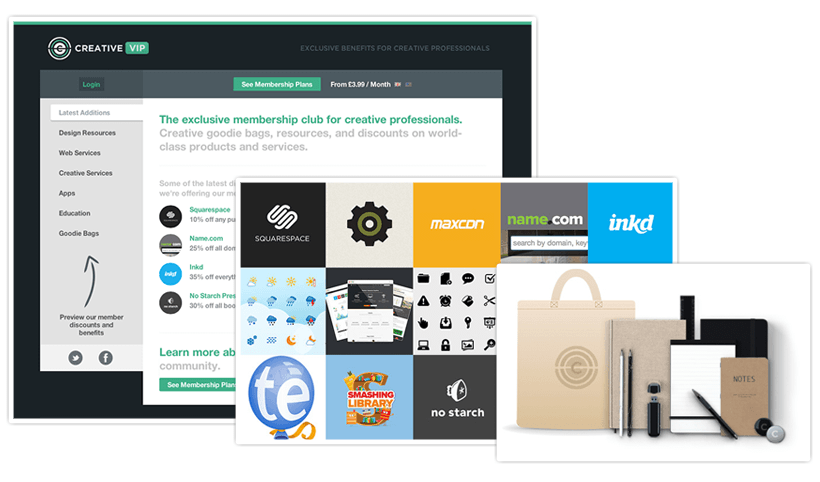 We've been working hard to create a fantastic range of benefits, discounts, and resources for our members. We've partnered with a selection of fantastic companies, to offer some amazing discounts and benefits to our members. From website platforms and domain names, to design resources and eBooks.
For most of our members, just using one or two of these benefits has covered the cost of their entire year's membership to Creative VIP!
We've also bundled together over 450 fantastic design resources, and made them incredibly easy for our members to download and enjoy. Interface elements, website templates, icons, graphics, textures, and much more — all just a couple of clicks away.
And if that isn't enough, elite members also receive a lovely creative goodie bag on their doorstep. Notebooks, pens, gadgets — everything that a respectable creative geek cares far too much about. Our goodie bags are a fun way to try out new products that you might not have discovered before. You'll receive one goodie bag when joining, then another every year.

24 Hours Left to Save 25%
As a Design Shack reader, we'd like to give you a discount on a Creative VIP membership. If you sign up in the next 24 hours, you'll save 25% on either a standard or an elite membership (and the lower price is locked in forever). This offer expires at midnight, on the 24th July!
We'd love to welcome you as a member, and have you join us on our journey to offer an amazing experience for the creative community. You'll love everything we have in store for you.