Solopreneur Review: A WordPress Theme for Bloggers
Solopreneur is a WordPress theme aimed at bloggers with an entrepreneurial spirit. It features a remarkably straightforward setup process, combined with a sleek and modern design. You'll also find a few extras to help you grow your following and promote your projects better.
In this Solopreneur review, we'll be putting this theme through its paces to help you decide if it's the right choice to help you successfully connect with your target audience and effectively communicate what you have to offer online.
Get unlimited downloads of 2 million+ design resources, themes, templates, photos, graphics and more. Envato Elements starts at $16 per month, and is the best creative subscription we've ever seen.
Who is Solopreneur For?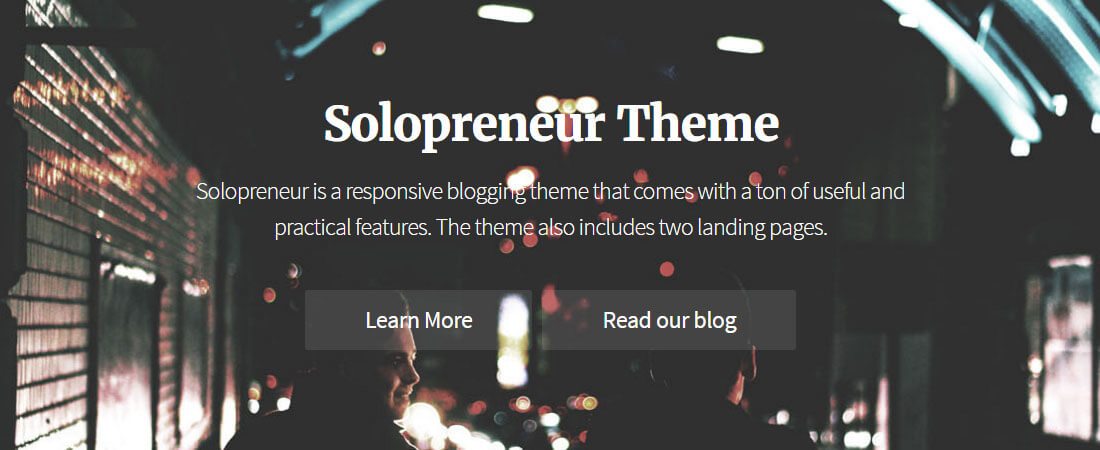 As mentioned in the intro, Solopreneur is primarily a WordPress theme for bloggers. However, because this theme includes email optin forms and multiple landing page templates, it's also an excellent choice for bloggers that would describe themselves as solopreneurs or those who have entrepreneurial aspirations.
It's also an excellent choice for bloggers that would describe themselves as solopreneurs
Therefore, If you want to create a website that will help you build a strong following, promote your products and services in style, and use your blog as the launch pad for your entrepreneurial activities, the Solopreneur WordPress theme could be just what you need.
Solopreneur Features: Why You Should Consider This Theme
Solopreneur is all about helping you create a simple but effective WordPress blog, without all the distractions found in modern, multi-purpose WordPress themes. Therefore, if you're in a hurry to get your blog online, don't want to invest lots of time in your website, or are new to this whole WordPress and blogging thing, then the simplicity of Solopreneur makes it a great choice for your project.
A great choice for bloggers who want to get more exposure for themselves and their projects.
However, that's not to say that Solopreneur is lacking any of the essentials. In fact, this theme even has some optional extras that make it a great choice for bloggers who want to get more exposure for themselves and their projects.
So let's take a look at exactly what this theme has to offer in the next section of our Solopreneur review.
Design and Appearance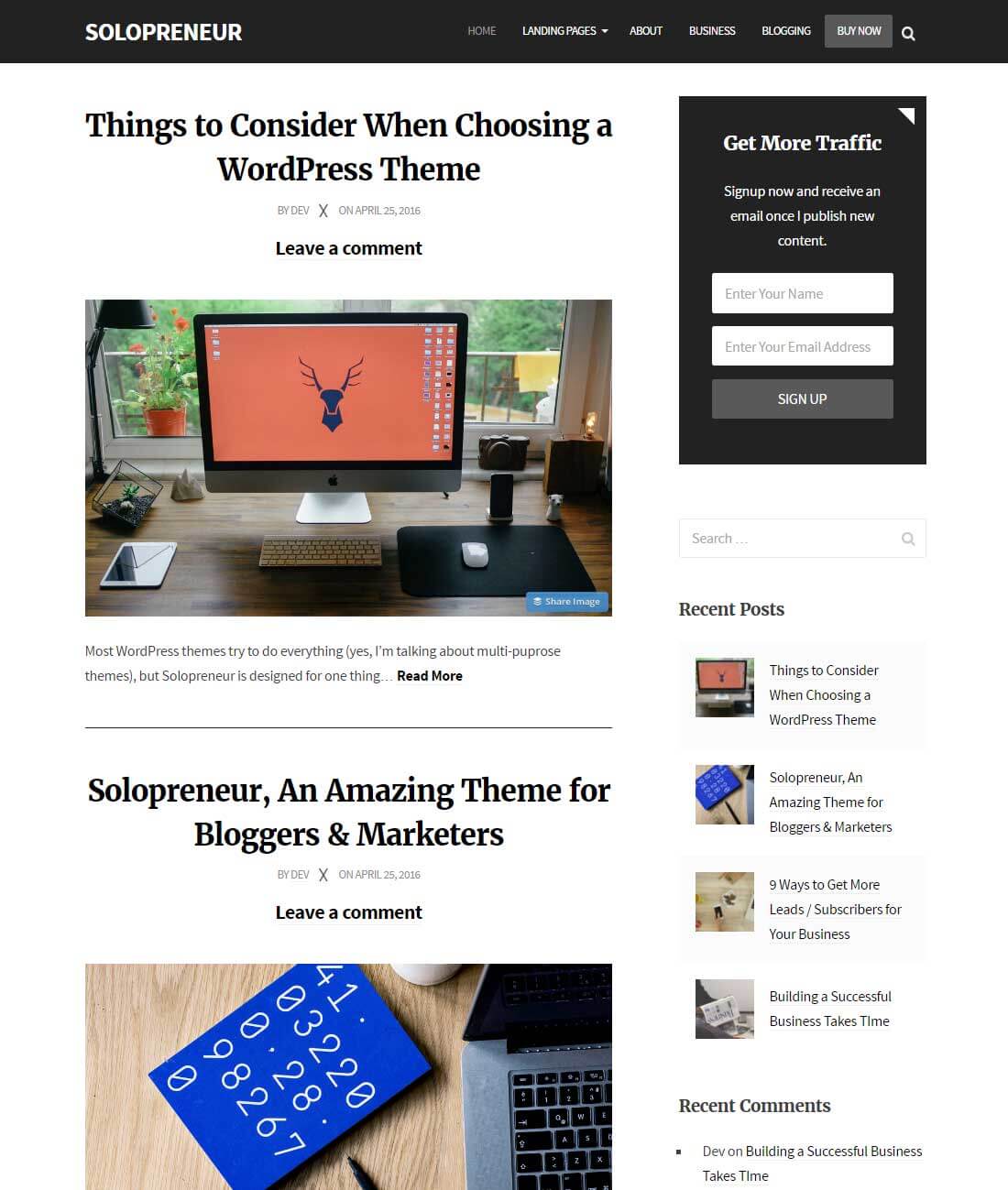 Design and appearance are probably the most important aspects of any theme. While this is subjective, it's fair to say that Solopreneur is a well-designed theme with a professional appearance.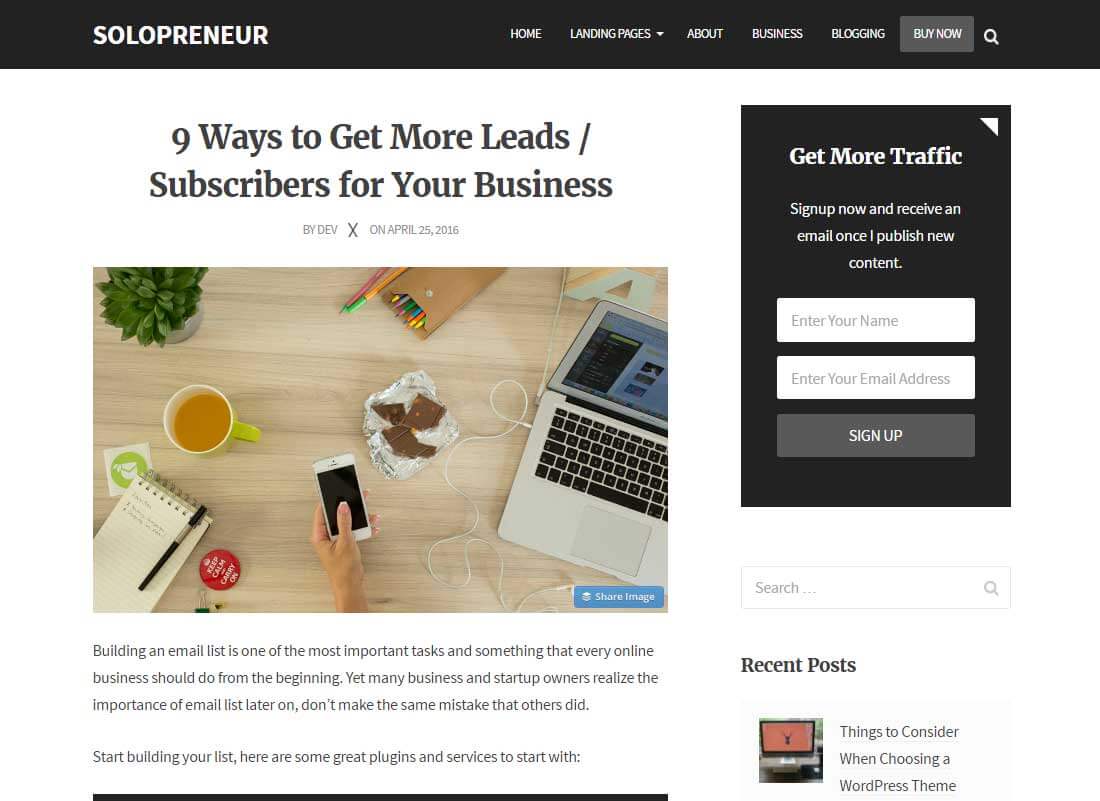 Although you can customize many aspects of this theme, such as the colors and fonts, the default choices all work well together. The homepage design looks great and each of the posts on your blog will have plenty of room to breathe, without unnecessary design elements and distractions.
Two Landing Page Designs
To help you grow your email list, land more clients, or sell more of your products or courses, Solopreneur includes two landing page designs.
This allows your audience to focus on your offer in its entirety.
These landing pages have been optimized for the highest conversion rates possible, no matter what your goal. When using these templates, the standard WordPress website elements, such as the header area, menus, and sidebars have been removed to avoid distracting your visitors. This allows your audience to focus on your offer in its entirety.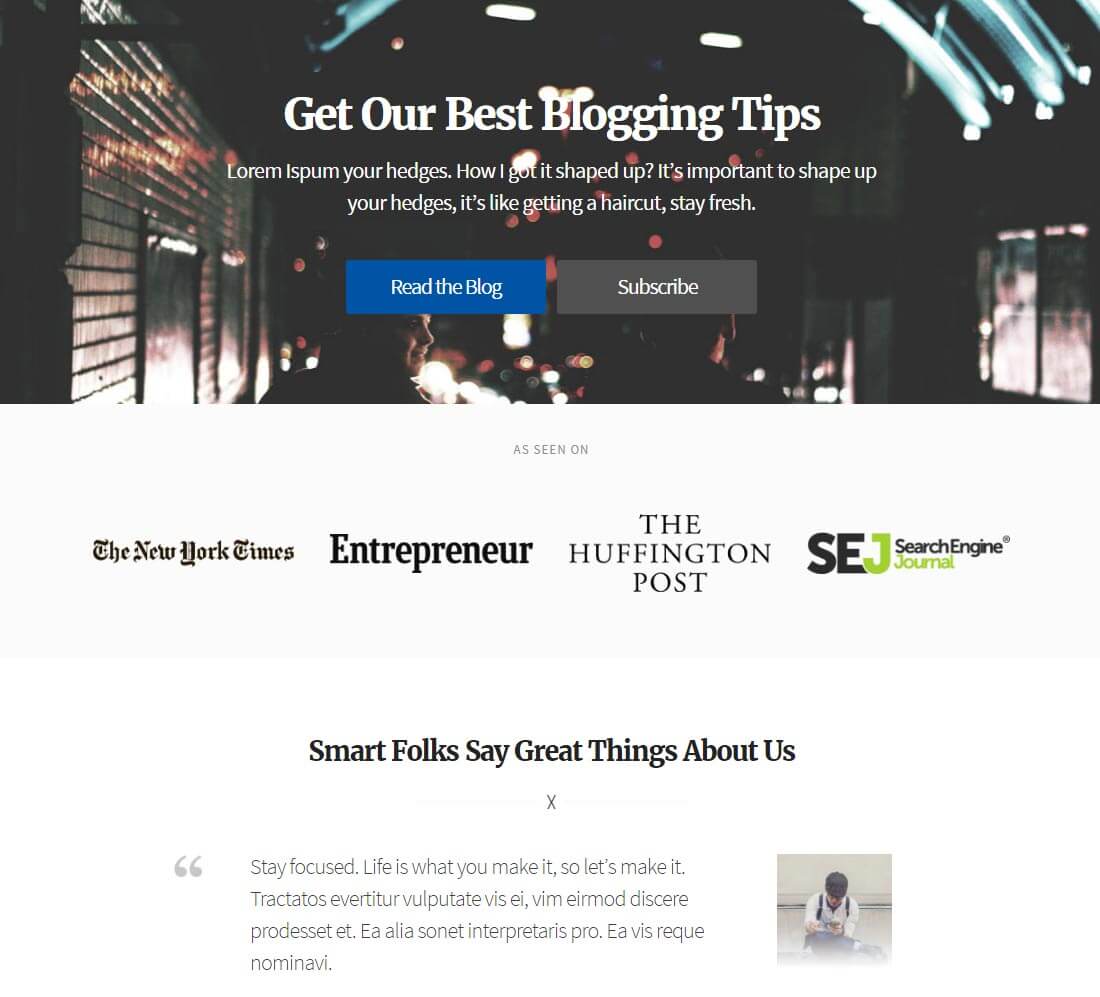 Creating your own custom landing pages using the Solopreneur templates is very straightforward. First, select one of the landing page options from the template section on the Page Attributes panel of the WordPress Page Editor screen. Then use the landing page boxes to add your own content.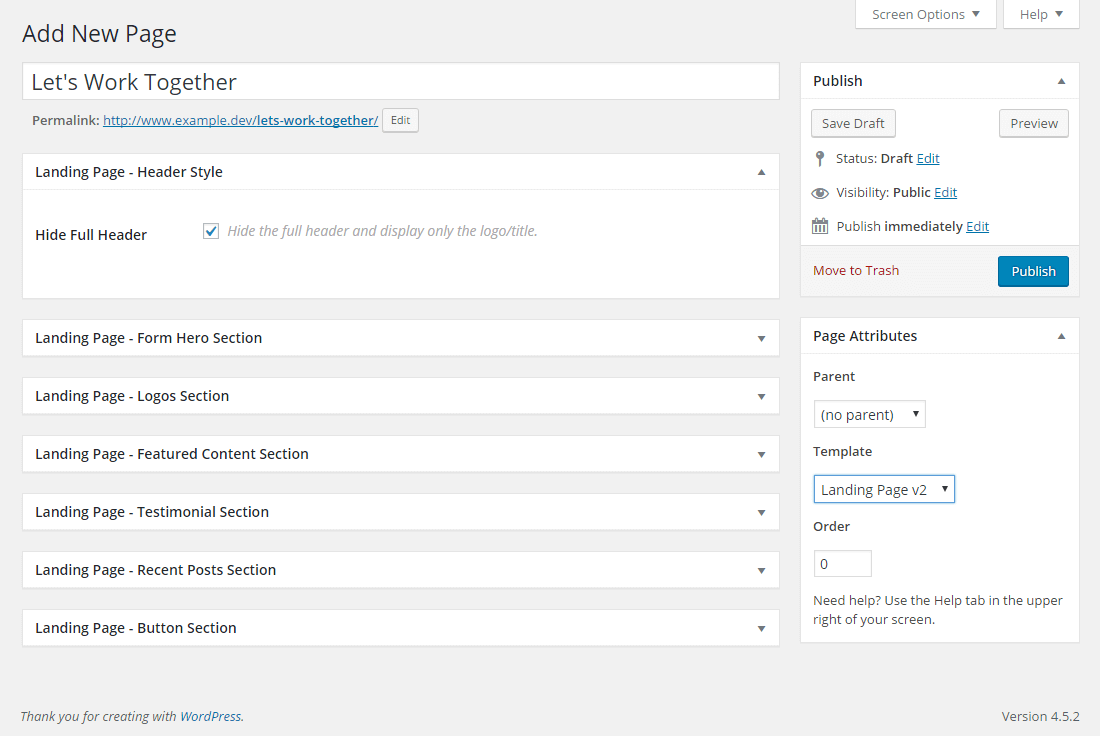 This approach simplifies the process of creating your custom landing pages, as it's clear what information needs to go where.
Depending on which landing page template you choose, you can add your own custom images, choose whether to display an email optin form or not, publish client and customer logos, share testimonials, add multiple buttons, and much more.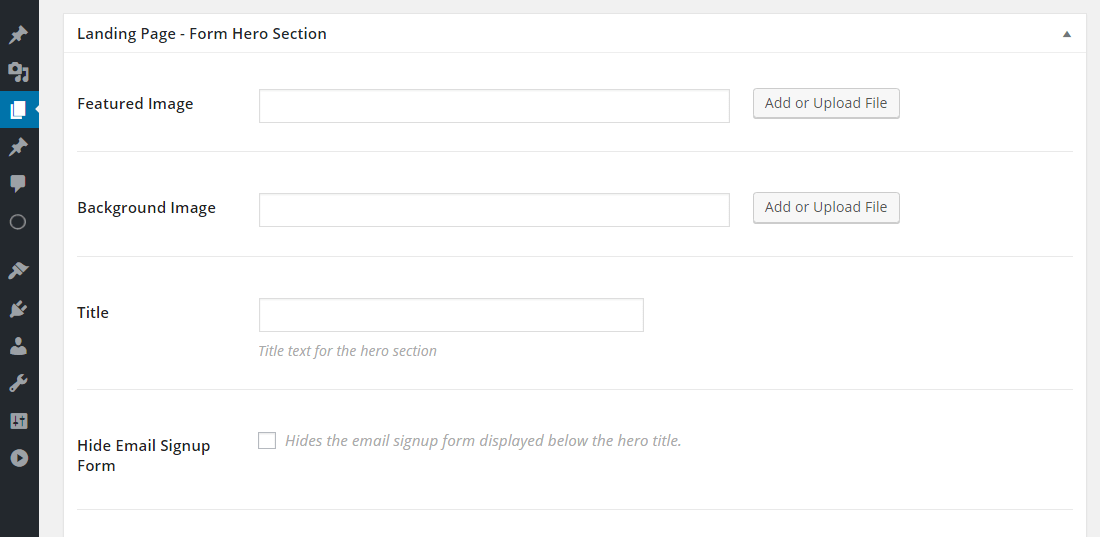 With Solopreneur, you also get a further two full-width page templates. These templates allow you to publish pages without your site's sidebar area being displayed. There are also two full-width layouts that can be applied to your blog posts too.

If you want to ensure your content has a distraction-free, minimalist appearance, these full-width templates allow you to do just that.
Theme Customization Options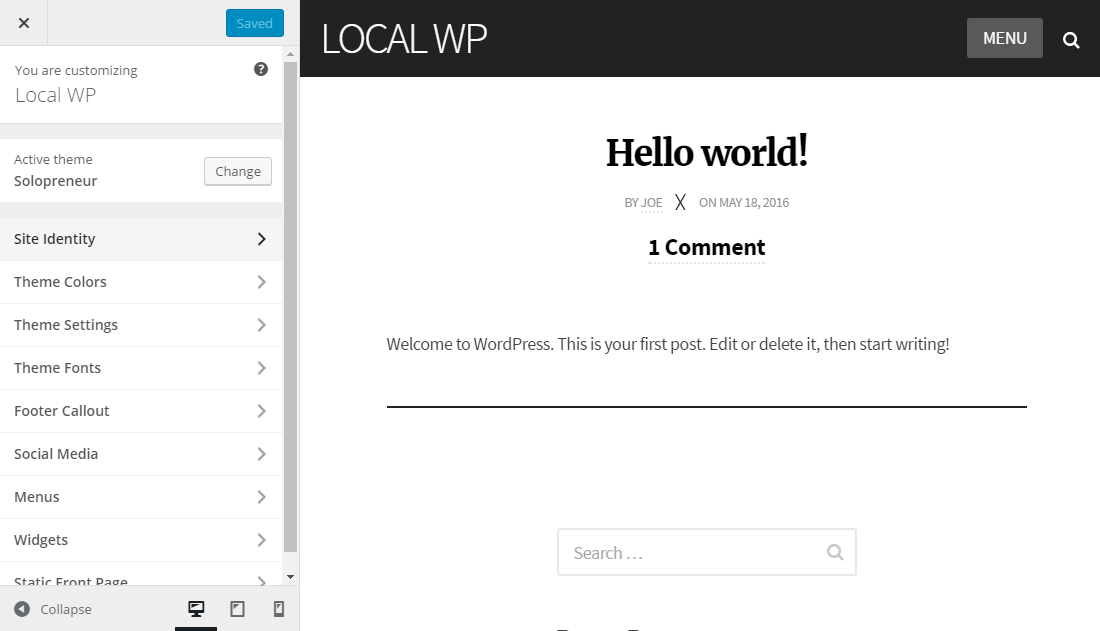 The Customizer makes personalizing your website a much more intuitive.
The Solopreneur blogging theme has a good level of support for the WordPress Customizer tool. This is great to see as the user interface of the Customizer makes personalizing your website a much more intuitive and user-friendly experience.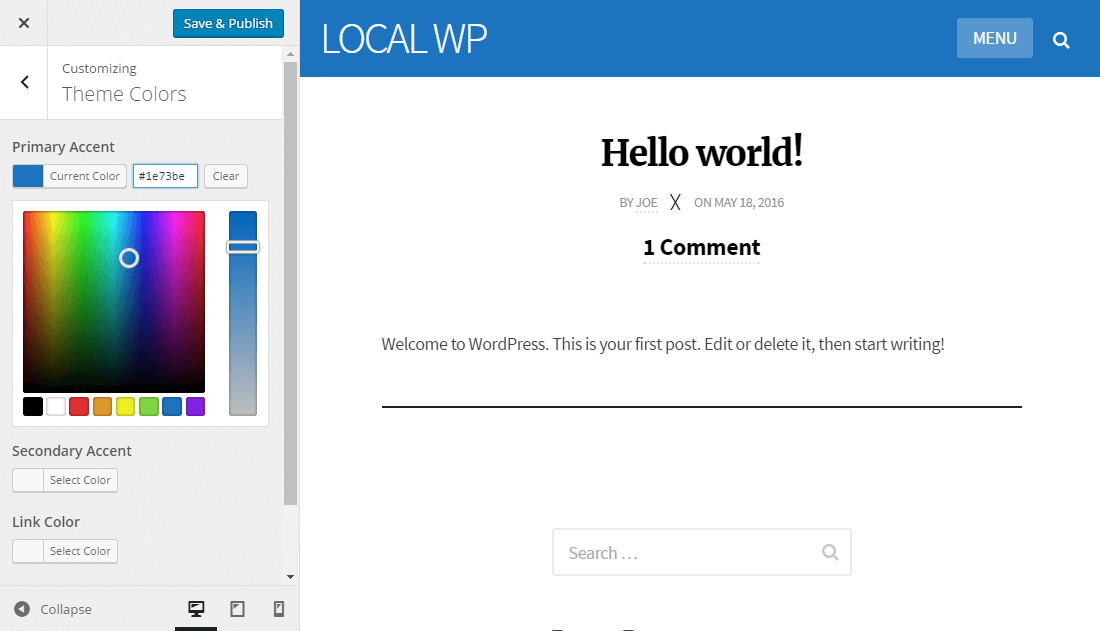 Through the sidebar controls of the Customizer, you can drill down into the different elements of your website and make changes to the way they look and function.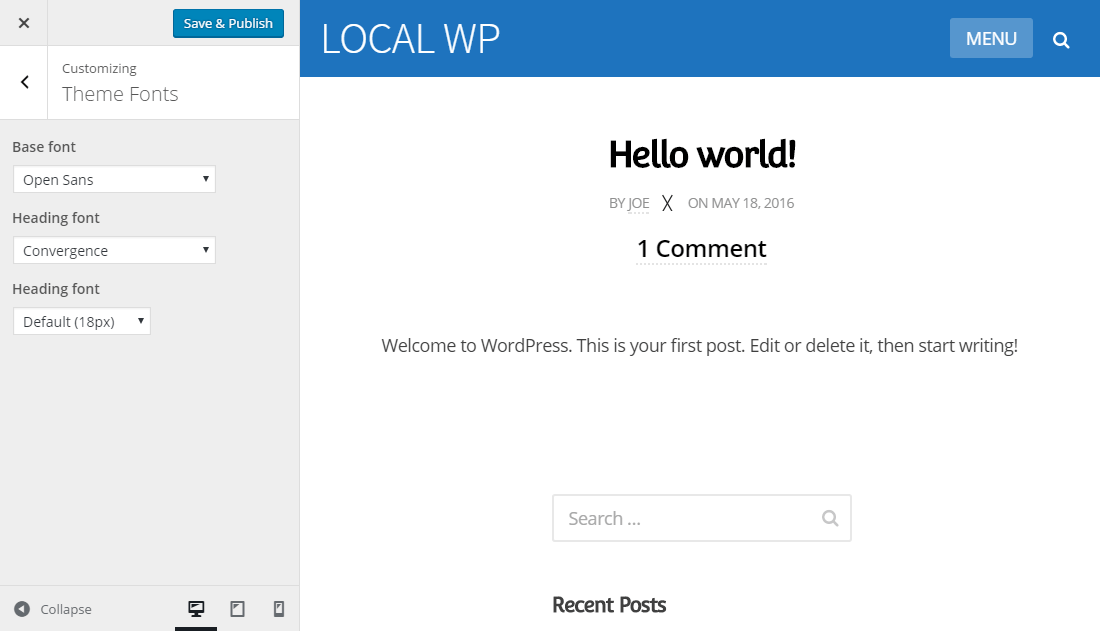 Thanks to the way the Customizer works, you get real-time feedback on any of the changes you make. This is made possible by the live, front-end preview of your website that's on display in the Customizer, and it's a great way of working.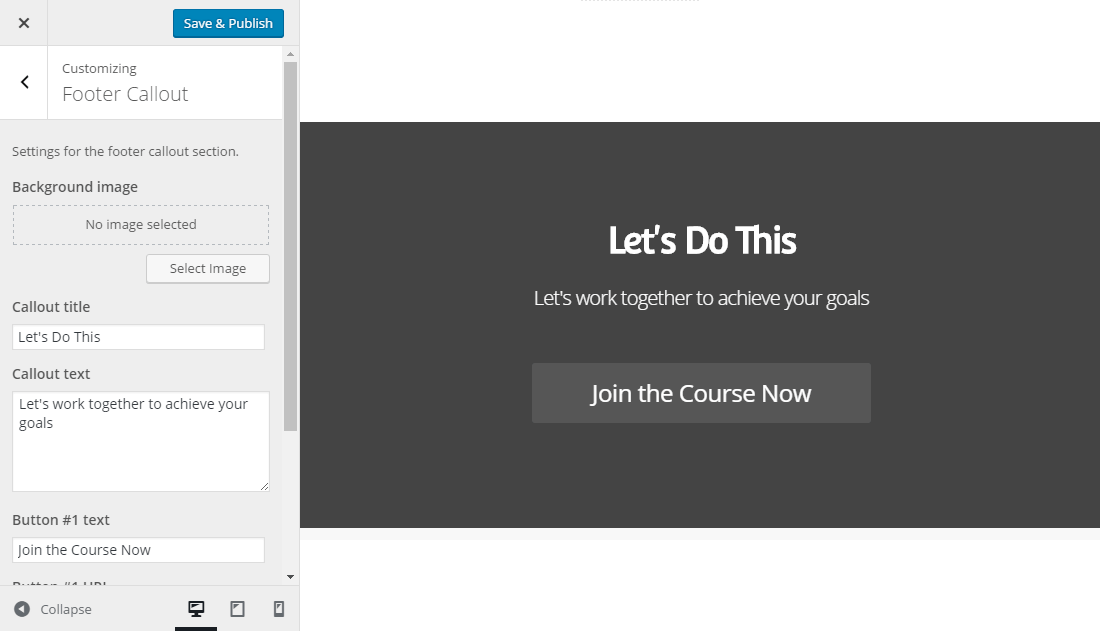 The Customizer is a core feature of WordPress. However, it's up to theme developers to decide how much, if at all, they want to make use of it. Therefore, it's nice to see that the creators of Solopreneur have embraced this user-friendly website customization tool.
Custom Widgets
Solopreneur includes a few custom widgets that can be used to upgrade the sidebar and footer areas of your website. The selection includes an about me, widget which can be used to display a photo and short bio.

There are also recent and top posts widgets that can be used to display links to content from your blog in the sidebar or footer area of your website. Of course, you can still use the default WordPress widgets, as well as those provided by any of the third-party plugins that are active on your site.
Lightweight Theme for Fast Loading Times
It's vital that you choose a theme and web host that can help you deliver a fast website.
To help your website load as quickly as possible, Solopreneur has been built to be a lightweight theme. Slow loading times can have many negative consequences on your website, such as low search engine rankings, poor user experience, and diminished goal conversion rates. Therefore, it's vital that you choose a theme and web host that can help you deliver a fast website.
Fully Mobile Responsive
With more and more internet users accessing websites on mobile devices, it's imperative that your blog can offer a mobile-friendly user experience. Thankfully, Solopreneur is a fully mobile responsive WordPress theme.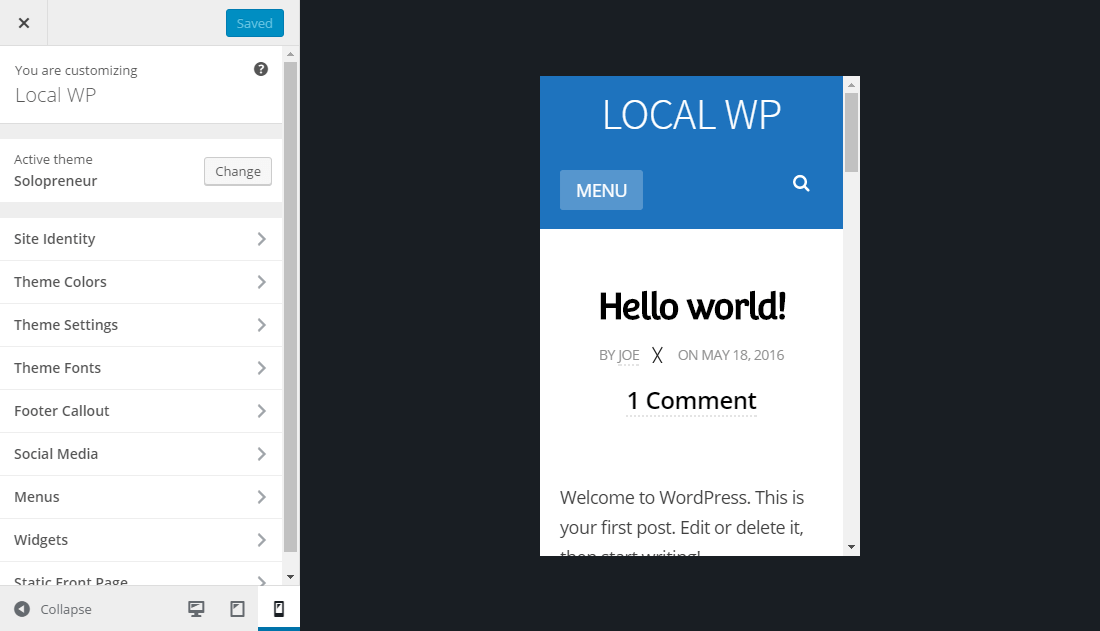 This means that the layout and content of your website will respond to the size of the screen it is viewed on, ensuring that your blog is usable no matter what device is being used to access it.
Other Reasons to Choose Solopreneur
As you can see, Solopreneur is an accomplished blogging theme that is ideal for established and aspiring entrepreneurs. Some of the other features of this theme include:
Built around the Optin Forms plugin to help you grow your email list
Two column footer area for increased flexibility
Optional social media profile links with icons
Professional user support from the theme creators
Solopreneur is a premium WordPress theme and is available from the Fancy Themes team for $59.
Solopreneur Review Final Thoughts
With multi-purpose WordPress themes being all the rage these days, it's great to see an alternative option in the form of the single-purpose Solopreneur blogging theme.
This is a theme that won't get in your way.
Sometimes you do want a theme with countless demos and multiple pages of settings and configuration options. However, at other times, a theme that can be setup in minutes and looks great, right out of the box, is a much better option.
The latter is the category that Solopreneur falls into and if you want to start blogging as quickly as possible, this is a theme that won't get in your way. If you do find your needs changing further down the line, and you'd like access to more features and customization options, then you can still choose from the ever-growing list of free and commercial WordPress plugins that are able to upgrade your website in countless ways.
Solopreneur is a simple but effective WordPress blogging theme that won't slow you down.
What's more, FancyThemes also run a blog where they share in-depth tutorials, useful guides, and resources such as What is WordPress, How to choose the right WordPress Hosting, and more.
What do you think of Solopreneur? Will you use it for your blog, if not, why? Please share your thoughts in the comments below. Our thanks to FancyThemes for sponsoring this blog post, and providing the theme for us to review.