This Week in Design: Dec. 12, 2014
Color. It's something that impacts every bit of design work you do. This week Pantone released its annual Color of the Year. (And this year's rich hue is a nice one.) With the holiday season in full swing there are also a few design projects worth your attention to check out this week in design.
Every week, we plan to a look at major product releases and upgrades, tools and tricks and even some of the most popular things you are talking about on social media. And we'd love to hear what's going on in your world as well. Have we missed anything? Drop me a line at [email protected].
Get unlimited downloads of 2 million+ design resources, themes, templates, photos, graphics and more. Envato Elements starts at $16 per month, and is the best creative subscription we've ever seen.
And the Color of the Year Is …

Marsala. Pantone 18-1438. A color name and number you should get used to hearing right now because marsala is the 2015 Pantone Color of the Year.
The robust , wine red hue was chosen for its properties as unifying element, the tastefulness of the color and because it is stylish and hearty. The wine-based hue is rich and works with a variety of color pairings and in a wide-range of applications.
"While PANTONE 18-3224 Radiant Orchid, the captivating 2014 color of the year, encouraged creativity and innovation, Marsala enriches our mind, body and soul, exuding confidence and stability," said Leatrice Eiseman, executive director of the Pantone Color Institute in a statement. "Much like the fortified wine that gives Marsala its name, this tasteful hue embodies the satisfying richness of a fulfilling meal, while its grounding red-brown roots emanate a sophisticated, natural earthiness. This hearty, yet stylish tone is universally appealing and translates easily to fashion, beauty, industrial design, home furnishings and interiors."
Here are a few of the applications that might be possible when working with Pantone 18-1438:
Use as a statement or dominant color when working on projects that include quite a few other hues. The richness of the color will help it stand out.
Pair Marsala with neutrals, pinks or golds for a feel of glamour or extravagance.
Use the color as a strong accent in a color palette with another dominant hue for a hint of richness or as an unexpected color choice.
Use Marsala to grab the attention of users for design. The brightness of the color is attention-getting and could work as a background color in a pattern or texture, for strong lines or elements or even logos and other text elements.
Pantone has been picking a color of the year for 15 years and the color ends up being a part of design trends in multiple fields during that time. The color crosses the lines of fashion, beauty, interior design, graphic design and art. (Pantone has a great color pairing chart to help you think about how to use the color in your projects.)
Past Pantone Colors of the Year include:
Pantone 18-3224 Radiant Orchid (2014)
Pantone 17-5641 Emerald (2013)
Pantone 17-1463 Tangerine Tango (2012)
Pantone 18-2120 Honeysuckle (2011)
Pantone 15-5519 Turquoise (2010)
Pantone 14-0848 Mimosa (2009)
Pantone 18-3943 Blue Iris (2008)
Pantone 19-1557 Chili Pepper (2007)
Pantone 13-1106 Sand Dollar (2006)
Pantone 15-5217 Blue Turquoise (2005)
Pantone 17-1456 Tigerlily (2004)
Pantone 14-4811 Aqua Sky (2003)
Pantone 19-1664 True Red (2002)
Pantone 17-2031 Fuchsia Rose (2001)
Pantone 15-4020 Cerulean (2000)
Popular Techniques and Their Pitfalls
"How can a website look awesome, but still be bad?"
Just because a certain design style or technique is common or popular does not always mean it is good. Sometimes these popular design styles have some issues that need to be addressed.
Inspired Mag recently took a look at "Common Problems With Popular Designs" and found that infinite scrolling, parallax scrolling and mobile-first designs often have some user interface or design flaws. "How can a website look awesome, but still be bad? Well, it depends on your website and what you provide for the user," says author Ryan Gavin.
The good news is, the article also offers some nice solutions for dealing with problems associated with these techniques. The key is creating something that looks good and works well for the user.
Here are a few of the problems that pop up in these design techniques. Head over to Inspired Mag to learn more and see some of the solutions.
On pages with infinite scrolling designers often "forget" the footer and important information such as contact, policies and a sitemap get lost somewhere else in the navigation.
Infinite scrolling pages can get awkward and frustrating for users when they need to back up. This becomes more true the longer the scroll of the page.
Load speed becomes a factor for many sites using parallax scrolling features. Moving images tend to be larger and take time to load.
Mobile-first websites that end up looking mobile on desktops is becoming more common. You have to remember both sets of users.
Stocking Stuffer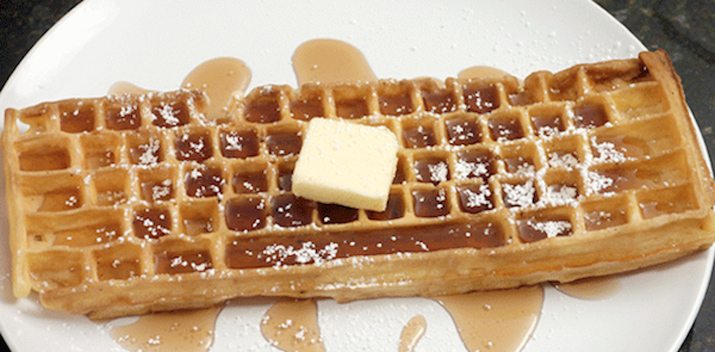 There's nothing like waking up to a great holiday morning breakfast. And designers will love this keyboard-shaped wafflemaker from Brooklyn-based designer Chris Dimino.
The Keyboard Waffle Iron is available on Kickstarter through Dec. 24 and is over halfway to its funding goal. If you order before the holiday as a gift, the recipient will get a wax-sealed holiday card to let the know the waffle iron is on the way. (Estimated delivery is in April.)
This makes a great gift. The iron is made of die-cast aluminum and has heat resistant bakelite handles. With wireless stovetop cooking, you can use it pretty much anywhere in just 5 minutes. According to the campaign, "most importantly, it makes a great waffle, with just the right balance of soft and crispy areas that come from the keyboard pattern, and the thickness (just under 1 inch) for a perfect portion."
Design Goodies You Can Feel Good About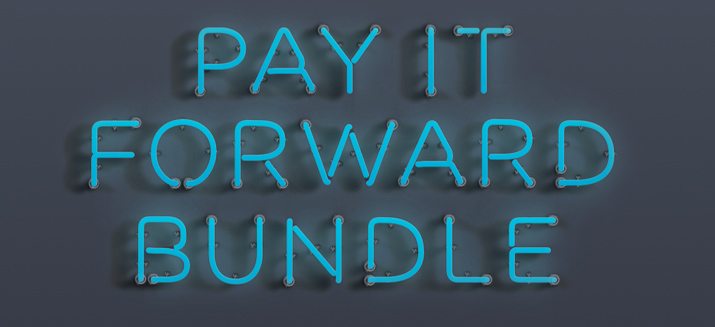 Through the end of the year, you can buy a collection of design resources and tools that do good. The Pay it Forward Bundle includes more than $4,500 worth of design assets and creative services and every dollar from the sales price goes back to Watsi, a program that funds healthcare for people around the world.
You can find elements inside the bundle such as a curated collection from Creative Market, a 75 percent off discount code for a Macaw license, 25 percent off a Skillshare membership, a free year of Wunderlist Pro and so much more. Sixteen top design brands are included in this package.
I love the concept of this project. There's nothing like a bunch of people getting together to support a great cause. You could use it as an office fundraiser or community support project. Nearly $100,000 has been raised with more and 11,000 bundles sold in the first week. The project is open for sales through Dec. 31.