This Week in Design: Feb. 6, 2015
Design for many of us is a job. It requires long hours, plenty of stress and dealing with plenty of challenges. But design should also be fun. Sometimes it can be easy to forget that; this week in design is a reminder of all the joy that comes with being a designer.
Every week, we plan to a look at major product releases and upgrades, tools and tricks and even some of the most popular things you are talking about on social media. And we'd love to hear what's going on in your world as well. Have we missed anything? Drop me a line at [email protected].
Envato Elements gives you unlimited access to 2 million+ pro design resources, themes, templates, photos, graphics and more. Everything you'll ever need in your design resource toolkit.
Take an Art Vacation

The best way to break out of a design rut and remember how much you love the field is to find little inspiration. Why not do it while traveling?
The Adobe Inspire blog recently highlighted nine cities to visit in the upcoming months and art exhibits in each that are sure to get the design juices flowing. While most of us will not have opportunities to visit all of these places, you might be able to sneak in one trip with options all over the world and featured exhibits open now through July.
Make sure to head over to the Inspire blog for details on each art city and a few other things to do while you are in the area.
Niki de Saint Phalle at Guggenheim Bilbao, February through June
Postmodernism: 1980-1995 at Helsinki Design Museum, through May
Human Rights Human Wrongs at The Photographer's Gallery (London), through April
Raymond Depardon: Such a sweet moment at MuCEM in Marseille, through March
Bjork at MoMA in New York, March through June
Mona Hatoum at Pinacoteca Seo Paulo, through March
@Large: Ai Weiwei on Alcatraz (San Francisco), through April
Simple Forms: Contemplating Beauty at Mori Art Museum (Tokyo), April through July
Architecture of Independence: African Modernism at Vitra Design Museum (Weil Am Rhein), February though May
What's Your Sign?
"Aquarius designers, though, have a different goal: they're idealists at heart. They want to make the world a better place with their design. Apart from their humanitarianism they're also ridiculously sporty. They're the kind of designers who, after a late night in the studio, would rather go for a 10-mile jog than a well-deserved drink. Definitely strange."
Did you ever consider that your design style might have something to do with the stars? (Honestly, I have not … but it's a fun idea, right?)
Studio Dumbar Creative Director and Typeradio host Liza Enebeis recently took a look at how each sign of the Zodiac correlates to design. The insights are a little on cue, a little silly and completely fresh.
Some observations from the article for Computer Arts and Creative Bloq include:
Cancer: "Shy away from bold typography and bright colors"
Libra: "Expect them to take a while"
Sagittarius: "They're simply willing to try things out."
Make sure to check out the article to find out what your sign says about your design philosophy, tendencies and style.
More Trends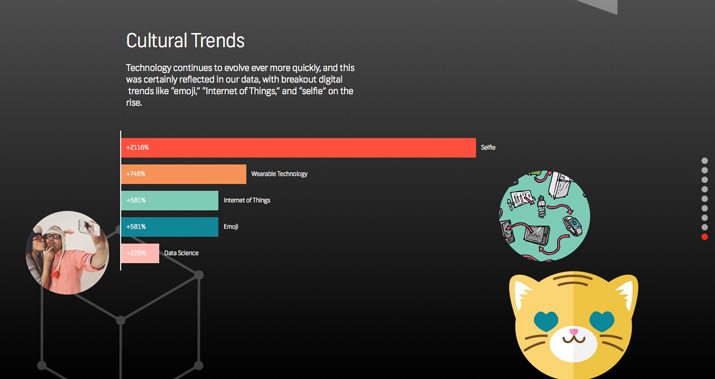 I know what you are thinking: Enough with all the expected trends for 2015 already. But that's not what this trend discussion is about. Shutterstock, the stock photo company, had a ton of fun compiling its annual trends infographic.
The design of the interactive graphic/website uses so many of the concepts discussed within the content. Each trend is visually represented while the user interface explains interactivity trends.
Every image is bright, engaging and smile-worthy. With photos, graphics, charts and even music, what could be the same old boring post has a great bit of life to it. This is a concept that all designers can take back to "boring" projects. Consider ways to make something that seems dull more engaging and fun. (Even if you don't use the concept it can result in a pretty exciting brainstorming session.)
Want to know what the trends are? You'll have to visit Shutterstock for that. Have fun!
Calling All Young Designers
Photoshop is looking for the most talented young designers out there. (Sorry to those who are young at heart, this contest is only open to designers 25 and younger.) The design software brand is looking for Photoshop users to share their projects and will choose "25 of the Most Creative Visual Artists Under 25."
Contests like this always fall into the fun category because you can submit anything you like. Any project!
And the campaign from Adobe is fun as well. The promo art features the tagline "there can only be one … Well actually, 25" in a movie-poster style. (The concept is all part of Photoshop's gimmick to celebrate its 25 anniversary this year.)
The contest is looking for individuals under the age of 25 that use Photoshop. Additionally they should be "visionaries with the ability to inspire the masses" and have a proven ability to create visually stunning work. You can find contest rules and more from the Photoshop.com Blog.
Graphic Design Puns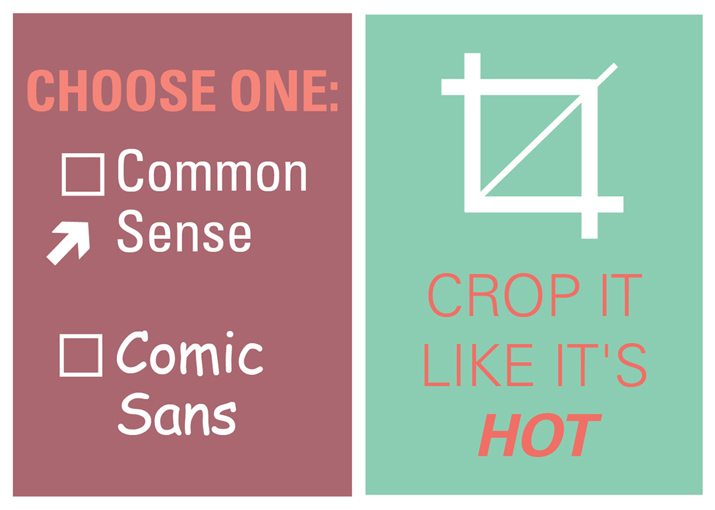 Whether you think a pun is the best joke ever or they cause you to groan and roll your eyes, almost every designer will enjoy Sara Heffernen's well-designed collection of design puns. The card-style collection features everything from the cliché "Oh, Crop" to "I am very font of you, because you are just my type."
And plenty of you seem to be interested in the collection of giggles. Heffernen's project has been seen by more than 14,000 people on Behance and has nearly 1,000 appreciations.
I could really see these cards being printed on the backs of playing cards or as small posters for a designer's office. There are so many fun things to do with this collection. It certainly made me smile over and over again.