This Week in Design: Oct. 10, 2014
We all like new things, right? This week Adobe released some major new tools and upgrades to its Creative Cloud suite. (There's got to be a new trick in there that you will enjoy.) We are also looking ahead to Halloween with a few goodies this week in design.
Every week, we plan to a look at major product releases and upgrades, tools and tricks and even some of the most popular things you are talking about on social media. And we'd love to hear what's going on in your world as well. Have we missed anything? Drop me a line at [email protected].
Get unlimited downloads of 2 million+ design resources, themes, templates, photos, graphics and more. Envato Elements starts at $16 per month, and is the best creative subscription we've ever seen.
Adobe Releases New Apps, Updates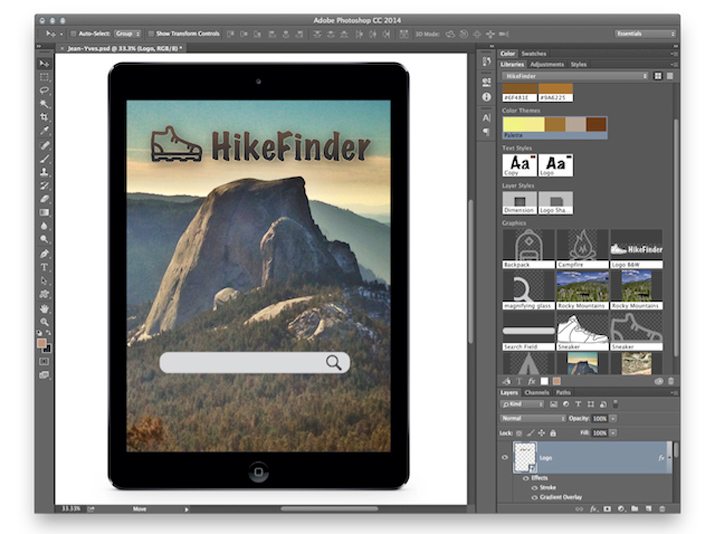 This week Adobe's Creative Cloud and mobile apps got an update. Most of the upgrades are related to video and video editing, and add increased usability for even novice users. The design software giant also released a cross-software library for cloud users.
Creative Cloud Libraries has to be one of the most exciting releases designers have seen from Adobe in a while. According to the release, "Creative Cloud Libraries uses your Creative Profile to connect your favorite desktop tools, mobile apps and services to each other. Unlocked by your Adobe ID, your Creative Profile is a personalized hub that connects your favorite tools and content in one fluid creative experience."
With this tool you can save a variety of elements, swatches and styles between programs and devices. The shared library will allow you to save the following:
Colors and color themes
Text styles
Layer styles
Graphics
While you could do this before in any one program, the libraries did not cross tools. This feature allows them to cross tools and from desktop to mobile apps and back.
All eight video tools were updated – cloud users will be prompted to download the updates when they log in. Key features to these updates include new project and media management capabilities, such as Search bins and Destination Publishing; support for cutting-edge technologies, like HiDPI Windows 8.1 displays and devices and read/write support for the GoPro CineForm intermediate codec; and more streamlined workflows, including Curves adjustments and a refined new Look workflow in SpeedGrade CC.
The upgrades have a Hollywood feel to them as well. According to Adobe, many of the Premiere Pro changes were actually influenced and developed in collaboration with the team of the recent theatrical release of "Gone Girl." Some of these features include multi-project workflows and advanced timeline search, render and rplace, and UI and workspace refinements, such as ripple label colors and definable marker colors.
"I believe this was the first major Hollywood film shot at 6K so the scope of the project was huge." Al Mooney, senior product manager, said in the Adobe release. "We were working with an artistically-driven and incredibly technical team at the top of their game. It was an inspiring experience for us and we're immensely proud to have been part of it."
Finally, Adobe re leased a new iOS app for making video, Adobe Premiere Clip. The free app is will sync projects from your phone or tablet to desktop and provides more professional editing capability from the smaller devices. Other app releases include similar tools for other Adobe products such as Illustrator Draw, Photoshop Mix. And every app can be synced by to your cloud account.
Tips for Designing Great T-Shirts
At some point almost every design will be asked to design a t-shirt for someone. It's a popular item but can also be a little intimidating if you have never done a project on this medium.
Creative Bloq recently did a great question-and-answer with SOYU t-shirt designer Mike Ng, who offered 10 great tips for designing something you can wear. Here are five of his tips; make sure to head over to Creative Bloq for more.
Take your time and explore your concept
Detail is king but keep things simple
Keep your humor subtle
Prepare your artwork properly
Get educated
'A New York Life' Mad Men Style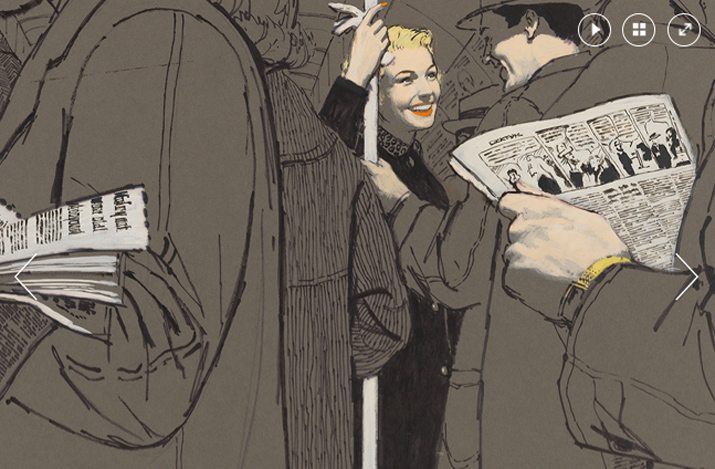 A real-life illustrator from the Mad Men era, McCauley "Mac" Conner was the co-founder of one of the top creative agencies of the 1950s. An exhibit at the Museum of the City of New York showcases his top illustrations in a gallery of advertising's bygone days.
Wired magazine recently took at look at the illustrator and some of his work featured in the gallery: "The collection is a fascinating time capsule documenting women entering the workplace, the struggle of African-Americans, and a myriad of other social developments, but captured as primary documents rather than artfully recreated prestige cable dramas."
The style of the time was marked by color and high drama scenes, including high-color backgrounds but an overall color palette with only one or two hues. Many of the characters are in elaborate dress. The foreground characters were often highlighted with secondary colors and white tones while others faded into the background.
What's neat about the exhibit, when is open through January 2015 if you are in New York, is the feeling of traveling back in time with the images. You can see an era before your eyes.
The concept has me thinking about our current time. How would you classify the design pieces that we are creating now? What will designers and illustrators look back and say about our work 50, 60 or 75 years from now?
What's New in Creative VIP?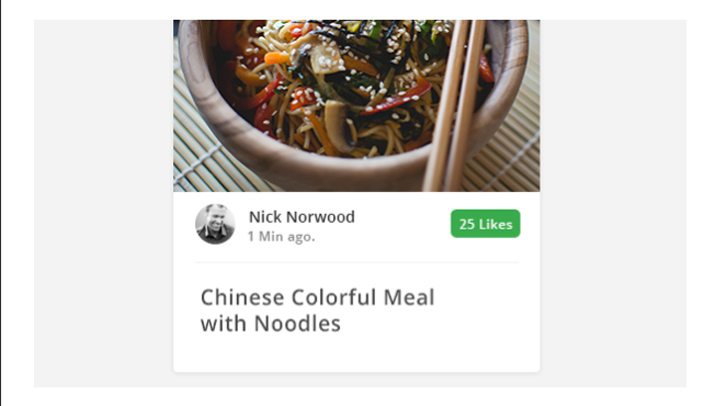 Creative VIP, an exclusive subscription-based network of deals, design resources, discounts and even goodie bags for creative professionals, just got a whole lot better. The subscription plan includes a ton of design resources and a goodie bag shipped annually.
Here are three brand new deals members are taking advantage of:
Free Various Upload States Interface elements, designed to show the different steps in an "upload interface." The set includes a "Drag and Drop to Upload" screen, "Uploading" progress screen, "Enter Details" screen after it has uploaded, and the finished image widget. A great basis on which to build your own app workflow, provided as a PSD.
35% off anything from Inkd, which provides a range of professional design services.
3 months free of Flow which you can use to manage projects and keep track of things you need to get done.
Join today, and take advantage of a one-off 50% discount!
Just for Halloween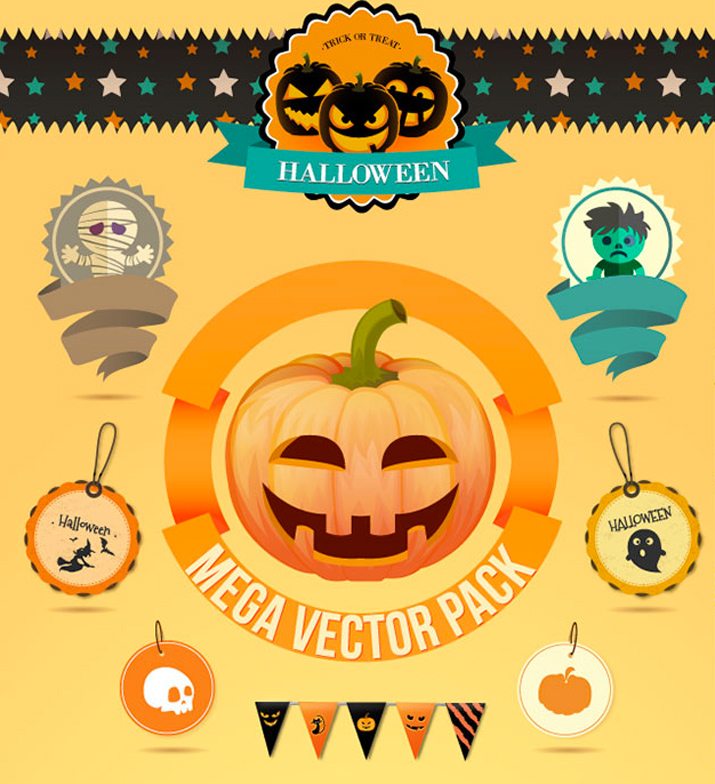 With Halloween just around the corner, lots of places are beginning to offer some fun holiday goodies to make your site a little spookier. Here are a few fun ghosts, goblins and jack 'o lanterns to use in your projects this month: