5 Reasons You Should Go to a Design Conference in 2013
I recently returned from the New Adventures in Web Design conference in Nottingham, and it's left me taking stock of just what I've gained from going to a design conference. Having attended this conference for the previous two years I can honestly say I've gained more from the conference experience than simply "a day or two out of the office".
I've seen world class speakers, new speakers just starting out & met and spoken to a lot of really good people. There are hundreds of design and development conferences all over the world, ranging from single track design or development only to multi-track 2-3 day events covering a multitude of specialisms concurrently. Whether you choose to take a day out or go for the full experience, there'll be a conference to suit every interest and wallet. Sadly 2013 was the last year that New Adventures will be run, with organisers, Simon Collison and Greg Wood taking a well deserved break to concentrate on their own projects. The New Adventures experience has really whet my appetite for conferences and, while I'm not a serial conference-goer, I'll definitely be on the lookout for a replacement for that experience. But what can you get out of a design conference?
Get unlimited downloads of 2 million+ design resources, themes, templates, photos, graphics and more. Envato Elements starts at $16 per month, and is the best creative subscription we've ever seen.
1. Listen to and Be Inspired by the Speakers
"Conferences are also a good platform for new speakers to make their mark on the conference circuit."
Hearing experienced designers and developers talk on their specialisms can really inspire you to learn something new and open your mind up to new ways of working on and planning projects. It can also prompt you to dust off that personal project you've been stalling on and give you the impetus to get it out into the world.
You'll hear top class talks from designers, developers and project managers at the top of their profession. And they'll be speaking on a range of diverse subjects such as typography, design theory and inspiration. The talks can range from the purely practical, to thoughtful and abstract as the speakers really try to get you thinking and coming away from their talk with a 'lightbulb moment'.
As well as the more traditional talks at New Adventures, we were treated to a very enjoyable live coding demonstration by Seb Lee-Delisle. Seb proceeded to program an ageing Commodore 64 on stage before demonstrating his skills with Javascript with very humorous results (and a speaking style which kept us all giggling in our seats). Conferences are also a good platform for new speakers to make their mark on the conference circuit.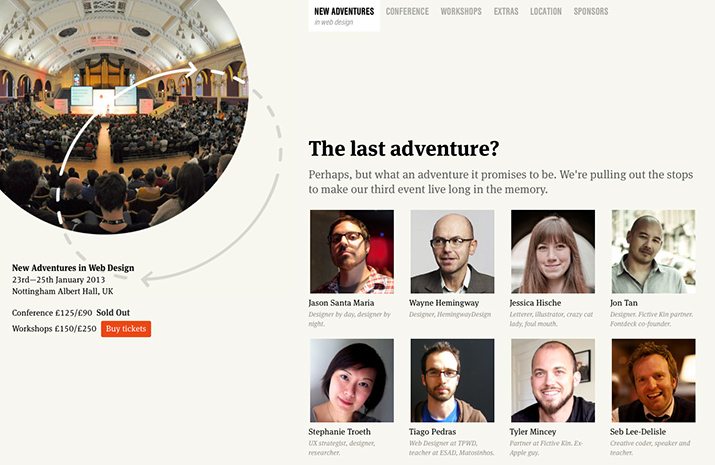 2. Socialising and Satellite Events
It's becoming increasingly popular for many conferences to organise social events the night after a conference. The after party has become a firm fixture with many events and the night before is now becoming a popular for satellite events. These can include talks and good humoured get togethers like bowling and other social gatherings. Even if you're not competing or participating in the events, many just turn up for the social aspect and the opportunity to meet new people and catch up with those they've known for years.
Many conferences also offer workshops, where, in a classroom environment you can learn from industry experts and really get the benefit of their experience and teaching. These workshops can range from a few hours to a full day and whilst you pay extra for them the courses are usually hands-on and full of real-world advice and information.
3. Put a Face to Those Twitter Names
"I think I follow you on Twitter"
It seems like every designer or developer is a Twitter user these days and a design conference can be a great way of meeting up with your followers and those you follow face to face. This year particularly I heard the phrase "I think I follow you on Twitter", quickly following a tap on the shoulder.
The chance to meet up with fellow design and development professionals can be invaluable and animated conversations on workflow and processes can quickly develop. The social events I mentioned before can be a really great opportunity to get together with people you've 'known' for years and finally get a chance to grab a beer with them.
Conferences can also be a great opportunity to meet and have a quick chat with people who inspire you in the industry. You'll be surprised how approachable many of the speakers are and how willing they are to discuss their talk and expand on any questions you many have.
4. Time Out of the Office — Working but Not Working
While I mentioned that a conference was more than just a day out of the office, don't underestimate the benefit of a little distance from your place of work. This is especially valuable if you work alone in a home or small office and time spent away from that environment can be beneficial in it's own right.
Taking some time out to explore a new city either alone or with some new friends can be a great way to distance yourself from your work and give you chance to recharge your creative batteries. If you have to work whilst you're away, research some co-working spaces in the city/town. This can give you the much needed workspace but also the chance to get to know other local professionals.
Who knows, through co-working in another city or town you might even make a few business contacts!
5. Get Out of Your Comfort Zone, See a Talk on Something New
"I'm still referring to it 3 years later"
As a designer or a developer, take the time to drop into a talk on something you know nothing about. You'll surprised what you can learn or what it might inspire you to do. Seeing the industry from the other side of the table can open your eyes to new working practices and might even get a designer experimenting about with code and a developer tackling some design.
New Adventures this year also included Wayne Hemmingway — a speaker who wasn't involved with the design or web industry but who talked on how he set up his fashion business — Red or Dead. Wayne was amazingly frank about the pitfalls and the hard decisions he had to make over the years from a business point of view. In a similar way, Brendan Dawes's New Adventures talk on the subject of developing and selling the MoviePeg was so great that I'm still referring to it 3 years later!
Conclusion
So, in conclusion, a design conference doesn't have to be sitting in a room listening to people speak. Take a look around and see if there's a conference that will suit you, and research the experience they offer. You'll be surprised just how many conferences are happening close to where you live, so go on… take the plunge and try going to a conference this year and see what you can get out of it.