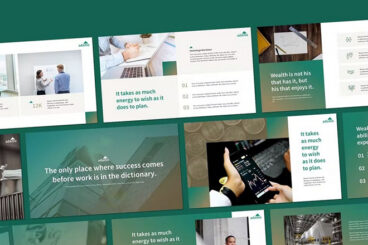 Big numbers and data play an important role in every financial PowerPoint presentation. It's how you validate and prove your claims.
But the way you present the data in your PowerPoint slides is the key to delivering a successful presentation.
Whether it's a pitch deck for a financial project, a yearly financial report, or promoting a finance consulting firm, your presentation slides need to be designed in a way that makes your statements and data easy to understand.
Of course, not everyone has the time or the experience to design over-the-top presentations. And thanks to pre-made PowerPoint templates, you don't have to.
We handpicked a collection of financial PowerPoint presentation examples that you can use to find inspiration for your slideshow designs. The best part is you can download these templates to make amazing finance presentations within minutes. Have a look.