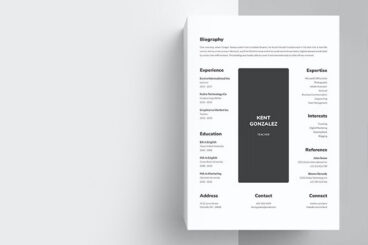 A minimalist design style is an excellent approach you can use for designing more effective and attention-grabbing resumes.
When you use fewer design elements and more empty space, it highlights your content above all else in a distraction-free layout. This is why minimal resume designs work for almost any industry and profession.
But that doesn't mean you can get away with only a bunch of text on a white paper. The way you format the content, the colors you use, and the design of the font, are still key factors that will make or break your resume.
So why not start with a minimal resume template designed by a professional? Explore our collection of minimal CV and resume templates below and get a head start in your job-hunting process.