Email Templates
An email template is the base foundation for your company, blog, or organization email. It's the framework that you can use for sending different types of emails to subscribers with a common design theme.
Your weekly email newsletter is probably based on a template, seasonal emails or welcome messages might be based on another template. The common theme is that a template makes adding content quick and keeps you in line with a visual theme.
When it comes to creating an email template you can make your own, use a template from an email provider, or download a semi-custom template from a marketplace or store (we've included some great examples below!)
Latest Email Template Articles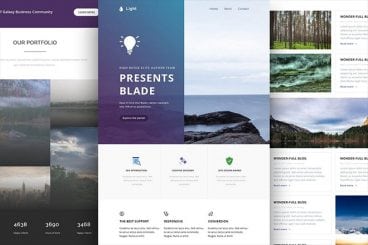 15 May 2020
If you want your next email campaign to stand the best chance of success, using a responsive design that looks good on any screen or device is really important. Responsive email design is notoriously difficult, so starting with a template can be a good bet.
It's worth taking advantage of pre-made responsive templates that have already been tested on a variety of screen sizes and email clients, then customizing them to your own requirements.
These templates are crafted by highly skilled designers, and many of them include template builders with unique customization options to make tweaking them super-simple!
As a bonus, our tips for designing a responsive email will help give you some great design pointers!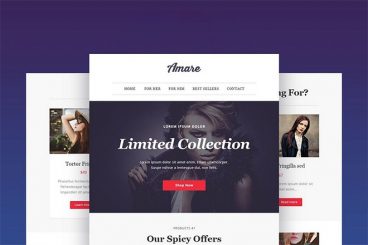 15 Oct 2019
MailChimp is the most popular email marketing software available today. Thanks to its generous free plan, many businesses choose MailChimp to start their email list. But, are you using the best MailChimp template for your newsletter?
If you're seeing a decline in email opens or click-through rates, the design of your newsletter might be to blame. A properly designed email newsletter can not only improve CTR and email opens but also help generate more sales as well.
In this post, we feature some of the best responsive email newsletter templates you can easily use with MailChimp to create more effective emails to promote your business and products. Plus, a few tips for choosing a MailChimp template to help point you in the right direction!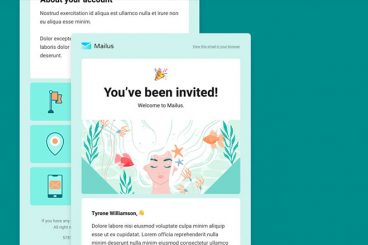 14 Oct 2019
You probably know that email newsletters can be one of the most effective methods of reaching people who want to connect with your organization or brand.
An email newsletter template can help you jumpstart the process with a semi-custom design with a visual dynamic that will keep subscribers clicking.
If you've never used an email template, they aren't difficult to get to grips with. The toughest part might be choosing a design that you can customize easily and effectively.
Here are our tips for getting started!
What Is a Responsive Email Template?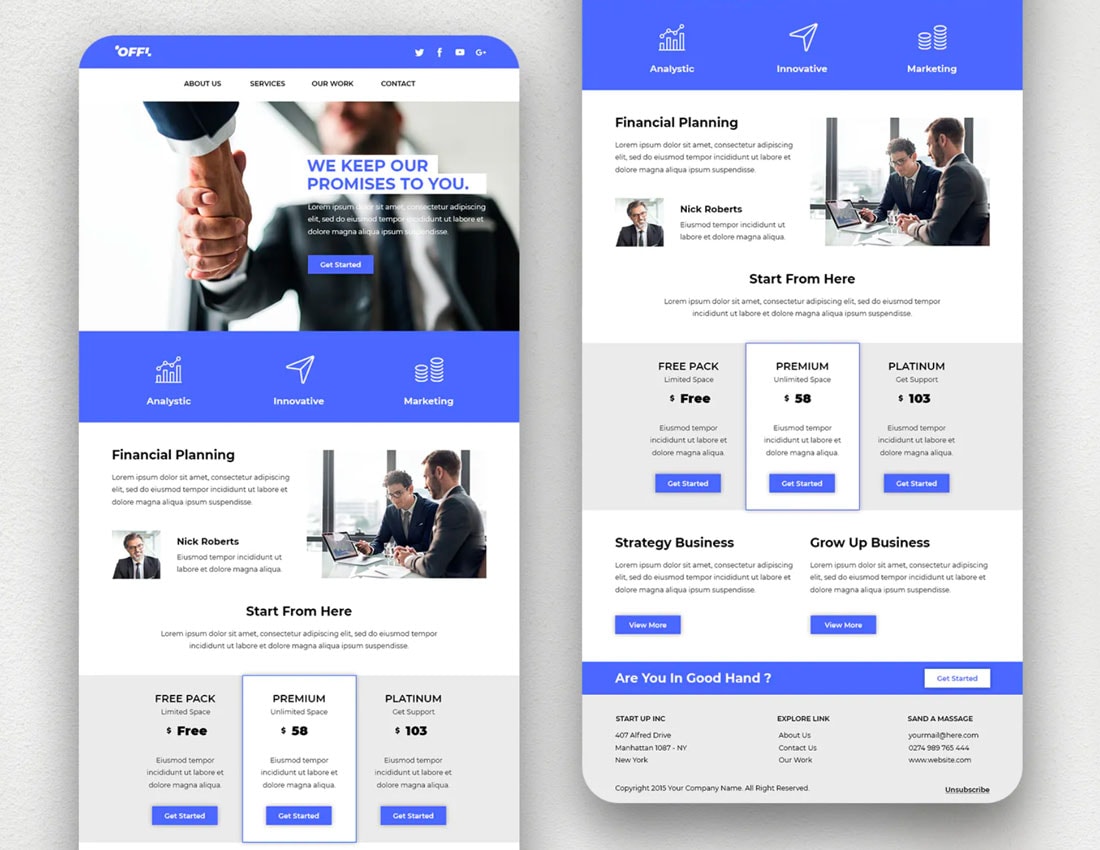 A responsive email template is just like a responsive website; it is designed to look great on any device. A responsive template adapts to screen size so you can build an email once, and then send knowing that it will work on desktops, tablets, or phones.
Most third-party tools and email platforms are packed with ready-to-use responsive email templates or you can build your own using tools such as Adobe XD.
4 Tips for Choosing an Email Template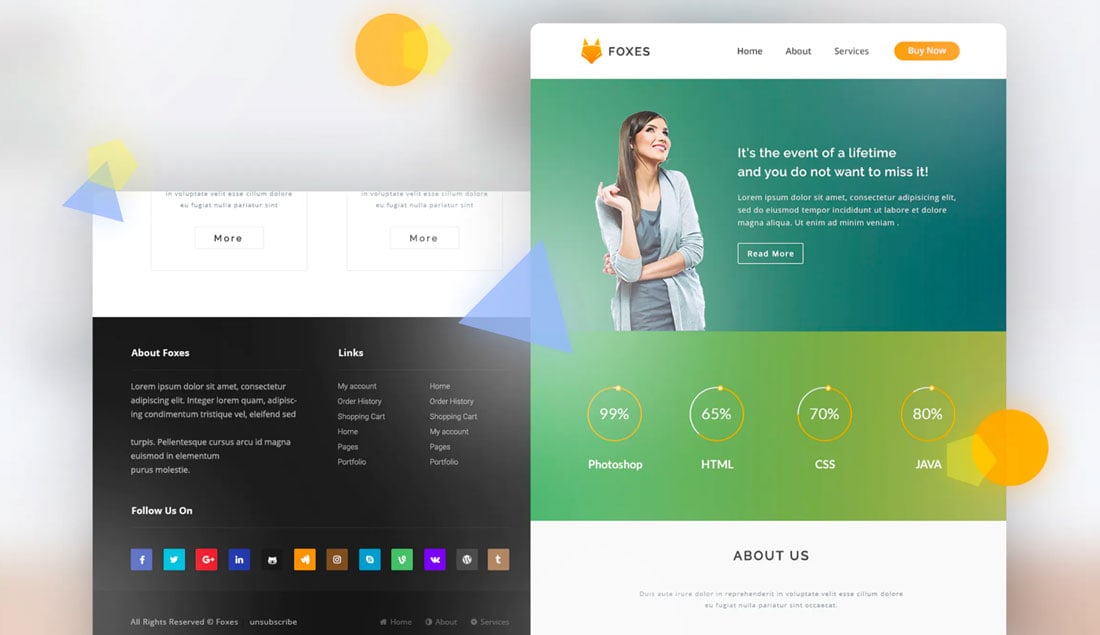 There are a lot of things to think about when choosing an email template, from the design of the email to your specific sending needs to the platform you plan to use. Here are four key tips.
1. Consider Your Email Platform
Think about how you plan to send the email. What platform do you already use (or do you plan to use)? MailChimp, Campaign Monitor, and Constant Contact are among the most popular platforms and all have different pros and cons, depending on your email newsletter needs.
You need to start with an email template that will work on the platform of your choice. Check with that provider to see if you have to use one of their templates, can upload one from somewhere else, or code your own.
2. Choose a Responsive Design
With most people accessing email on a mobile device, it is more important than ever that your email template is responsive.
Users may also hop between desktop and mobile devices and your emails need to work whenever (and wherever) they are opened.
3. Test on Different Devices
To ensure optimum usability test your email template on multiple devices before sending out to your entire subscription list. (It's a best practice to test each email before sending as well.)
Many third-party email services, such as the ones mentioned above, include preflight testing tools.
4. Think About Future Proofing
With new devices hitting the market all the time, you want to select an email template that you can use for a while. Your best design option is likely a one-column format with plenty of white space.
Think about things that already cause email issues – such as colored backgrounds, certain animations, or large images – and avoid those design elements to ensure that your email template will last longer.
5 Template Examples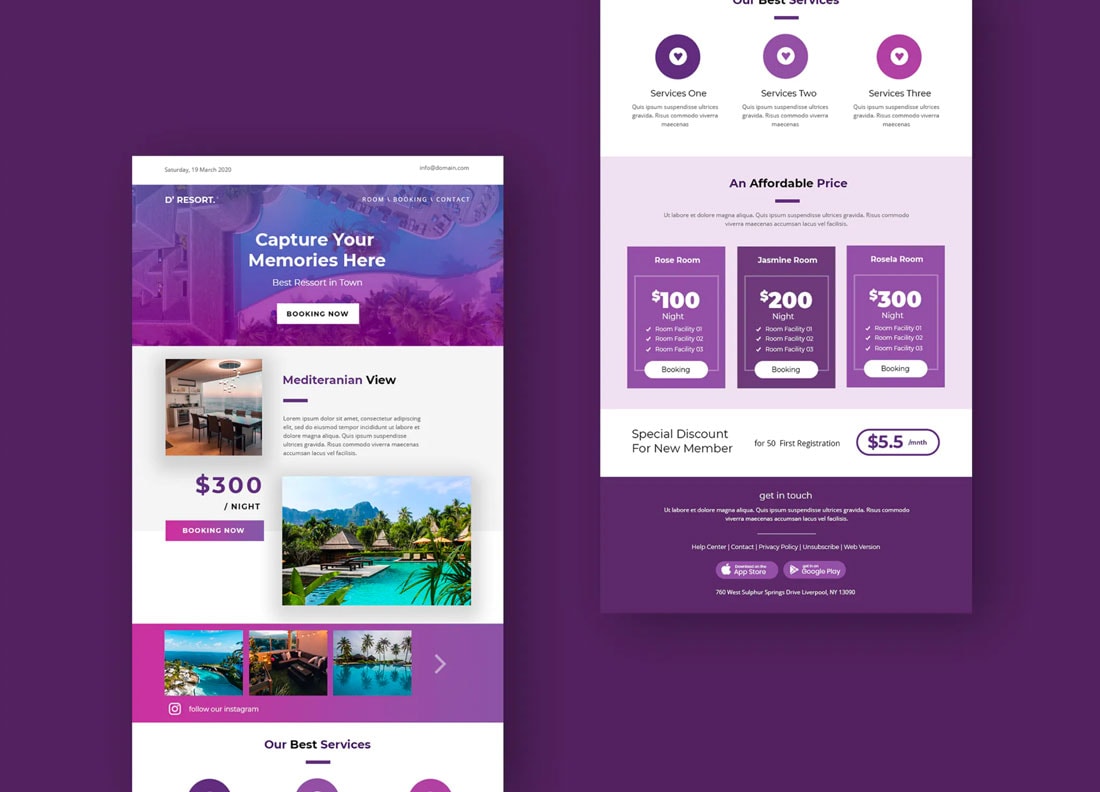 Business Email Newsletter UI Template features a trending one-column design with plenty of room for images and text. The large hero area includes a great space for an immediate call to action that will show without scrolling.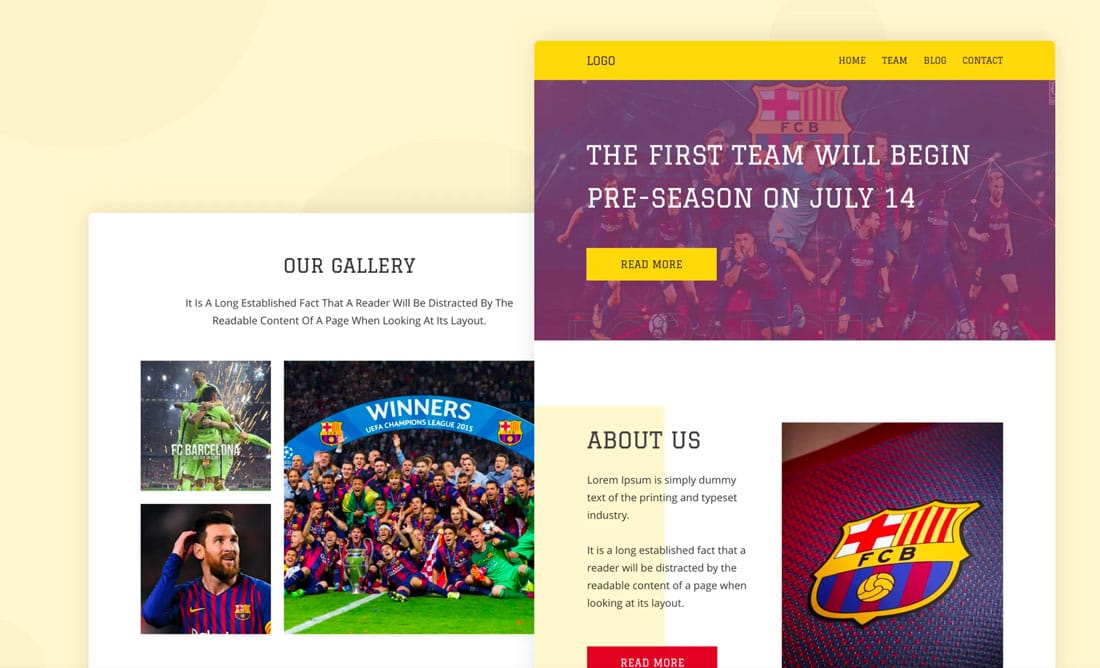 Football Email Newsletter uses bright elements and a simple style to inform subscribers. The gallery feature is especially nice for organizations with plenty of photos to share.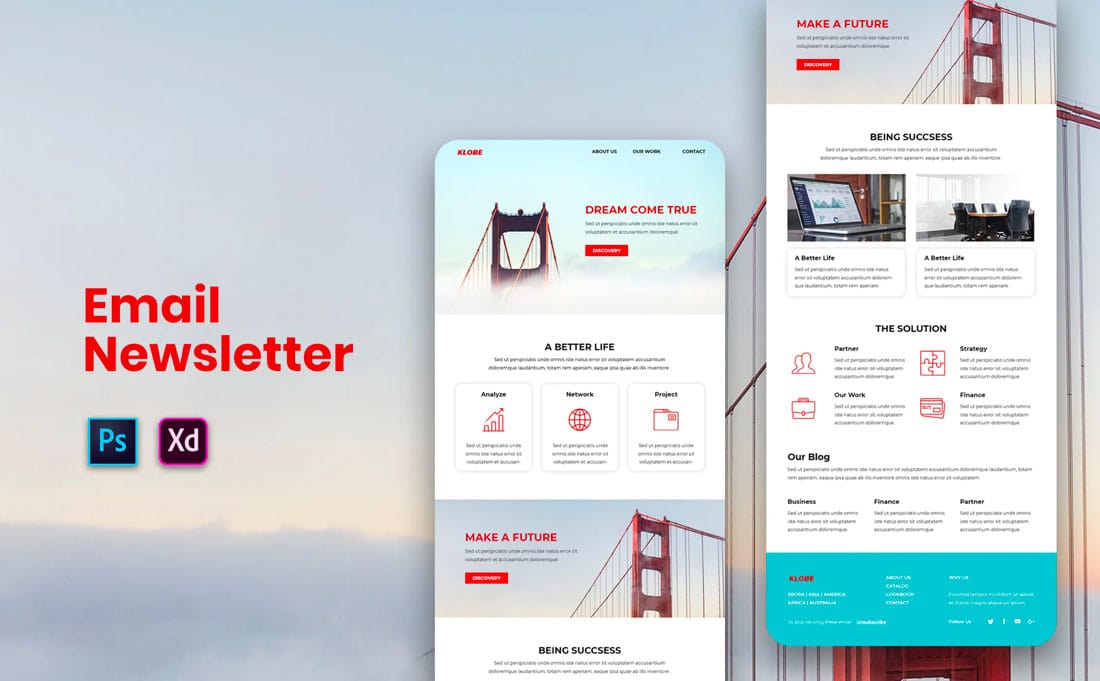 Email Newsletter is a flexible template with lots of different predesigned blocks. The style has an icon-based aesthetic that works if you don't wat to feature images but need a little visual pop.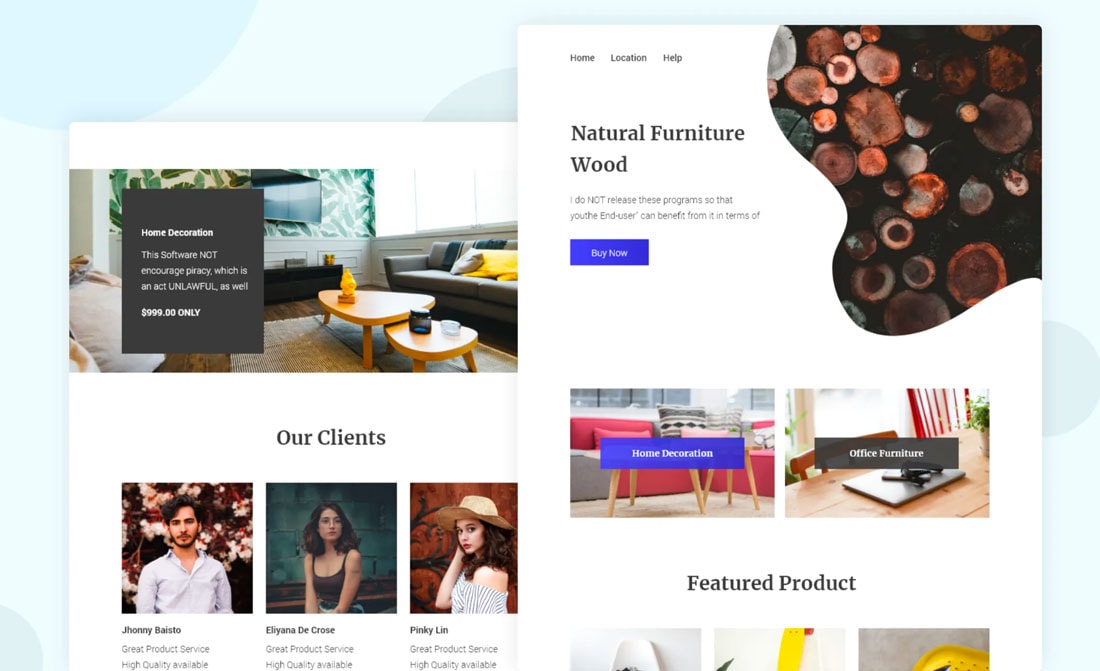 Wood Market Email Newsletter uses an interesting image shape and whitespace to push key messaging to the top of inboxes. It's more compact than other options and the template includes nice photo buttons below. (Perfect for online sales!)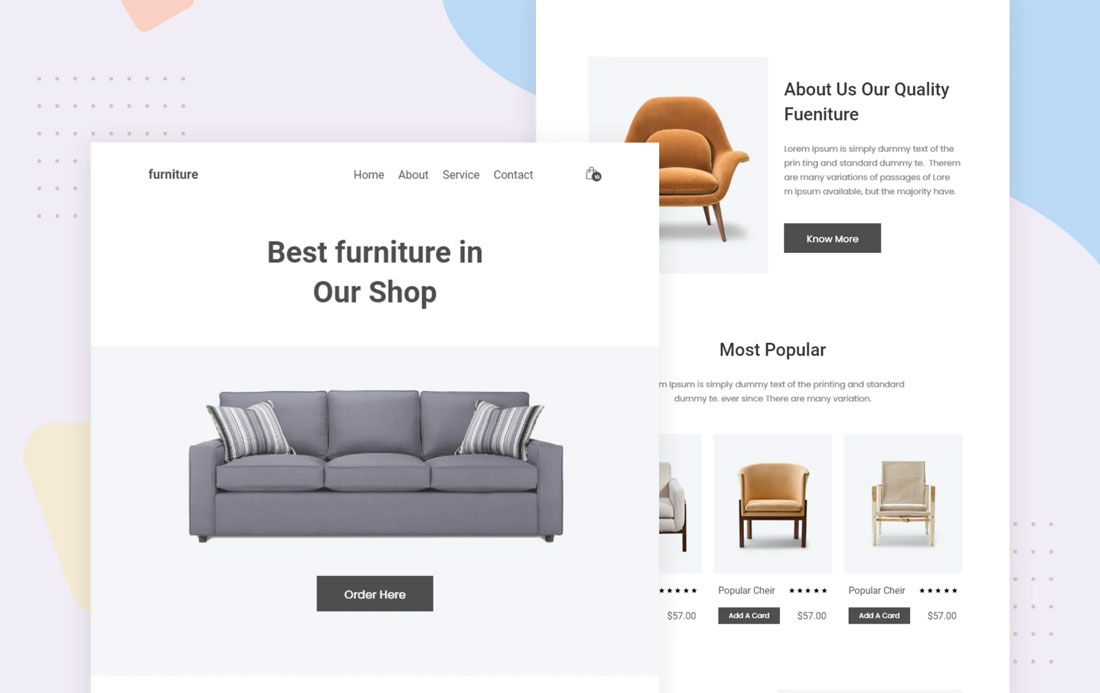 Furniture Sale Email Newsletter has a super-simple design that's perfect for anything from ecommerce to blogs. The above-the-image headline is great to get your point across quickly and even in preview windows.