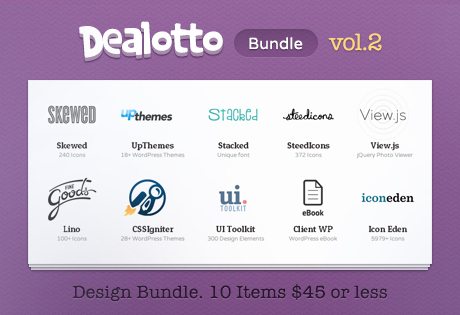 The Dealotto Angle…
Unlike most bundles, Dealotto introduces an element of chance. There are 45 bundles to be won for free and what you pay is decided at random — from free to $45. The luckier you are, the less you pay (though everyone is guaranteed to save over $720).
What's Up For Grabs
The bundle includes a hoard of various design resources and elements:
6691+ Icons
36+ WordPress Themes
1 Beautiful Font
1 jQuery Photo Viewer
1 WordPress eBook
300 UI Design Elements
Pay no more than $45
Tickets cost $3 to play along
Your price depends on how lucky you are
45 Bundles to be won for absolutely nothing!
Hundreds of further discounts to be won
Win a Free Bundle (& All the WPBundle Themes)!
We're also excited to let you know that we'll be giving away three copies of the bundle to a few lucky Design Shack readers, throwing in the contents of the WPBundle as well (worth $200!). To enter, you just need to leave a comment on this post. We'll be picking one winner at random on Friday 10th August. Good luck!