Create an Awesome Animated Thumbnail Gallery With CSS
Today we're going to have some more fun with CSS3 transitions. There's a popular jQuery trick that expands the crop of an image when you hover over it and I wanted to replicate it using only CSS. To take things further, I put this effect into action in a thumbnail gallery.
Keep reading to see the live demo and follow along step by step as we explain how this works and build the whole thing from scratch.
Get unlimited downloads of 2 million+ design resources, themes, templates, photos, graphics and more. Envato Elements starts at $16 per month, and is the best creative subscription we've ever seen.
What We're Building
Just in case you're the kind of person who like to skip to the end of a book and sneak a peak at how it all turns out, here's a finished demo of what we'll be creating.
Live Demo: Click Here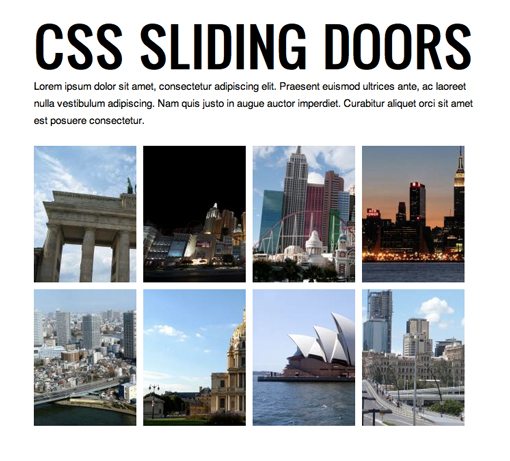 Proof of Concept
Before we launch into designing a full gallery page, let's build a small version just to get a feel for what we want to accomplish. The basic idea is to have a thumbnail gallery where each thumbnail is cropped to only show a part of a larger image. Then, when you hover over an image, the thumbnail expands to show the full thing.
HTML
To start off, create a basic HTML page and toss in a few divs as shown below. Here I have a basic container and then three images. For what we're doing, we can't just style the images directly without some awkward stretching so we're forced to put each in its own div.
<

div

class

=

"box"

>

<

img

src

=

"http://lorempixum.com/400/200/abstract/1"

>

<

/

div

>

<

div

class

=

"box"

>

<

img

src

=

"http://lorempixum.com/400/200/abstract/2"

>

<

/

div

>

<

div

class

=

"box"

>

<

img

src

=

"http://lorempixum.com/400/200/abstract/3"

>

<

/

div

>