10 Mega Menu CSS Templates
There's no introduction necessary for mega menus. Anyone who has surfed the web has definitely seen at least one website with a mega menu. That's how popular the mega menu trend really is — they're popping up everywhere!
Want proof? Take a look at the massive and beautiful mega menus on Amazon, Puma, Walmart, or The White House websites.
We've hand picked a few amazing mega menu templates that you can get for the price of a cup of coffee!
Get unlimited downloads of 2 million+ design resources, themes, templates, photos, graphics and more. Envato Elements starts at $16 per month, and is the best creative subscription we've ever seen.
Why do these popular websites still use mega menus? Because mega menus offer a lot of benefits and great features like none other while also improving user experience, user engagement, and conversion rates.
However, coding a pixel-perfect mega menu is no easy task. Just thinking about the hours of designing, coding, and debugging is enough to give you a headache. So, to save you hours of time and to give your project a head start, you can use one of these templates to get started fast!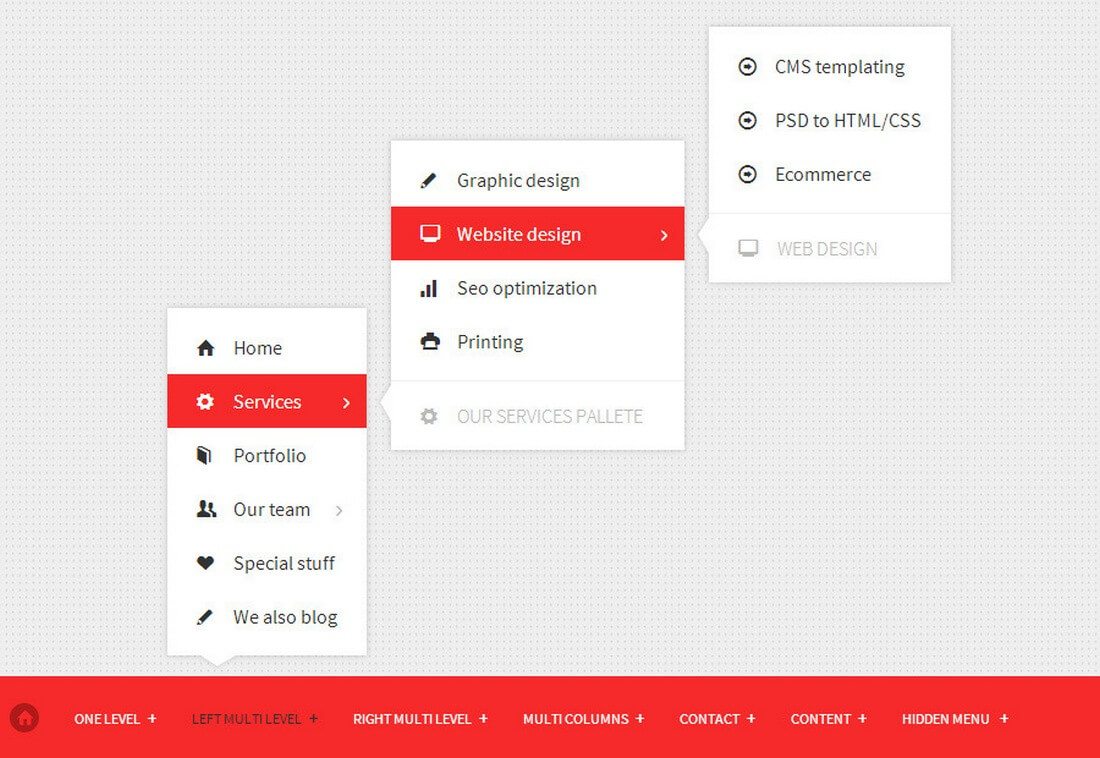 Price: $6
High Resolution: Yes
Files Included: JavaScript JS, HTML, CSS, Layered PSD
Stick It is an HTML5 and CSS3 coded mega menu that can be used as both a sticky footer and menu. It also has several options for creating advanced mega menus, including multi-level submenus, hidden expandable menu, content menu, and a menu with a contact page.
The Stick It mega menu is also easy to customize and features animated transitions, tabs, tooltips and other elements. It's fully responsive across different resolutions and supports all modern web browsers, including Internet Explorer 9 or better.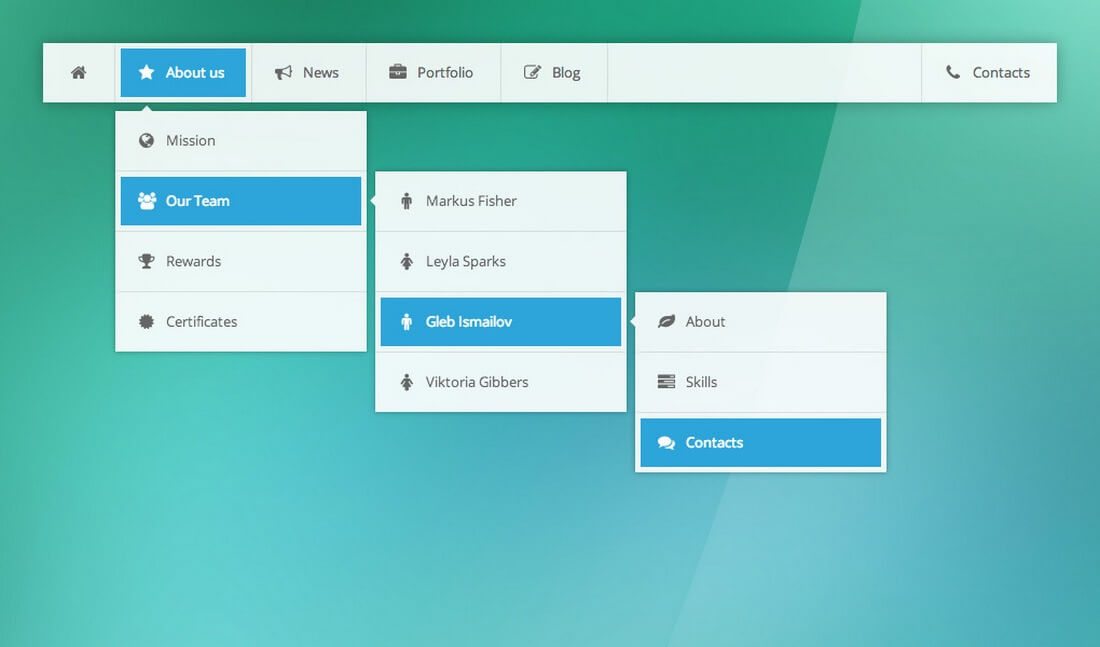 Price: $6
High Resolution: Yes
Files Included: JavaScript JS, HTML, CSS
This mega menu comes with several incredible features that make it perfect for implementing on corporate websites, eCommerce sites, and admin panels. The plugin includes 3 mobile versions, 9 beautiful color schemes, 361 vector icons, and 33 examples for quickly setting up a menu for different types of websites.
Sky Mega Menu also features a 6 column grid system and supports retina displays and all modern web browsers.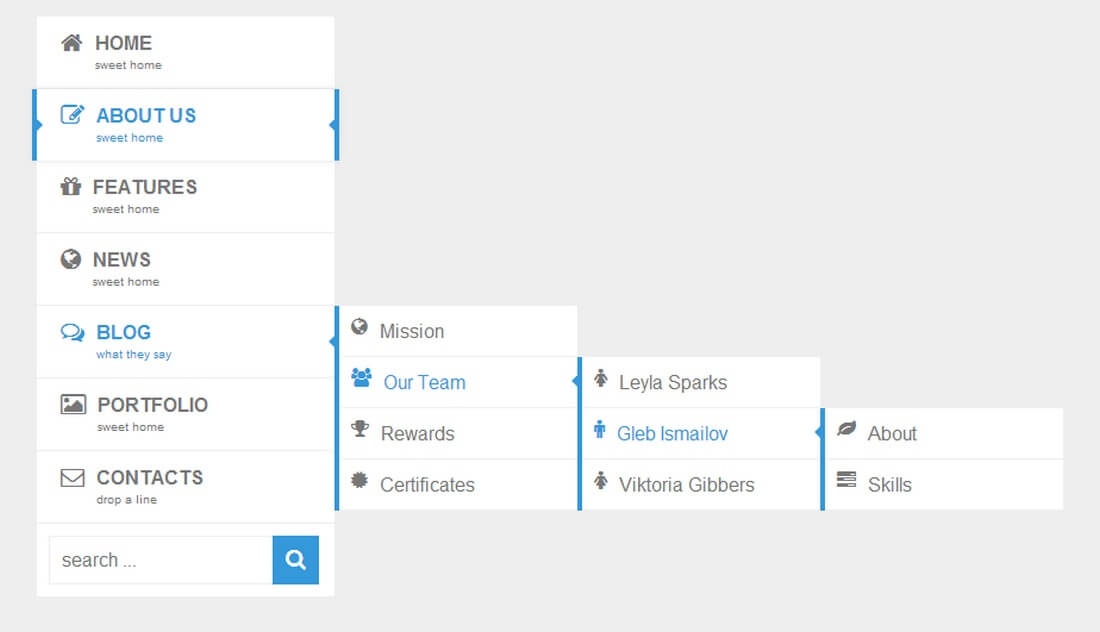 Price: $4
High Resolution: Yes
Files Included: HTML, CSS
Peurto is a mega menu with a slightly large menu items, which would look great on an eCommerce website. It also comes in two layouts, including a vertical layout that you can use to build a mega menu like the one in Amazon website.
The mega menu has a smooth CSS3 based animations, a responsive design, and the ability to create an unlimited number of submenu levels. The plugin comes bundled with 8 color schemes of the mega menu and 16 example designs.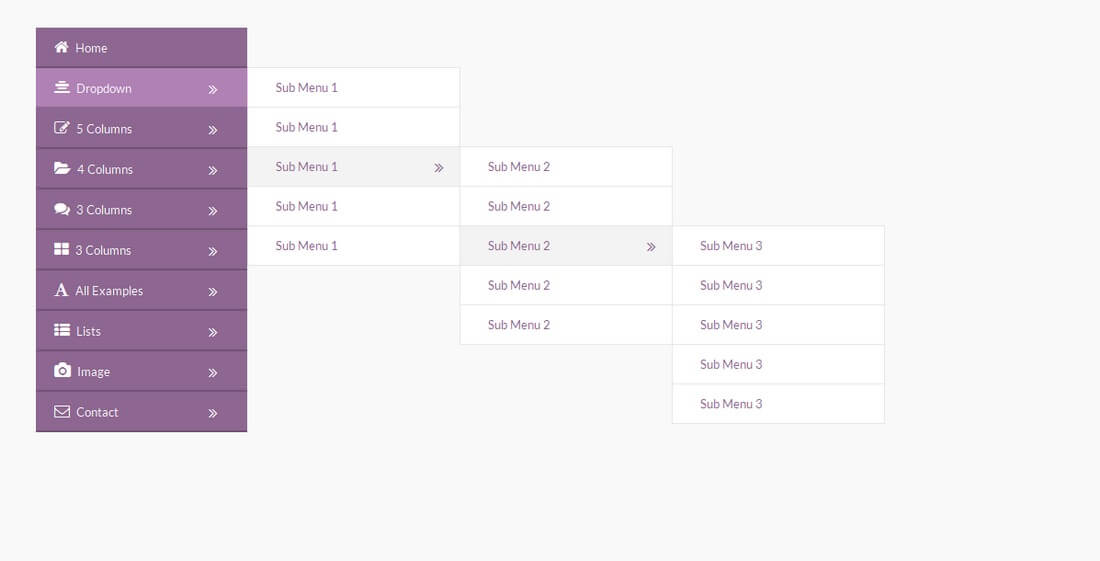 Price: $5
High Resolution: No
Files Included: HTML, CSS
This pure HTML5 and CSS3 mega menu is a flexible vertical menu that's ideal for a large eCommerce website. It's fully responsive, features CSS3 powered drop-down hover animations, a 5 column grid design, and supports all modern web browsers and mobile devices.
The plugin also includes 15 color schemes and Font Awesome icons.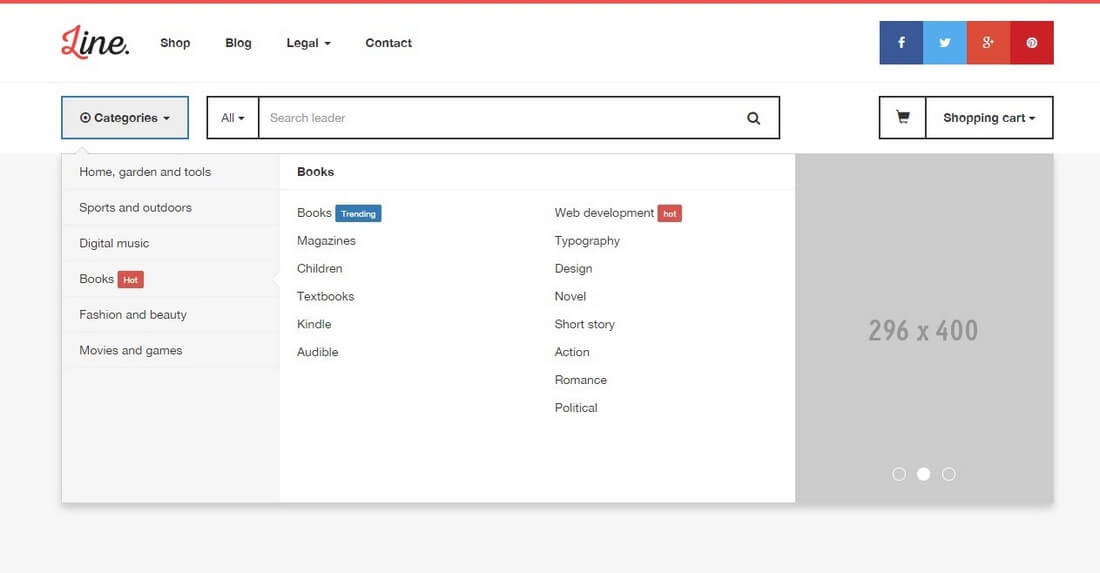 Price: $4
High Resolution: Yes
Files Included: JavaScript JS, HTML, CSS, LESS
Line is a Boootstrap-powered mega menu that has a minimalist look and an advanced design that allows you to feature different categories of a website in a clean menu interface, especially for eCommerce websites.
The plugin comes with two menus: A top menu with brand, links, and social links and another menu below with categories, which includes the mega drop-down menu. The mega menu itself features a small image slider for featuring product images for different categories.
There's also a drop-down menu for the shopping cart as well.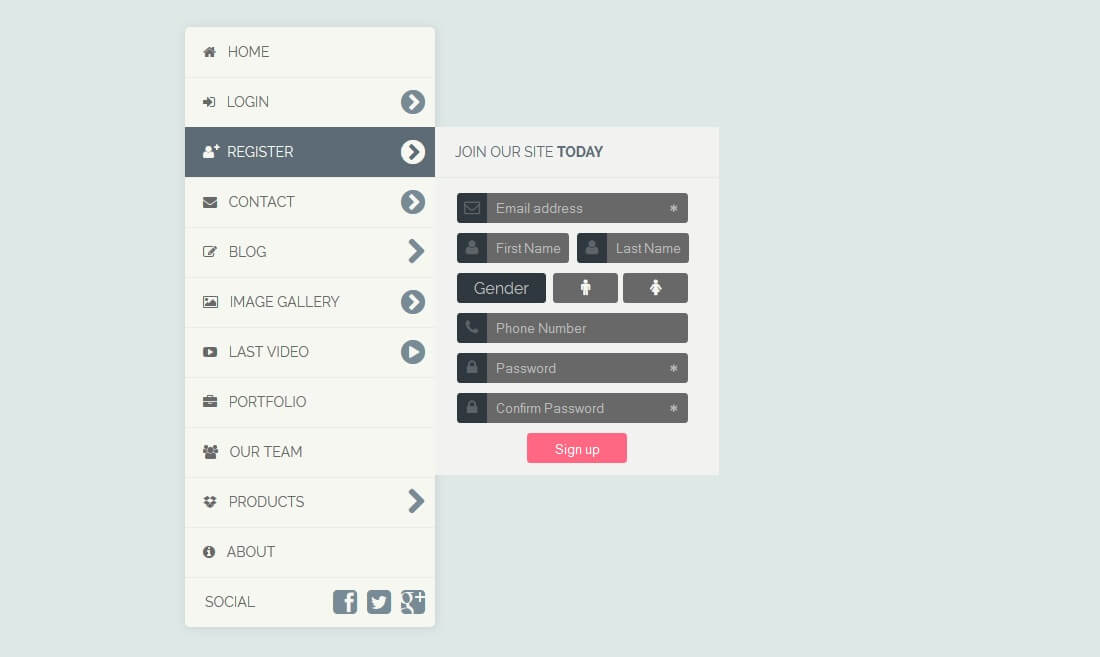 Price: $6
High Resolution: No
Files Included: JavaScript JS, HTML, CSS
TAKO is a mega menu with a 3 multi-level submenu and a clean minimal design. The menu has lots of items with multiple functions, including menu items for user registration forms, login forms, an image gallery, videos, a contact form, and much more.
This menu is perfect for an admin page or a website related to an online service. The plugin supports all modern web browsers and mobile devices.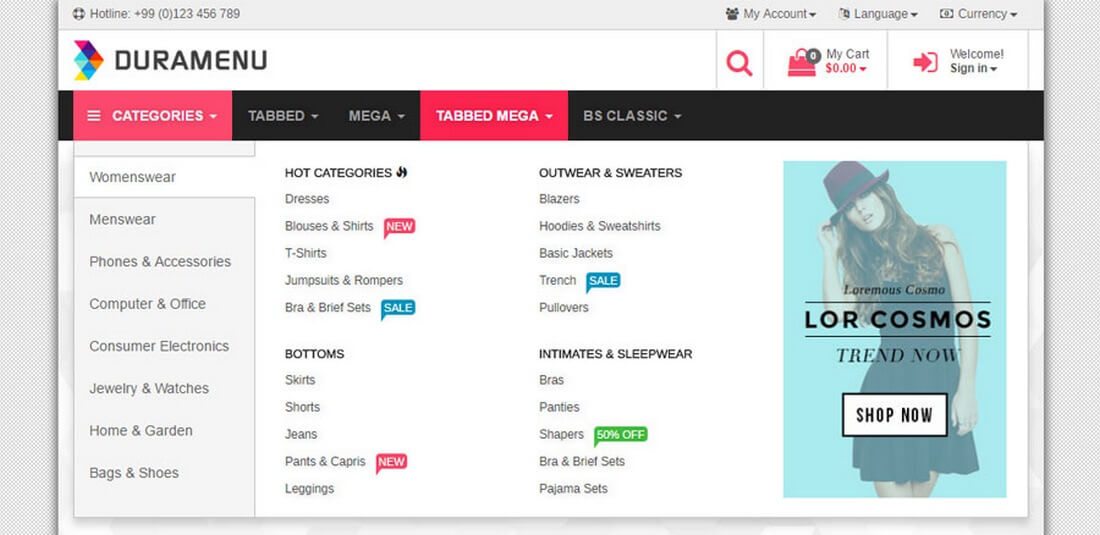 Price: $7
High Resolution: No
Files Included: JavaScript JS, HTML, CSS
This is yet another sleek mega menu powered by Bootstrap. It comes in 10 different pre-defined color schemes, both boxed and fullwidth layouts, fixed header during scroll, and includes tabbed custom width menu, tabbed mega menu and navigation rows.
Duramenu also features a design similar to the menu on Walmart website and includes custom search Login/Register drop-down, Language/Account drop-downs, a product slider, and more.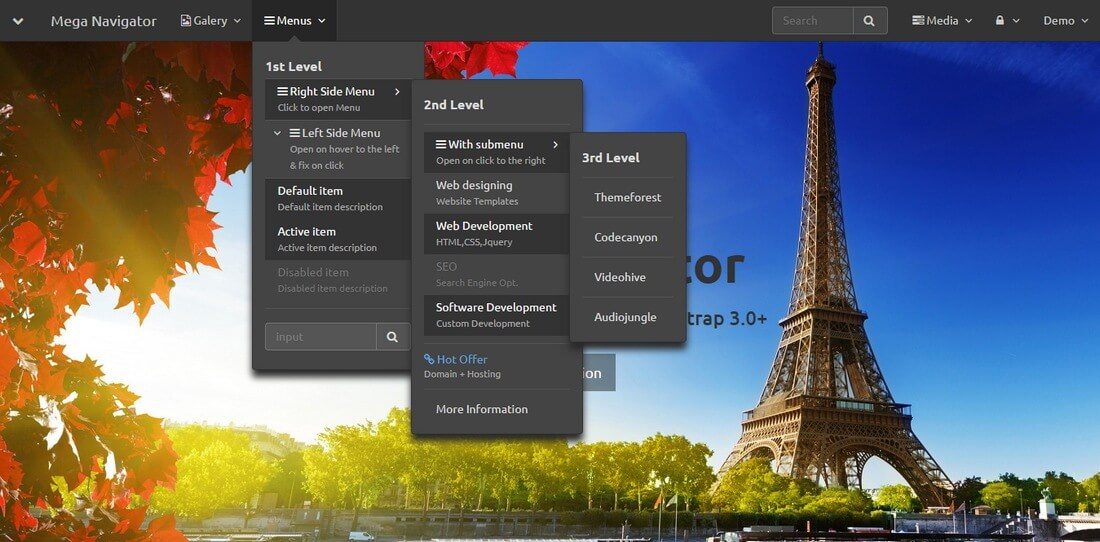 Price: $9
High Resolution: No
Files Included: JavaScript JS, HTML, CSS, LESS
This is a massive mega menu built with Bootstrap that comes bundled with a bunch of features for customizing the menu to fit any type of website. The Mega Navigator menu has multi-level submenus, a wide menu for featuring Google maps and contact forms, and a full menu for showcasing text, icons, images, and links.
Mega Navigator mega menu is 100% responsive and comes in over 20 different styles and colors.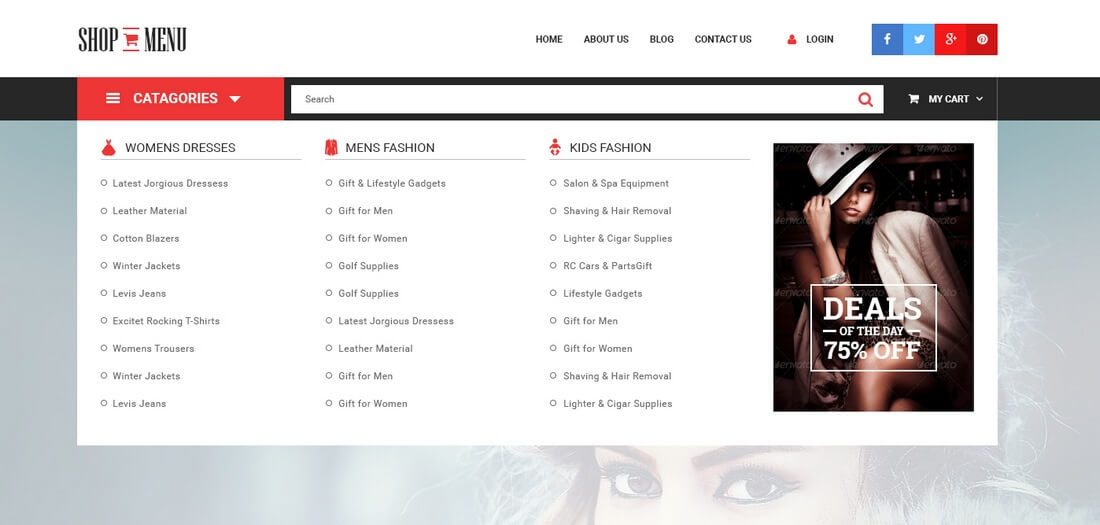 Price: $7
High Resolution: Yes
Files Included: JavaScript JS, HTML, CSS
Shop Menu is another mega menu built on Bootstrap framework with a design especially suitable for eCommerce websites. The menu features a stylish and a modern design and nicely showcases all the categories in a clean menu interface.
This mega menu also features a top menu with branding and social links and a lower menu with a search bar, categories, and a shopping cart menu.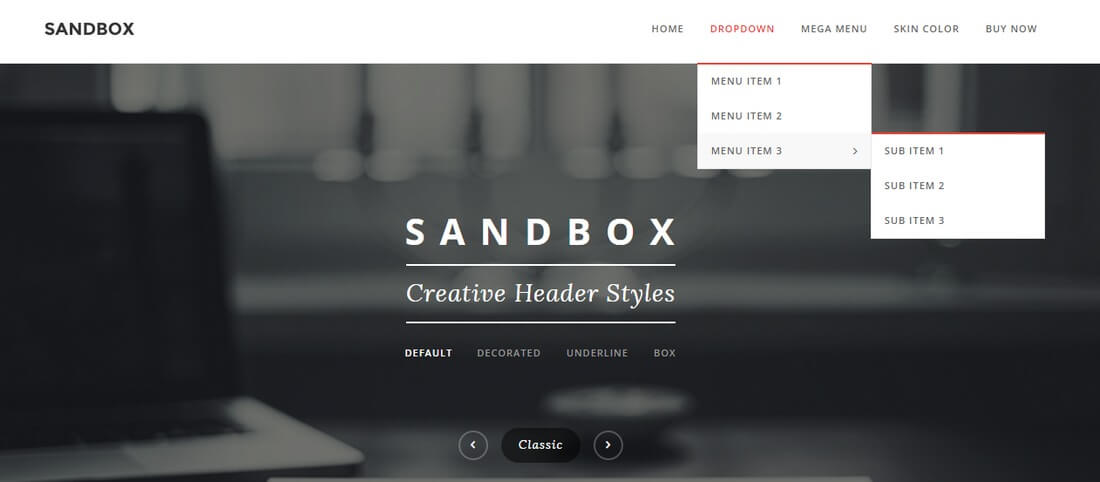 Price: $9
High Resolution: No
Files Included: JavaScript JS, HTML, CSS
This mega menu plugin is somewhat different from the rest. Just as the name suggests, this mega menu allows you to easily craft your own mega menu using over 15 different header layouts that come with the plugin.
Some of the header styles include a transparent menu, a floating menu, a sidebar menu, a sticky menu and more.
With a few tweaks and customizations, you can get these mega menus to match perfectly with any of your designs. And remember, making your website look professional to your visitors should be your main goal. Think twice about that before you choose a poorly coded free plugin to save a couple of bucks.