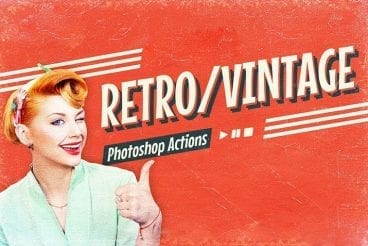 Design trends come and go, but there has always been a trend that stood the test of time—vintage and retro-themed designs. Today we're diving into our favourite vintage Photoshop actions!
No matter how advanced design and technology becomes, there will always be people who appreciate the beauty in classic and retro design. This is why we still see vintage themed posters, greeting cards, banners, and even photographs everywhere.
Photoshop makes it easier than ever to create authentic vintage effects. In this post, we're featuring a collection of the best retro and vintage Photoshop actions you can use to apply retro effects to your own designs with just a single mouse click.
We're also featuring tips for vintage and retro designs, with advice on how to use and apply these Photoshop actions.