10 Unbeatable Premium Memberships and Courses for Professional Design Training
As a professional designer, it's absolutely crucial for you to stay up to date with your skill set. With web design moving along at a rate so fast that even the best quickly fall behind, it's helpful to have a solid lifeline to quality educational resources.
Today we're going to look at ten awesome premium design memberships and sources for training courses that will help you learn a plethora of new skills and help you stay current on the topics that you're already versed in.
Envato Elements gives you unlimited access to 2 million+ pro design resources, themes, templates, photos, graphics and more. Everything you'll ever need in your design resource toolkit.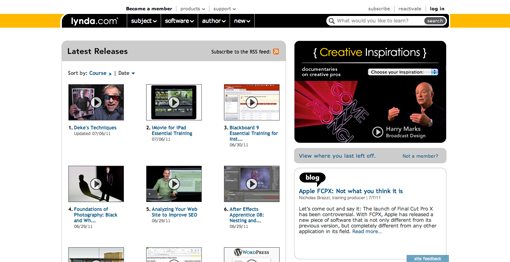 Lynda.com is the place to go for online training videos for creative professionals. Historically, their focus was almost completely on software such as the Adobe Creative Suite, but lately they've been expanding into actually teaching full-on skills like photography from the ground up. Coders can find complete instruction on everything from simple HTML and CSS to advanced Ruby and PHP.
The library of video instruction and course material that you get access to with Lynda is enormous. The videos themselves are top-notch and the instructors are actual leading industry experts, not inexperienced teenagers strapped for cash like you may find on other instructional sites.
I personally have a Lynda subscription and can't get enough of the service. Every new version of Photoshop that releases has a mountain of new features and the only way for me to remotely attempt to keep up on it is to drop by Lynda and see a walkthrough of how it all works.
Lynda Pricing
Lynda's incredibly high quality and solid reputation comes at a surprisingly affordable price right in line with most competitors. Monthly plans start at $25 and annual plans at $250 per year. There are also multi-user plans available for businesses and schools.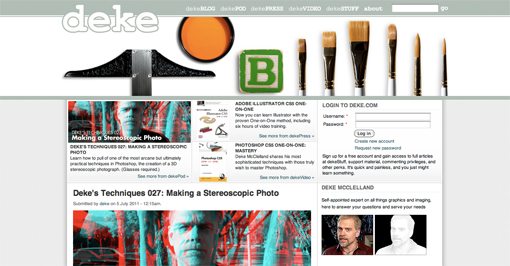 One of my favorite things about Lynda is that they hire Deke McClelland to do much of their Photoshop training. I can honestly say that I wouldn't be where I am today without Deke. When I was in high school, he worked for Total Training (coming up next) and I went through some of his Photoshop and Illustrator training courses, which subsequently changed the course of my life.
Software video tutorials are notoriously boring and few people can actually hold my interest well enough that I don't fast-forward every three minutes or fall asleep on my desk. Deke is in a league all his own. He's this crazy, wacky guy that says and does hilarious stuff and keeps you thoroughly entertained as he transforms you into a Photoshop master.
His website, Deke.com doesn't really belong on this list because it's really a free resource but he frequently supplements his Lynda training with a free video tutorial on his site. Be sure to check out DekePod for regular Deke madness.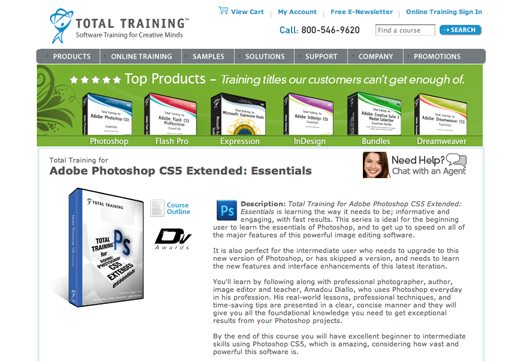 As I mentioned above, Total Training is actually how I first picked up Photoshop and Illustrator. Following their instructional DVDs on an old G4 taught me the skills that I would need for an incredibly fulfilling life as a graphic designer.
Though Deke is now at Lynda, Total Training still has plenty of awesome instructors that teach a variety of different creative subjects across several pieces of mainstream software from Adobe, Apple, Microsoft and others.
The total training programs are incredibly thorough and can easily take you from someone who doesn't know a single thing about a given topic to a knowledgeable professional ready to make a living with your new skills.
Total Training Pricing
Total Training has lots of options for purchasing their products. If you find a specific course you like, you can buy it on DVD or online by itself. Alternatively, you can sign up for a subscription and get access to a huge, Lynda-like online training library. Pricing is just about what we saw with Lynda above with monthly plans coming in at $25 and yearly plans starting at just under $240.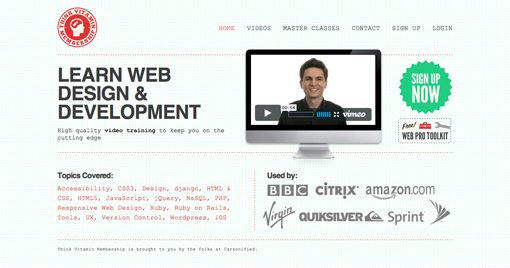 Think Vitamin is a smaller, but up and coming program with a focus on intensive professional learning for web designers and developers. The guys behind Think Vitamin are awesome and the training videos that they put out rival anything else you'll find.
I like that they have a clear focus and really put a lot of energy and resources into making the program as amazing as possible within those parameters. Sure, Lynda and Total Training have a lot more videos, but are you really interested in Microsoft Word training? Think Vitamin has over 400 videos covering topics that you really care about such as jQuery, UX, Rails, PHP, iPhone Apps, CSS3, and HTML5.
Think Vitamin Pricing ($25 or $49 per month)
Think Vitamin doesn't rope you into long-term contracts but instead focuses on two monthly plans, both of which include access to a large video course library. The primary difference is that the Gold Plan ($49/mo) includes in-depth "master classes" and conference videos while the Silver Plan ($25/mo) doesn't.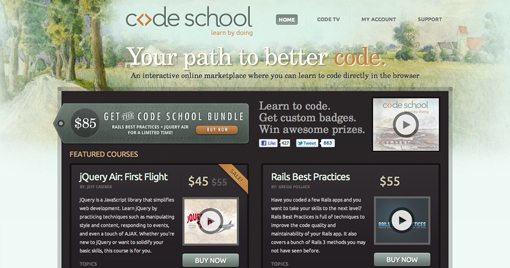 As far as I'm concerned, Code School is the future of online web design training. They're bringing a new learning model to the table that, as far as I can tell, no one is threatening to rival.
Video and written tutorials are great, but I have a lot of trouble learning something until I really sit down and work through it manually. Traditional tutorials encourage you to follow along, but it's too easy to just skip that step and listen while your brain dumps all this new information at a discouraging rate.
With Code School, you learn how to code by participating in an interactive coding environment. As you learn about a topic, you dive right in and start coding in the browser step-by-step with your work being checked automatically. It's a simple idea but the implications for learning are quite profound. Intrigued? Jump in and try it free now!
Code School Pricing
Code School currently has three courses. jQuery Air: First Flight is on sale for $45, Rails Best Practices is $55 and Rails for Zombies is completely free (Functional HTML5 & CSS3 coming soon). Right now you can get a bundle with the two paid courses for $85.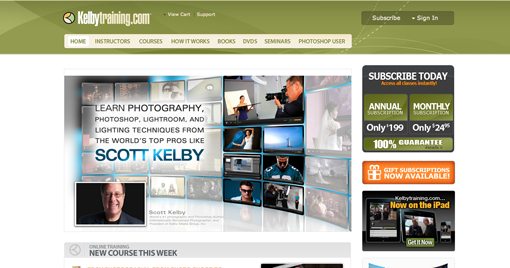 Kelby Training is a lot like Lynda and provides you with in-depth video training from some seriously big names in the industry. I think where Kelby stands out is in its resources for photographers. They have Photoshop and other software training too but they definitely seem to have a photography emphasis that you won't find from any of the services above.
The training model here is pretty awesome because you get to actually see the photographers on-site doing what they do best. For instance, if you're checking out a course from a professional wedding photographer, you're going to watch a video of that photographer actually shooting a wedding and teaching you as he/she works.
Kelby Training Pricing
Like most of the others that we've seen, Kelby Training has a $25 monthly plan. The yearly plan at $200 essentially saves you $100.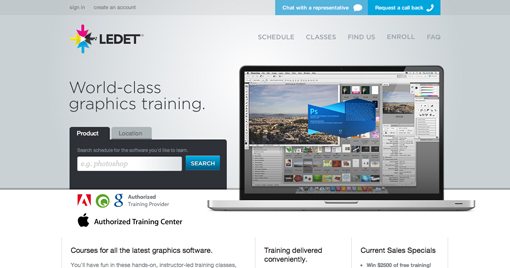 Let's face it, many of us simply aren't self-driven enough to pick up some of these skills all on their own. Even if you are, there are tons of benefits to learning in an actual class environment where you can interact with real people and direct questions directly to the instructor.
Ledet offers 2-5 day advanced professional training for a number of professional applications such as Photoshop, Dreamweaver and Final Cut. If you can't make one of their classes in person, don't sweat it, they also offer online classes where you still enjoy the benefits of live instruction from a real professor that you can interact with.
Ledet Pricing
These are intense, multi-day, live professional classes taught by real humans. Translation: they aren't cheap. Classes from Ledet start at around $895 and range all the way up to almost $2,000.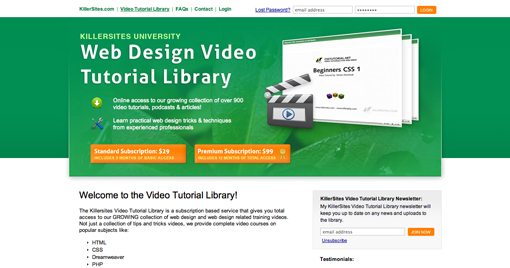 Killer sites is yet another Lynda-like service offering over 900 premium video tutorials and training. Like Think Vitamin, the emphasis here is definitely towards web design with primary topics covered including HTML, CSS, Dreamweaver, PHP, etc.
The thing that may make you want to check out Killer Sites is their prices, which are quite a bit more affordable than many of the options above.
Killer Sites Pricing
Killer Sites offers an impressive three-month subscription for only $29 and a one-year subscription for $99. If you're looking to learn something and are short on cash, this may be the option for you.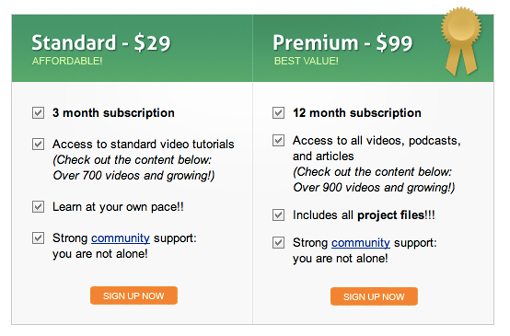 VTC, boasts over 98,000 online training videos, 23,000 of which are completely free (obviously, the paid videos will be higher in quality). I'm honestly not too familiar with their service but they definitely have an incredibly thorough library covering just about every topic you'd want to learn.
VTC Pricing
VTC has four plans: one month for $30, three months for $90, six months for $180, or one year for $250. All of these give you access to their complete library of over 900 different courses.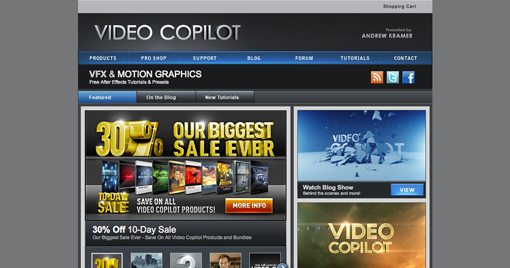 Video Copilot is a dreamland for After Effects junkies. If you're looking to get into video production and motion-based design, this is a great place to start. Video Copilot is definitely more aimed at resources like plugins, but they have plenty of training as well. They even have a completely free course that covers all the basic training you need to get started with After Effects.
In addition to their basic training, they have a number of professional training DVDs and resources that you can use to really up your game.
Video Copilot Pricing
The Video Copilot DVDs range in length, content and pricing but you can expect to pay around $25-$50 for a given course.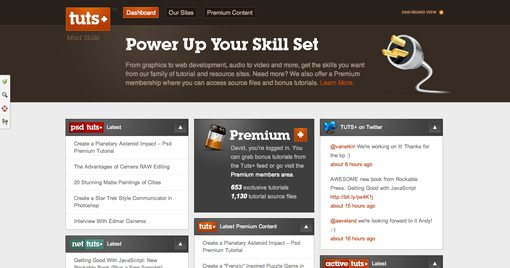 Tuts+ is a network of sites that posts super high quality free tutorials on everything from web design to Flash and even photography. Their premium membership gives you access to an exclusive members site with hundreds of source files from all of the past tutorials and offers Plus-only tutorials and downloads.
In the spirit of honestly, I actually work for these guys regularly. I won't spend too much time trying to sell you on them because I'm likely biased so feel free to check them out on your own to see what you think!
Tuts+ Pricing
Tuts+ Premium is quite affordable at $9 a month, $22 for three months, or $78 per year. You get access to the following premium sites:
Premium (Photoshop)
Net Premium (Web Development)
Ae Premium (Motion Graphics)
Vec Premium (Vectors & Illustration)
Audio Premium (Music & Audio)
CG Premium (Computer Graphics)
Active Premium (Flash & ActionScript)
Photo Premium (Photography)
Conclusion
Any one of the resources above should provide you with an awesome way to stay current on your knowledge and pick up any lacking skills. I fully recommend choosing and utilizing one of these resources to the fullest by devoting time weekly to learning something new. For the sake of your resume and future job opportunities, you simply can't learn too much!
Leave a comment below and let us know where you go for professional training. Have you used any of the resources above? If so, what was your overall impression versus that of others that you've tried?