Getting Started With Letterpress Printing
Have you ever picked up a printed work and taken a minute to admire the feel of it? You hold the paper and get a feel for the thickness and texture while noting the impressions of each letter? That is the beauty of letterpress. This style of printing presses the image into the paper in a technique that has a special feel and quality to it.
While letterpress looks and feels sophisticated, it is something that is an option for most designers working on print projects. You just need to find a printer in your area (or invest in letterpress machinery yourself) and understand the intricacies of preparing a design for this printing method.
Get unlimited downloads of 2 million+ design resources, themes, templates, photos, graphics and more. Envato Elements starts at $16 per month, and is the best creative subscription we've ever seen.
What is Letterpress?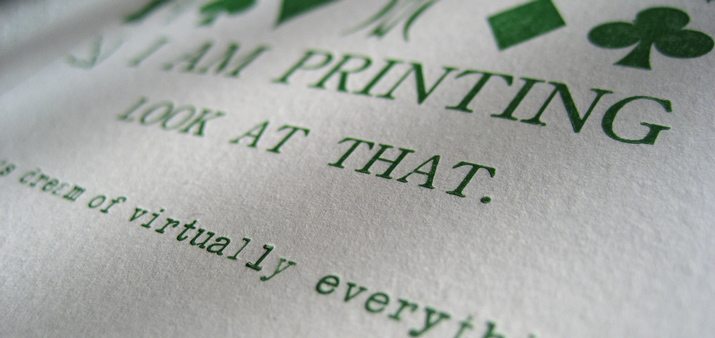 Letterpress is a printing process where each letter is inked and then pressed onto paper. The end result is lettering that is debossed in the print so you can actually feel each letter on the page.
Letterpress printing can be expensive and is often reserved for special projects or for items that need a signature look and feel to them. The expense of letterpress comes from the actual printing. Think of it this way: If every letter must be pressed into the paper, a metal "press" has to be created specifically for each project. The process also takes considerably more time than digital printing or lithography.
Letterpress has seen a resurgence of sorts in recent years because of the unique nature of the prints made. Letterpress is often used for printed items that need to have a classic feel, hint of regality or expense or are designed for specific one-time events (weddings, large fundraisers, etc.).
The beauty of letterpress printing is that it engages the senses. It is more than a piece of paper. It is a design that you can touch and feel. It has a simple elegance and beauty that screams class and elegance. It also assumes a connection to the past because of the old nature of the printing process.
History Lesson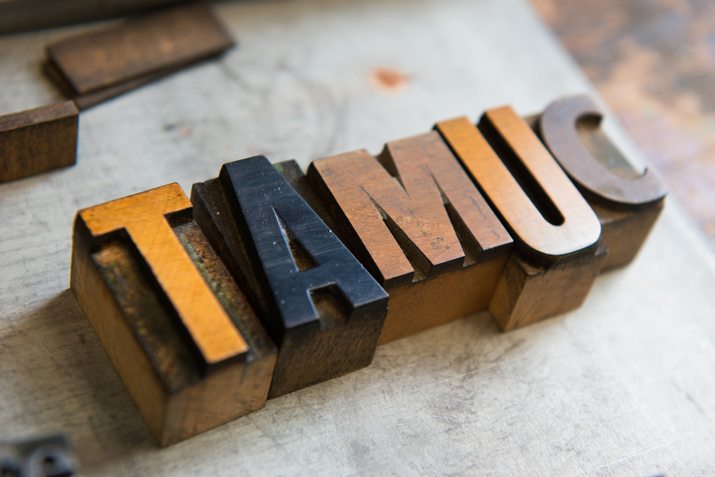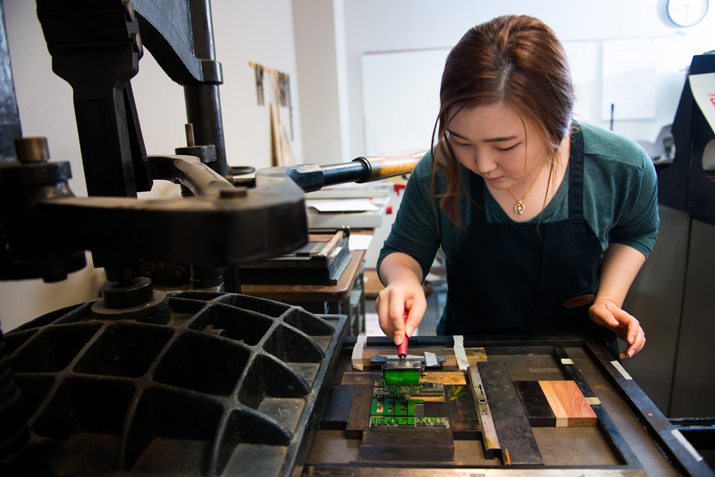 Letterpress dates to the mid-15th century and the first printing presses. Most historical resources link it to Johannes Gutenberg, the father of the printing press, who is said to have invented movable type printing presses and created the first hand press that was used to print nearly 200 copies of the Bible (which took more than 3 years). Gutenberg's press design was used until the 19th century.
In the meantime, offset printing was developed in the 1950s and became the primary means for producing printed work. Alois Senefelder invented lithography printing in the late 1700s, which limited the use of letterpress printing; it was limited even more with the advent of offset printing in 1903. Letterpress was still used, but more rarely.
In the 1980s photopolymer plates were developed, beginning a letterpress "revival" of sorts. "The ability to transfer a photo negative to the printing plate revolutionized the process," according to "The Beauty of Letterpress" by Neenah Paper. "Larger print runs were now possible and while some printers still utilize the individual character method of typesetting and printing, many have embraced the new digital method. This new technique reintroduced letterpress printing in a whole new light, making way for new design possibilities, encouraging a newfound popularity of the medium, and allowing for style trends to emerge throughout the design community."
The 2000s have marked an era where paper has changed so that it is more suited for letterpress. Specific paper styles were introduced to the market that made letterpress printing easier; these papers can contain wood or cotton fibers and are often quite thick and porous.
Today's letterpress printing is a combination of digital design and impressions on paper. While some letterpress printers still opt for single-letter metal on paper, most are a process of creating and image on a computer is used to create a plate of the complete design that is then pressed into paper.
Practical Applications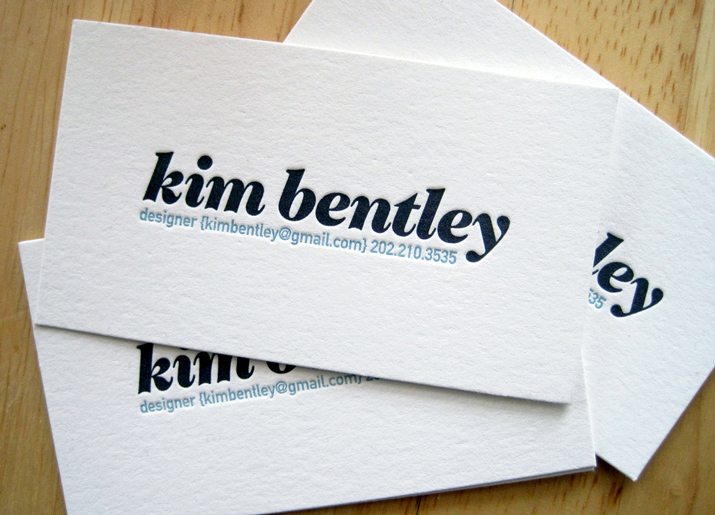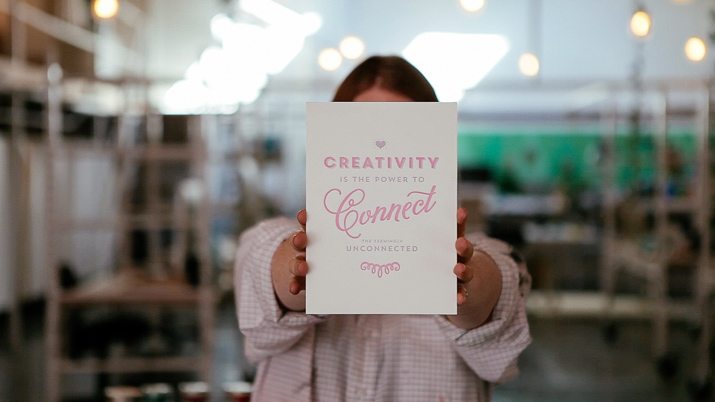 Letterpress is a high-quality printing method that can be used in a variety of ways. The biggest obstacles with this type of design are often time and expense. Therefore, designers commonly use it for small-single page printed projects or replicate the look for digital projects.
One of the most common letterpress applications is in the printing of wedding invitations. Letterpress is also used for birth announcements, shower invitations, greeting and holiday cards and gift tags.
The style is also popular for businesses as well. Letterpress business cards have a certain flair to them that some companies prefer, and many designers like the style for personal or freelance business cards. The debossed style can also work for posters and advertisements.
Less common is the use of letterpress for book printing, where the technique originated. But it is still used for rare editions, special inserted pages and commonly on the cover of annuals such as college yearbooks when students can opt to have their names pressed onto the covers of their keepsake books.
Designing for Letterpress
When it comes to designing for letterpress, there are some things to keep in mind when working through the creative process. You should start thinking about the type of finished product you hope to have from the very start and contact your printer about the specifics they require when preparing the file for print.
Different letterpress printers will have guidelines that pertain to how things print on their machinery. Understanding this in advance will result in a lot less frustration later down the line. Here are a few tips to get you started:
Letterpress printing does not work with transparencies or gradients. It is all or nothing when it comes to ink lay.
Press printing can be a little more imperfect than anything you look at digitally. So be aware of fine and intricate detailing. Simple is better.
Letterpress is ideal for text printing, but make sure your type sizes are large enough to take advantage of this technique. Avoid anything smaller than 8 points, if possible. When using reverse type, up the size to a minimum of 12 points.
Use of color is an important (and expensive) factor. Opt for only one or two hues for the best result. Most letterpress printers will also speak in spot color rather than the familiar CMYK. Remember that when you are choosing colors and during file preparation.
Thickness of lines and letterforms is important. Try to avoid strokes of less than .25 points. While they may come out as you like, hairlines are a trouble area for most letterpress printers.
Use vector images.
Many printers prefer that files are turned in for printing using the TIFF format (not a JPEG).
Remember to add the appropriate bleed and trim.
Consider the paper. Letterpress works best for dark ink on light paper.
Ask about size. Most letterpress printers have a size capacity and it might not be as large as you think.
Additional Letterpress Resources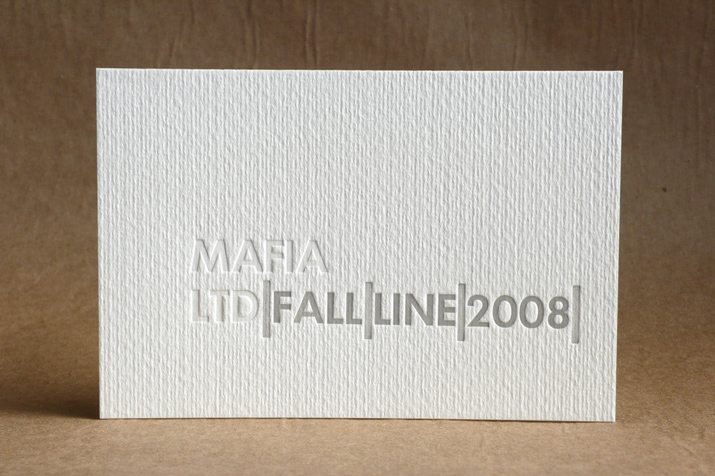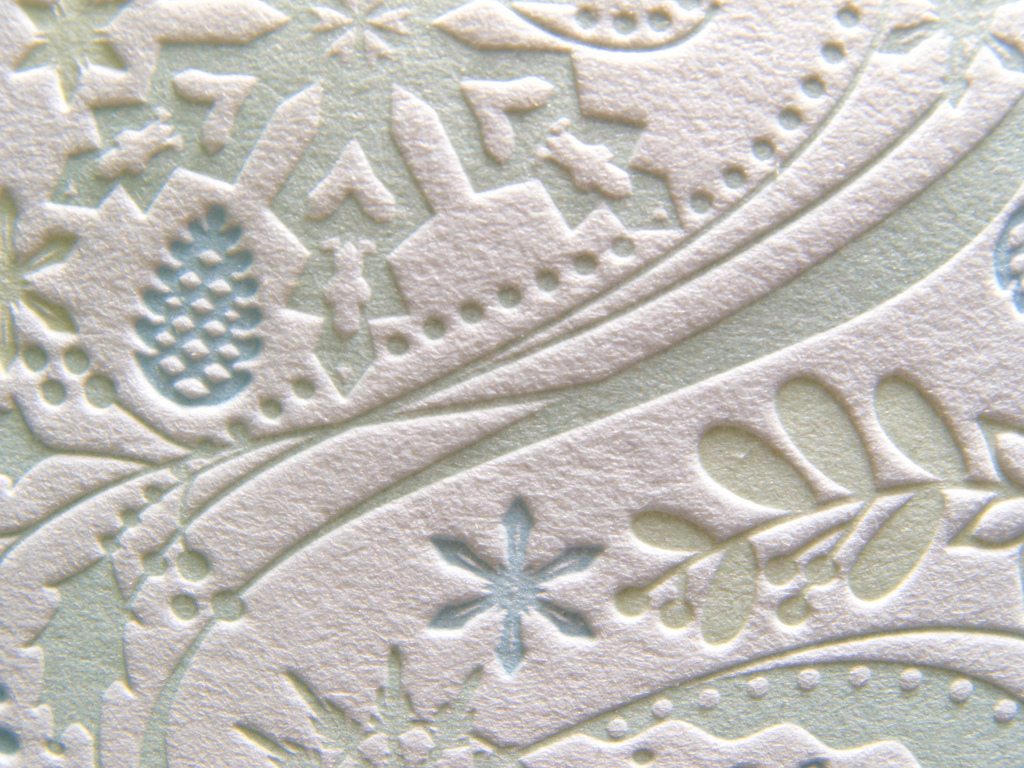 Letterpress is an art almost in itself. While the most common usage will likely be to create a file and hand it off for printing, you can learn the technique. There are a number of great ways to learn more about letterpress from articles to books to classes.
Here are a few resources if you are interested in learning more about letterpress printing or if you think you might want to practice the technique on your own.
Conclusion
Letterpress printing can help you create something that is truly unique. It is a great option for a printed project with a small run or that needs to have a specific feel (literally). While it is more expensive than other printing processes, it does have benefits for certain projects.
Before starting a letterpress project, you want to make sure this is the right fit for your final product. Think about the overall look and feel you want to achieve, turnaround time, budget, number of copies and pages, and the type of creative you will use.
Image Sources: Boris Forconi, Kathryn Rotondo, Texas A&M University – Commerce Marketing Communications Photography, Texas A&M University – Commerce Marketing Communications Photography, Kim Bentley, Tim Lucas, Kyle Van Horn, and Glenn Fleishman.