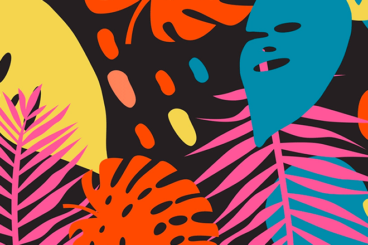 Trends / 6 Feb 2023
Tropicalism is a design trend that we are already seeing quite a bit of in 2023. You'll know it thanks to bright colors, fun illustrations, and a breezy feel that makes you think of summer (and maybe a cold drink).
It's a trend that draws inspiration from tropical landscapes, flora, and fauna. It is characterized by bright, bold colors, patterns featuring tropical leaves and flowers, and imagery of exotic birds and animals. The trend often incorporates organic shapes, textures, and materials to create a lush and tropical atmosphere.
The design trend extends to all elements of design, including website, illustration, and printed materials. Here's a look at the trend and how to make the most of it in your projects.