My Favorite Web Design and Development Podcasts
Podcasts have been around for a long time, but I've really never been able to get into them. That is until recently when I really invested some time into looking around and finding the best design and development podcasts on the web. Now I'm an addict and rarely spend a day slaving over my computer without a few podcasts to keep me company.
Today I'll share with you some of my favorites so you can finally take the leap and subscribe to some podcasts that are not only enjoyable, but thoroughly educational. This isn't a list of every web design podcast out there but rather a personal offering of some of the podcasts that I've personally checked out and enjoyed.
Envato Elements gives you unlimited access to 2 million+ pro design resources, themes, templates, photos, graphics and more. Everything you'll ever need in your design resource toolkit.
Why Podcasts?
For years I struggled with the idea of podcasts. The concept seemed interesting, but through browsing the topics that I'm interested in on iTunes, I was never able to find a solid podcast that really held my attention.
Lately though, I've come across quite a few really stellar podcasts from professionals that I already respect in the web design industry. Once you finally find a show hosted by someone that you enjoy listening to, then the whole concept really clicks and you find yourself anxiously awaiting a fresh week of episodes.
Good web design podcasts provide a perfect balance of education and entertainment. I personally enjoy it when the hosts are relaxed, cracking jokes and just talking shop. I find that it keeps me in tune with the industry and what's been going on and I often hear about new techniques, web apps and strategies that I then go and research in-depth on my own.
Once again, the trickiest part is actually locating a few shows that you can sit through without nodding off. Hopefully I'll be able to help you out with this process by sharing some of my favorite podcasts.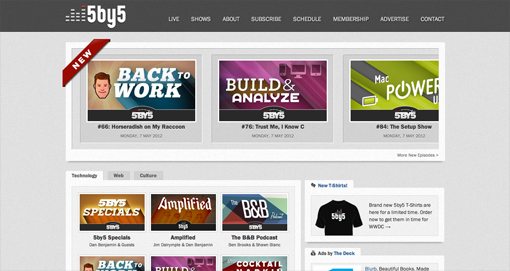 The 5by5 network was my gateway drug with podcasts. Their shows are the first that I ever really got into and if you're looking to get started with podcasts, there's simply no better place to go.
Dan Benjamin is the guy behind this network and he's done an absolutely phenomenal job of setting up the best line of shows in the industry. He's also a great host so be sure to check out the shows where he regularly makes appearances.
On the whole, the network is a primarily filled with Mac and technology shows, but there are a few web design shows in there as well. If you're into Macs, I highly recommend The Talk Show and Hypercritical, but we're here for web design shows so let's look at what they offer in this area.

This show is hosted by Jeffrey Zeldman, what more do you need to know? The guy is a legend in the web design industry and it's really cool to be able to put a personality to that image.
The big web show is largely an interview show. Jeffrey has a new guest each episode (often high profile folks) and chats with them about what's going on in the web design industry and what they've been working on lately. Occasionally Dan Benjamin jumps in as well, which is always a good thing. He has a way of helping computer geeks along by steering them into interesting conversation.

Jen Simmons hosts this show, which is always filled with solid discussion and questions regarding all things web design. She does a good job of covering advanced and interesting topics while keeping things simple enough that even non-hardcore-developers can still follow along.
One of the most impressive aspects of this show is the caliber of guests that she brings on weekly. Recently she's talked with Paul Irish, Eric Meyer and Ethan Marcotte, all of which are really big names in our field.
Retired Shows
There's a whole section on 5by5 filled with retired shows that aren't on the air anymore. Several of them ran up to a fairly recent time and therefore still contain lots of relevant information and conversation. Along these lines, be sure to check out The Dev Show and Let's Make Mistakes. The latter of these is still going, but is now found on the Mule Radio Syndicate.

Shop Talk is one of the newest web development podcasts to hit the web and it's already my favorite. Hosts Chris Coyier and Dave Rupert are thoroughly entertaining. They tell horrible jokes, answer questions, dispense advice and have far too much fun with their soundboard. It's fantastic.
The topics covered on this show are fairly lightweight and tend to stay in the realm of HTML, CSS and JavaScript. Their guest list thus far is overflowing with my favorite people in the industry: Jeffrey Way, Trent Walton, Ethan Marcotte, Paul Irish, Jonathan Snook and more. If you're only going to listen to one web design podcast, it should be this one.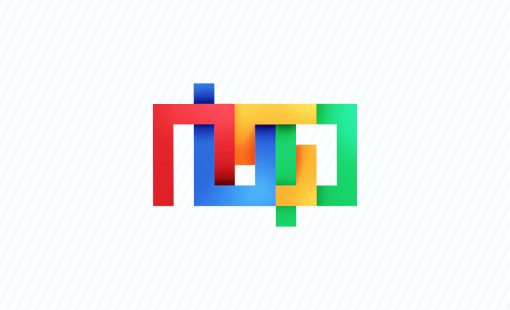 I first heard about this show from the last one. The guys that host Non-Breaking Space, Christopher Schmitt, Dave McFarland and Chris Enns were on an episode of Shop Talk. Just like Shop Talk, this show has a really relaxed interview style and is always good for a few laughs as well as lots of good information.
Recently they've had some big names on their show as well: Brad Frost and Jeff Croft to name a couple. They've also had Paul Irish and Ethan Marcotte on as well, those guys certainly seem to be on the podcast circuit!
The Industry is a show hosted by Adam Stacoviak, Drew Wilson and Jared Erondu that, true to its name, really covers a wide variety of topics that relate to the web design industry. They typically have a guest and discuss general CSS stuff like preprocessors and major events like Instagram's sale and the Google+ redesign.
Aside from occasional blunders like someone eating potato chips (I simply couldn't listen to that episode), it's a great show and I highly recommend that you check it out.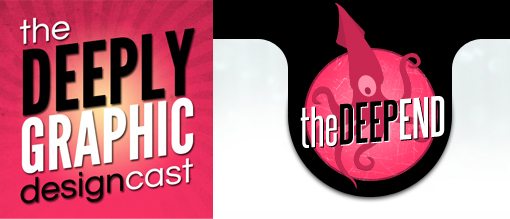 Admittedly, I only recently found this one and haven't spent too much time listening to it, but I wanted to list it for one important reason. I know all Design Shack readers aren't necessarily developers. Most of the podcasts that I listen to discuss development more than design but this one is actually focuses purely on the design side of things.
It's also a fairly advice-driven podcast so each show has a topic on which the hosts give their advice. So far they've discussed topics such as how to deal with clients, create interesting business cards, and design logos.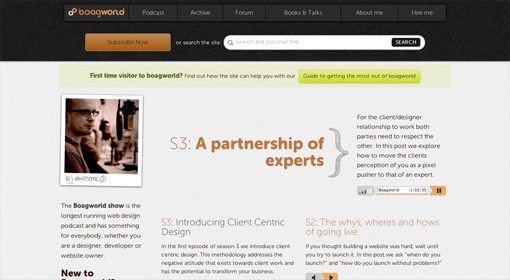 Call me predictable, but you simply can't have a list of web design podcasts without mentioning Boagworld. It's hands down one of the best, longest running podcasts for web designers. Paul Boag is super entertaining and he brings a ton of business insight to the table.
This podcast tends to focus more on strategy, clients, and other professional aspects of the web design world than on specific technologies like HTML and CSS. If you're a freelancer or someone running your own web design firm, you should absolutely be listening to Boagworld.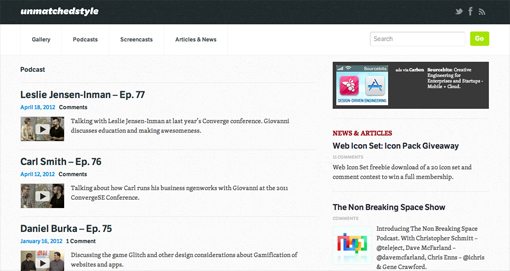 I like to listen to podcasts as I work, so video podcasts don't generally work for me because they actually require a good amount of attention. That being said, the Unmatched Style podcasts are typically face to face interviews that aren't particularly visual. You can definitely turn them on and let them run in the background without missing too much (there are some that break this rule).
They've had over seventy-five episodes thus far so there's a ton of content to watch and listen to and they've interviewed a lot of interesting people over that time period such Cameron Moll, Chris Coyier and David Kaneda.
Other Great Shows
Can't get enough podcasts? Be sure to check out these as well. Some are screencasts that I've been watching for ages, others are fairly new to me.
What Do You Listen To?
I'm a little late to the game but I'm definitely officially on board the podcast bandwagon. Even if you just like background noise while you work, these podcasts will keep you educated and up to date on current web trends.
I've barely scraped the surface of the web design and development podcasts available so do me a favor and leave a comment with all of your favorites. I'd love to discover more and discover what you guys have been listening to!