Inspirational Workspaces

Believe it our not, your office environment as a designer can have a huge impact on the quality of work produced. Whether it's in a cluttered office, a contemporary apartment, or even a caravan; the standard of your design creations (even your CSS code!) can really be impacted by the surrounding. This article will take a look at some inspiring workplaces, desks and gadgets to give you a few ideas.
Envato Elements gives you unlimited access to 2 million+ pro design resources, themes, templates, photos, graphics and more. Everything you'll ever need in your design resource toolkit.
Why is Working Environment Important?
When you spend any length of time in one particular place, it is worthwhile making it somewhere you feel comfortable, at ease and productive. A study or office can often feel to be a confined area, prone to becoming strewn with papers and wires. Having a simple, clutter free place to work can help because:
It removes distractions, allowing you to focus on the task at hand
You feel relaxed and comfortable when working
It leads to heightened confidence, knowing that everything is well managed and in it's place
The Desk
A driving instructor needs a comfortable car, a professional sportsman requires the latest, supportive trainers and a clown would be lost without his face paint. In the same vein, a good quality, well organised desk can help hugely with the workflow of a designer. Here are a few examples of really great workspaces: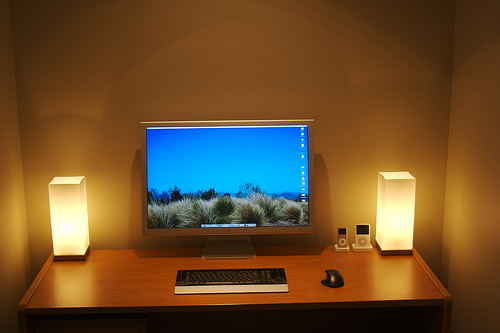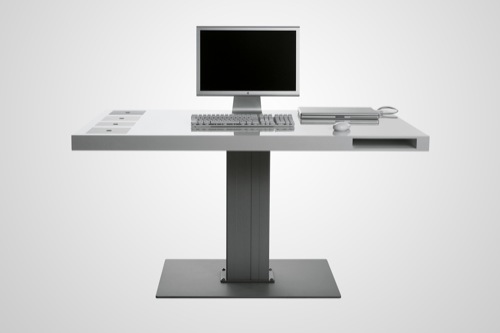 Whilst it may not be possible to have a completely "paper-free" desk, restricting yourself to one or two notebooks and some post-its is usually an achievable goal. Many designers swear by Moleskine note books and the classic Fisher Space Pen. Finding tools which you work well with is the first step towards a really productive workflow.
The Room
The larger environment of your room is also worth considering. Whist constrictions are obviously always imposed by size and layout, the following are important aspects to get right:
Plenty of light, with blinds to dull it down on very bright days
A good air flow from large windows that you are able to open
Plants help to oxidize the air and look natural
Plenty of storage compartments to keep clutter down
Photos of family and friends (consider Jewel case frames)
A comfortable and supportive chair
Here are a couple of examples of very different, but very well laid out working environments: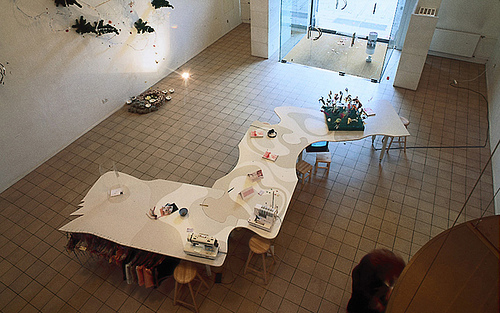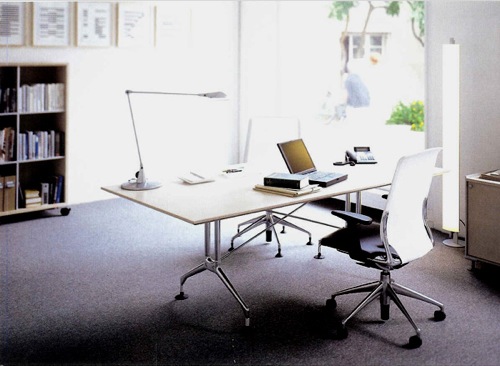 Keeping it Clutter-Free
Finally, the dilemma of how to keep the clutter away from the desk top and into well organized piles, drawers and filing cabinets. We've put together a five step plan to getting closer towards this goal:
Buy a filing cabinet and drawer combo. All permanent documents you need to keep (e.g. receipts) go in the filing cabinet, all your pens, paper and accessories go in the drawer.
Buy a letter tray to keep documents separate. One tray is for documents yet to be looked at, one is for those to be sent, and another is for all your other miscellaneous bits of paper.
Go wireless where possible. Whether it involves investing in a wireless keyboard and mouse, a wireless router or a networked hard drive. Try to cut down on the wires trailing around your desk.
Scrap your paper organizer. iCal on the Mac is an absolute workhorse for me. I use it to manage all my business tasks and appointments, family birthdays, social events and finances. It syncs with my iPhone so I have all that information with me on-the-go, and it can be downloaded to other computers via .Mac. It is an enormous improvement over a paper calendar or diary.
Be ruthless. For a few weeks, aim to be ridiculously strict about having any clutter lying around on your desk. After you've consciously focused on it for a short time it will start to become something you do naturally.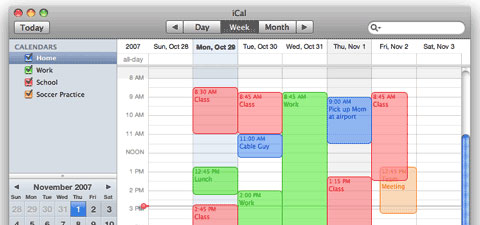 See the benefits!
Once you have a relaxed working surrounding and are feeling in-control, you'll start to see yourself working more efficiently, feeling more motivated and being more creative. When you don't need to worry about when your next electricity bill is due, or where that important client brief is (under a pile of papers on your desk), it frees you to focus on what you love – designing.
Do you have any other examples of great workspaces? Clutter saving tips? Please do let us know in the comments – we'd love to hear them.