How to Crank Out a DIY Mobile Site in Minutes Flat
Huge strides are being made in professional web design in the mobile arena. More than ever, the web is a place that's quite friendly to devices of all shapes, sizes and operating systems. If you're not a professional designer, this news can be unwelcome and even overwhelming as you wonder how you're going to afford or create your own mobile site.
Today we're going to take a brief look at how mobile websites are becoming ubiquitous, why turnkey DIY services are a necessary part of the web design world and a few of these services for you to check out. We'll even walk you through the process of using one of these services so you can see how easy it is to have your own mobile site up and running in minutes.
Envato Elements gives you unlimited access to 2 million+ pro design resources, themes, templates, photos, graphics and more. Everything you'll ever need in your design resource toolkit.
The Mobile Web Is Here to Stay
Once upon a time designers had to spend a good deal of time simply convincing clients that they needed a website. Eventually though, everyone came around and by today just about every business on the planet agrees that a website is not only a worthwhile investment but a necessary one.
Many web designers in the past five years have been in the same place with mobile site design as they were long ago with full site design, but we are definitely beginning to witness the same kind of widespread acceptance among businesses and individuals that we saw with full-size websites. We've reached the age of smartphones and tablets, the web is no longer confined to a desktop but is with us everywhere we go and accessed daily by an almost innumerable array of devices.
There's a massive trend in design right now to not only consider mobile in the design mix, but to keep it front and center in our minds as we develop creative for any given project.
Responsive web design has recently given us an amazingly flexible way to create sites that instantly adapt to look custom-tailored to specific screen and browser window sizes. It's currently the industry's best and most appropriate answer to the dilemma of the duality of mobile and desktop computing. Unfortunately, not everyone has the budget or skill set for implementing such a solution.
The Necessity of Turnkey Websites
Though professional web designers are currently embracing mobile-centric design in an unprecedented manner, there is still another portion of the web that is just now really starting to dive into the mobile arena: turnkey, template-based websites.
"The web shouldn't only be a place for those with multi-thousand dollar budgets to have a presence."
Serious professional web designers need not scoff, there is a legitimate and burgeoning need for normal everyday people to create websites without spending thousands of dollars to do it. The web shouldn't only be a place for those with multi-thousand dollar budgets to have a presence, it's something everyone should have the freedom to enjoy and be a part of.
All kinds of users from every profession have flocked to products that allow them to have their own little corner of the web and will continue to do so. Professional designers shouldn't be threatened in the least by this trend as it represents a significantly different audience that the one they are gunning for.
Make Your Own Mobile Site
The turnkey web design industry has been around for a long time with options like Homestead dating all the way back to 1996!
In the past few years we've started to see this industry turn towards the ever growing market of the mobile web. Tons of different options are popping up that promise a quick, easy and often free way to make your own mobile site. Each of these services has its own method, templates, etc. for helping you get the site you want. Let's grab one and see how easy it is to build a good looking site with zero design experience.
WixMobile
One recent and interesting entrant into this mix is WixMobile. You're probably already familiar with Wix, which helps you create free Flash-based websites. However, with iOS leading the mobile world, Flash isn't a serious possibility for mobile sites.
Fortunately, for mobile sites, Wix dishes out pages that look perfect on an iPhone, iPad, and most other popular smartphone operating systems such as Andriod and Blackberry (Version 6 or higher). Just about anyone can build a Wix site completely free and it only takes four steps.
Step 1: Choose a Template
As soon as I opened up the WixMobile interface, I was struck by how simple it was, in a good way mind you. These types of apps tend to be quite cluttered and are frankly a mess of usability. This however was very straightforward.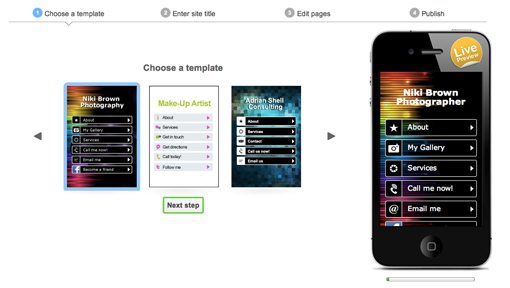 Notice the big iPhone on the right. This is a fully-interactive live preview of your site that updates instantly with every change that you make. Clicking a link on the phone is just like tapping it in real life, the page updates and proceeds to the next screen.
The first thing you're told to do is choose a template. There are currently 17 different styles to choose from, which range from super minimal to quite colorful. I used the word "styles" because there's really only one overall layout and structure with various different aesthetic options to choose from. Here's a look at a few:
Step 2: Enter Site Title
This step is easy enough, all you have to do is enter the title for your site and choose an overall category that the site fits into from options like Photography (what Wix is known for), eCommerce, etc.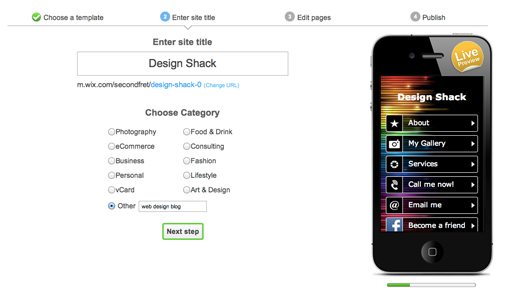 Step 3: Edit Pages
Once you've got your template squared away, it's time to actually plan out and implement all your content. This is the most time intensive part of the whole process and is quite dependent on whether or not you really know what you want.
By default, your site is pre-populated with several pages but you can add in new ones if you want. There are eight different page types to choose from, each with its own layout: gallery, about, services, events, collection, restaurant, contact and network.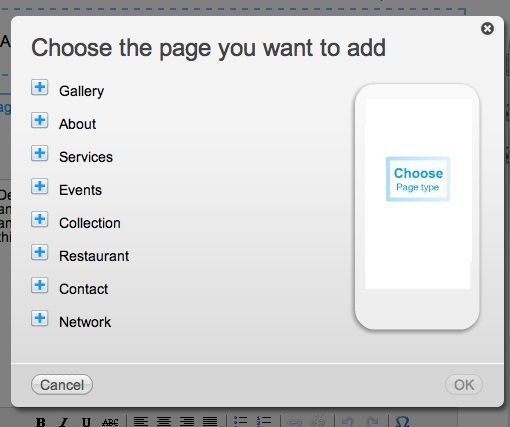 Once you choose a page type, your template on the right updates to show the layout and you use the area in the center to start filling in and uploading your own custom content. It really couldn't be any easier.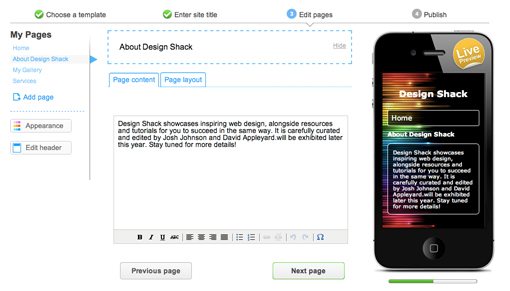 Once you're done entering your content, you can customize your site even further with the "Appearance" settings. Here you can manipulate your color scheme and even change the background image. As a designer, I particularly like the option to upload a custom background, which affords me a lot more freedom over that the site will look like.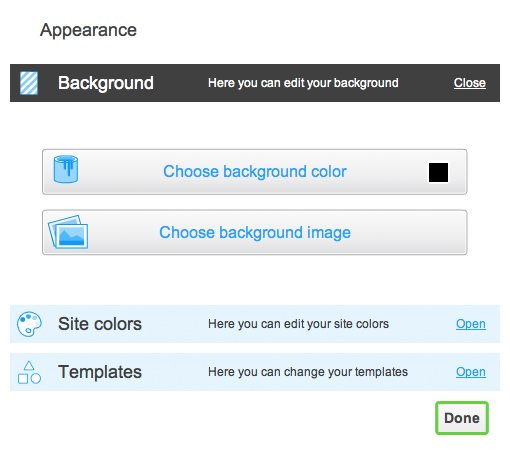 Step 4: Publish
After that, you simply hit the publish button and your site will be pushed live to the web! At this point you're given a link that you can share with anyone.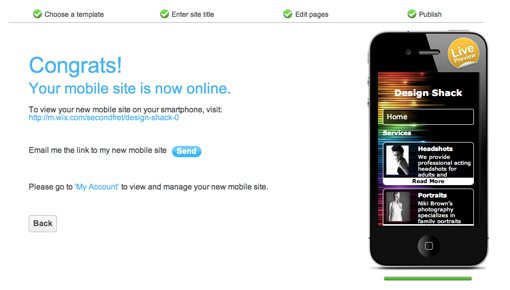 Pricing
Most of the free site building services use "freemium" business plans so while it's completely free to sign up and use the service, there are various perks that you can only receive by subscribing to one of the premium plans. These include the removal of ads, custom domains, Google Analytics, and more. Click the chart below to get a closer look at the available plans.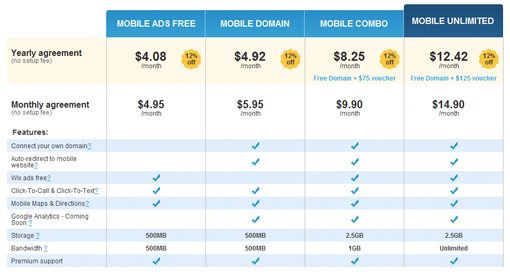 Conclusion
To sum up, getting your own basic mobile site up and running is an intimidating task. Fortunately though with services like WixMobile the task is neither difficult nor expensive.
Leave a comment below and let us know if you've tried any of these mobile turnkey web template services and what thought of them!
We'd like to make it clear that this is a sponsored review. Our writers are always encouraged to give unbiased opinions.