Website Builders Compared: IM Creator, Mobirise, Webydo & uKit
Getting ready to launch your website? It's worth considering whether a website builders is the right approach for you to take, to save time, effort, and money. Today we're comparing four popular options.
Website builders have several benefits: they are easy-to-use for people with diverse skills and web design experience, they have clear tutorials to follow, and can be surprisingly affordable long-term.
You're in charge of the process from start to finish, controlling each stage and planning your design and content as you need. You'll have a website you know to be functional, well-structured and visually appealing, which will work for your business or personal needs.
You're spoiled for choice with which website builder to choose, so today we're comparing four popular options to explain their relative pros and cons.
Envato Elements gives you unlimited access to 2 million+ pro design resources, themes, templates, photos, graphics and more. Everything you'll ever need in your design resource toolkit.
IM Creator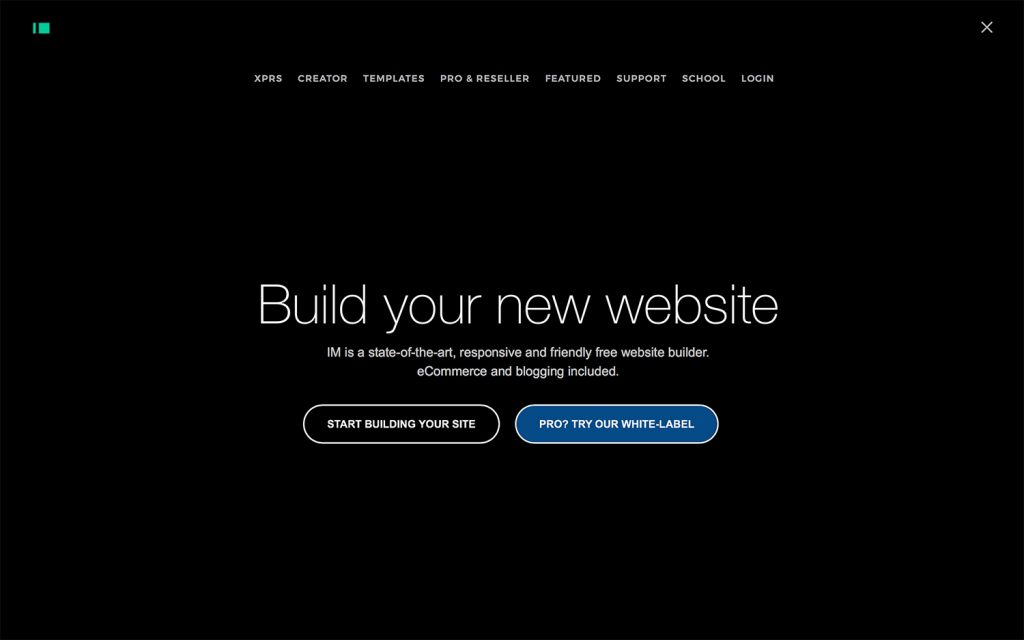 IM Creator is one of the most popular free website builders, targeting both newbies and professionals. Ease of use, convenience, and affordability make it a great choice for building responsive modern websites.
The service is a reliable solution for small business owners, creative professionals, and anyone who intends to establish a secure web presence. The system includes a robust eCommerce solution and integrated blogging capabilities.
IM Creator also comes as a white-label website builder – great for hosting companies and professional designers who wish to offer their clients their own managed solution.
Features
IM Creator helps you to create pro-level websites, with excellent SEO capabilities, intuitive interfaces, and simple navigation. Each template comes with a vast collection of ready-made sections, allowing users to mix and match different parts and create any site within minutes. No coding skills are needed to launch a website with IM creator.
Designs
Apart from impressive functionality, IM Creator also has a rich template gallery, which encompasses dozens of high-quality themes. The templates are responsive by default, which automatically makes your website available on mobile devices.
Cost
For the owners of businesses, proficient web designers, hosting companies and resellers, the website builder offers two paid subscriptions – the Premium Plan ($8/mo) and the White Label Plan ($350/year as a one-time annual payment).
…the system is free for non-commercial organizations…
The latter option allows using the system under another brand name to grow customer trust.
One of the undeniable IM Creator benefits is that the system is free for non-commercial organizations, artists, and students. There is a unique free plan for these users, which allows building websites with no ads displayed, unlimited bandwidth, hosting and multiple eCommerce features.
Mobirise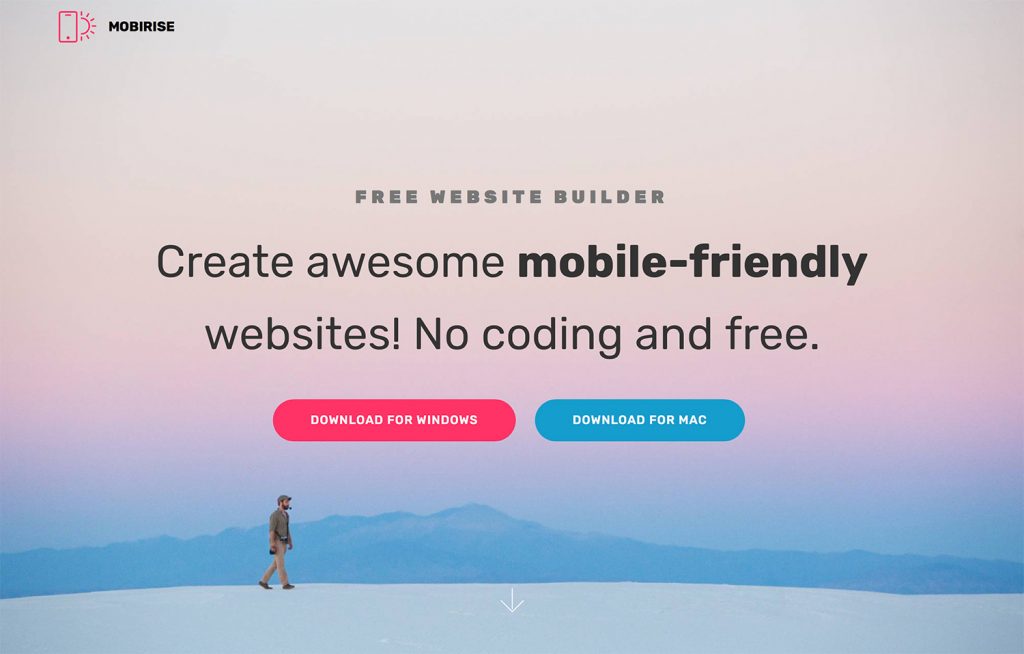 Unlike the rest of the services reviewed today, Mobirise is not a web-based system, but the downloadable software. It's built for non-tech savvy users with little or no web design experience, making it exceptionally simple and convenient.
It's possible to launch any website type with Mobirise, even though the system is mainly used to create landing pages and promotional mini-sites. A useful benefit here is that you don't have to use their hosting subscription — you can find your own.
Features
Mobirise is so easy-to-use and understandable that it won't take you long to explore and master it. It has a drag-and-drop editor, thus creating your website layout is much quicker than you can imagine. You just select the required blocks, edit their content and position them on a page to get the desired result. No awareness of the technical nuances or web design basics is needed here.
As soon as you finish your website design, you can save it on your computer or any online external resource. Having done that, you are free to publish to your hosting plan of choice.
One of the features that makes Mobirise stand out from the crowd is it's AMP Website Builder.
A feature that makes Mobirise stand out from the crowd is its AMP Website Builder. Mobirise was the first to introduce the tool, which supports AMP web pages. You just select and adjust the elements of your AMP website on a page until you are satisfied with the way it looks.
As a result, your website will load much faster and will feature smooth performance, which will inevitably reflect in its search engine ranking. Mobirise AMP Website Builder works best for creating content-focused websites and blogs.
Designs
Even though Mobirise is a block-based website builder, which allows launching a website by choosing and arranging blocks on a page and filling them with content, the system still offers paid and free themes and a set of customization tools to give the templates personalized look.
The themes also consist of blocks that can be altered to meet your niche, needs and specific preferences. Paid templates are not expensive, and can be an excellent solution for users who intend to create decent online stores, portfolios, lawyer and restaurant websites and any other projects they might need.
To boost your website performance, Mobirise offers a set of extensions to integrate into your website at no cost. Some of these extensions are Facebook Comments, Google Analytics, SoundCloud, Twitter Feed, Dropdown Menu, etc.
Cost
Mobirise is free for everyone. It doesn't matter whether you are an individual planning to launch a website for personal needs or an owner of a commercial/non-commercial organization, the website builder gives you a chance to start a quality website without investing into its development.
Of course, you'll need to pay for hosting and the domain name to publish your website on the web. If you wish, you can also purchase individual Mobirise extensions to integrate them into your site, but this is not obligatory.
Webydo
Webydo is a top choice for agencies and professionals. Web designers with the required skill level and expertise can use this intuitive website builder to develop complex and bulky projects.
The system comes with a drag-and-drop editor, but its Photoshop-like dashboard may pose a challenge for non-tech savvy users. However, if you are familiar with the basics of working with Photoshop, then this might be an excellent choice.
Features
The drag-and-drop functionality of the website builder makes the process easy — just select website elements you'd like to be included into your website and arrange them as needed.
Webydo has many elements you can make use of including images, text, menus, videos, widgets and similar. Whatever design ideas you have, you will undoubtedly find suitable elements to bring these ideas to life.
Webydo is also known for its parallax scrolling animator, which makes it possible to apply animation effects on the website elements you wish. These can be widgets, images, galleries, etc.
If you wish to connect a blog to your ready-made website, that's a simple process. It's up to you to manage the blog and its content, upload new images and fonts, set up navigation effects and complete other actions, which affect the way your website looks and functions.
What's interesting, Webydo is mainly focused on website design rather than on the way it works. That's why, you won't find an app store with widgets and applications here, even though, Webydo comes with decent eCommerce functionality that lets you build quality web stores.
Designs
Webydo has much to offer concerning design. There are three variants you should consider before starting working on your project development.
The first option is to choose one of the custom templates and use customization tools to give it the desired look and performance. The second option is to select a website layout to define its structure, while the third option is to develop a project from scratch.
The choice of the best solution depends upon several factors, including your web design aspirations, skills, amount of free time, desire to experiment with the system options, and available budget. Most users start with a ready-made template.
Cost
Webydo is not altogether free, but it has a trial that allows testing the features of the system for free during 30 days. If you decide to use the trial, get ready to provide your credit card info. If you change your mind and choose not to use the paid plan, you can cancel the subscription during the trial time at no cost.
All in all, Webydo has three paid plans, which differ in their terms, number of team members planning to work with you on the project development, number of websites you are going to launch with the system, etc.
Paid plans include the Pro Plan ($90/mo), the Team Plan ($180/mo) and the Agency Plan ($480/mo). It isn't cheap, but the cost of the service makes sense given the quality of the offering. What's more, Webydo makes it possible to use their "white label" option to use the system under your business brand name and let you publish your websites under your domain name.
uKit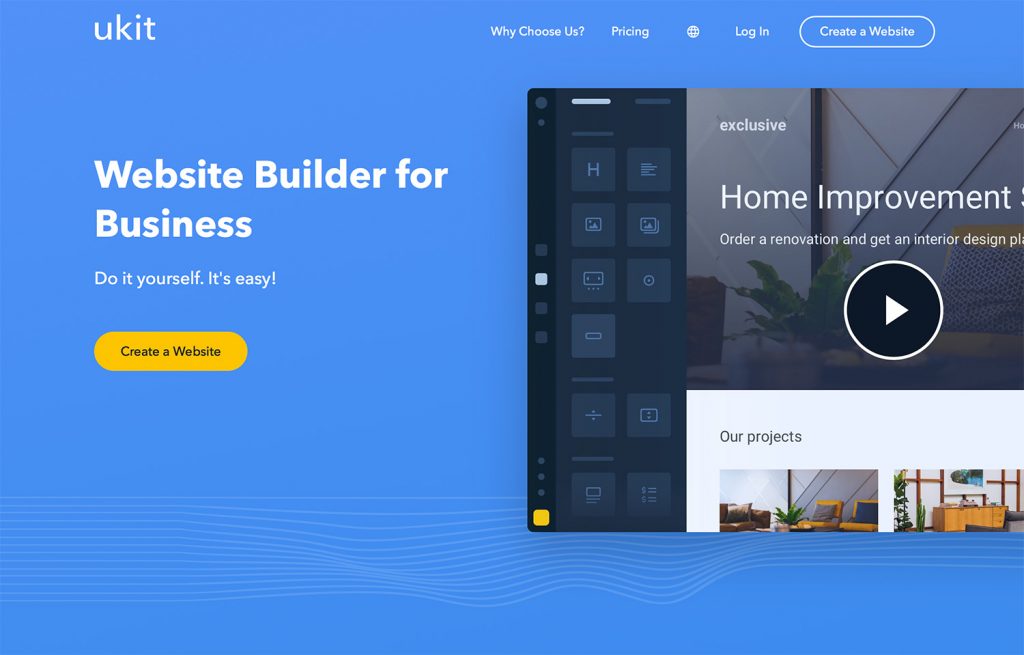 If you are looking for a website builder to launch a small/medium business website, you'll struggle to find a cheaper and simpler solution than uKit. This service is a top choice for users, who have ambitious web design intentions and goals, but lack skills and experience to bring their ideas to life. uKit's simplicity, convenience, affordability, and ease of use make the system stand out from the crowd.
Features
uKit abounds in features, including a drag-and-drop editor and a set of quality widgets to improve your website functionality. The web building process is simple and intuitive with uKit. Just follow step-by-step instructions and watch the result.
There are lots of apps and widgets you can make use of, including a "Call Back" widget, social networking buttons, Live Chat, timer, and a comments block. Another notable uKit feature is that it allows connecting an SSL Certificate to your ready-made website to ensure maximum website security and data protection. Apart from that, uKit allows adding a forum and a blog to your site, which may be an extra benefit for your project.
Designs
You can choose between dozens of themes. uKit developers have taken care of the ease of search by subdividing the templates into categories including IT services, landscape design, automotive, business, education, cafes and restaurants, photography, events and many more.
If the perfect template doesn't already exist, you can select a blank starting point and customize it on your own. Whatever theme you will go for, it will be responsive right from the start. And it's vital to note that uKit makes it possible to change the template you've chosen at any stage of the web design process. Your content won't be lost, which is very helpful.
Cost
There is no free plan in uKit, but you can choose any of their paid plans and test it for free during the 14-day trial period. Get ready to decide whether you are going to use the plan or not after the end of the trial, otherwise, your website will be taken offline.
There are four paid plans uKit currently offers. These are the Premium Plan ($4/mo), the Premium+ Plan ($8/mo), the eCommerce Plan ($9.60/mo) and the Pro Plan ($12/mo). The price range isn't that extensive, but it is more than affordable for any user.
Bottom Line
Website development doesn't need to be complicated and expensive, no matter what skills and experience you have. Proficient web designers often give preference to complex services and tools, which might be overkill for your project.
For this very reason, website builders do have their use: systems that are specially created to simplify the web building process for people who are not aware of all the intricacies of HTML, CSS, and JavaScript. Most of them are simple, intuitive, convenient, safe and affordable.
Whether you choose IM Creator, Webydo, Mobirise or uKit, you'll be starting with a decent foundation.