A First Look at Bloom: An Opt-in Plugin From Elegant Themes
Today, we're excited to be taking a first look at a new product from Elegant Themes — Bloom. It's a WordPress plugin that takes the headache out of growing your own email list using beautiful, customizable and easy-to-use forms that can be placed anywhere on your website.
The email inbox is a sacred place. Emails are not lost in the endless stream of chatter or filtered out by social algorithms. They are a direct line to your visitor's ear, it's an incredibly important medium. Talking to your customers is the fun bit, but building your list is the hard part, and that's where Bloom comes in.
Envato Elements gives you unlimited access to 2 million+ pro design resources, themes, templates, photos, graphics and more. Everything you'll ever need in your design resource toolkit.
How Does Bloom Work?
Put simply, Bloom makes it easy to grow your email list. It's a WordPress plugin that takes the hassle out of creating beautiful ways for people to join your mailing list, managing list growth, and optimising campaign performance.
It's designed to give you complete control over every aspect of the design and integration of your opt-in forms — where they appear, how many you have on your page, how they look, and how they behave. You can also easily target each form to different posts, pages, categories or post types.
Bloom comes with a design system that favors design options over static templates. This means you can customize each opt-in form to look exactly the way you want it to. Using the different design settings, you will be able to create just about any kind of form you can think of, and have it match your website perfectly.
The design options available are really comprehensive (as you can see on their gallery page). There's nothing worse than a plugin that drops it's own look-and-feel into your site, feeling like a foreign experience for readers (let's face it — if that's the case, they're much less likely to join your newsletter!). This documentation page highlights a few of the different ways to tweak the design of your forms to suit your style.
Opt-In Types
There's a diverse set of different types of opt-in form that you can add. Here are a few examples of different types of email form integration that are available for you to try: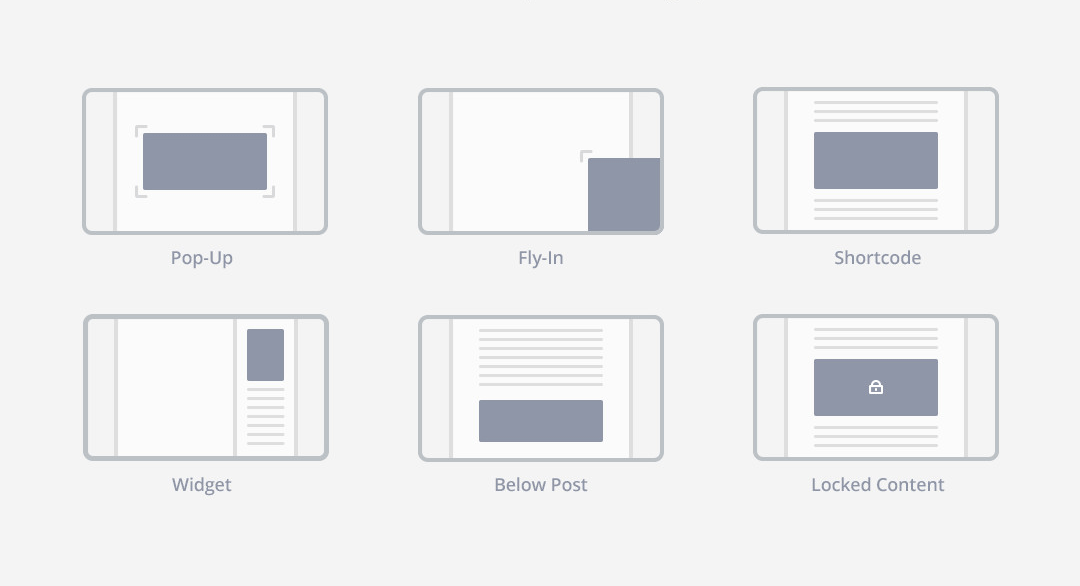 Pop-Up — Popups are incredibly effective, and they can be controlled using various custom triggers.
Fly-In — Fly-ins are a great way to encourage sharing when visitors are most engaged with your post.
Below Post — Connect with your visitors after they have finished reading your post.
Inline — Create your own opt-in shortcode that can be placed on any post or page inline with your content.
Widget — Widgets allow you to easily place an opt-in form in your website's sidebar or footer area.
Locked Content — Require your visitors to subscribe before they get access to the content on your post or page.
Triggers
As well as the different opt-in types, you can choose from various triggers for when pop-ups and fly-ins are displayed. These can help you engage your visitors at different points while they're browsing your site, or try to achieve specific types of signup:
Time Delay — This setting allows you to specify the time delay (in seconds) of your social pop-up.
After Inactivity — This will cause the pop-up to appear once the user has been inactive for a certain period of time.
Bottom of Post — Just as a reader reaches the end of your page or post content is a perfect time to offer them a way to subscribe to your content.
After Scrolling — This will trigger the pop-up after the visitor has scrolled a certain percentage down the page. It can be much more effective than a regular "time delay" in certain instances.
After Commenting — This is a great way to target your most engaged visitors, after they've left a comment.
After Purchasing — Again, targeting engaged readers after they have successfully purchased a product using WooCommerce.
Platform Support
If a tool like Bloom is going to succeed, supporting whichever email platform you choose to use is pretty much key. They've paid plenty of attention in this area, and the plugin works with the API's of the most popular email marketing software available. Whatever program you use to manage your email lists, there is a good chance Bloom will work with it seamlessly.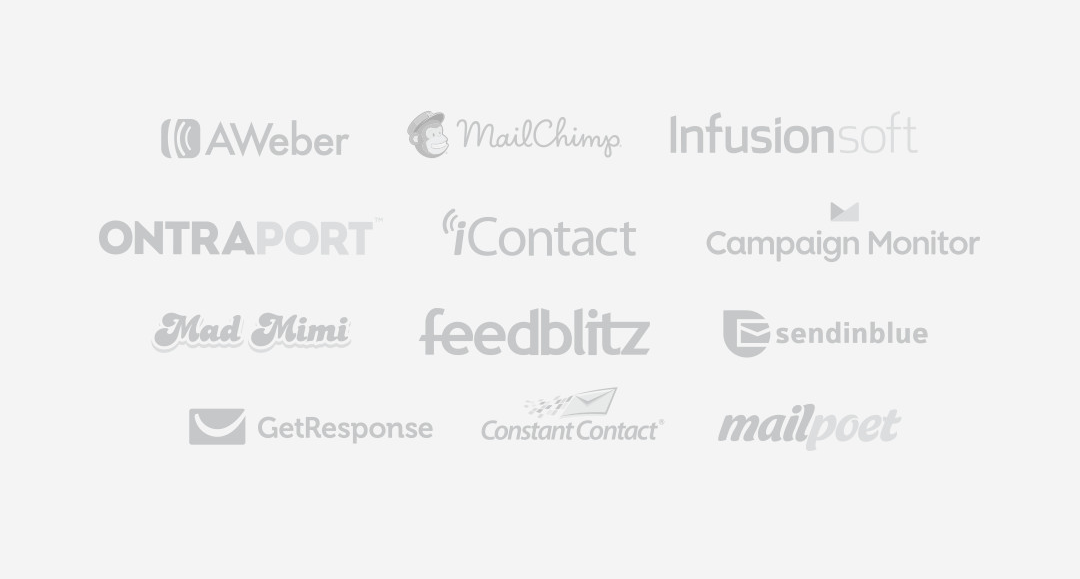 Adding new email accounts to Bloom is really simple, and they have great documentation that explains how the process works for different email newsletter providers. We're big fans of MailChimp at Design Shack, and integration with this platform is super-simple, just needing your API Key.
Gorgeous Stats & Insights
Bloom comes with a beautiful admin experience, providing you with exceptional stats and useful methods for testing and optimizing your campaign performance. It's a great way to keep track of how opt-ins are performing, and which types of integration are working best.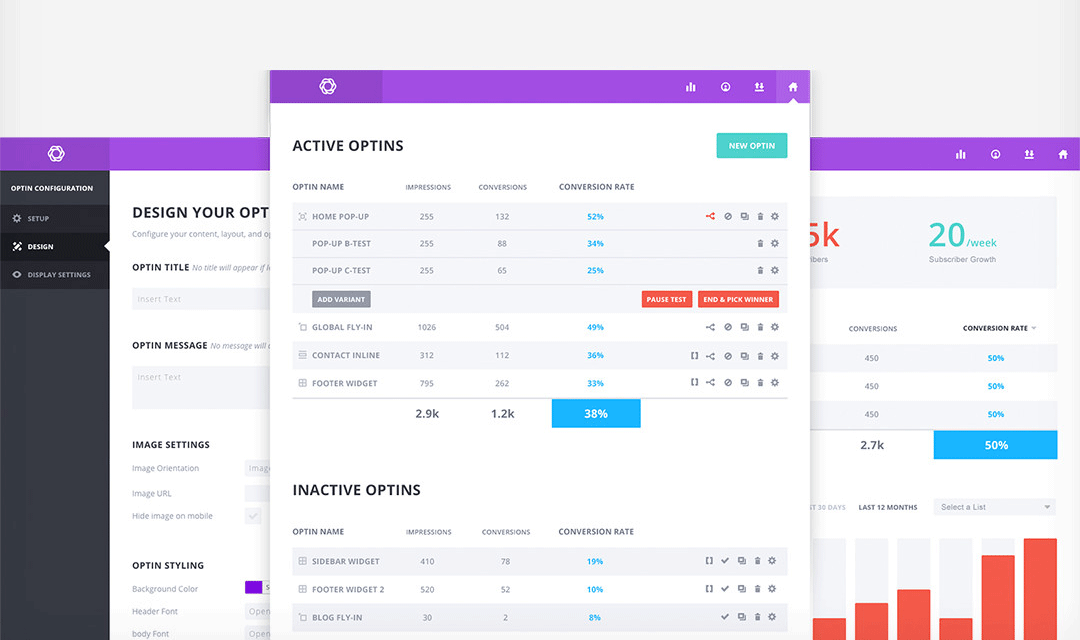 Split Tests
Split testing is a way to compare the performance of multiple variations of the same opt-in form to help you figure out which one is the most effective. Using Bloom, you can create different variations of an opt-in to test different headlines, colors, and offers.
These different variations are shown to different visitors, and their conversion rate will be compared to each other. It's a really powerful feature to have built right into WordPress, at your fingertips, and it takes the headache out of something that's really complicated to do manually!
Watch the Video & Find Out More
Elegant Themes have created a handy little video that explains a bit more about Bloom if you're interested in finding out more. You can also take a look at their gallery page, which is a great place to see a few examples of the plugin in action, and decide if it's a good fit for your own site.