A Look at Divi 2.4: Smarter, More Flexible, More Elegant
WordPress is one of the most popular website platforms on the planet. But not everyone has the development chops to get a site up and running and with the aesthetics they want. That's where themes – specifically Divi – come in!
A theme can help you design, manage and use the latest technology when getting your new (or revised) site online. Today, we're going to look at Divi, which recently rolled out a ton of great updates, and how a theme like this can work for you.
Get unlimited downloads of 2 million+ design resources, themes, templates, photos, graphics and more. Envato Elements starts at $16 per month, and is the best creative subscription we've ever seen.
What is Divi?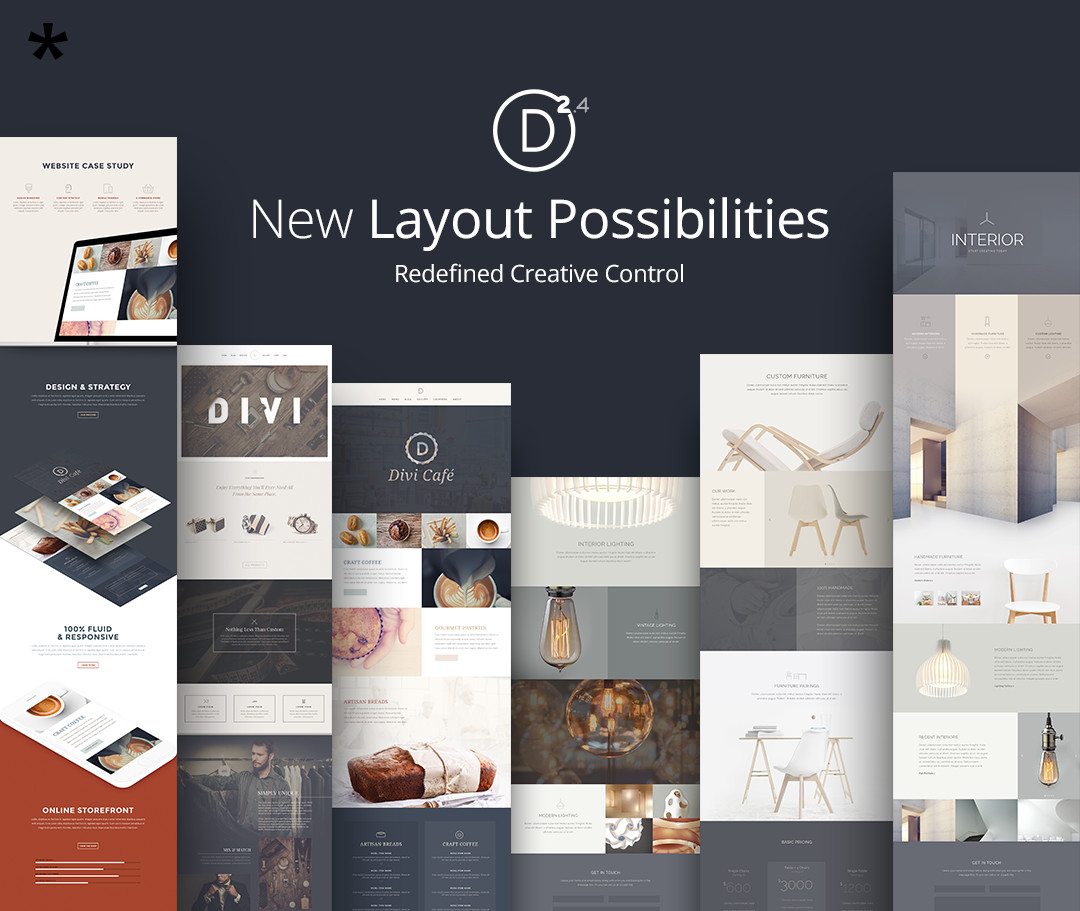 Divi is a premium WordPress theme, meaning it comes with premier features and tools to assist in the website building process. It is designed in a block-style framework with lots of interchangeable parts so that every site using Divi can be customized from the ground up.
But it works for beginner users as well with a set of pre-made layout designs that are ready to use in a matter of minutes. All you need is content.
The theme features a modern look and design that works on every device – it is fully responsive, a must for any website – and features a custom builder that helps you build visually without having to work in code. Aside from aesthetics, the builder is one of the key elements to Divi, with a drag and drop interface and plenty of modules to work with.
While the theme is not brand new, this most recent update is. (And they are pretty impressive.)
Theme Basics
Divi works by allowing users to mix and match modules – the theme's building blocks – to create a site with an unlimited combination of layouts. Each design module comes with specific options to further customize, giving you control over every aspect of the design, including a custom CSS option if you desire.
Modules include everything from text and images to sliders, calls to action, blogs, portfolio, shopping, testimonials, subscriptions, contact forms counters and more.
The overall theme has a modern look-and-feel, with a modular style and flat design elements. Plus Divi includes fun extras such as animations, a great color palette right out of the box, and clean, simple typography options. (So if you are not ready to customize things completely, you can still create a good-looking site.)
New Version Packed With Updates
But what you probably really want to know about are all the updates to the Divi theme. The developers behind Divi have been busy adding options and redesigning to make this one of the most powerful and versatile themes available.
Here's what's new:
Revamped Customizer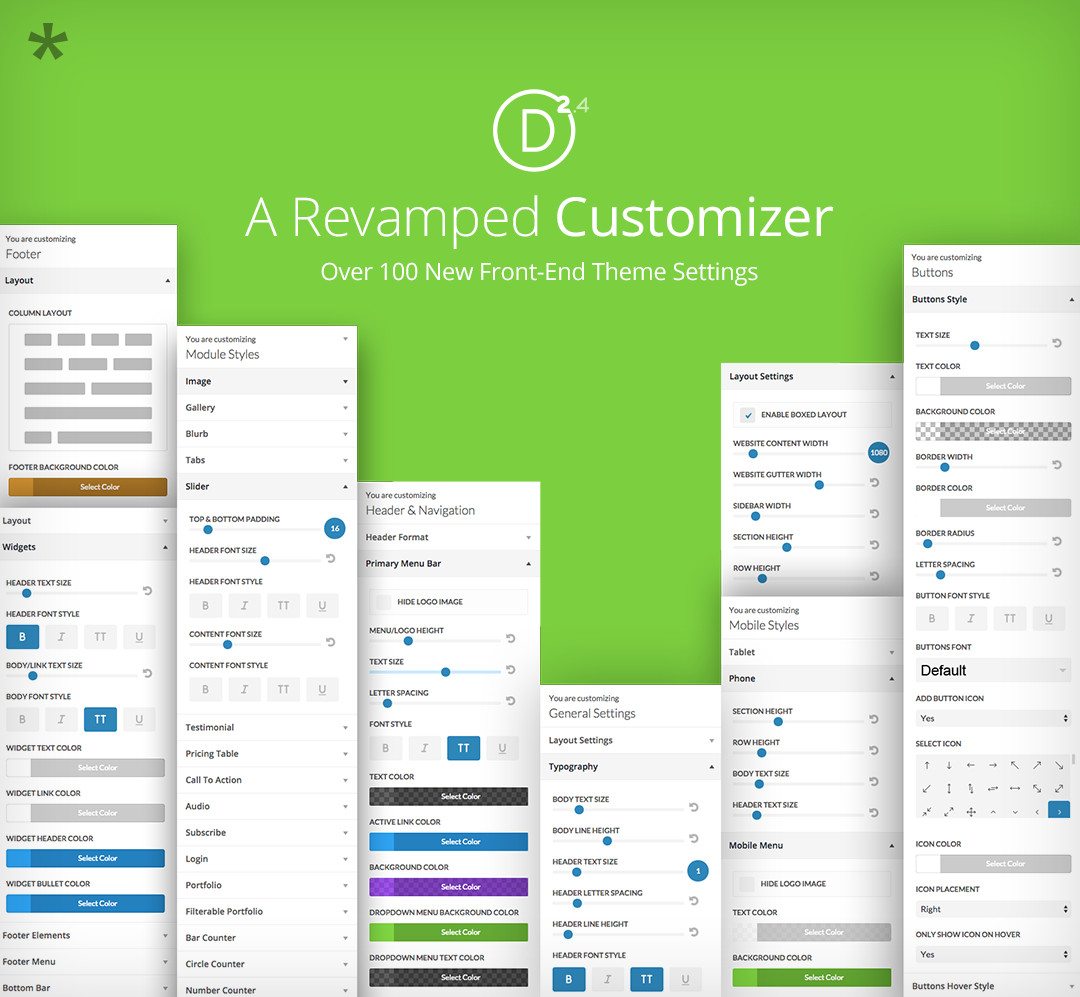 With plenty of options that you can change, the revamped customizer offers more flexibility with controls for gutter and content area widths, body text styles, header styles, new footer styles, specialty styles for phones and tablets and global button customizations.
Custom Spacing Controls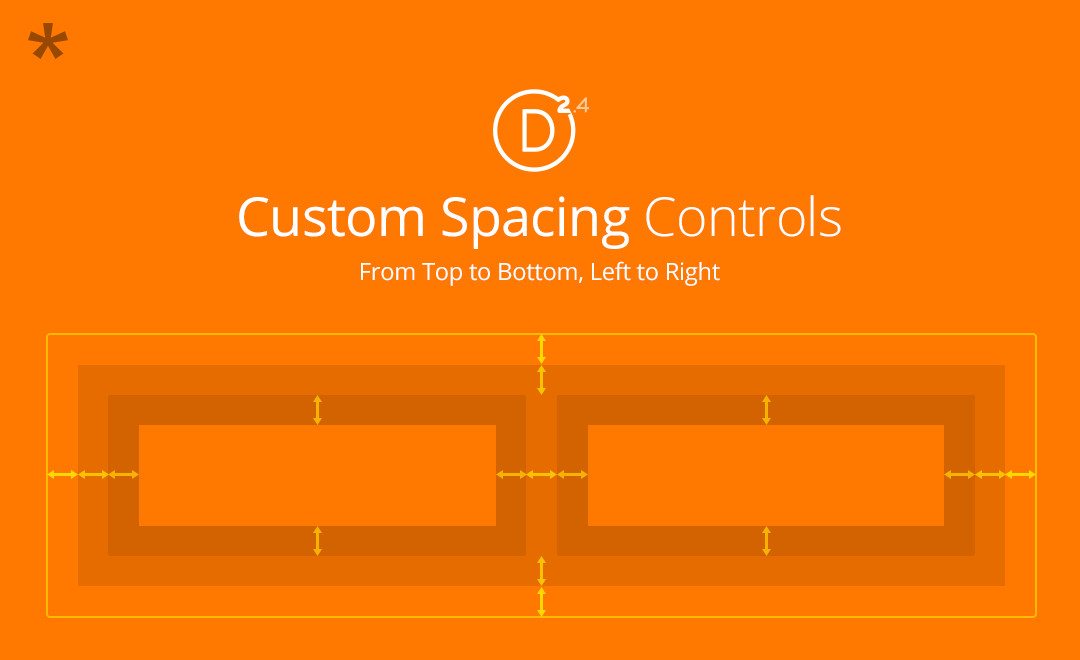 Almost every element comes with custom padding options from global options to module-specific padding controls.
Divi Post Builder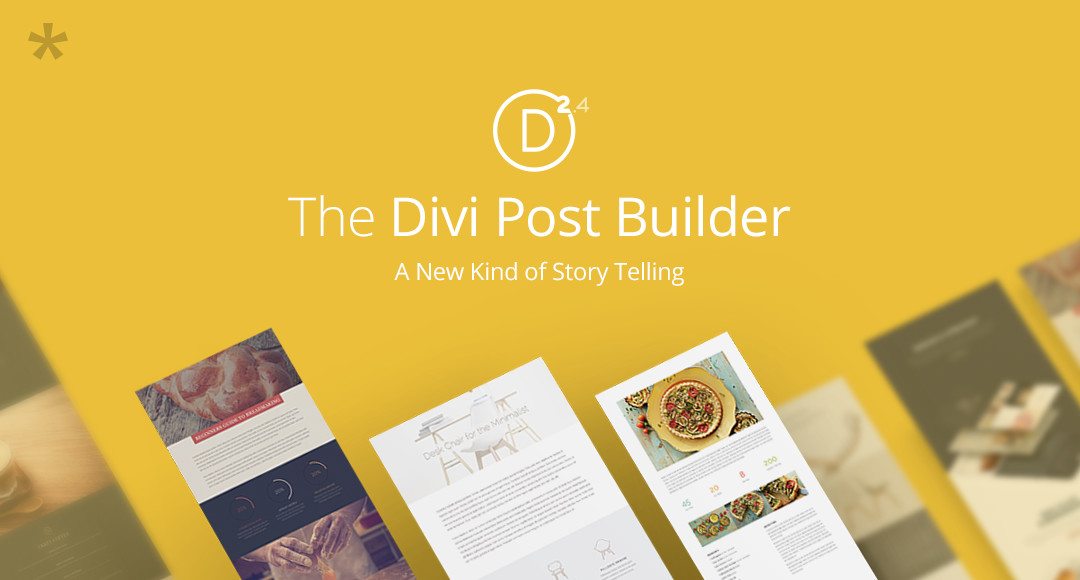 The Divi builder works on all post types for a seamless backend experience. You can show and hide elements and customize meta data as you work.
Library Updates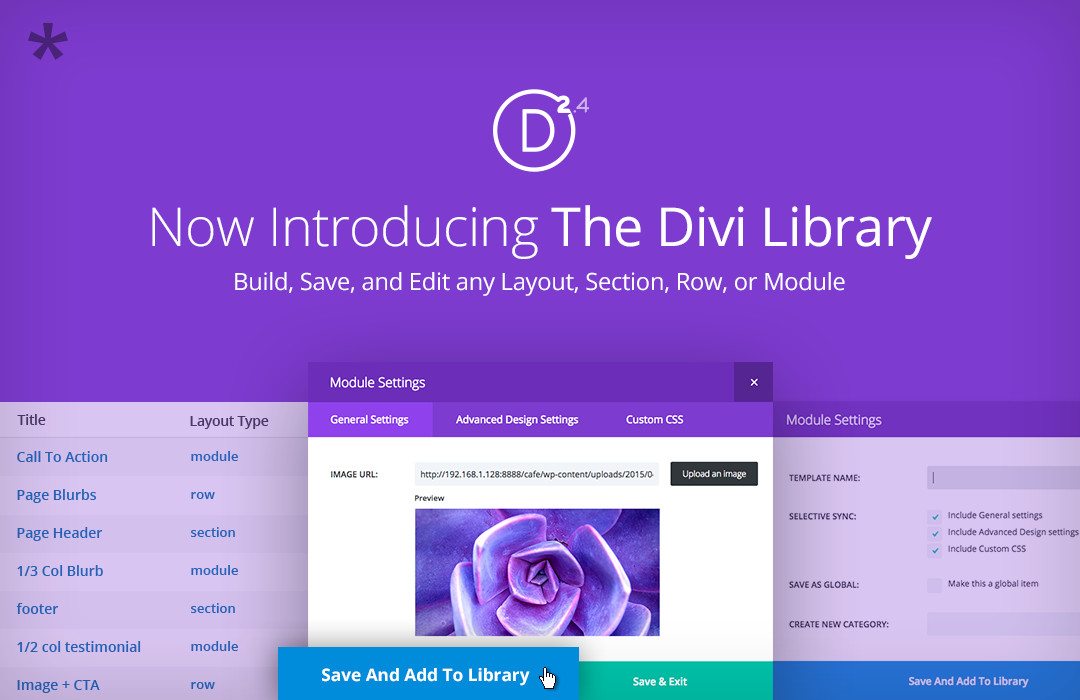 Don't worry about losing content or design options because the Divi library stores saved layouts, sections, rows and modules. You can filter and search elements and access it all from within the page builder.
Love an element that you have created? A new update to library elements allows you to make them global, and use them on any part of the site design. Plus one update and save will update every use of the element across the site.
Updated Headers and Navigation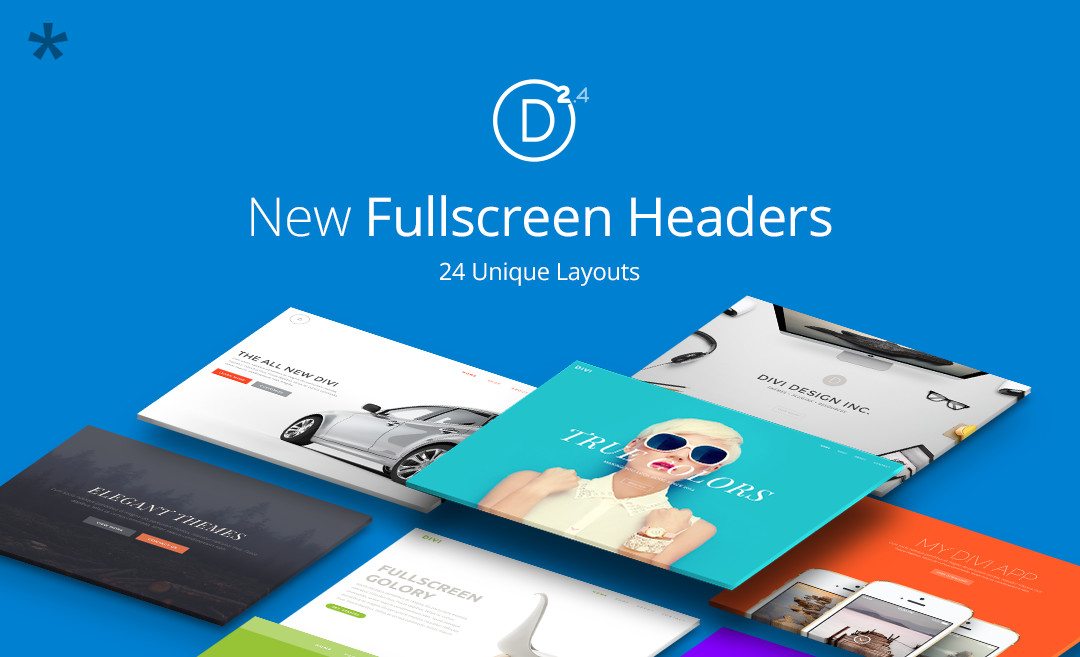 To keep with the hero header trend, the new full-screen header module creates an image header that always fills the width of the browser window (a major bonus) and comes with 24 pre-designed styles to start with. Plus room and styles for design elements such as a logo, title, subtitle text content, images, video, color overlay, parallax and call to action buttons.
You can also now choose and create almost any style of navigation you can imagine with a complete set of options in the customizer – show/hide, centered, transparent, dropdown, fixed and more.
New Builder Interface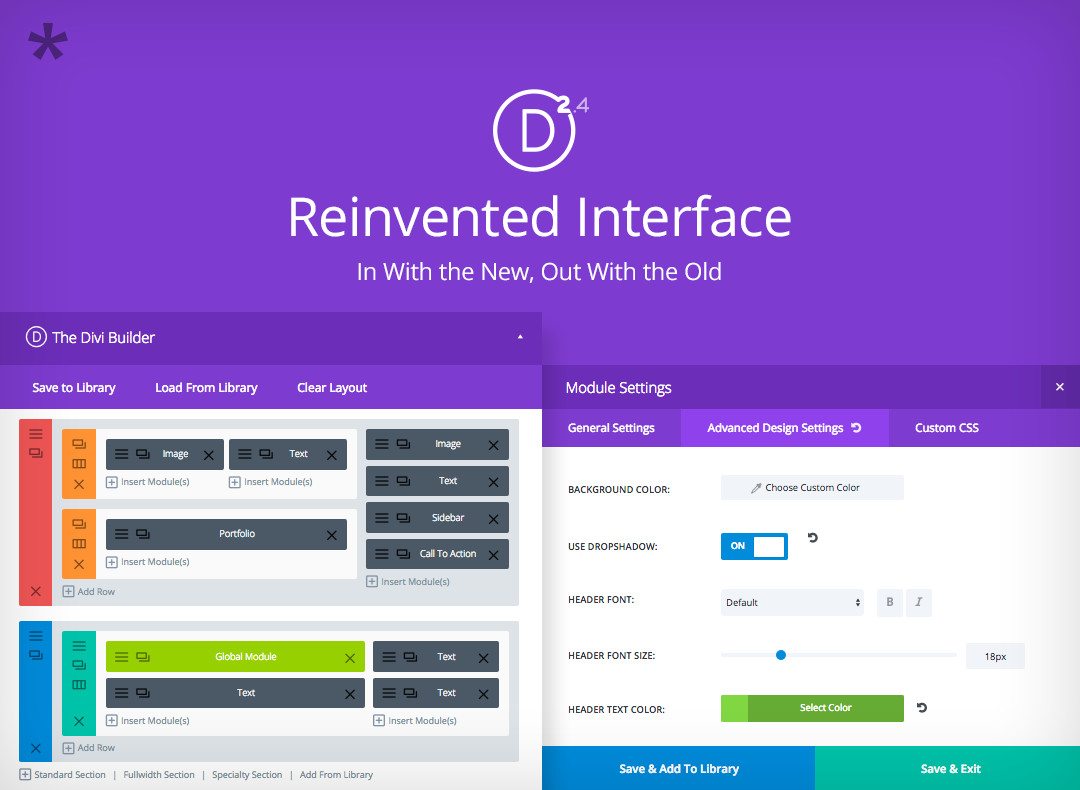 The builder had been completely redesigned for ease of use. New options added for row design can help you adjust modules and customize your site even more. New options allow you to adjust the column structure; build in full-width; change spacing; add background images, video or color; and equalize column heights. These options provide a lot of control over the design framework for your entire site.
Advanced Settings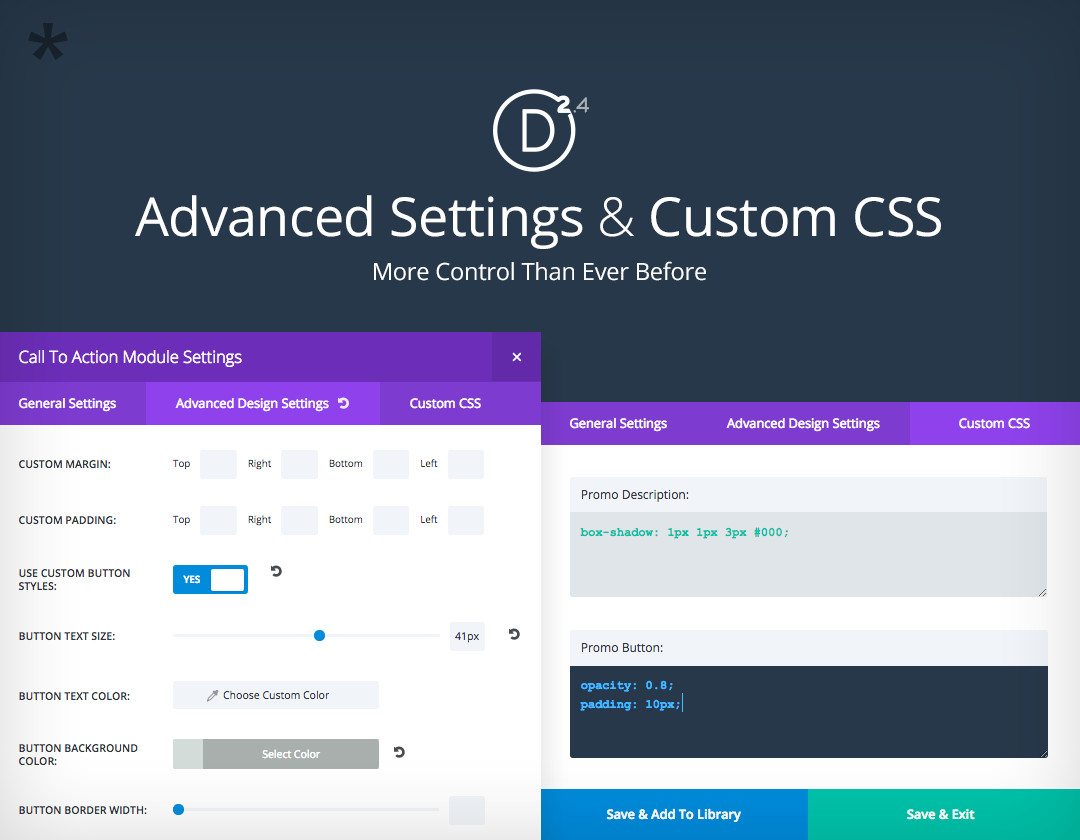 New advanced module settings and custom CSS are now available. There are so many new module options in the advanced settings, that we can't describe them all here, but if you can imagine it, Divi can help you do it. Each module is customizable at every level from text to color to button style to margins and padding. Plus you can enter custom CSS right inside each module so you can see your design immediately.
Fluid Grid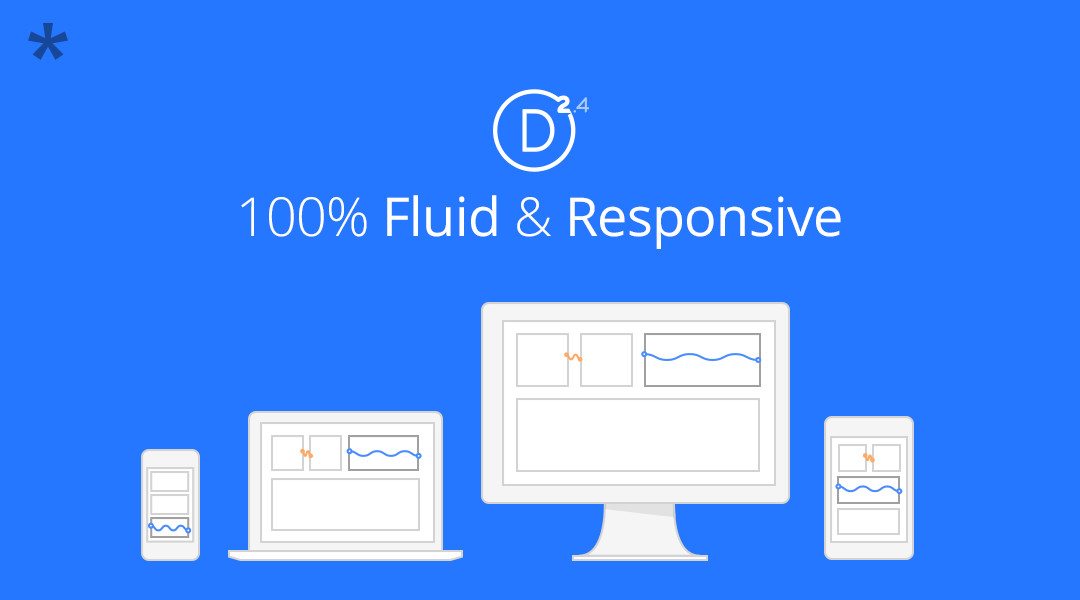 Divi has been updated to include a 100 percent fluid grid which allows for settings like custom content width, custom column spacing, custom sidebar width and use of the builder within posts. It makes it easy to visualize and create your site.
Pricing
Divi is available through the Elegant Themes network, which offers some pretty cool packages. Every Elegant Themes package comes with access to Divi as well as all the other themes in the network with unlimited website usage and technical support.
There are three pricing tiers available for personal, developer and lifetime access.
Personal license — $69 per year
Developer license — $89 per year
Lifetime access — $249 one time fee
Conclusion
Divi is a theme with an impressive set of tools and options. What's great about this theme is that no two Divi sites or users end up with cookie-cutter sites. Every Divi site ends up having a unique look and feel because of all the options available.
If you are looking for a theme to build from, give Divi a try. The sky's the limit with this set of web design tools.