Creating a Portfolio With the All-New Dunked
As a designer, I am often overwhelmed by creating a portfolio. I want something that is simple, easy to navigate and showcases a variety of work, including print and digital projects.
I should also be able to update the portfolio easily and don't particularly want to fool with the hassle of coding. Dunked is the new portfolio solution that meets all of these needs and more. Let's take a look at it today.
Envato Elements gives you unlimited access to 2 million+ pro design resources, themes, templates, photos, graphics and more. Everything you'll ever need in your design resource toolkit.
What is Dunked?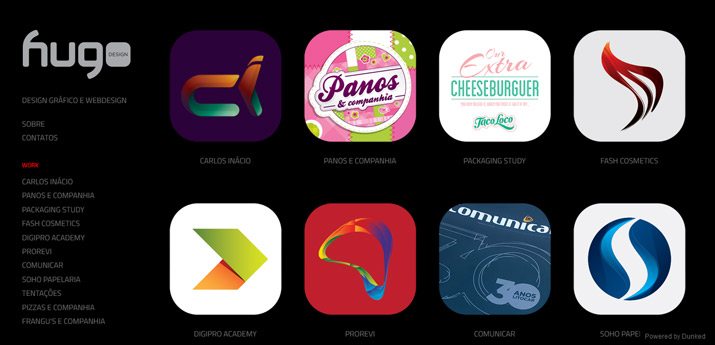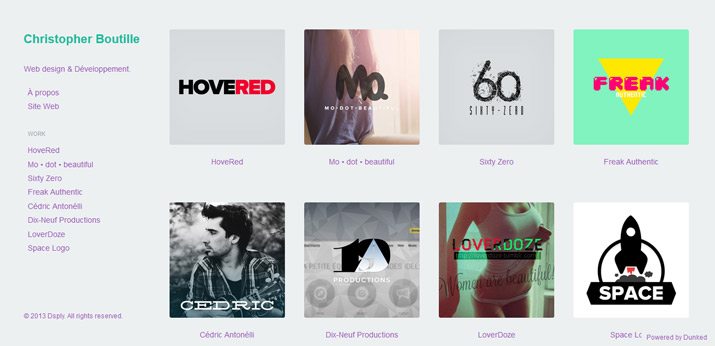 Dunked is a simple solution for building an online portfolio Designers can use it to showcase a variety of projects, including print or digital, with varying levels of description. Founder Orman Clark, who is known for his work with PremiumPixels and WordPress themes at ThemeZilla, created Dunked as a simpler solution to online portfolios. We asked him for his motivation behind creating Dunked:
As a creative myself, I've always designed and built my own portfolios. Simply put, it's a bit of a pain. I think most creative types will agree that designing for yourself is one of the hardest things to do. That or you simply don't have the time or skills.
And that's where this super-simple tool comes in. Portfolios are easy to build and are completely customizable. It's the web app that makes portfolio building a breeze, and is especially easy for those designers out there who don't want to think about code. You can actually build and publish your portfolio in an afternoon. (It'll actually take you longer to choose your portfolio clips, than build a Dunked site.)
The grid system is nice and the layouts are fully responsive, a must in today's ever-increasing mobile marketplace. The response from the design community has been good as well.
"Feedback so far has been amazing, we really couldn't have hoped for any better," Clark said. "We're still finding our feet and smoothing out some rough edges, but it's been blast to work on and there's plenty more to come."
Getting Started
Creating a portfolio really can't get much easier. After you sign up for a free account and log in, the interface is simple to use. (The only chore is making images to represent portfolio items.)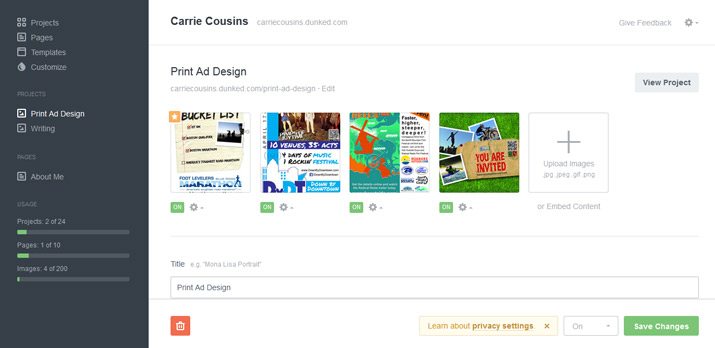 Start by adding project files. Each project can include one or more images or embedded content, such as video or audio (and everything works seamlessly with YouTube, Vimeo and SoundCloud). Projects can include as much or as little description as you like, along with links back to the full work elsewhere. Dunked is optimized for retina displays, so that all of your projects look crisp, clear and amazing on any screen.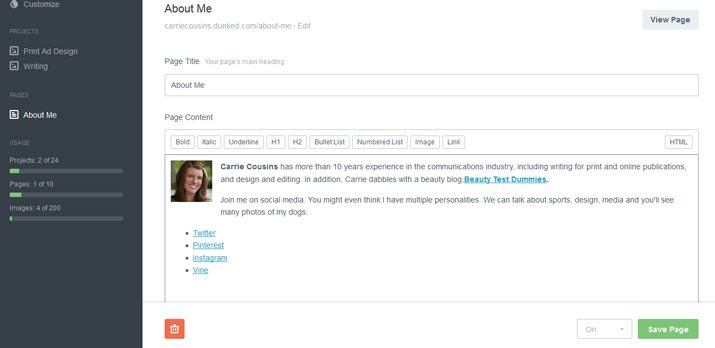 Add multiple pages using the "Add Page" tool, for sections such as "About Me" or "Contact Information". Each page will populate as a link on your homepage and perfectly matches the style of the portfolio.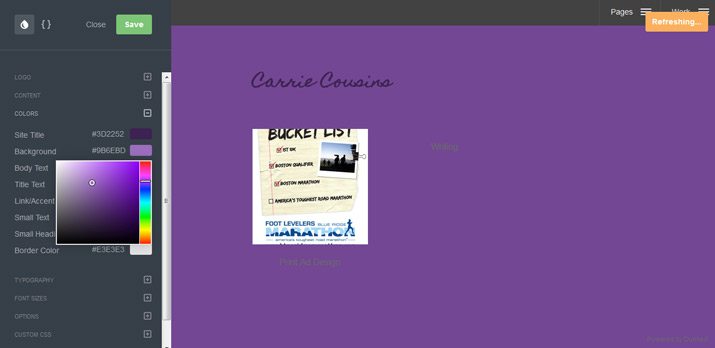 Once you have the basics set up, it's time to play with all the custom options. Upload your logo, favicon and copyright information. Play with colors and fonts (you can alter just about anything on the screen). Choose which options show on the homepage and see a preview of it all while you work as the site refreshes live while you work.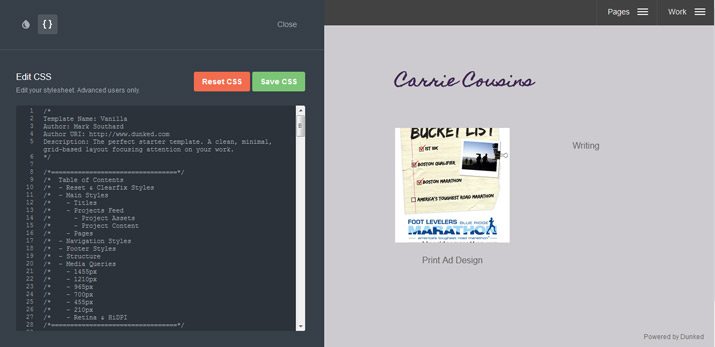 And if that's not how you like to work – say you are more into working with code – switch over to HTML mode and edit or customize the CSS as you work.
Key Features
We all know what makes or breaks every new tool is the range of functionality on offer — Dunked has you covered:
I love the ability to create a custom Dunked URL. (I use my name for these things, but it can be pretty much anything.dunked.com.) Plus, Dunked will offer custom URLs soon for users who have their own domain name.
Responsive templates. The site you create on Dunked is fully responsive. (As I was building a portfolio, I found that it looked better on mobile than any other tool I have tried.)
Customization options are pretty endless. You can play with fonts and sizes and colors all day long, making it easy to make your Dunked site your very own.
Custom CSS editing. While coding is not a prerequisite for using Dunked, coders can take advantage of custom coding features. You can edit and customize the CSS as you work in an HTML window that pairs with the actual site design.
Drag and drop ordering for projects in your portfolio is a great little feature. Once you set up projects, you can move them around via drag and drop. (This is a great way to highlight specific projects at certain times.)
Pricing
Dunked is free. And Clark promises that even if a pay model evolves in the future, a free plan will be available and include every feature that is currently available to beta users. Dunked is continuing to evolve with feature updates and a little smoothing of the edges. A new template, which is in development, will also be available soon.
Clark said they are also looking at user feedback for future feature updates:
Once we're out of beta, we will be looking at the more popular feature requests that will involve a larger scope of work such as custom domain support.
Conclusion
What's really appealing about Dunked is ease of use. This is one of those tools that can save designers a lot of time and hassle when it comes to creating and maintaining an online portfolio. It is different from other portfolio tools in that every site created is fully responsive and supports retina display right out of the box.
"When we set out, I felt we could offer an online portfolio solution which would be both beautiful and ridiculously easy to use," Clark said. "I honestly believe that we have delivered on that goal. We've got no interest in becoming a jack of all trades type application; simplicity is at the core of everything we do and we're focused on one goal. If you're into simple, Dunked is for you."
It will be fun to see the evolution of Dunked and what features are released next. Clark said Dunked is looking for user feedback and would love to hear your thoughts. In the meantime, we'd love to see projects you are working on. Share your Dunked portfolios in the comments.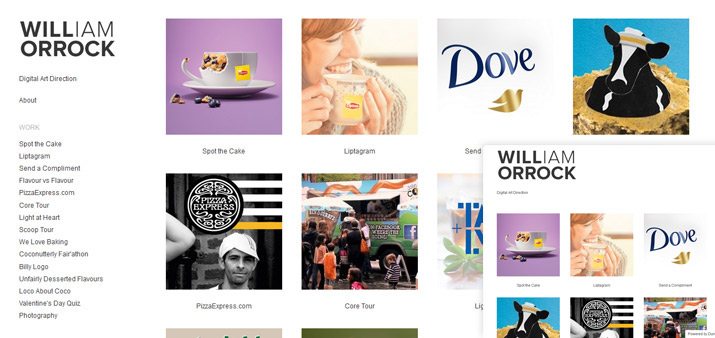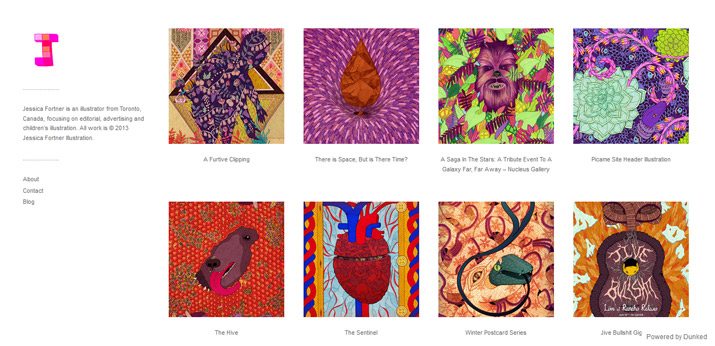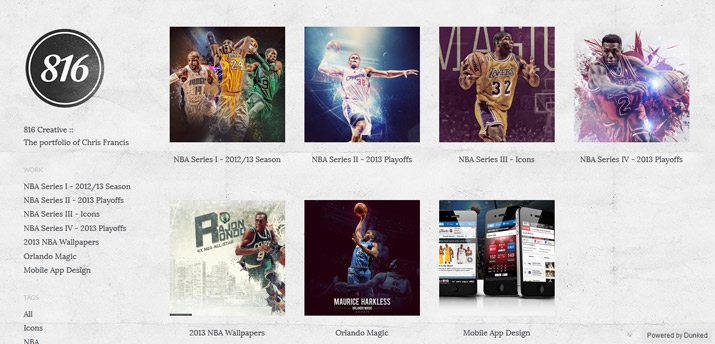 Dunked portfolios: Christopher Boutille, William Orrock, Hugo Design, Jessica Fortner and Chris Francis.