Get to Know Hiveage and Make Invoicing Easier
Work. Bill. Grow. That's the motto for Hiveage, an online billing and invoicing tool for freelancers and small businesses.
The tool can make life easier with a well-designed interface that's easy to use and manage – especially for those who don't have a lot of time to focus on billing. It's a platform that can help you handle all your business basics in one place. Today we're taking a look at how it works, and what you can expect from the app.
Get unlimited downloads of 2 million+ design resources, themes, templates, photos, graphics and more. Envato Elements starts at $16 per month, and is the best creative subscription we've ever seen.
What is Hiveage?
Hiveage is an online billing service for freelancers and small businesses. The company focuses on providing a faster and easier way to invoice clients and track payments, through a simple-to-use, intuitive and (dare we say) beautiful interface that is supported by a secure cloud-based platform.
Hiveage offers users flexibility in its features, functions and pricing to easily scale to meet customers' growing business needs. Hiveage serves more than 45,000 customers in 140 countries worldwide.
Want to see it in action. Check out the 60-second video introduction to the Hiveage tools.
The service is made so that businesses of any size can use and have access to the tools they need. Pricing plans range from a free version to more comprehensive tools for growing businesses.
And it features a sleek interface that design professionals will especially enjoy. Hiveage focuses on good UX with a responsive interface and modern flat-style design.
Features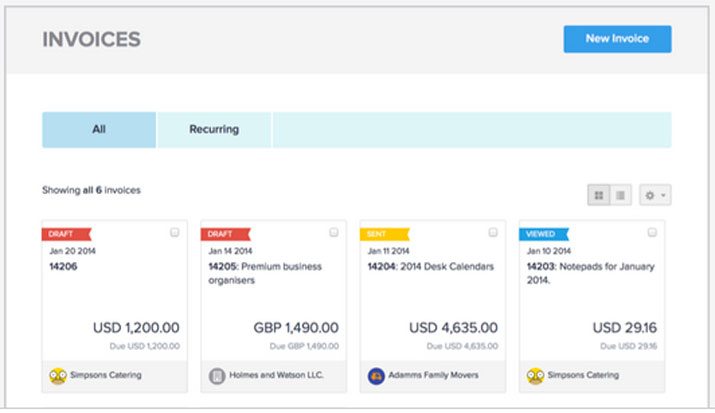 The Hiveage feature set is designed to cover the entire invoicing process (from estimate to final payment) for a freelancer or a small business. The tools include everything you need and have smart features, such as converting a quote or estimate into an actual invoice with just a click.
Here are the other tools and features that come with Hiveage (some are free but many of the features are part of paid plans):
Anyone can send as many as they like invoices with the free plan.
Create professional-looking estimates and quotes in no time.
Convert estimates to invoices with one click.
Send acknowledgements and reminders through the software so you can remind clients about an upcoming payment or thank them for a payment.
Brand invoices with your logo, colors and contact information to make every bit of paperwork your own.
Time, mileage and expense tracking.
Hivage comes on a trustworthy cloud system using state of the art servers from Rackspace, keeping your information secure and accessible from anywhere.
Accept online payments from major processors such as PayPal, Authorize.net, Stripe and more.
Accept different payment types and plans such as partial payments or send invoices to multiple email addresses.
Create auto and recurring billing or payments.
Team invoicing and workflows.
Automatic tax calculations, discounts and shipping tools.
Add multiple users are businesses to one Hiveage account.
For Freelancers and Small Businesses
The Hiveage set of tools can work for a company of one or a growing small business. What's nice about the tool set is that as you need more features, you can expand the tools available.
A freelancer starting out can probably get by with the free plan. As he or she grows a solid client base, a more robust option might work better. Small businesses can benefit too with workflows that include the entire team so that all billing in and invoicing lives in the same place.
The dashboard is one of the things that really helps Hiveage stand out. With detailed reports, you can see at a glance where your business stands. The dashboard includes a lot of information from a preview of monthly income over time, a monthly business summary, income versus expense summaries and accounts receivable and accounts payable tables.
Pricing Plans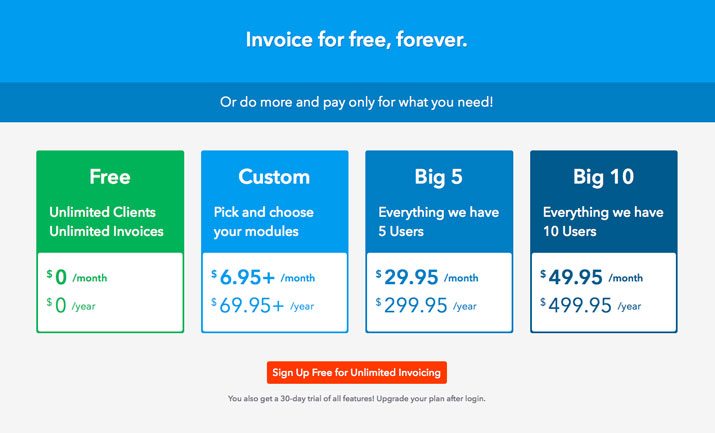 Hiveage offers four plan levels. The modular pricing plan allows you to plug in, use and pay for only the features that you need.
The Free plan allows you to send unlimited invoices to an unlimited number of clients.
The Custom plan allows you to pick and choose which modules you want to use. (This is great for a busy freelancer or startup.) Hiveage offers a comprehensive list of a la carte features that make customization easy. This plan starts at $6.95 per month or $69.95 per year.
The Big 5 plan includes all Hiveage features and up to five users, which is great for small businesses. The plan is $29.95 per month ($299.95 per year).
The Big 10 plan includes all Hiveage features and up to 10 users, which is great for growing businesses. The plan is $49.95 per month ($499.95 per year).
All plans allow users to upgrade or downgrade at any time, making it a no-risk tool if your business needs change. And you won't have to enter credit card information on the free plan level. Compare all the Hiveage plans to see which one is right for you. (You get a 30-day trial of all features when you sign up.)
Conclusion
Hiveage is a neat tool with a lot of features. As a designer, I love that the interface is clean and super usable. (I am a sucker for tools that look as good and make my life easier.)
You can try it for free and see if the Hiveage feature set is something you can use. All you need is an internet connection. What are you waiting for?
This post is ponsored via Syndicate. Our thanks to Hiveage for helping to support the site.