Lightroom vs Photoshop: Which Is Right for You?
Adobe Photoshop and Lightroom are both amazing apps that designers and photographers can't live without. However, since both apps have similar qualities, it can be confusing to decide which app is best for your work. We'll help you make that decision.
Adobe Creative Cloud offers a special "Photography" plan that gives you access to both Photoshop and Lightroom apps for a single price. But it only comes with 20GB of cloud storage.
These two apps have very different functionalities when it comes to editing and composing photos and graphics. It's important that you choose the right app depending on the type of work you do to make the most of the software. Plus, if you choose to buy a single app, you get 1TB of cloud storage and more great features as well.
Needless to say, there are many benefits to finding the right tool for your work. In this guide, we look at some of the key features of both Photoshop and Lightroom. And find out which app is right for you.
Get unlimited downloads of 2 million+ design resources, themes, templates, photos, graphics and more. Envato Elements starts at $16 per month, and is the best creative subscription we've ever seen.
What Are Lightroom and Photoshop?
Photoshop and Lightroom are both image editing, composing, and image processing software made by Adobe.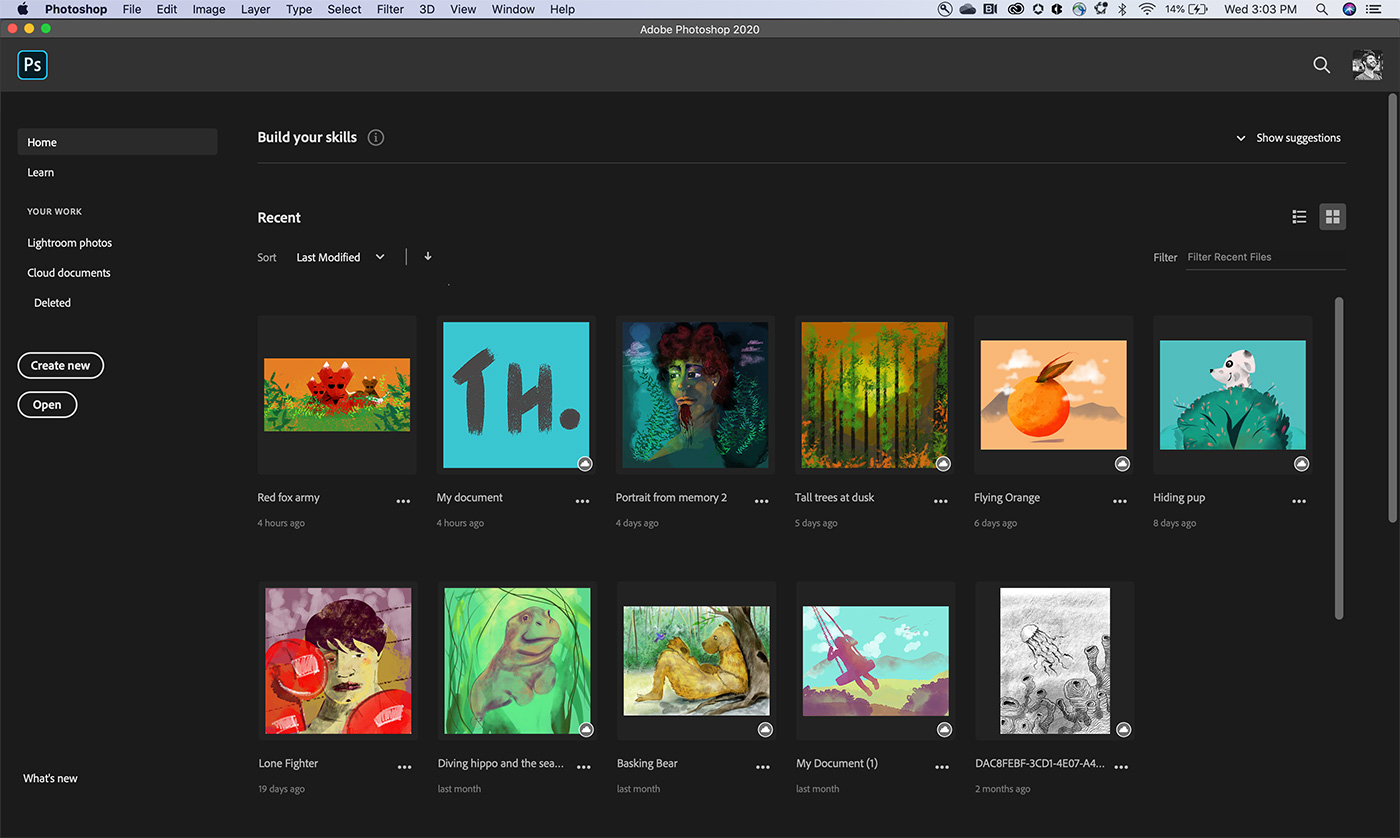 Photoshop has a very long history that goes back to 1990. As a result, the software is now well-refined and improved with a set of features unmatched by any other graphics editing software. Photoshop has become so popular that it's now used as a verb to describe editing images.
Photoshop can be used in many different ways. You can use it for simple tasks such as editing a photo, resizing, adjusting color and brightness. As well as for more advanced work like retouching photos, designing logos, posters, and even website designs.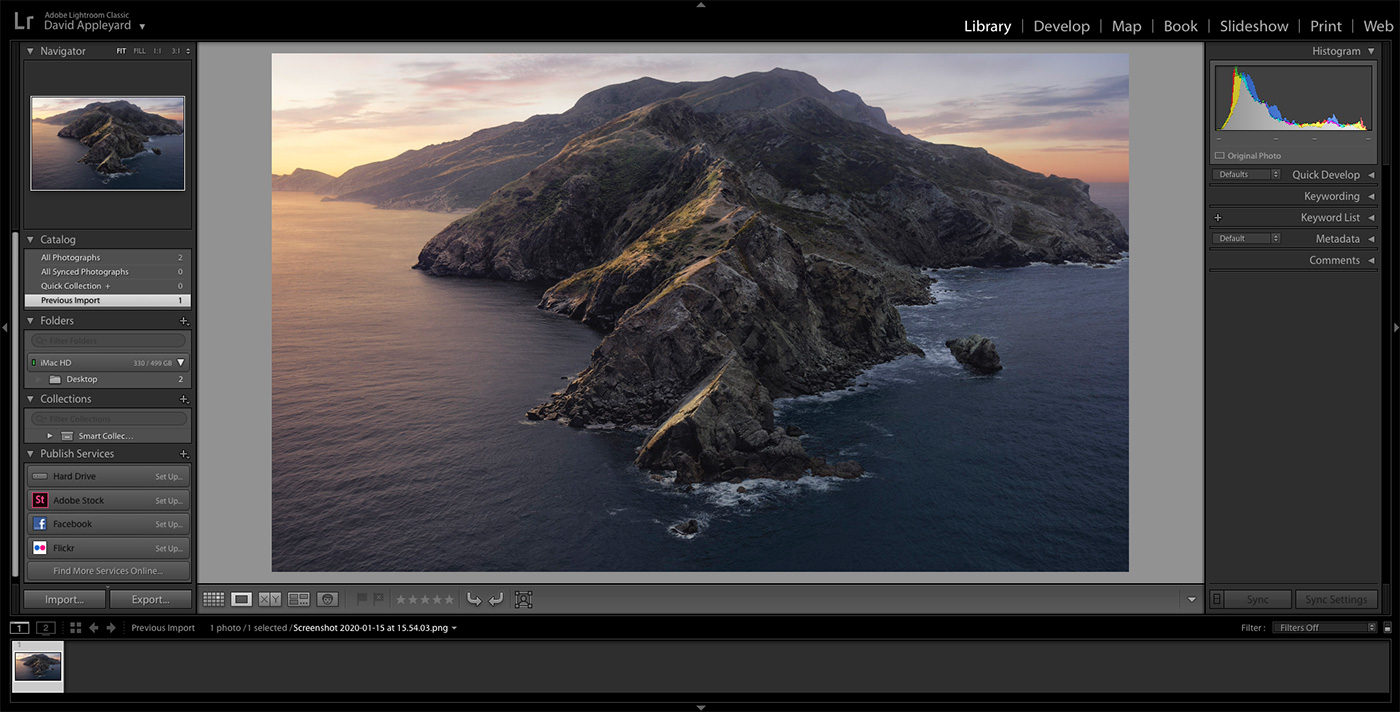 Lightroom, on the other hand, was introduced as an image organizer app in 2007. Although, today it's capable of much more. Lightroom now comes in two versions—Lightroom Classic and Lightroom CC. Both versions allow you to not just organize images but also retouching, color correction, and process images much faster.
Differences Between Lightroom and Photoshop
Lightroom and Photoshop have very distinctive features that make them easier to set apart. Here are just a few of them.
Designing Graphics vs Editing Photos
When it comes to designing sophisticated graphic designs and composing images, no app can even come close to the quality and the functionality offered by Photoshop. It's simply the best out there.
Lightroom lacks almost 80% of the features included in Photoshop. Instead, it's used as a tool for making quick edits and fast image processing.
Basic vs Advanced Editing
Lightroom is a great option for enhancing photos with filters, effects, as well as adjusting color and contrast with just a few clicks.
Photoshop takes it to the next level with its more advanced tools. You can not only enhance and improve photos but also craft unique compositions and now even animated GIFs.
Destructive vs Non-Destructive Editing
One of the best features of Lightroom is that it allows you to work in a non-destructive environment. Every change you make to a photo is made on a separate copy and never harms the original image.
Photoshop, on the other hand, always assume you have a backup copy of an image. Of course, you can undo and use adjustment layers, but once you hit Save every change you've made is final and there's no going back.
Actions vs Presets
Photoshop Actions is a popular feature among all users. With actions, you can optimize and improve photos with various Instagram-like effects and filters. PS Actions are fairly easy to use but don't always work well with all types of photos.
Lightroom has a better alternative to PS Actions. Lightroom presets are more flexible and easier to use. In fact, you can apply Lightroom presets with just a single mouse click. And you can customize them with ease.
Advanced vs Beginner-Friendly Features
From the tools to the user interface, everything about Lightroom is designed with complete beginners in mind. It's very easy to learn and find your way around the app.
Photoshop is a different story. Since it comes with many features, functions, and a big tool palette, you need to spend a lot of time to learn the ins and outs of Photoshop.
In general, the two software are mainly used by two groups of professionals. Lightroom is used by photographers and Photoshop is used by graphic designers.
How Photographers Use Lightroom
Lightroom is a great tool for photographers and for designers who work with photo albums and photo shoots. Especially as it helps speed up the workflow.
Process RAW Images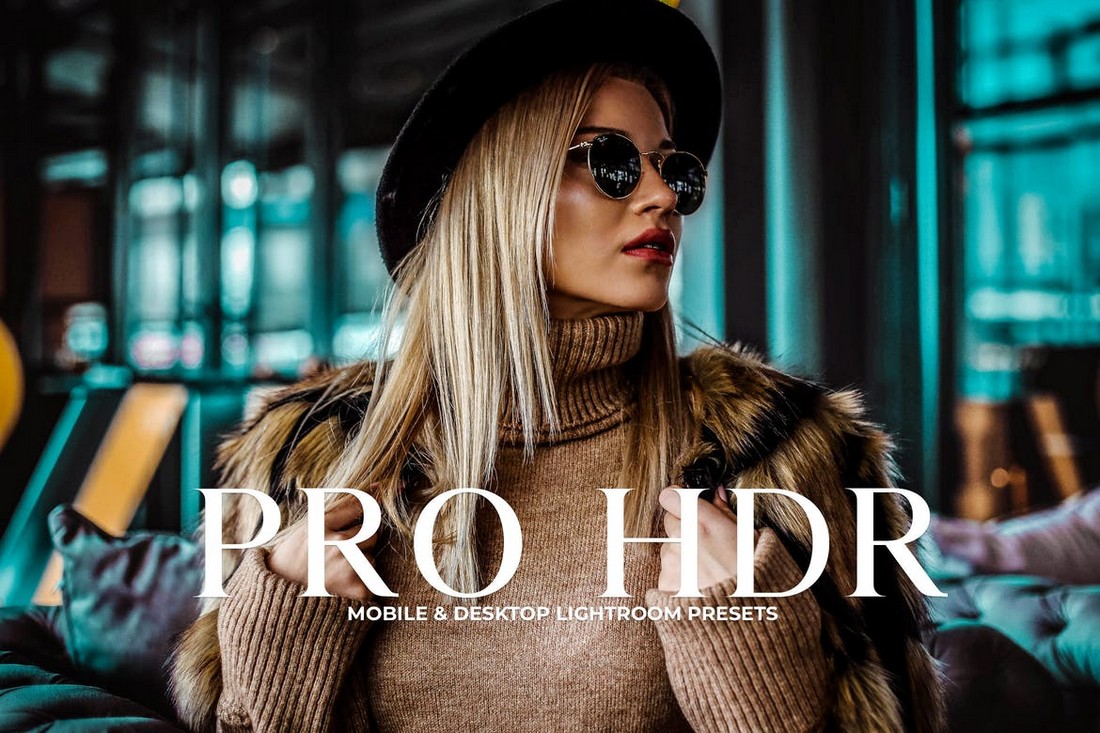 Photographers often work with large batches of RAW images. Managing these photos and going through each one enhancing, correcting colors, and adjusting contrast can be a very time-consuming task.
Thanks to Lightroom, this process is now much simpler and faster. Lightroom lets you organize albums of photos and enhance them with just a few clicks. Especially when processing RAW images, Lightroom is a must-have app.
Color Correction
Much like in Adobe Camera Raw, Lightroom also comes with an adjustments panel where you can easily adjust hue, saturation, contrast, brightness, and more using a beginner-friendly interface. You can even save your adjustments as a preset so that you can apply the same adjustments to all your other photos with a single click.
Add Filters and Effects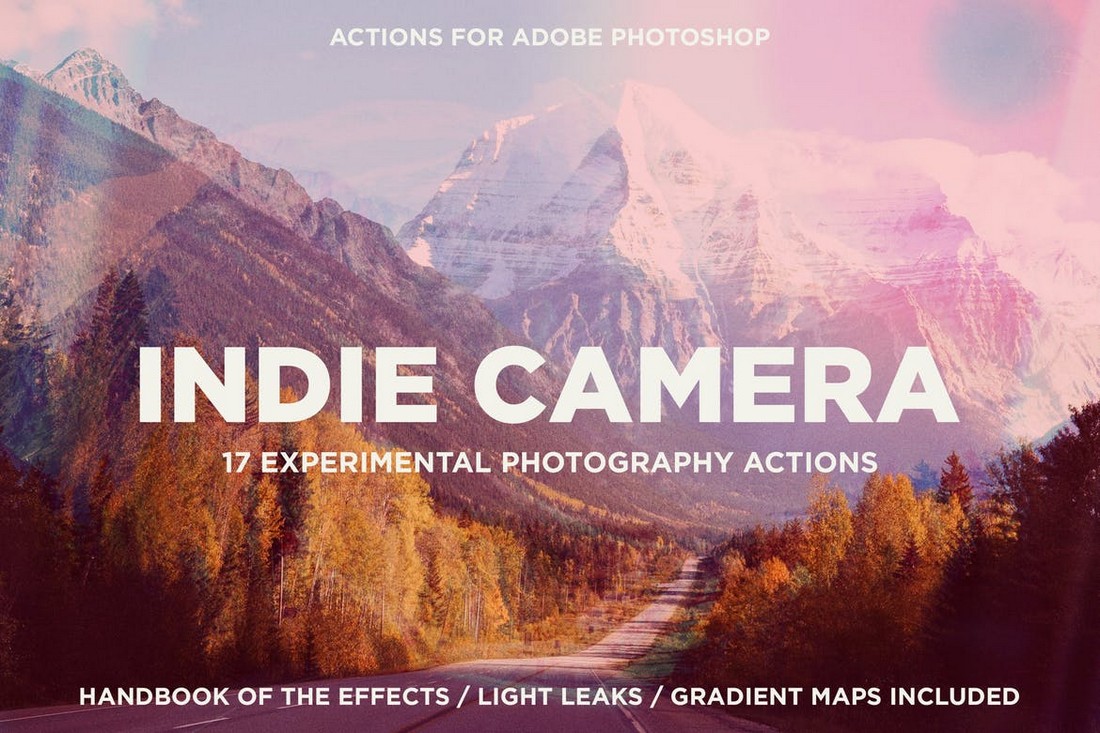 Lightroom allows you to not only create your own presets but also install presets from third-party sources. This means you can download a preset made by another designer and apply the effects to your photos without an effort.
Lightroom has many kinds of presets made for optimizing all kinds of photos from wedding photography to outdoor photos, portraits, and more.
How Designers Use Photoshop
Graphic designers get the most out of Photoshop. The app does wonder for designing sophisticated graphics such as infographics and even logos.
Composing Images
Image composition is the main use of Photoshop. Bringing multiple images together to compose a single creation is actually a form of modern art. It's how designers create movie posters with so many characters and scenes mashed in a single image.
Retouching Photos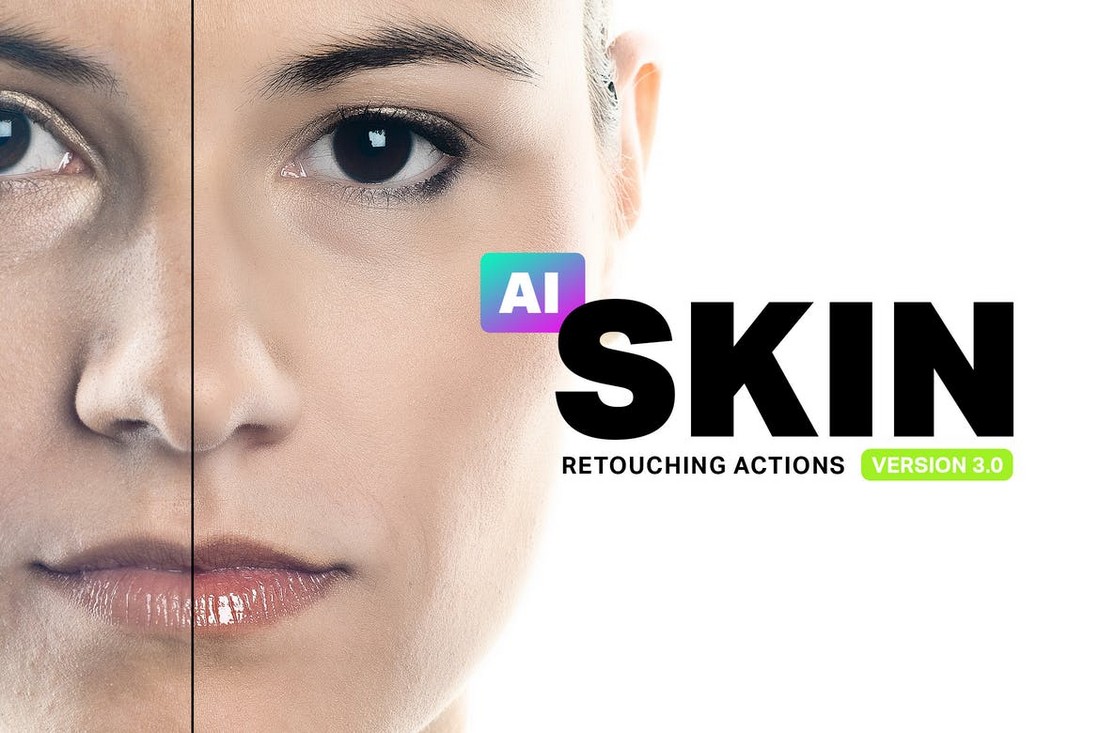 Designers also use Photoshop to retouch photos. If you've ever wondered how models in magazines have flawless skin or always look perfect in every picture, you can thank Photoshop.
The software is also useful for improving photos. Like repairing damaged photos and even colorizing black and white photos.
Designing Graphics
Everything from the posters and banners you see on the streets to movie posters for Marvel films are often made using Photoshop. It's the industry-leading app for composing graphics and images.
Pricing Plans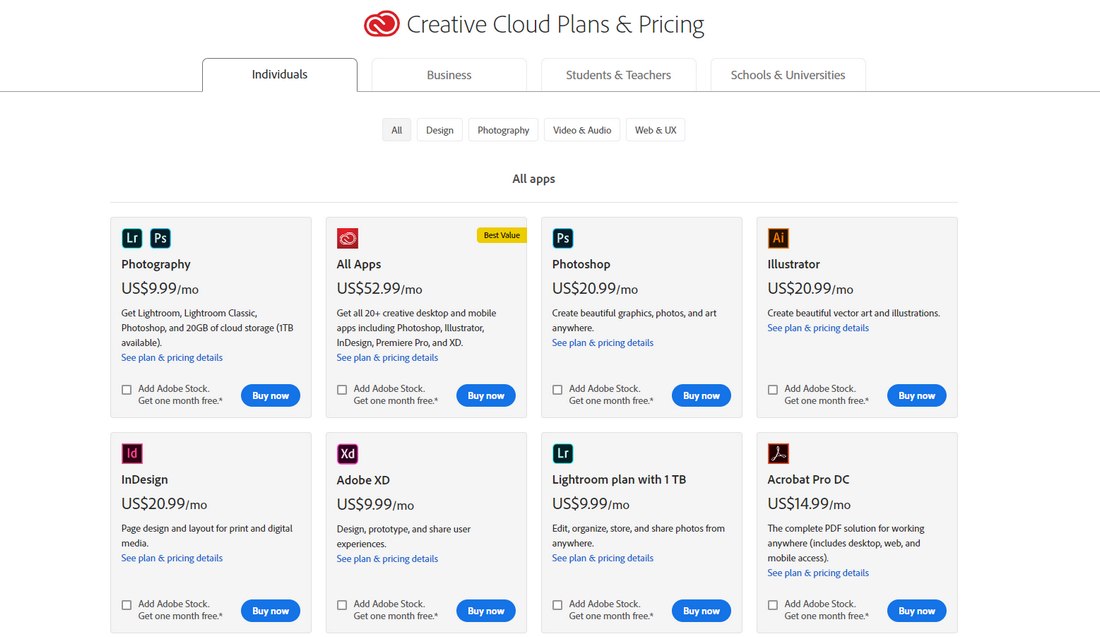 Adobe Creative Cloud is a bit pricier than most other software. The complete Creative Cloud suite costs $52.99 per month or $599 per year.
Thankfully, you can also subscribe to apps separately. If you opt-in for Photoshop plan, you get access to Photoshop with 100GB of cloud storage and Adobe Fonts, Adobe Fresco, Adobe Portfolio, and more for $20.99 per month.
The Lightroom plan costs $9.99 per month and comes with 1TB of cloud storage to store all your photos and access them through multiple devices.
Or you can get the Photography plan for $9.99 per month to get access to both Lightroom and Photoshop.
Which App Should You Choose?
Choosing the right app comes down to what kind of work you plan to do with it.
For example, if you're a photographer without much experience in working with sophisticated software, Lightroom is the perfect choice for you. It'll fit right in with your workflow and help you process images much faster.
But, if you're a designer, Photoshop is a must-have. If you're looking to create high-quality and professional designs, you need Photoshop. Even photographers can improve their work in many different ways using Photoshop.
Photoshop is an app worth mastering if you're willing to put in the time to learn.