Neatly Coded, Elegant WordPress Plugins From Chop-Chop.org
Most WordPress users are familiar with just how flexible it can be as a CMS. Right out of the box, it can be used for a variety of different website designs. But one of the tools that helps developers – from experts to beginners – is a good set of plugins for additional functionality.
That's where the new set of WordPress plugins from Chop-Chop.org come in. Today we're going to take a look at their collection of plugins, and showcase how they can power-up your WordPress website!
Get unlimited downloads of 2 million+ design resources, themes, templates, photos, graphics and more. Envato Elements starts at $16 per month, and is the best creative subscription we've ever seen.
What is Chop-Chop.org?
"We keep the design of our plugins clean, minimal and modern to make them as versatile as possible."
Chop-Chop.org has been converting client designs from PSD files to HTML, CSS, and WordPress for years. But they recently made the switch to also creating products for the broader WordPress community — a set of plugins to add a new level of power and functionality to your WordPress setup.
Chop-Chop.org's plugins are designed by professional artists, and coded by their expert team of WordPress developers (the same team that have years of experience with developing full WordPress sites), to make sure they stand out in terms of usability and elegance.
While the shop is starting small — featuring a handful of free and premium plugins right now – they are constantly working on new extensions and plan to release more plugins in the near future.
Chop-Chop.org's plugins are neatly coded, designed for ease-of-use, and can slot into any WordPress installation. Whether you're an expert developer with a background in design, or a beginner or individual website owner, you should be able to get up-and-running in no time.
Let's take a look at what's on offer!
The Plugins
Chop-Chop.org has six useful plugins ready to go, with more in development. Each plugin is simple and elegant in design, and flexible and powerful in functionality. And every design is fully responsive. Here's a quick look at each one.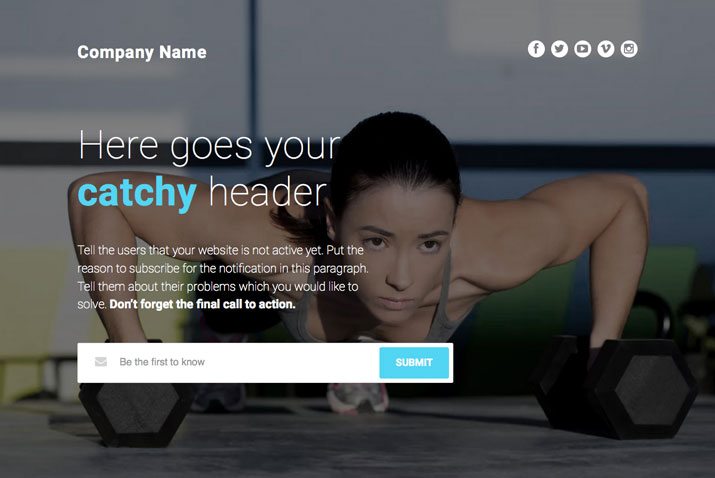 Create a coming soon page in just a few minutes with the Coming Soon CC plugin. You can change the header and message from one of six different themes or get into the admin panel and customize almost any part of the design. The landing page will look great and help you start connecting with visitors ahead of the official website launch.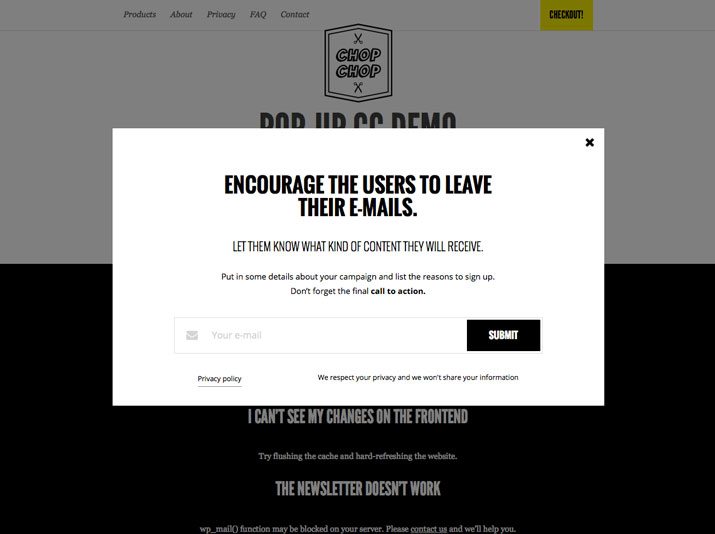 Need a pop-up for your site? Pop-Up CC is easy to use and with a couple clicks – pick a design and set the timing – you can connect with users easily. Each pop-up can be customized to match your website and can be displayed in any location. It works with all modern browsers and is designed to look great on any screen, including retina displays.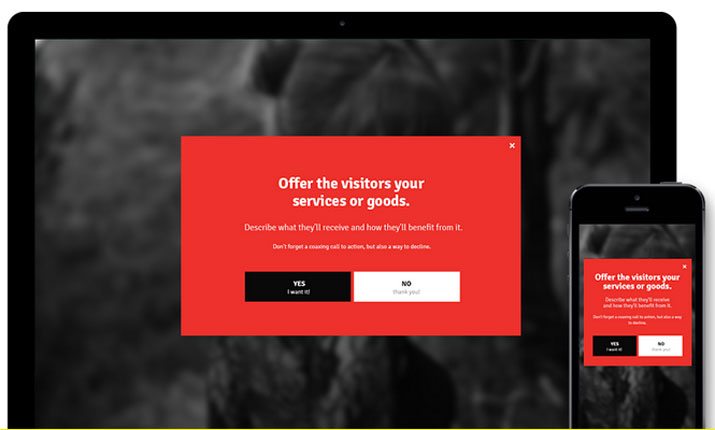 The Pop-Up CC Exit Intent plugin works very much like Chop-Chop.org's standard pop-up but is timed to launch as a user is about to leave a page. The plugin features close-attempt technology that gives visitors time to get what they need from your site. Like other plugins, it is fully customizable.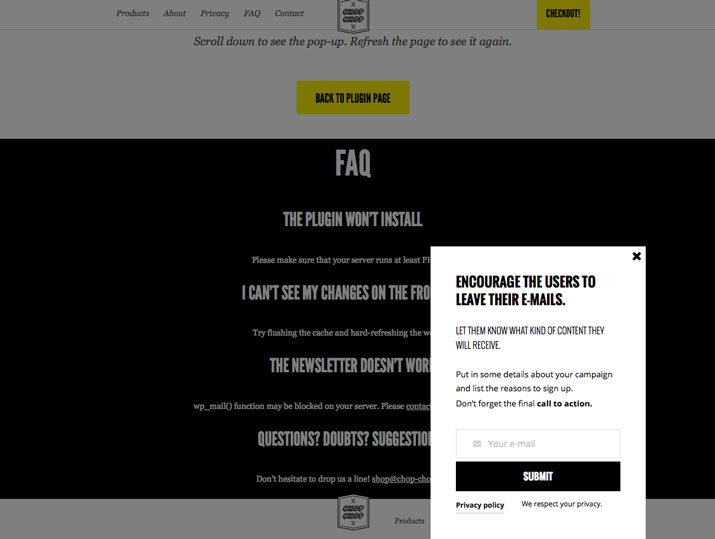 Scroll notifications are a popular option, and the Pop-Up Cc Scroll plugin works beautifully. The on-scroll pop-up appears while fading the rest of the screen to put emphasis on the message. You can customize from any of six templates in any way you want, set the timing and voila! The plugin also allows you to monitor the number of clicks and run A/B tests to compare results so you can measure the effectiveness of the message.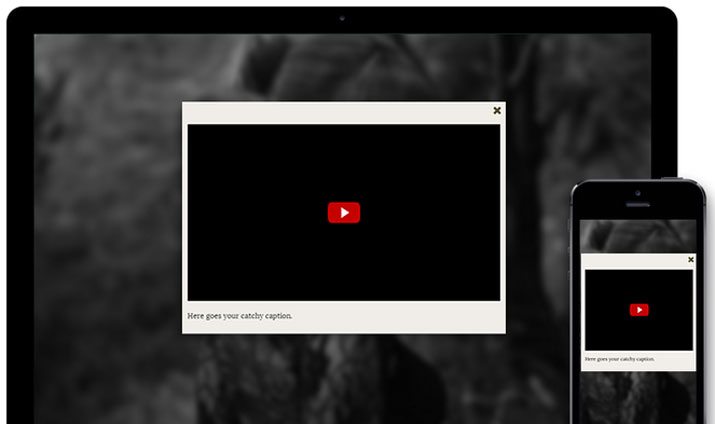 Show off your best content in video format in a simple pop-up that works with your design. Clip Pop-Up CC works with videos from any video hosting service that offers embed codes and allows text editing. Use the plugin to display promo and demo video showing your products or services with unlimited customization options. As with all other Chop-Chop.org plugins, you can change everything from the size, font, buttons, colors, content and background and see it all with a live preview in the visual editor.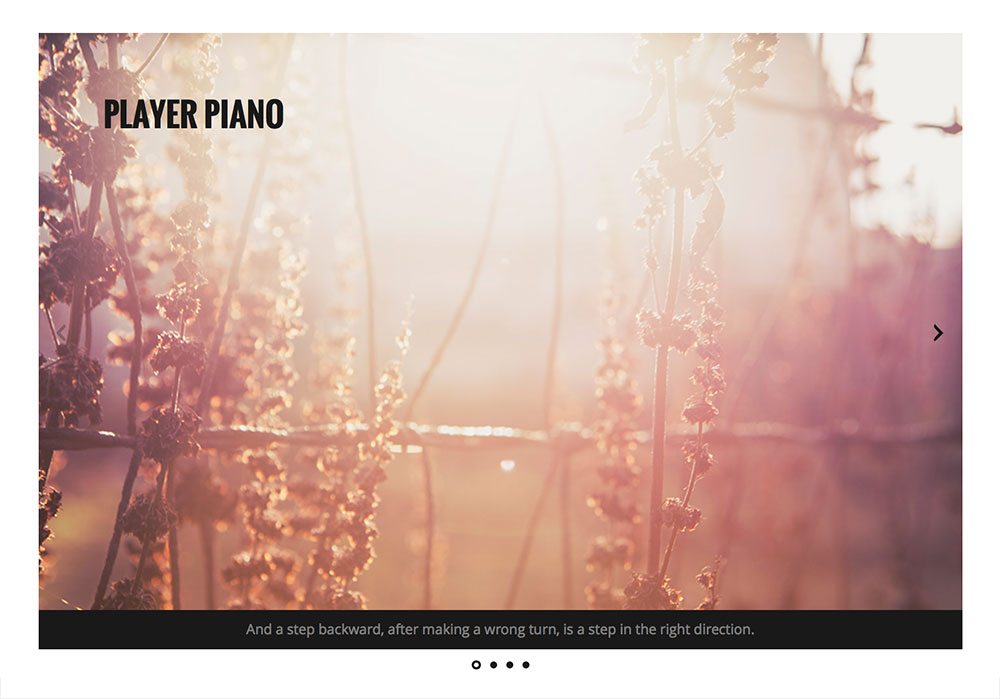 Slider CC Pro makes it easy to add beautiful sliders and carousels to your website in no time at all. You can display your photos in a choice of different formats (with/without thumbnails, in a carousel format, or in a simple slider). Everything is customisable, including the caption for each photo (that can include titles and links), and you can even choose the type of slider integration to optimise performance. It supports CSS, jQuery.animate, and velocity.js.
Pricing
Chop-Chop.org offers free versions of each of the plugins for you to test, but you are likely going to want the upgrade. Each plugin is highly customizable and works with a custom visual editor to make live modifications. Plus every plugin comes with reliable and personal customer support and service. These features are a super value at the prices offered.
Each plugin also comes as a single or developer (unlimited) license, depending on your needs. Both options include one year of updates, email support and a collection of different responsive designs that can change how the plugin looks on your site. Here is the breakdown:
Coming Soon CC: $29 single license, $49 developer
Pop-Up CC: $19 single license, $39 developer
Pop-Up CC Exit Intent: $59 single license, $97 developer
Pop-Up CC Scroll: $19 single license, $39 developer
Pop-Up Cc Click: $19 single license, $39 developer
Slider CC: $19 single license, $39 developer
Conclusion
Chop-Chop.org have a fantastic collection of handy WordPress plugins to choose from. Whether you're looking for a beautiful slider, a coming soon page, or different ways to reach your users, you'll likely find something that can give your WordPress site an edge.
Take a look at their collection of plugins, and grab a 5% discount when you join their newsletter to be notified about updates and new releases!
This post is sponsored via Syndicate. Our thanks to Chop-Chop.org for helping to support the site.