No Coding Necessary: Build a Striking Website With Breezi
Breezi is the website design application for beginners. It is a great tool for those who maybe don't have the coding ability to produce a site that looks like they would hope. The tools are easy to use, there are almost limitless options for customization and even a few templates to help you get started.
Here we look at the web-based tool. And if you think Breezi is for you, you can enter to win one of five pro licensees that the company is giving away to Design Shack readers. (Enter using the Rafflecopter at the end of this post.)
Get unlimited downloads of 2 million+ design resources, themes, templates, photos, graphics and more. Envato Elements starts at $16 per month, and is the best creative subscription we've ever seen.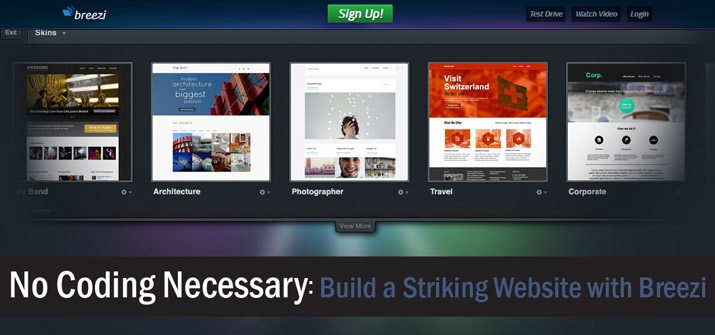 What is Breezi?
Breezi is a fairly new company and promotes itself as the tool to "design small websites faster." It does just that. In a matter of minutes, you can build a sharp landing page and go live without any knowledge or understanding of coding.
The design platform is fully responsive and sites work across devices without any additional effort for the user. (A great bonus for those putting together their first website.) Breezi offers several levels of URL customization as well. You can choose a yoururl.breezi.com address or use a custom URL.
Who will benefit from Breezi? This software application is perfect for small business owners looking to create a simple website, designers or photographers who want to publish a portfolio in a hurry, and even those basement bloggers who want a simple and elegant platform for their work.
Getting Started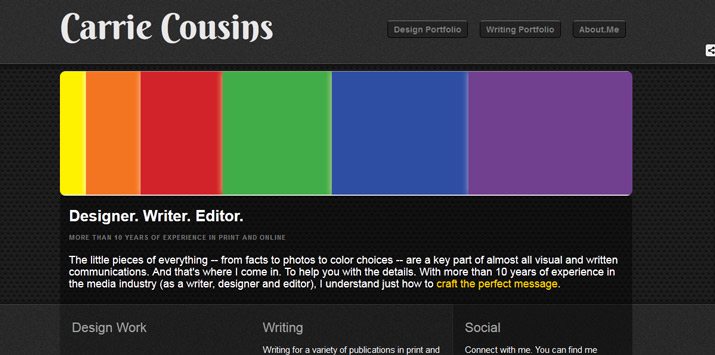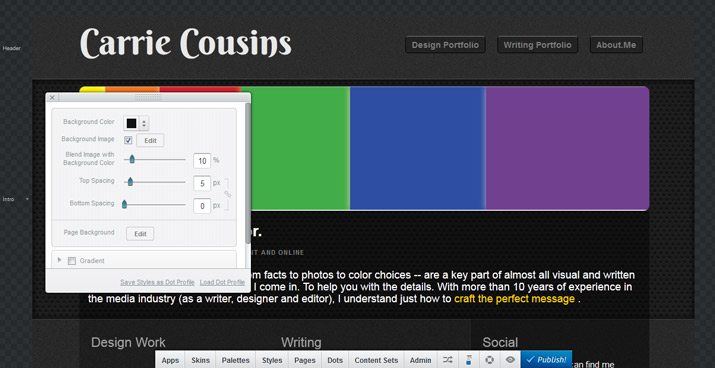 Using gridded boxes, handles and editing tools you shape a webpage with as much (or as little) customization as you like.
The best part about the editor is the control it gives the designer. You can set specs for spacing, box size, color, font and more with just a click – no guessing here, every detail can be set specifically. You can change the layout and move tools with a drag and drop as you crate the design on screen, in a format that looks just like the final product.
Designers will like the interface because it uses a visual CSS — what you see on screen is what you get.
But there is a little bit of a learning curve here. The handles used to set specifications work differently than almost any other tool out there. I had to play around with it for a while before I got comfortable with which handle controlled what elements.
The text editor is fairly intuitive and includes formatting tags, color options and more than 500 fonts. The editor buttons appear as you would expect and adding text works as you would think as well. The only downside? No spellcheck.
And once you've mastered the basics of the interface it is time for the fun stuff. Apps are the in-software bits that give you website extras – embedded HTML, social sharing links and icons, photo galleries or video, maps, widgets and more. There are plenty of great options that you add with just a click and customize with your information.
Features and Tools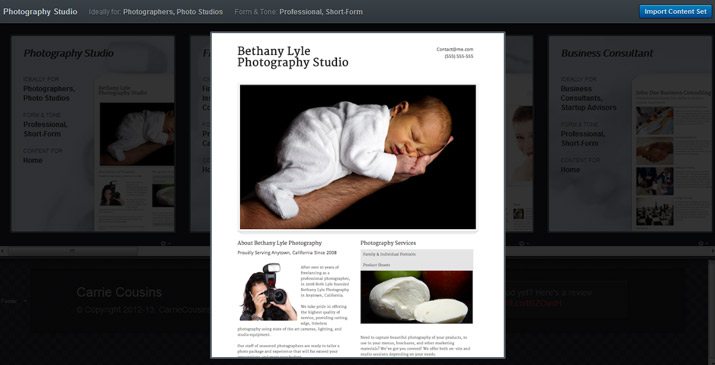 One of the best features of Breezi is the expansive group of templates available for different types of content. This set makes it super-simple for first-timers to build out a professional-looking site.
The templates, called content sets, provide a framework for the page. With more than 15 options available – such as photography studio, business consultant, insurance agent, financial planner, copywriter or marketing consultant – there are templates that work for variety of design applications.
What's really nice about content sets is that they come in as a framework only. There is not a lot of color or font styling. So you are encouraged to really make it your own. Using one of these content sets out of the box, so to speak, would not look polished or complete. (Or is you want something that is more predesigned, you can opt for a skin.)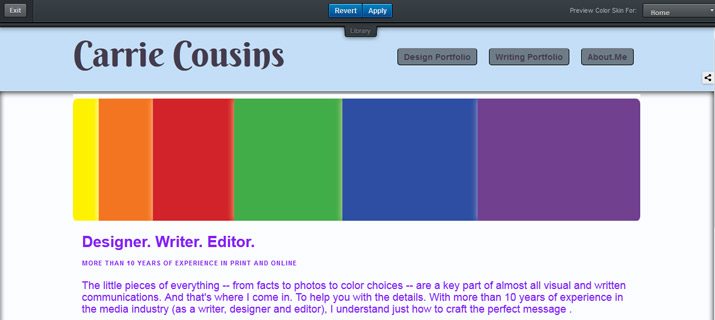 In addition to content sets, Breezi has a full set of custom (and well matched) color palettes that you can import and add to your site. Again, what's nice is that it is a one-click solution. You can preview and apply dozens of different combinations.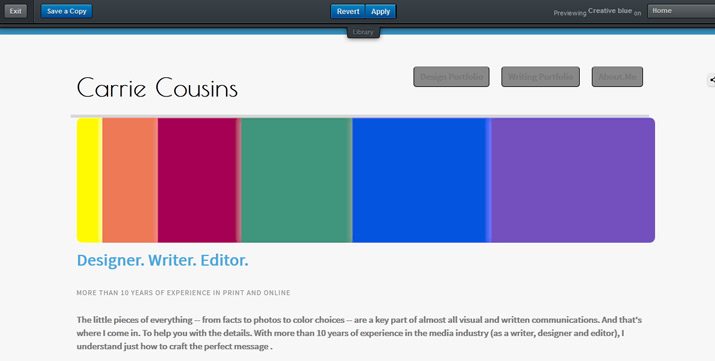 Finally, you have the option of starting with a complete or partial skin that includes even more styling than the content sets. Skins professionally designed and ready to go and they are "content agnostic," according to Breezi, meaning each skin works regardless of what is on the page. You can flip through different skin options to see a live view of how the site would look using different themes, or you can create a custom design and save your very own skin.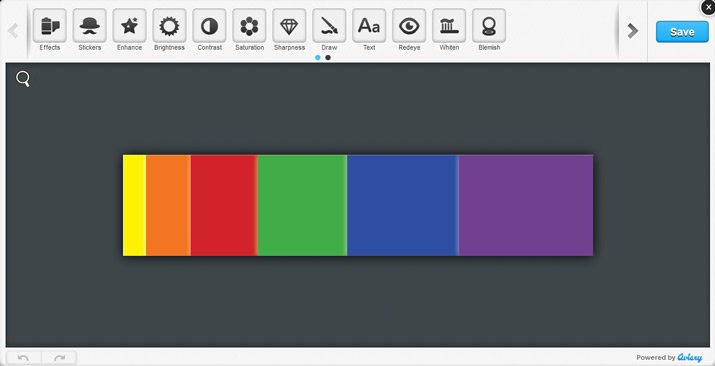 The newest release of Breezi, which is now available, includes a photo editor that allows you to add effects, crop, change contrast and brightness and more right from the application. The photo editor, called Aviary, is a great addition to the software and again is a great tool for novice designers who may not own copies of Adobe Photoshop or other editing software. You may of heard of Aviary recently – the start up behind Twitter's new photo filter feature.
Apps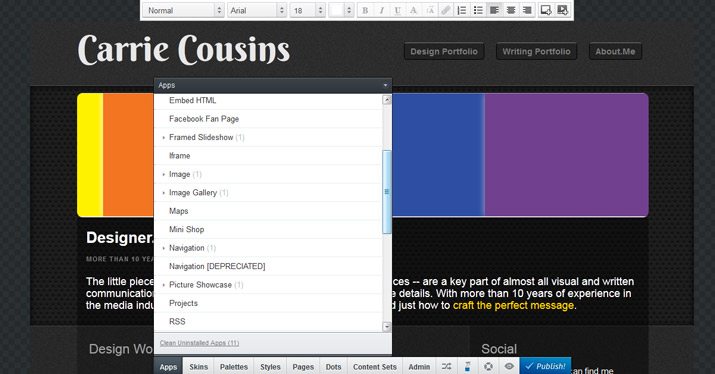 Apps are one of my favorite Breezi features. You can add a variety of customizable tools to enhance the interactivity of your site without understating the guts of programming or coding. (These are so simple you don't even need to understand HTML.)
Embed a gallery, video, Twitter feed or social sharing with a couple of clicks. There are more than 30 apps available to choose from and play with. Almost all are tools that are commonly used for business pages.
Pricing
Breezi Pro accounts are $9 per month or $99 per year and include all of the software's features. (The company offers 14-day free trials for new signups as well.) Plus, Breezi has a program that helps users earn credit for referring new customers.
Conclusion
Breezi is not an application for an experienced web designer starting a new project. It is a tool that is best for creating landing pages or small sites with only a handful of pages in a flash.
The tools are great for more inexperienced designers with many of the tough design concepts put together in the form of interchangeable packages such as colors, templates and skins. The tools are pretty easy to use and the quality of the final product is fantastic. You get a responsive design package that includes SEO tools and a site framework without huge monthly fees.
Breezi is a great starting point and resource for those who are looking to create their first website or for designers who want to create a portfolio but don't have a lot of development experience.
Win a One Year Breezi Pro Subscription!
Use the widget below and enter for your chance to win an Breezi Pro membership. You can enter using either Facebook or a simple email address.