Todoist: A Simple and Powerful Tool for Designers
There are so many apps and productivity tools out there, making it hard to find things that fit your needs the best. Some tools are packed with too many gimmicks, which can make it hard to be productive. Others are difficult to use or understand.
Enter Todoist. This tool is simple and powerful. After only five minutes, I was beginning to feel like a super-user. And what's even better is that it is designed well. Not only does this tool work beautifully, it looks great at the same time. Here's a look at Todoist, how it works and how you can use it in your workflow.
Get unlimited downloads of 2 million+ design resources, themes, templates, photos, graphics and more. Envato Elements starts at $16 per month, and is the best creative subscription we've ever seen.
What Is Todoist?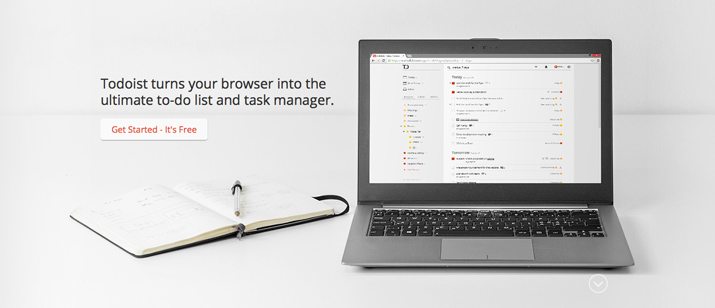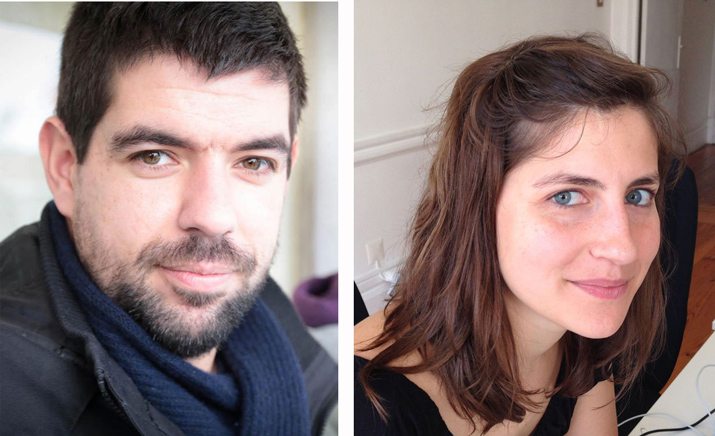 Simply, Todoist is task management software. The platform is designed to help users manage their to-do lists from their inboxes, browsers, desktops or mobile devices. You can set up individual tasks, projects, set deadlines and even share with other users. The tool is available on 13 different platforms.
"It may just seem like a to-do list," said Todoist designer Miguel Jesus, a graphic designer who loves typography, icons and user interfaces. "But it is much more than that."
Todoist, which was first launched in 2007, has really begun to grow by leaps and bounds. With more than 1.6 million users, the company has seen an evolution of the product and experienced major growth beginning in 2012.
Part of this growth could be attributed to some of the buzz surrounding the product. Todoist was recently named the top To-Do List App of 2014 by Forbes.
How it Works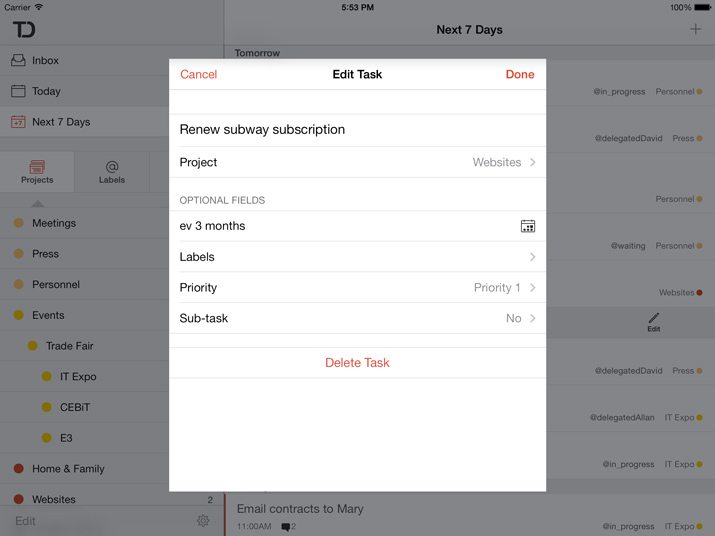 Todoist is designed for ease of use. "It is a simple but powerful tool to help you organize your life," Jesus said.
The software works by allowing users to take large projects and break them into tasks, making each project a little easier to manage. And organizing and planning is as simple as just typing things into the interface.
Enter ideas or tasks alone or under a project header, add deadlines, add labels for organization and organize tasks in a manageable way. Plus share with other collaborators to complete tasks in a quick manner.
That's it. Todoist really is that easy to use. But there are a lot of added goodies as well. You can get a daily email – mine hits my inbox before I even wake up – outlining today's tasks and projects with a synopsis of everything completed recently.
Todoist includes a ton of bonus tasks management features once you start getting used to the interface. It can be used to convert emails from Gmail, Outlook or Thunderbird into tasks. The interface also includes plugins that work on the most common browsers for easy access and integration.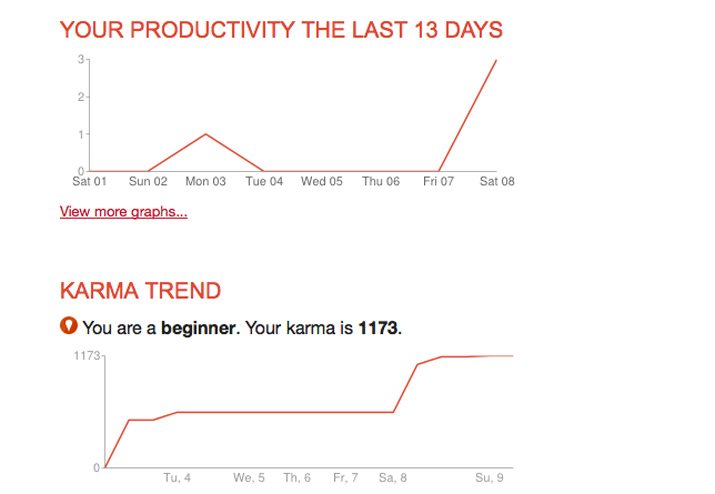 The Karma tool, which you can use or turn off, is a powerful feature that helps you track your progress over time. You earn Karma points every time you use Todoist productively. This includes adding tasks, completing tasks on time or using advanced features. You lose karma if you postpone or have long overdue tasks. It almost makes a game out of getting work done.
"The insight about how you work is really nice," said Todoist designer Ana Ferreira, who spends much of her time working on web and interface design projects.
Simple Design and Function
One of the things that really appeals to me about Todoist is the simplicity of the tool. It is designed in a super minimalist style and only contains things I need and use on the screen. The design was created in the flat style and is sleek and easy to look at without being overwhelming. The design transfers well across platforms and you don't have to learn a new look or different type of functionality from device to device.
And the look and feel of Todoist is not by accident. The design team worked to create an interface that was simple, functional, user-friendly and beautiful.
We wanted to "make the interface really simple, really clean," Ferreira said. "It is designed with the users in mind. The focus of the design is content itself."
Pick a Device

One of the things that really sets this tool apart from many others out there is cross-platform collaboration. Todoist works on 13 platforms, with others in development. And everything lives in the cloud, so devices stay in sync. This is a key feature when you are planning to use sharing features.
Todoist works in these environments:
The web
iPhone
Windows
Gmail
Android phone
iPad
Google Chrome
Outlook
Andriod tablet
Mac
Firefox
Thunderbird
Plans and Pricing
The basic Todoist plan and app downloads are free. This version is packed with most of the features above. You can install in as many places as you wish and work with up to five collaborators.
Todoist also offers a premium plan with more extras. This plan is designed with power users in mind, Jesus said. It includes plenty of shortcuts, ability to create more projects, more color options, calendar integration the ability to share with more users, more productivity tools, ability to attach files, automatic backups of your data and project templates.
The premium plan is $29 annually.
More Developments Coming
This should be a big year for Todoist as the tool continues to expand and grow. Ferreira said the goal is for the tool to reach 3 million users in 2014. (A goal that looks very attainable after Todoist hit 1 million users for the first time just 6 months ago.)
In addition, a business plan is in the works with more functionality and tools to help companies manage tasks and stay organized. The business release will help companies manage teams and workloads. A release date has not been set.
Quick Analysis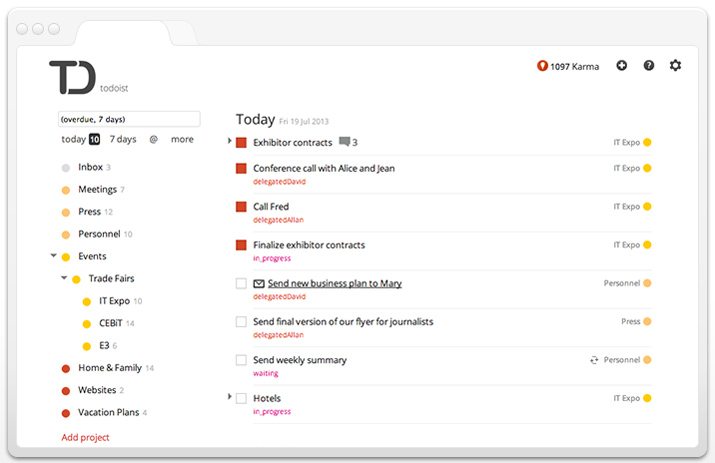 After using Todoist for just a few days, I was hooked. The functionality topped some of the other list-making tools I have used in the past. The simple interface is ideal for the way I work and because it lacks a bunch of unnecessary extras, it loads fast and clean every time.
The Google integration is especially nice. The platform is one of the most simple I have tried as well.
As a designer and freelancer, I am going to use Todoist to organize client work and projects so that tasks aren't missed or left behind. I am already planning to upgrade to the premium version as well because of how well I like the tool. (I am really digging the idea of the ability able to add documents to tasks, turn emails into tasks, templates and more labeling options.)
Conclusion
Todoist is an easy to use and functional tool. The design is sleek and the interface is user-friendly. It really can serve as a great way to stay organized.
"We would like everyone to try Todoist. It's free and simple," said Fereira. "And it can improve your life. Just try it."
And what's to lose? It's free to try. Let us know if you like Todoist in the comments, or just share your favorite organizing tools with us.