X Is the Ultimate WordPress Theme
The WordPress blogging platform is arguably the most well-known in the world. Millions of websites are running on WordPress and tens of millions of users per day visit those URLs. The key is designing and developing a WordPress site so that you can make it your own.
That's where tools such as plugins and themes really come in handy. WordPress is easy enough that almost anyone can get a site up and online. The new X WordPress Theme has taken that ease of use and customization to another level. With just one theme you can build a great site with a single set of tools. Here's how it works.
Get unlimited downloads of 2 million+ design resources, themes, templates, photos, graphics and more. Envato Elements starts at $16 per month, and is the best creative subscription we've ever seen.
What is X Theme?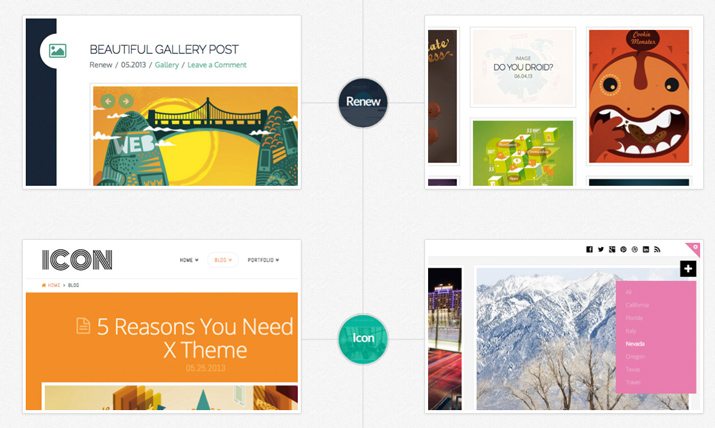 The X WordPress Theme is a one "box" solution that can help you create almost any imaginable layout on the WordPress framework. The theme uses stacks, which allow you to choose from an unlimited combination of design options with just the click of a mouse.
"No other theme on the planet has this sort of versatility!" is the claim of the company behind X, Theme Co. And that might just be true. This is one of the premier WordPress themes on the market today., because of its vast functionality, flexibility and number of features.
The theme can be used for a variety of site designs and application types from bloggers who just want a great-looking site to business professionals or e-commerce sites. Stacks, which are like basic design wireframes, work in enough different ways to make all of this possible. (Right now the theme comes with four stacks to choose from and more are in development.)
X is different from many other themes in the way it works but also in the way it has been developed. Makers went out and got the advice of top web marketing professionals to see what they wanted in a WordPress theme. People such as AdSense Expert Perry Marshall, Founder of Web Savvy Marketing Rebecca Gill and Copywriting Guru Chris Luck are among some of the names that helped map out this tool.
Stacks and Design
So what makes X different? It's all of the available features. There are a lot of WordPress themes on the market, all with varying pros and cons. X takes most of those into account so that everything you need is in a single package.
It starts with stacks. These responsive wireframes help you start building a site that you know will have a modern and visually pleasing aesthetic. X currently includes four stacks – all included – and there are more on the way. Each stack has special features that make it easy to set up a site based on how you plan for it to function. These stacks include: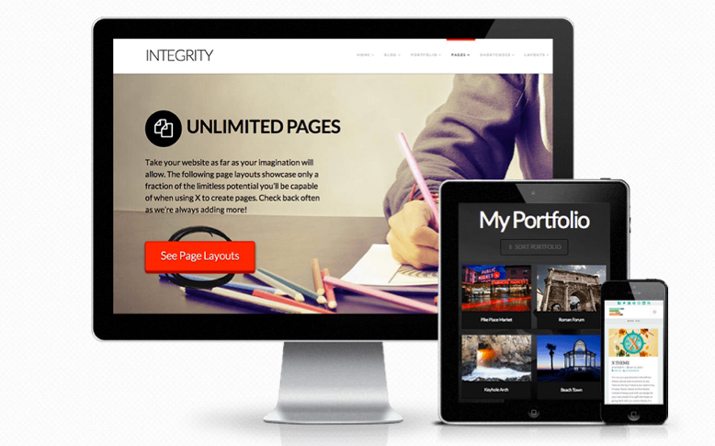 Integrity: The Integrity stack is designed for creatives or portfolio design. The theme uses big-image design, an all-purpose blog, portfolio tools and shop integration to make it a go-to aesthetic for designers or photographers. The stack has other fun features such as a header transparency tool that can be added with one click (no CSS required).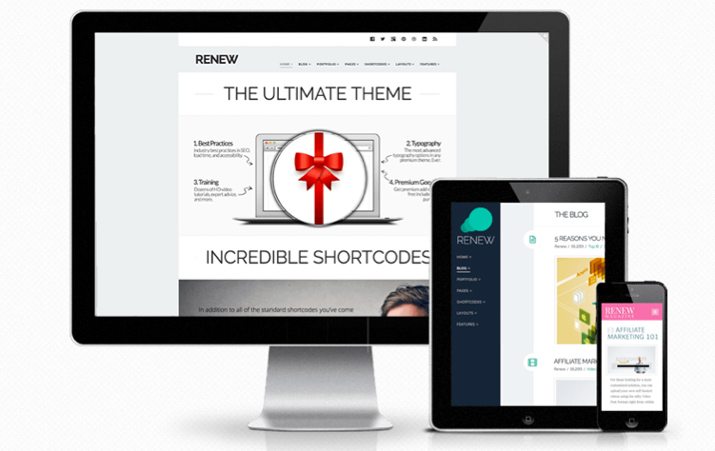 Renew: The Renew stack allows you to feature content using the ever-so-trendy flat design style. It has a super-simple look and feel with a blog, flat portfolio, shop and color palette.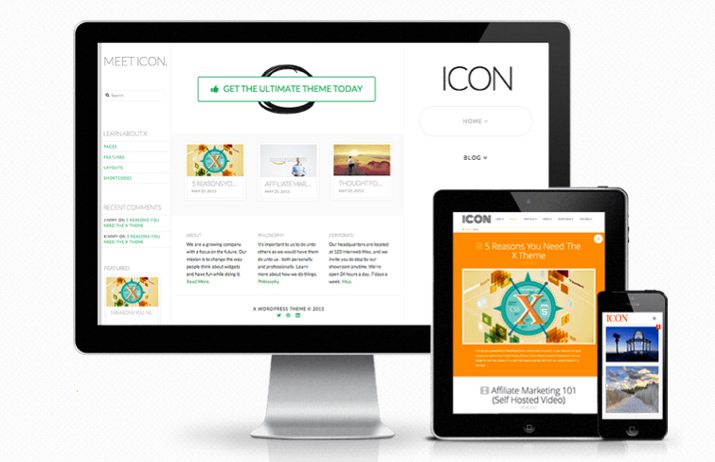 Icon: Bloggers will likely get the greatest benefits from the Icon stack, which is designed to showcase text. The stack features a clean, minimal style design, portfolio, shop and plenty of color options so each post type can have a special look and feel. Icon also has an app-like independent scrolling sidebar.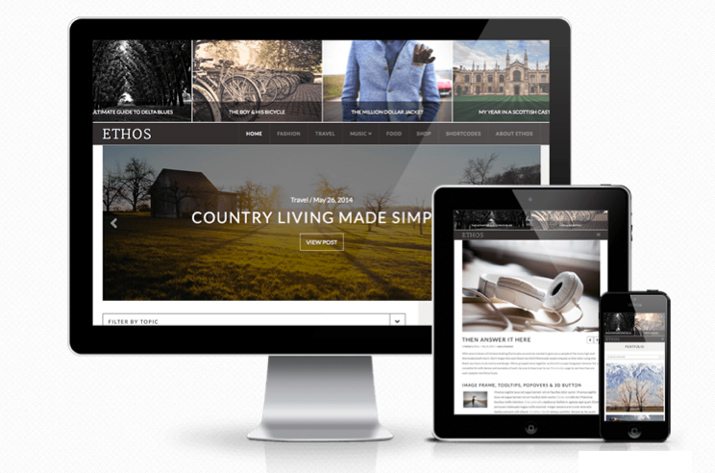 Ethos: For a magazine-style site, the Ethos stack is ready to use. The stack is designed for engagement with a post carousel that keeps specific content front and center on your website, a high-impact blog design, customizable portfolio and shop. Ethos also allows you to feature multiple images in varying ways and comes with great sliders and blog post archive tools.
While each stack comes with a specific set of tools, any X features can be mixed and matched. You have multiple layout options to choose from with each design – content and sidebar, boxed and full-width – and multiple navigation options (fixed top, left or right and static top).
Then you can customize away. Everything in the theme can be adjusted to meet your website needs: Change stacks; header, menu or sidebar locations; color; typefaces; button style; background or logo. (And everything works using a live preview so you can see changes as you build the site.)
Other Key Features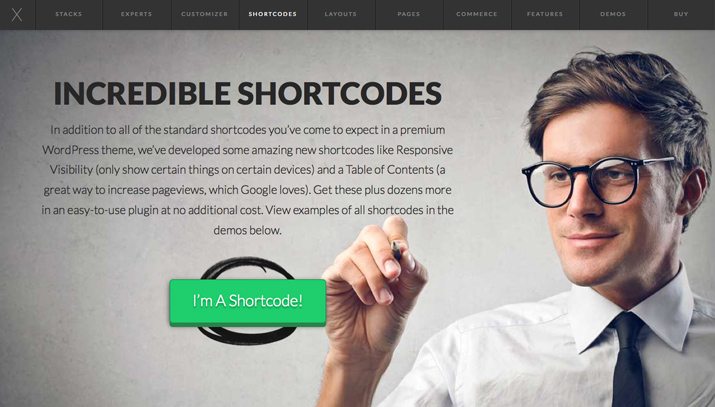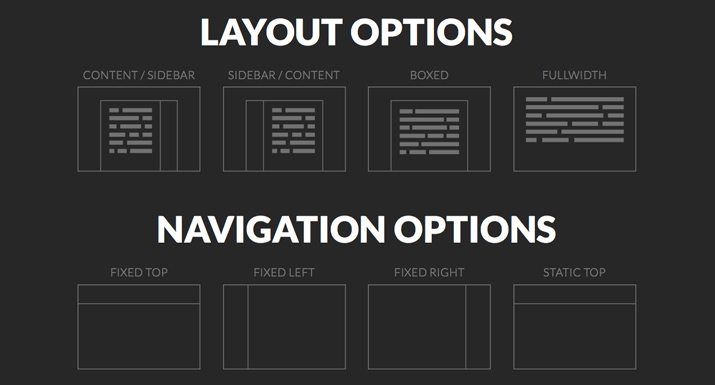 After you pick a stack to get started, you can use all of the other powerful add-ons that come with X. Almost every WordPress tool you can imagine is ready to go right "out of the box." Here are some of the key features that you will get with X:
X comes packed with shortcodes. Some of the best include a shortcode for responsive visibility, which makes certain things visible only on certain screen sizes, and a great table of contents.
Custom pages are included as well. Currently the X package includes pages for About, Pricing, Contact and More; there are new pages in development as well.
The theme comes with full WooCommerce integration, so you are ready to sell online immediately.
Updates and support are free as long as you own X. So you don't have to worry about your theme after the install.
And then there is everything else — all those other tools you ask about when looking at a premium WordPress theme. They are included in X. (This really is what helps make it one of the best WordPress themes out there.) Here are 20 features that you need with any theme that come included with X.
Responsive design
Retina-ready visuals
Drag and drop page builder
Plenty of navigation options
One-page site capability
Search
Megamenus to help organize complex sites
Great typography with more than 600 Google Fonts
Simple forms (includes Contact Form 7 and Gravity Forms)
bbPress and BuddyPress integration
Shortcodes for functionality
PSD files for additional customization capability
Clean and light code
Plenty of post formats and sidebar options
Ecommerce tools
Sliders for a modern image display
Icon fonts for pixel-perfect renderings
Social media tools
Demo data to help you build your site
Easy search engine optimization
Cost
X is $63 for a regular license and an extended license is available for commercial clients. The price includes everything mentioned above without any add-on costs. Support and updates are also included in the price.
X is available for purchase now from ThemeForest.
Conclusion
X, The Ultimate WordPress Theme, is a powerful tool. It is a major player in the WordPress theme market and really does include pretty much anything you need to build a great site. There are plenty of options and customizations as well, so you don't really have to worry about your site looking like another just because you started with the same theme.
X is a few dollars more than the average WordPress premium theme, but it is worth it. Because all of the extras are included, you won't fid yourself buying plugins or add-ons later.
It will be interesting to see how this theme evolves as well. With a solid framework, you can expect X to be a major player in the theme market for a while to come.
Learn more about X Theme on social media for tips, tools and more information about sites using the theme.
Note: This is a sponsored post, commissioned by X Theme. Thank you to them for helping to support the site.