Zenscrape: Extract Website Data Visually
Almost anyone can pull information from websites using the code-free, visual tool, Zenscrape. The tool is probably one of the easiest of its kind and has plenty of practical applications for website owners.
Here, we're going to take a deeper look at Zenscrape, what it is, how to use it, key features, and pricing.
What is Zenscrape?
While scraping websites for information or data isn't new or proprietary, doing in a manner that scalable, reliable, and accessible is a relatively new idea.
Zenscrape allows anyone to gather information from the web without coding skills. The tool takes all of the difficult parts out of web scraping with captcha solving, IP rotation, JS rendering, and more. It includes a data extraction tool and web scraping API components.
You get to configure the tool to meet your needs and then it does the rest. (The servers technically do all the work.)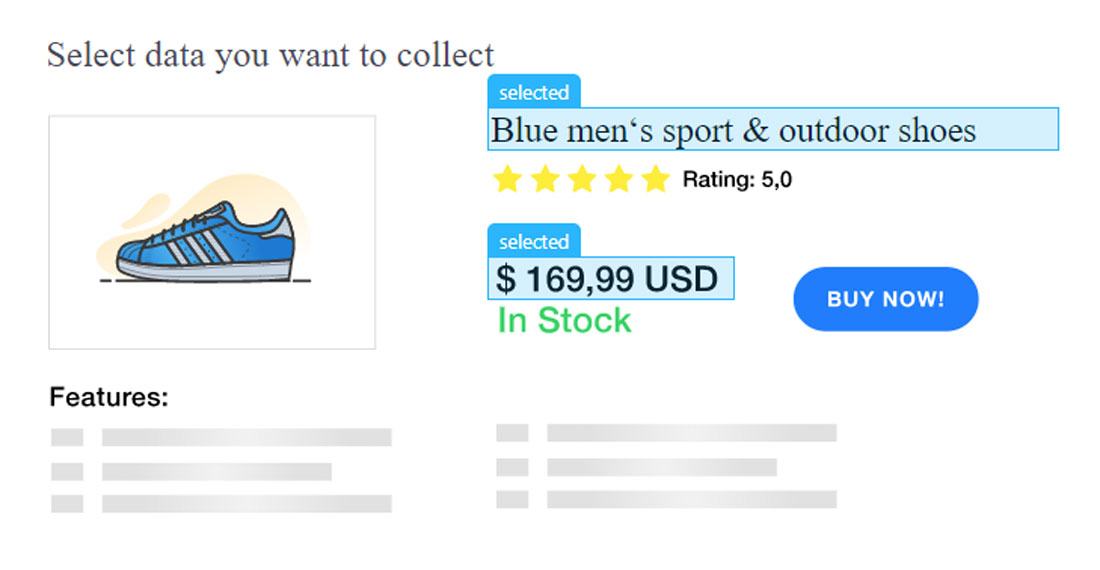 Zenscrape is part of SaaS Industries, an Austrian company that develops and maintains APIs and SaaS applications. Zenscrape was first released in 2019 with a goal of making web scraping less of a hassle. The reviews were good, showing a need for a scraping API, with a growing customer base.
Who Should Use It?
If you've never thought about scraping websites for data, there can be a lot of practical applications for companies of all sizes.
Use Zenscrape to:
Crawl websites for data.
Monitor price and product information.
Generate sales leads and scrape contact information from websites.
Gather customer reviews from multiple websites and put them all in one place.
Collect job and hiring data from boards and career websites.
Find real estate data to create market demographics and scenarios.
Create data sets for deep learning models.
Monitor your brand.
Looking for something you don't see here? Zenscrape offers custom solutions as well.
How to Use It
There aren't many tools – especially web or developer tools – that are as easy as 1-2-3. But this one is.
Since you don't have to deal with code to extra information, almost anyone can set it up in just a few minutes.
First, create a scraper by entering a website URL.
Then select the data you want to collect. (All you have to do it highlight it on the screen.)
Then export the data in any format using a .csv file or by pushing to Zapier.
Key Features
In addition to being easy to use Zenscrape is a functional tool that's packed with features.
Zenscrape also includes a data extraction tool plus a web scraping API for automatic calls and data collection.
Key features include:
Visual data extraction using a cool visual tool that allows you to click and select information.
Scheduled scraping that allows you to set intervals, delays, and automate your data scraper.
The tool is scalable and works for small amounts of data (with a free plan) all the way up to enterprise-scale API requests.
Easy customization options that help you build a scarper that meets your needs in an understandable format.
Custom exporting so you can view and analyze data in a tool that works for you, including the popular Excel option.
IP rotation ensures that your requests aren't blocked since calls from for a different IP from a pool of more than 30 million addresses.
The API is fast, has no QPS limitation, and returns a JSON object with HTML markup.
Proxy servers for every use case that use headless browsers.
Pricing
The great thing about this tool is you can test-drive it before you pay for anything with a free plan. (Free plans don't require credit cards, although there are limits on the number of monthly requests for APIs and scraper bots for data extraction tools.)
Plans and pricing options for the data extraction tool include:
Free:Includes 1 scraper bot, up to 5 items per URL, 60 minute update intervals, and works with the free API plan.
Small ($8.99/month):Includes 5 scraper bots, up to 5 items per URL, 30 minute update intervals, and works with the small API plan.
Medium ($29.99/month):Includes 10 scraper bots, unlimited items per URL, 1 minute update intervals, and works with the medium API plan.
Large ($79.99/month):Includes 20 scraper bots, unlimited items per URL, 1 minute update intervals, and works with the large API plan.
Very Large ($199.99/month):Includes 45 scraper bots, unlimited items per URL, 1 minute update intervals, and works with the very large API plan.
You can find out more about individual API plans here.
Conclusion
Web scraping tools are rapidly becoming go-to elements for websites because they can make what used to be a difficult task that much easier.
Zenscrape makes it easier than most tools to because you can visually pick and choose what data you want to scrape, set preferences, and start collecting with just a few clicks.
You can try it out for free and the price stays that way unless you find a need for more usage and decide to upgrade. There's no code, and no reason not to give it a try.