This Week in Design: May 23, 2014
It's a design smorgasbord. From naming your design business – what does it mean – to a branding evolution and a fun design featuring animal tails, we've got you covered with a little something for everyone.
Every week, we plan to a look at major product releases and upgrades, tools and tricks and even some of the most popular things you are talking about on social media. And we'd love to hear what's going on in your world as well. Have we missed anything? Drop me a line at [email protected].
Envato Elements gives you unlimited access to 2 million+ pro design resources, themes, templates, photos, graphics and more. Everything you'll ever need in your design resource toolkit.
What's in a Name?

Every business has a story but until recently, I had not considered the story behind the names of design businesses. Co-founder of Colourful Design Strategy Emily Penny's article for Design Week, "How do you name your design business?," was a great intro to the art of the name.
She explains how common terms such as "agency," "consultancy" and "studio" imply things about your company. Descriptors can give an impression of your size, type of work done and even company personality. "A 'studio' sounds more specialized and brings with it associations of technical craft and a workplace, while 'consulting' sounds business-focused, and 'firm' suggests serious empire-building," she writes.
This is also true of the actual name paired with this descriptor. (In my freelance business life, I have no business name because I could never come up with anything that suited me.)
But the names of design business can say a lot about the work they do. The name and logo creates a visual tone that will be associated with the work of the individual or company.
It really makes you think. What does your business name say about you and your style of design?
What's Better: Responsive or Adaptive Design?
While responsive layouts can perform better, adaptive websites might actually be better from a user perspective.
What came first: The chicken or the egg? What's better: Responsive or adaptive design?
We may never really have concrete answers for either question. But the design question could be resolved on a site-by-site basis. In a recent post for Webdesigner Depot, Dustin Cartwright examines this question in detail, "Responsive vs. adaptive webdesign, which is best for you?" Cartwright argues that while responsive layouts can perform better, adaptive websites might actually be better from a user perspective.
Adaptive sites are those that are designed with breakpoints and seem to "snap" into place at different screen sizes and resolutions. Designers must design for viewpoints, creating multiple variations of a similar design.
Responsive design is the "de-facto approach to use," Cartwright writes. Responsive sites adjust to the environment, regardless of size, but there is a lot of debate over the best way to design in this way.
There are pros and cons to each approach, but the answer might be in what you are designing, what device it is most likely to be viewed on and the type of content the site will display. What do you prefer? After reading Cartwright's ideas, would you consider designing another way? Share your thoughts with us in the comments.
A Lesson in Branding from Johnny Football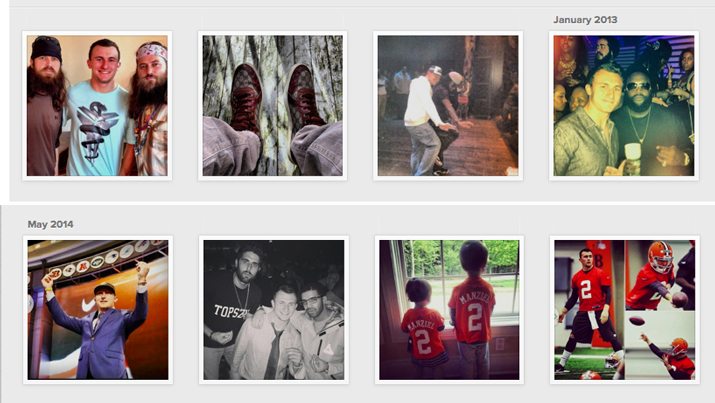 Anyone can begin to change and rebrand his or her image. The evolution of this process has become quite evident in the online personality transformation of recently drafted NFL player Johnny Manziel.
The college football star has been seen by the world in a series of photos that are less-than-professional. Manziel's Instagram images show the college student growing up in front of the public. Early images are more of the fun times (top row of photos), while recent images (bottom row of photos) show him in a more professional light.
The football player is rebranding himself in images. He's also working in other public forums to be more professional. And's it's working. We are hearing about less party and more work from the Cleveland Browns rookie. (The full evolution was recently documented by ESPN.)
This case study proves that anyone or any company can change its image. The process can be tedious and slow but if can be done. It's also a lesson in social media. Remember everything that gets "put out there" is out there forever; be intentional in the messages you send.
Design Inspiration in Quotes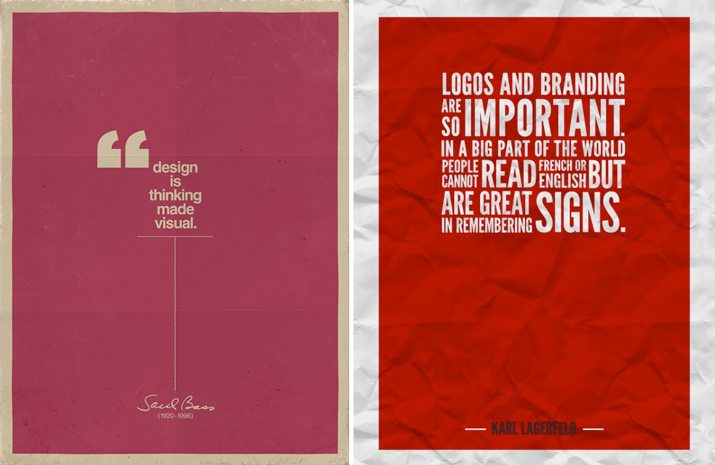 There's nothing like the words of a creative genius to help you feel more inspired. Creative Market recently compiled a group of quotes and typography posters from a few creative greats.
From the collection:
"Design is not just what it looks like, It's how it feels." — Steve Jobs
"Many desperate acts of design (including gradients, drop shadows, and the gratuitous use of transparency) are perpetuated in the absence of a strong concept. A good idea provides a framework for design decisions, guiding the work." — Noreen Morioka
"Good design is obvious. Great design is transparent." — Joe Sparano
Read the full list on the Creative Market blog.
3 Questions to Ask When Tackling Problems
When you face a dilemma – in a design project, at work or in any aspect of your life – where do you start? In a recent article for Fast Company, Warren Berger who wrote "A More Beautiful Question," found the answer.
He writes about three questions anyone facing a problem or almost any nature should ask to get through it. Just as important as the questions are the order in which they are asked:
"'Why' questions are ideal for coming to grips with an existing challenge or problem — helping us understand why the problem exists, why it hasn't been solved already, and why it might be worth tackling," Berger writes. "'What if' questions can be used to explore fresh ideas for possible improvements or solutions to the problem, from a hypothetical standpoint. When it's time to act on those ideas, the most effective types of questions are practical, action-oriented ones that focus on 'how:' how to give form to ideas, how to test and refine them with the goal of transforming possibility into reality."
This process of questions has been used by some of the leading names and companies in design, innovation and technology. And the process is simple and straightforward enough to work in any problem-solving situation.
Learn more about these three questions in Berger's article.
Just for Fun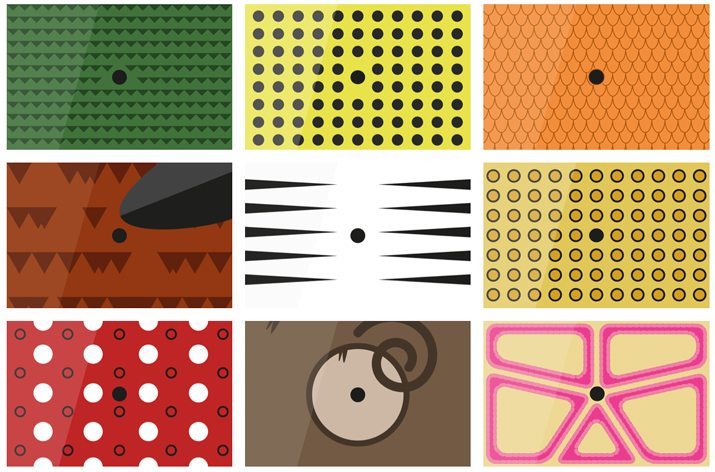 Look at the image above. What do you see?
It's a new take on flat design. As a series of illustrations featuring the rear ends of animals. "Flat Butts" is a fun and interesting project by art director Peter Jostrand.
This project is extremely fun and is a lesson at looking at things from a different perspective. Jostrand is no stranger to creative thinking. The designer has won numerous awards and been featured in publications big and small. Check out his portfolio; it is just as much fun as "Flat Butts."