This Week in Design: May 30, 2014
Every element of change starts somewhere. Some changes happen quickly and with plenty of fanfare; others can go unnoticed. Designers should stop, observe and think about change. How does it happen? What are the implications? What comes next in our creative sphere? This week, that's what we are focusing on here – change.
Every week, we plan to a look at major product releases and upgrades, tools and tricks and even some of the most popular things you are talking about on social media. And we'd love to hear what's going on in your world as well. Have we missed anything? Drop me a line at [email protected].
Get unlimited downloads of 2 million+ design resources, themes, templates, photos, graphics and more. Envato Elements starts at $16 per month, and is the best creative subscription we've ever seen.
Google Logo Shifts a Pixel or 2
Did you notice the change to Google? Don't worry if you missed it. A lot of others did as well.
The infamous logo got a hint (and very small one at that) of a makeover. Posters on Reddit were the first to notice the letter spacing change.
The g and l were shifted slightly. The g moved to the left and the l down 1 pixel each. (In the image above you can see the hint of a black outline with the old logo behind the new one.)
This subtle change is a good one. It corrects a bit of a kerning oddness that you might not even see. More with small changes such as this one, the change or issue in the text is often "felt" before it is noticed. Learn more about kerning and its importance in a previous Design Shack article.
How keen is your eye? Could you spot the difference before it was pointed out to you?
Knowing When to Quit
"I'm happy with an idea when I've been able to rule out every alternative that comes to mind."
It's one of those topics we, as designers, seldom talk about – knowing when to quit. Tyler Wentzel of Dualogo took the topic head on this week in an interview with three respected creatives – Jacob Cass of Just Creative, graphic designer David Airey and Graham Smith of The Logo Smith.
Knowing when to quit can fall into a couple of categories: Knowing when to quit with a client and knowing when to quit with yourself.
From Cass: "Regarding "knowing when to quit" when it comes to designing, this more often than not comes down to deadlines. Sure we could work on more variations, perfect a stroke or even explore totally new directions as there are thousands of possible solutions for any given problem, but in the end you must present something before the deadline."
From Airey: "I'm happy with an idea when I've been able to rule out every alternative that comes to mind."
From Smith: "If you don't ask the right questions, then you're unlikely to have the level of understanding and appreciation of the personality and visual identity that is most suitable for the clients' needs."
The interview provides both inspiration and insight into some of the problems faced by designers everyday. There's a lot more great information in "Knowing When to Quit;" make sure to go read it.
Enter Conditional Design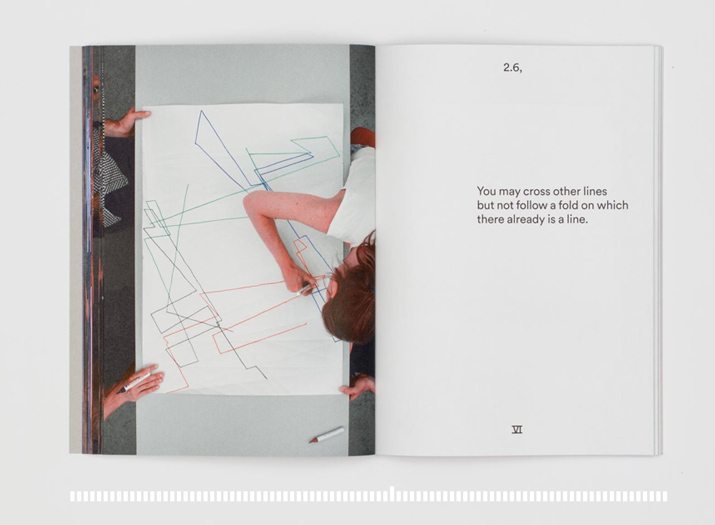 Responsive design has become an everyday phrase. We all understand what it is, why (or why we don't) want it as part of design outlines. But what about "conditional design?"
The "Conditional Design Manifesto for Artists and Designers" by Luna Maurer, Edo Paulus, Jonathan Puckey and Roel Wouters is a simple one-page concept with a lot of practicality. "We live in a dynamic, data-driven society that is continually sparking new forms of human interaction and social contexts. Instead of romanticizing the past, we want to adapt our way of working to coincide with these developments, and we want our work to reflect the here and now."
This concept changes the way designers think about their craft, refocusing it from types and styles of design to a way of thinking that more looks like the processes of philosophers, engineers or inventors. This three-step concept – process, logic and input – is the basis of conditional design.
The idea was solidified more officially around 2008 and you can learn more in the "Conditional Design Workbook". The book is a great practicum for getting the creative wheels turning.
Tips for Buying a Great Domain Name

What's in a (domain) name? A lot in today's web and digital marketplace.
Grabbing the perfect URL can be a painstaking process when you are looking to find the perfect, while easy to remember, combination of letters that defines your business online. The process can be a little easier with the right tools.
The Next Web put together a list of five things you can do to help find and buy a popular domain name. (Now all you have to do is come up with an idea.)
Here are the tips in a nutshell. Make sure to visit The Next Web for more.
Shorter is better
Creativity is not always key
Don't be blinded by .com
Do your homework
Negotiate
Change Your Passwords
eBay sent users a reminder this week to change site passwords after a cyberattack on the popular buying and selling marketplace. Several days later Smashing Magazine reminded me again of the importance of passwords in it's weekly newsletter with "The Science of Selecting Secure, Memorable Passwords."
The advice is not necessarily new, but is a great reminder of things we should be doing with all online accounts, personal and professional.
Hans Anderson created a "cheat" to help you create secure and memorable passwords. (Note the use of passwords there. If you are still using one password for everything, this is your opportunity to correct that problem.) Here's his trick: Create a unique pattern.
Here's Anderson's basic pattern concept:
Start with the last letter in your website or company name (Facebook: 'k')
On the keyboard, type the 'k' — that's the first letter in your password
Repeat the k
Hold the shift key down and type the letter to the left of the k ('J')
'K' is the 11th letter in the alphabet; type '11'
Hold down shift and type in '11' again
Your password is 'kkJ11!!'
You can find the latest edition of the Smashing Newsletter here; it's packed with goodies every week.