Find Out How Visitors Use Your Website With Hotjar Insights
Having a website in today's market is not enough. You also need see how your visitors are really using your website. This information can help you better plan, create content and design for the way your users interact with you.
That's where Hotjar Insights comes in. The new service is launching later this month and will include lots of tools that really can help you understand your visitors better. The interface includes heatmaps, session playbacks, polling, surveys, chats and funnel analysis. Here's a look at the new tool.
Envato Elements gives you unlimited access to 2 million+ pro design resources, themes, templates, photos, graphics and more. Everything you'll ever need in your design resource toolkit.
What is Hotjar Insights?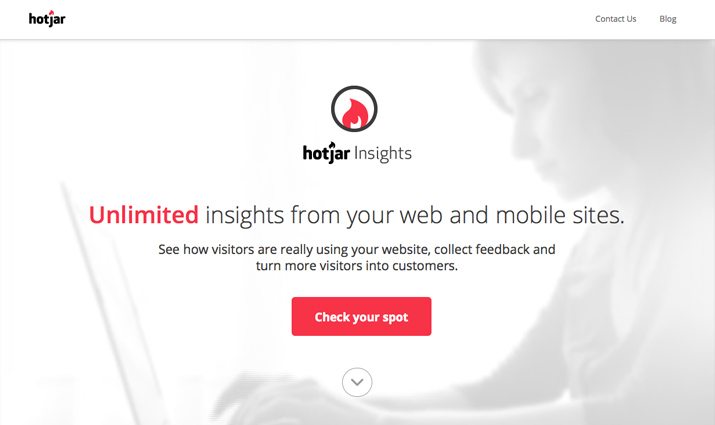 Hotjar Insights is a new way to reveal true website user behavior and experiences in one central tool — giving you the big picture of how you can improve website UX and conversion rates. The tool includes lots of data points and types so you can collect information abut users in a variety of ways.
And everything you find out is easily accessible at any time. Hotjar Insights stores reports and data securely stored in the cloud, and they're accessible at lightning speed.
What's different about this tool is that it includes many of the tools — heatmaps, funnel & form analysis, visitor session playback, etc. – in one place. Other similar tools require subscriptions to multiple services for access to this kind of data because they really only focus on one point of data collection. Hotjar Insights allows you to access information from a variety of methods.
Here are a few of the things you can do with Hotjar Insights:
Compare taps and clicks before and after tweaks
Change page copy to reflect visitor objections
Overhaul forms to generate more leads
Test what content works best above "the fold"
Improve navigation
Identify what new content needs to be added to the page
Generate new A/B test ideas
Remove or rethink ignored content
See which type of imagery works best
Improve your UX on different screen resolutions
Get Started Free
Hotjar Insights is brand new to the market and ready to offer you a chance to try it free. Sign up by Aug. 30 for early access beta. (Early users will also receive discounts if they sign up for service after the beta period ends.)
Using Hotjar Insights does not come with a bunch of strings. With one plan you can generate insights on an unlimited number of websites, and make these available to an unlimited number of users. Pageviews don't matter either. It works regardless of website size.
Who Should Use Hotjar?
Hotjar Insights is really for anyone who wants to see how visitors are really using websites. Plain and simple.
This includes designers, developers, product mangers, digital marketers, analysts and agencies and consultants. The tools are commonly accepted and won't take a lot of lead-time to understand or decipher.
What Comes with Hotjar?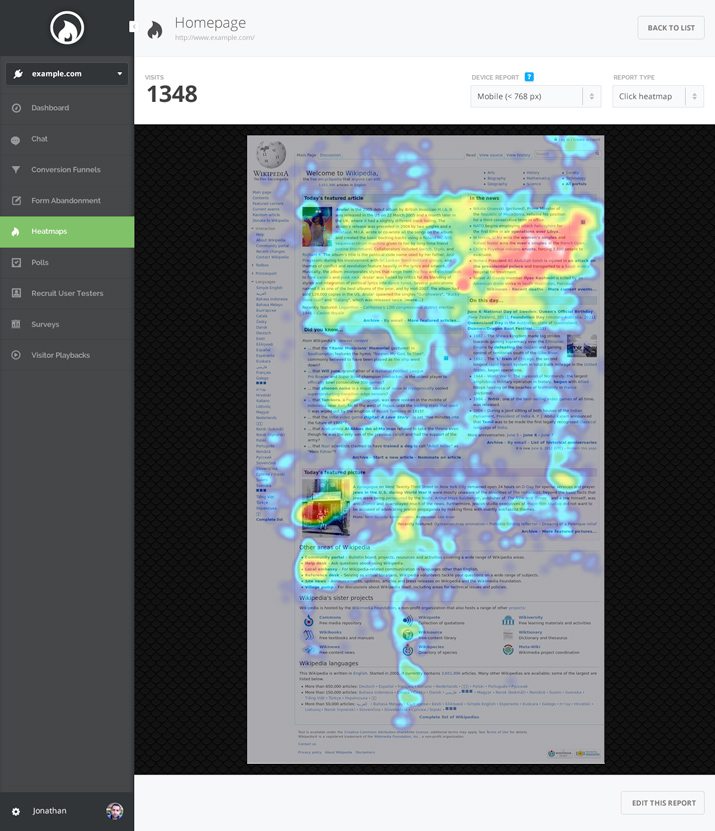 Hotjar Insights comes packed with tools in a unified platform. Here's what you can expect to see and use.
Heatmaps: Figure out what users want by looking at where they click and tap and where they scroll. This information can determine visitor motivation and help you convert more clicks.
Feedback and Exit Polls: Ask visitors as many questions as you like about their user experiences. This can help you improve the performance of your site and understand what visitors like and don't like about the experience you provide.
Online Surveys: With a built-in survey editor, you can collect responses from users on any device in real-time. Distribute surveys with links, via email or right on your website.
Funnel and Form Analysis: Find the biggest opportunities for improvement and testing by identifying on which page and at which step most visitors are leaving your site. This tool can help you improve online form completion rates by analyzing which fields are often left blank, which items take too long to fill out and why visitors leave the form altogether.
Visitor Session Playback: Actually "record" real visitor sessions. By seeing how a visitor interacts with your site, you can identify issues and high points by watching clicks, taps and mouse movements.
Recruit User Testers: If you are looking for the right panel of testers, use this tool to recruit participants for research right from your site. You can collect profiling information, contact information and even offer a gift for participation.
Proactive Chat: Invite visitors to chat about concerns, questions and objections on both desktop and mobile devices. Use these insights to change your pages and the user experience to tackle these issues and improve conversion rates.
Pricing and Packages
Hotjar Insights is offering free access during its beta period (starting later this month) and an additional free month for those users to really dig into the tools. The unlimited plan will be $29 per month. (But early users will be offered a discount.)
The service is different from some of the others out there because it offers multiple services for one price. And there are no limits on pageviews, websites or users.
You can also score pretty sweet freebies if you like, and share, Hotjar Insights. The top 20 referrers during the beta period will get a free lifetime account, the top 200 will get a t-shirt and everyone who refers five new users gets 6 free months of Hotjar Insights tools.
Conclusion
Tools like Hotjar Insights are important for any designer, developer or company looking to keep track of how their website is working. What's nice about this tool is that it includes everything in a single dashboard.
Go ahead and sign up so you can be one of the first users of this cool tool (and lock in a pretty sweet price). But remember to sign up before Aug. 30.
Note: This is a sponsored preview of Hotjar Insights. Thank you to Hotjar for supporting Design Shack, and for building something really cool!