Barack Obama Letterpress Poster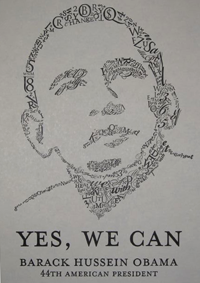 I'm excited to announce that Kishore – a regular contributor to Design Shack – has today released a Barack Obama letterpress poster to celebrate his inauguration. Inspired by Cameron Moll's beautiful letterpress design, these 14" by 20" posters are a product of hours of (fun) labour, letterpressed using one of the very few platen letterpress machines still left in Chennai, India.
The poster itself consists of characters from MrsEaves, Bickam Script Pro, Adobe Garamond and the Trajan font families. Instead of using a random set of characters in the artwork, Kishore decided to embed something meaningful; important figures, dates, milestones, words and phrases associated with President Obama.
Envato Elements gives you unlimited access to 2 million+ pro design resources, themes, templates, photos, graphics and more. Everything you'll ever need in your design resource toolkit.
They're really beautiful – if you're looking for something to remember the historic events taking place over the next few days, look no further! The poster costs $50 (that includes worldwide delivery), so they're an absolute bargain.