20+ Designers and Freelancers You Should Read, Watch and Follow
Today we'll take a brief but personal look at over 20 designers and freelancers that have made an impact in the online design community through books, blogs, tweets and various other means. Some are huge names, ubiquitous in the design community, while others are just getting their start.
Most of the profiles below feature a quick bio and some links to find out more about the designer. I've also included a few expanded profiles for some of the better known individuals.
Get unlimited downloads of 2 million+ design resources, themes, templates, photos, graphics and more. Envato Elements starts at $16 per month, and is the best creative subscription we've ever seen.
Introduction
A few years ago I discovered Twitter. To be honest it seemed profoundly pointless to me. I would login once every month or so to see if it was still as lame as I remembered, and it always was. Then one day I found a few other designers using Twitter and posting useful links. Intrigued, I started following every designer I could find and quickly became addicted. This was fueled by my discovery of something even more amazing: design blogs. I had no idea the web was so full of incredible free resources for freelancers designers like myself.
Needless to say, I became so immersed in this culture that it has become a large part of my professional life. Many of the people below are like rockstars to me. I recommend that you at least follow each and every one on Twitter and if you have the time, check out some of the amazing contributions they've made to the design community.
Adelle Charles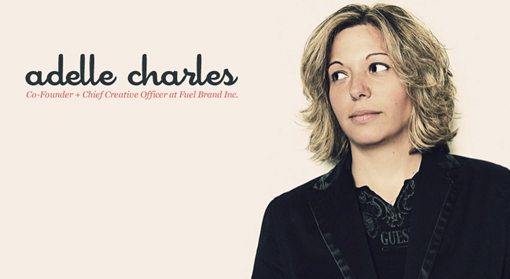 "In late 2007, Adelle Charles started Fuel Your Creativity, a fast-growing design & creative inspiration site that is now the flagship of the 11-blog network which she co-founded with her partner Joshua Smibert. The Fuel Brand Network, which includes such titles as Coding, Writing and Illustration, is aimed at professionals from various niche creative practices."
"A designer and entrepreneur at heart, Adelle Charles currently acts as Chief Creative Officer at Fuel Brand Inc. where she oversees all creative and strategic direction for the company. She is a known twitter addict with a geeky love for typography and Starbucks. Charles has a Bachelor of Fine Arts degree in Graphic Design from RIT and has won various awards for her past work in television."
Fuel Brand Inc (founder)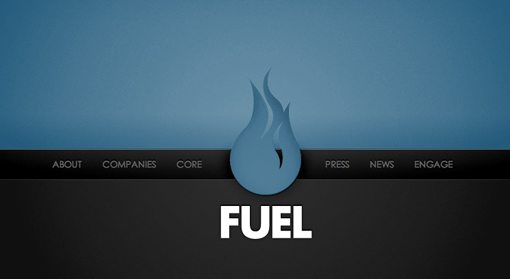 "Fuel Brand Inc is a branded business development company that invests in, partners with and creates companies. We pursue 'game changing' businesses, media, and products that support creative, technical, thought and human development around the world."
"Fuel Brand Inc's interests center on various sectors of publishing, web media, marketing and business development."
Blogs & Social Networks
Chris Coyier
"Web design is what I do. I create websites and help people make theirs better through writing and speaking. I consider myself a lucky man."
Books
Digging into WordPress: "There is much to learn about the World's most popular publishing platform. From your first steps of learning about WordPress all the way through maintaining a site throughout the years, this book is packed with truly practical information."
Mike Rundle
"I'm Mike Rundle, a designer and developer living in Raleigh, NC with my wife Eleni and our dog Dora. I was born in 1983, designed my first website in 1996, and got paid for my first website in 2002. Since then I've worked on a number of great projects, started 9rules, and am currently a UI Engineer at Bronto Software."
Veerle Pieters
"I'm a graphic/web designer living in Belgium. My personal journal is an online source for topics ranging from XHTML/CSS to graphic design tips. "I began my career in 1992 as a freelance graphic designer under the name of Duoh!."
more…
Tina Roth Eisenberg
"My full name is Tina Roth Eisenberg. I started swissmiss in March of 2005 as my personal visual archive. Little did I know that it would eventually grow into a popular design journal with an average of 900k unique visitors a month."
"I now run my own studio, swissmiss, with recent clients including the Museum of Modern Art and the Food Network. My aesthetics reveal my Swiss roots – I am a firm believer in white space and clean, elegant design."
more…
Tim Van Damme
"I am a 24 year old interface designer, based and raised in Belgium, live together with the girl of my life and our two cats cat, design interfaces as a freelancer at Made by Elephant, love everything involving on- and offline design, like to travel and going to conferences for nerds web professionals, together with my partners in crime, am a wanna-be writer at Maxvoltar."
Jeffrey Zeldman
"Dubbed King of Web Standards by Business Week, Jeffrey Zeldman was one of the first designers, bloggers, and independent publishers on the web, and one of the first web design teachers. In 1998, he co-founded and designed—and from 1999 to 2002 he directed—The Web Standards Project, a grassroots coalition that helped bring standards to our browsers."
more…
Company: Happy Cog (founder)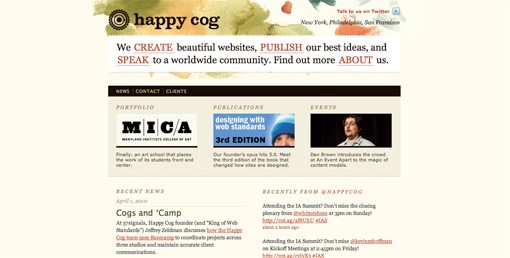 "Founded by a visionary and staffed by creative superstars, Happy Cog delivers beautiful websites that never lose sight of the human being using them. From site structure to interface design, from branding to content development, Happy Cog's people are the authorities."
Books Written
Designing with Web Standards: 3rd Edition
"After years of stasis, the world of standards-based design is exploding with new ideas and possibilities. Designing With Web Standards 3rd Edition captures this moment, makes sense of it, and keeps you smartly ahead of the pack.
From HTML 5 to web fonts, CSS3 to WCAG2, the latest technologies, claims and counter-claims get broken down in classic DWWS style into their easy-to-understand component ideas, helping you pick the course of action that works best for your projects."
Blogs & Social Networks
Nik Gill
"Hi, I'm Nik and Remix is my graphic design studio. I have been a design professional for over 10 years now, coming up through the well trodden design agency route. I have fulfilled many roles, from web design, print and reprographics to creative graphic design. Design is a passion with me, no detail is overlooked and I take pride in my work. To date I have provided design for Renault, The Rank Group, Hardys and Hansons, The WJS Group, Rittal Ltd, Hard Rock Casino and many, many others. "
more…
Michael Wilson
"My name is Michael Wilson and I am the ripe old age of 24. I have been a web designer for over 2 years now, since graduating from Bournemouth University.I absolutely love web design and thoroughly enjoy every day I spend learning about it. I'm passionate about keeping things simple and focusing every attention on the end goal."
more…
Grace Smith
"I am a 27 year old creative and enthusiastic freelance web and graphic designer based in County Antrim, Northern Ireland. My focus is on creating beautiful web standards compliant websites built with CSS and XHTML that are simple and elegant. I provide design for virtually any medium, from your initial branding and identity to advertising, printed materials and websites."
more…
Jonathan Snook
"I am a creator of striking designs, impeccable markup and code, and forward-thinking ideas and applications. From front-end work to hardcore server-side challenges, I share tips, tricks and bookmarks on snook.ca, along with other publications online and offline. I've also coauthored two acclaimed books: Accelerated DOM Scripting with Ajax, APIs, and Libraries, and the approachable, widely-read The Art and Science of CSS."
more…
Ryan Carson
"Ryan is an entrepreneur and father. He and his wife are the founders of Carsonified, a company in the UK that makes useful web apps and runs events, conferences and workshops."
more…
Collis Ta'eed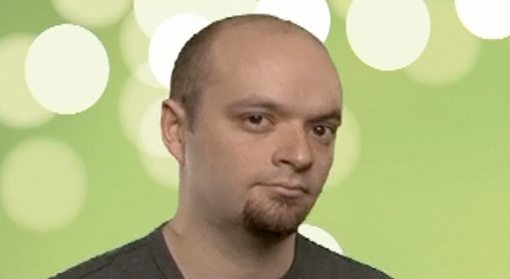 "Hello! I am Collis, I'm an entrepreneur, designer and blogger. Some years ago together with my wife, best friend and brother I cofounded Envato a company that makes awesome websites to help people learn and earn."
more…
Envato (Cofounder)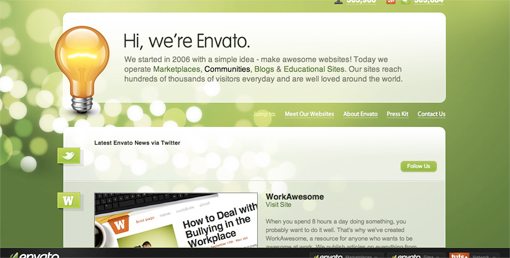 "Envato is a startup based out of Australia with people around the world and sites serving pages every second. We started in a living room in 2006 and have been steadily working to build our company into a world-class contender. Our background is creative, we love open source, we believe that work is about way more than just making money, and we're totally committed to making products that are awesome!"
Books:
Rockstar Freelancer
"Covering everything from getting started to expanding your business, How to Be a Rockstar Freelancer is the official FreelanceSwitch book. Written by Collis & Cyan Ta'eed – the founders of the site [Rockable Press/Envato] – it's packed with new information, advice and insights not covered on the blog."
Rockstar WordPress Designer
"Theme Like a Professional! Managing web content has always been tricky, but with WordPress, any web designer can have a flexible, free and powerful CMS to use not just on blogging projects, but on all sorts of websites. In How To Be a Rockstar WordPress Designer you will learn step by step how to take a straight HTML site and power it with WordPress."
Blogs & Social Networks
Sneh Roy
"I am Sneh. I Design. I am the co-founder of LBOI, a design studio in Sydney, Australia. I love creating logos and wacky characters the most. I also design and develop websites, create original content for the web, blog about design here on LBOI and about food on Gel's Kitchen. I also write design related articles for other websites and blogs."
more…
Nick Finck
"Nick Finck is a user experience professional who has dabbled in the web for over a decade. He specializes in information architecture, interaction design, usability and user research."
"Nick has created web experiences for Fortune 50 and 500 companies including Adobe, Boeing, Blue Cross / Blue Shield, Cisco, CitiGroup, FDIC, Harpo, HP, IBM, Microsoft, PBS, Peet's Coffee, University of Denver, and others."
more…
Jacob Gube
"Jacob Gube is the Founder and Chief Editor of Six Revisions. He's also a web developer/designer who specializes in front-end development (JavaScript, HTML, CSS) and PHP development."
Andy Sowards
"I am a professional Web Developer, Programmer (primarily PHP, Javascript and Actionscript), Family man, and All around advocate of all things Technological. I specialize in dynamic site and application development using PHP/MYSQL/Javascript/AJAX and Dreamweaver CS3 for nearly 3 years and am an extremely fast learner."
more…
Eric Meyer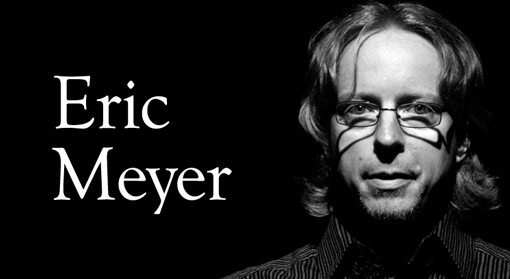 "Eric A. Meyer has been working with the Web since late 1993 and is an internationally recognized expert on the subjects of HTML and Cascading Style Sheets (CSS). He is the principal consultant for Complex Spiral Consulting and lives in Cleveland, Ohio, which is a much nicer city than you've been led to believe. A graduate of and former Webmaster for Case Western Reserve University and an alumnus of the same fraternity chapter to which Donald Knuth once belonged, Eric coordinated the authoring and creation of the W3C's CSS Test Suite and has recently been acting as List Chaperone of the highly active css-discuss mailing list."
more…
An Event Apart (cofounder)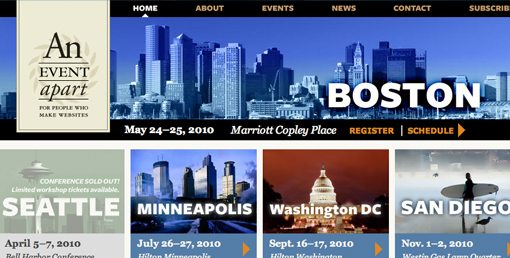 "An Event Apart is an intensely educational two-day conference for passionate practitioners of standards-based web design. If you care about code as well as content, usability as well as design, An Event Apart is the conference you've been waiting for."
"Founded by web visionaries Eric Meyer and Jeffrey Zeldman, and dedicated to the proposition that the creators of great web experiences deserve a great learning experience, An Event Apart brings together twelve of the leading minds in web design for two days of non-stop inspiration and enlightenment."
Books
Blog and Social Links
Ronald Bien
"Ronald Bien, a 23 year old guy is the founder and manage the site [Naldz Graphics]. He's a graphic designer and love everything design. He started Naldz Graphics on as a portfolio and turn it into blog to share his experiences and helping other people in providing useful resources that they can use on their daily design activity."
Brian Hoff
"My name is Brian Hoff and I'm the founder of this blog [thedesigncubicle]. On this website you will find my personal graphic design portfolio (My design services are currently available for hire), as well as a blog focusing on the main subject of graphic design. My passion and experience in the field of graphic design has led me to help educate those in need of design services and other graphic designers alike. The blog articles focus on design tips, articles & resources on all subjects of design, ranging from, but not limited to; print design, web design, logo design, branding, advertising & marketing and more."
more…
Jacob Cass
"I am self-employed (part-time) as a graphic designer, specialising in the fields of corporate identity (logo) design, web design, print design and branding with the majority of my time spent designing and implementing marketing promotions for small businesses such as logos, websites, letterhead, business cards, packaging and more."
more…
Conclusion
I hope you enjoyed my list of entrepreneurial design rockstars. Now use the comment section below to let us know who your heroes are in the design world. Post a link to their Twitter profile and/or blog so we can all check them out.