Code Free Web Design With Webydo
Web design can sometimes be frustrating for those who are not fluent in HTML or JavaScript or other programming languages. This is especially true of responsive web design. Webydo is here to help.
The website building platform offers designers (and pretty much everyone) the opportunity to create a responsive website with a great design without knowing the first line of code. Without any technical knowledge, just about anyone can publish a website backed by a full content management system.
Get unlimited downloads of 2 million+ design resources, themes, templates, photos, graphics and more. Envato Elements starts at $16 per month, and is the best creative subscription we've ever seen.
What is Webydo?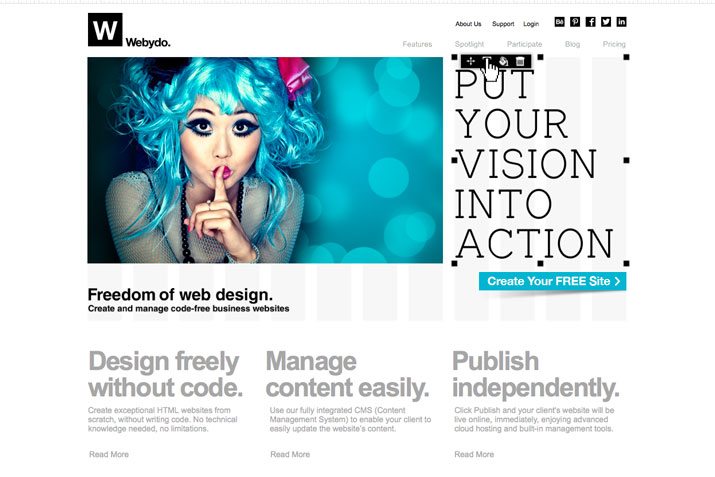 "Webydo is a professional web suite that enables graphic designers to create and manage exceptional HTML websites, without writing code. With this sophisticated online software, designers can bring any design to life, and with a click of a button, publish an advanced HTML website with a friendly built-in CMS for the website owner."
Webydo (pronounced web-be-do) is a responsive website builder for design professionals. With a client-focused interface and pixel-perfect design tools, the tools help designers create custom websites without code.
But don't be fooled. This is not a "box" website product. With Webydo, every website is a custom design and not one of a handful of templates. The interface is made for custom design, so that every Webydo website looks, feels and really is a custom build. (The reality is no one will even know the site was built with Webydo unless you tell them.)
The website design solution was built for designers by designers. The company behind the software created with a passion for design in mind. According Webydo: "We were leading a web design agency for many years and felt enslaved to an old process that depended on developers to manually convert graphic design into handwritten code. This process was slow, expensive and cumbersome. It marginalized designers' role and prevented direct communication between designers and their clients. We wanted to put designers in the driver's seat!"
This commitment to design is further evident in the community and support from Webydo users. Every system feature has been designed to make the design process more flexible and easy for designer to use. And the community of designers using the software can suggest new features, report issues and even vote on the order in which these items are handled and developed.
Key Features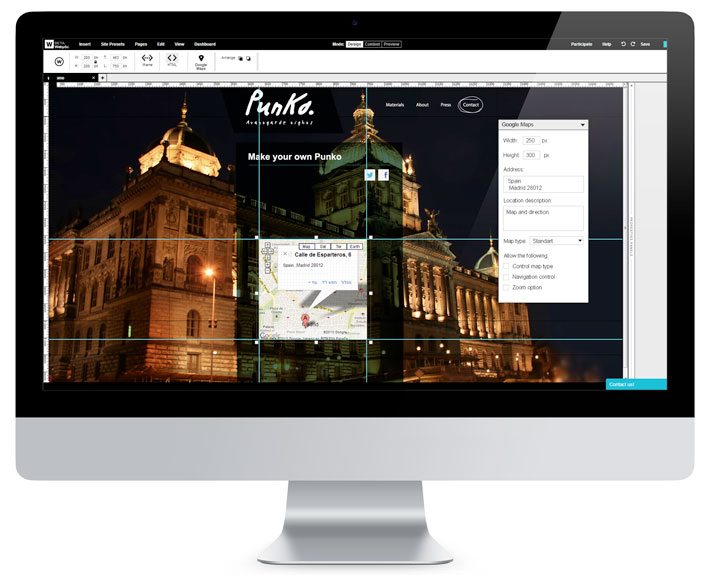 Webydo is packed with features that make it easy to create custom websites for clients. That's the key factor that makes this service different from many of the others on the market. Plus, with all the customization options available, this website framework gives every designer plenty of room to be creative.
Here's a look at all the features that designers can take advantage of with a Webydo package:
Basic Features
Code-free
Pixel perfect responsive websites
Create and manage websites for clients
Bill clients from the dashboard
Parallax scrolling animator
Built-in CMS, so clients can make changes to site content
Design Features
Software works like familiar design tools such as the Adobe line of products
Image optimization tools automatically deliver the right size image to right correlating device
Total design flexibility that allows the designer to add, remove and change elements for a variety of devices and screen sizes
Cool parallax scrolling tools with definable scrolling events and motion paths
WYSIWYG editing is simple and intuitive
In-browser editing that you can use from anywhere
Everything, including hosting, is cloud-based, making tools easy to use from anywhere
Business Features
White label options take the Webydo name off your custom websites
Integrated CMS so designers can build a site and hand it off to clients
Includes integrated e-commerce solutions with payment options
Integrated analytics and search engine optimization tools
Billing tolls are built right into the dashboard
Pixel Perfect Responsive Editor
Webydo's code-free solution allow designers to create stunning websites without needing to hand-code any aspect of that site, and the platform's Pixel Perfect Responsive Editor ensures that the site works well, and looks great, on all devices and screen sizes. Designers have total control over a site's design and how it will display on phones, tablets, laptops, desktops and any other device being used to access that site.
Parallax Scrolling Animator
A popular and powerful web design approach is "parallax scrolling", where foreground and background elements move at different speeds to give a sense of depth. Webydo allows designers to easily create these kind of websites, or to animate any aspect of their sites and add motion and movement to the web experience.
CMS
Websites built with Webydo can be easily managed by your customers using the platform's CMS capabilities. You can even use Webydo's white label features to brand the CMS with your own look and feel.
Custom 404 Error Pages
404 pages are used on websites when something goes amiss, like when a link is wrong and the page cannot be found. A 404 page can help get a visitor back on track and a custom 404 page, which is another of Webydo's new features, allows you to design this message to be on-brand with the rest of the website.
301 Redirection
When launching a new website, it is important to let search engines know which new pages replace which old pages on a site. Since those old pages have been indexed and ranked by the search engines, using a 301 redirect to inform them of the change will ensure that rankings are transferred to the new page. Webydo now allows you to easily establish these 301 redirects for any new websites you launch.
Purchase Domain Names from Webydo
Keeping everything under one roof (design, development, hosting, etc.) has been a part of Webydo since the beginning, and now you can even register a site's domain name straight from this platform. Any domain you register will be automatically connected to your site, streamlining the overall website creation process.
Who Can Benefit from Webydo?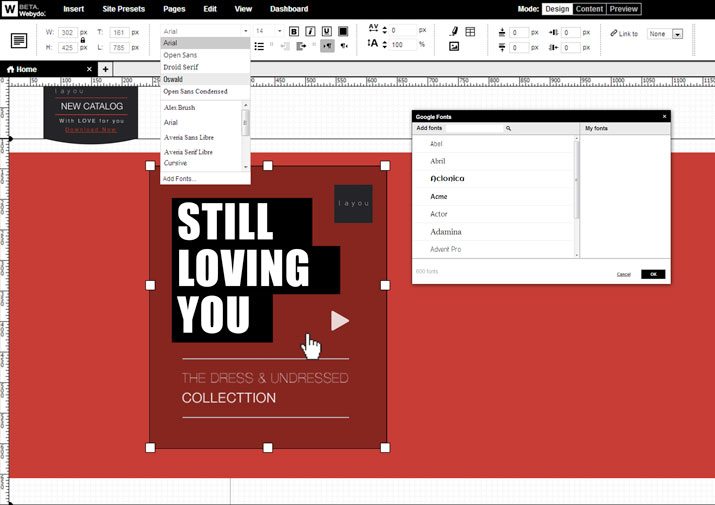 The platform is perfect for designers who are building a website for themselves or for clients. While the tools give you complete artistic control, the platform converts the visuals into HTML and imports it into a content management system for clients.
This tool can help designers who don't feel confident about their web development skills build and produce websites for clients without having to hire a third party to develop the site or write code.
The integrated CMS is the real bonus for designers because even without a web design background, almost any design professional can create a site with Webydo tools. Plus everything is hosted in the cloud, so there is no setup or downtime between the designer and client.
Get Started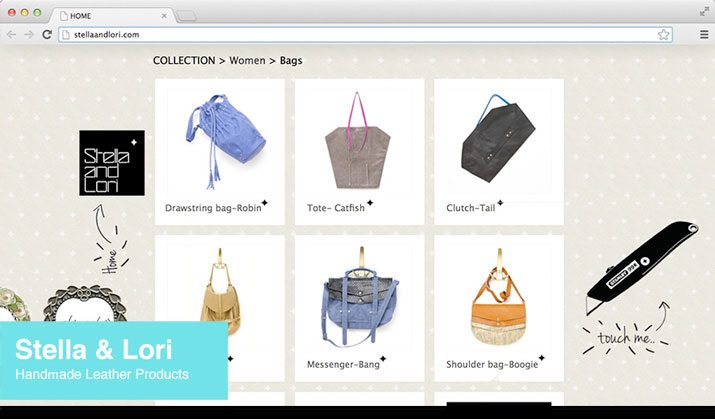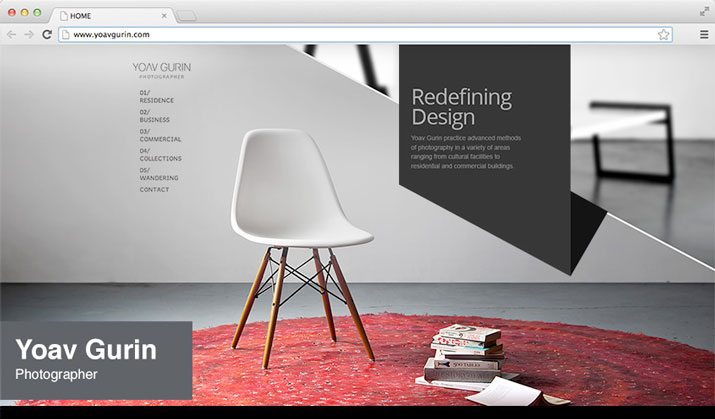 Webydo is letting users create their first site free and all plans come with a 30-day free trial. You can sign up and get started in less than five minutes. Registration only requires a name, email address and password. The plan stays free for super-simple sites with less than five pages and a Webydo subdomain.
Once you log in, follow the short video tutorial to get a feel for the software and start building from one of the Webydo designs, wireframes or blank canvas.
Conclusion
Webydo may look like other comparable tools, but once you get under the hood and really start using the software you will see that the platform is made for designer-client interactions. The software is intuitive, easy to use and makes designing fun and easy.
Plus you can try it without risk for 30 days and see if it is something that will make your work life easier. Visit Webydo to learn more and get started.
This post is ponsored via Webydo. Our thanks to them for helping to support the site.