Earning Extra Income Selling Stock Art
As a designer, you've probably used stock art quite a few times and can therefore attest to its usefulness. But have you ever considered jumping from the consumer side to the supplier side?
Today we'll briefly go over everything you need to know to start making real money as a stock provider.
Get unlimited downloads of 2 million+ design resources, themes, templates, photos, graphics and more. Envato Elements starts at $16 per month, and is the best creative subscription we've ever seen.
Can You Become a Stock Artist?
If you're a professional designer, the probable answer to this question is "absolutely." I won't guarantee that you'll make loads of money but getting started and making at least a few bucks is actually really easy with the resources available on the web today.
This post doesn't only apply to stock art either, web developers and programmers could be said to have an even higher potential because you can often charge more for a functioning website than a JPG or simple Photoshop document.
If I've piqued your attention, let me bring you back down to Earth by informing you that there's definitely no "get rich quick" element here. Creating quality stock products takes a lot of time and effort and can often result in very little payoff (or none at all!). The income potential is different for every site and for every product. Sometimes it seems like a joke to see something you spent hours creating on sale for a buck, but that's the nature of most stock sold today: an odd mix of high quality professional work and ridiculously cheap prices.
Below we'll take a look at some of the best and easiest places to get started selling stock online. Then we'll discuss how to stand out among the throngs of competition you'll be facing to make some sales.
iStockphoto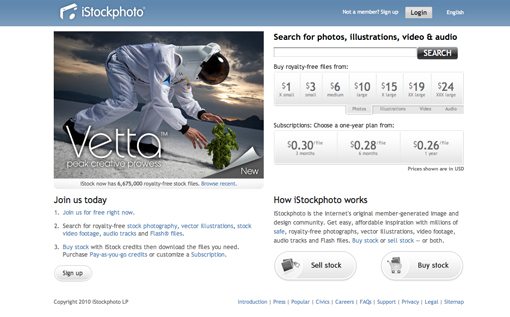 You simply can't write about stock art and not discuss iStockphoto. It used to be that stock photography was dominated by sites that charge hundreds or even thousands of dollars for a single photo and were quite difficult to get into as a provider.
iStock may have not been the first site to bring stock to the masses, but they were definitely pioneers in the industry. Their idea was simple: to build a massive library of cheap images by letting almost anyone become a seller. They quickly made a name for themselves by selling $1 images and became so successful that Getty simply bought them instead of continuing to lose business to their unstoppable growth.
The huge size of iStock's user base makes the income potential massive. Some of the top sellers on iStock are easily making more than enough money to eclipse most designers' full-time income. However, the huge size of their library can make it quite difficult to make even a single sale and incredibly unlikely that you'll be able to quit your day job any time soon.
What You Can Sell
iStock allows contributors to upload six different types of files: photos, illustrations, flash, video, audio and most recently, logos. The photos category is actually more flexible than it sounds and can include almost any type of art that isn't vector (which would come under the illustration category). For instance, I personally sell 3D renders on iStock but upload them under the "Photos" category.
The big limitation with iStock is that you can't bundle products together easily, create custom previews or offer anything but a JPG under the photos category. Since the illustrations tend to be vector only, there doesn't seem to be a good way to use iStock to sell layered PSDs.
Signing Up
Cruise over to iStockphoto.com and click on the "Sell Stock" button on the home page. The signup is a pretty simple 3-step process but you'll need some preparation before you get started. Read on for more info.
The first step is obviously to sign up for an account. After that you choose which type of content you'd like to sign up to contribute. This of course means that you have to get accepted into every category individually; just because you've proven that you can take a photo doesn't mean you can develop in Flash.
Once you choose a category, you'll be given a rather large amount of material to read and study. You might be tempted to breeze through this part, but there is in fact a test at the end. The material and following quiz cover both iStock policies as well as general information regarding the area you are signing up for, so even if you know your field well, you'll still have to read the content on iStock policies to earn a passing grade.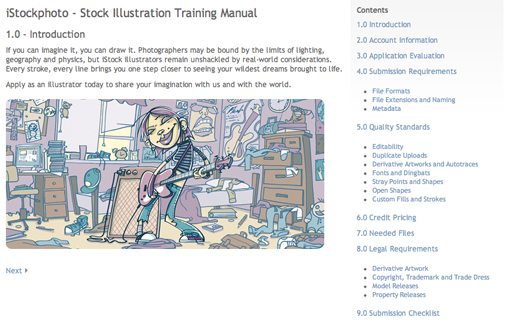 If you've read the provided material, the difficulty of the quiz it quite low, though it does contain one or two questions that could easily trip you up. Don't get nervous, this won't affect your GPA and you can take the quiz as many times as you need to. In fact, if you suffer from test anxiety so much so that this simple quiz seems insurmountable, and you happen to be a dirty rotten cheater, the answers are easily found online.
Submitting Samples
Even after you've signed up for an account, read the manual, and taken the quiz, the hardest part is still ahead of you: getting accepted. After you pass the quiz for a given category you must then upload three samples of your work. Having worked with a few stock sites I'm confident in saying that iStock is one of the pickiest places out there when it comes to the quality of files submitted.
If you're uploading a photo, the slightest factor can get you rejected. If your ISO was too high when you took the shot, if something is slightly and unintentionally out of focus, if your vector illustration has a stray point, or even if they simply have too much of that type of material, they'll reject you in a heartbeat.
The good news is that you can keep uploading samples until three of them pass the test. But even then, the files that got you accepted as a contributor are not automatically accepted as files to be sold. You must resubmit them and go through the same rigid and unforgiving approval process for every file you every upload.
Further, iStock has so many submissions to sort through that it can literally take weeks to hear back from them regarding one of your files. If they request that you change something and try again, you're back to square one on the timeline.
iStock's humungous library and wealth of daily uploads ensures that they can afford to pass up anyone that doesn't seem up to par. If you're in a hurry and can't stand long periods of inactivity and a lack of communication, iStock is not for you. On the other hand, if you're dedicated, confident in your ability and patient the process really isn't that bad at all and uploading new files quickly becomes routine and non-problematic.
Payment and Rates
iStock has complete control over what they charge users to purchase your files. Depending on the size of your original upload, they'll offer a variety of sizes available for download at different rates. Their system is based on credits instead of dollars so selling something for 15 credits does not mean it sold for $15.
Initially you get a 20% cut of each sale. How this is determined is actually a complicated system that depends on how much the user paid for the credits (the more they buy, the cheaper they are). This means that you can sell two of the same file in the same size on the same day and actually receive different amounts.
Contributors are eligible for a bump up to 40% royalties after they have over 250 downloads and possess approval ratings over 50%. Your payments go straight into your iStock account and you can receive payouts via mailed check or directly online through services like PayPal.
The Envato Marketplaces
The Envato Marketplaces are by far my favorite place to sell stock. Their system is much easier to get started with than iStock and is much more flexible from an author standpoint (they call contributor's authors). The Envato marketplaces usually give you complete freedom over what files you want to include in an item for sale: you can have one or one hundred, they don't mind at all and even encourage you to include as much as possible. This really gives you the opportunity to stand out by offering an impressive download, packed with features and extra goodies to really help make the sale.
The Envato Marketplaces are comprised of seven individual but connected stock sites offering an incredibly wide range of files to creatives of all kinds. Whether you want to sell an icon sets, website templates, 3D model, code snippets or even original music, Envato has a site for you. Some of these sites have been around for years, others are just getting off the ground. Let's take a quick look at each one.
"At ActiveDen you can buy and sell royalty-free Adobe Flash and Flex files for just a few dollars. Items are priced on the complexity, quality and use of the file. The site is home to a bustling community of Flash designers and developers and is the largest Flash library on the web."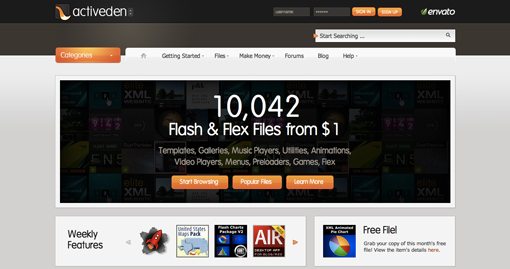 "At AudioJungle you can buy and sell royalty-free music and sound effects that are completely Podsafe for just a few dollars. The site is home to a bustling community of audio composers and producers."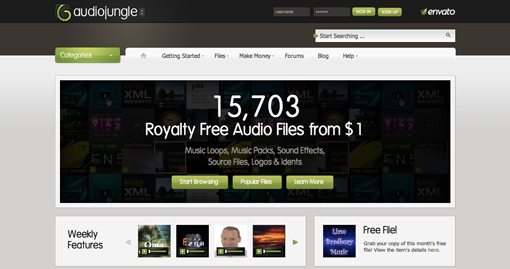 "At ThemeForest you can buy and sell HTML templates as well as themes for popular CMS products like WordPress, Joomla and Drupal with prices ranging from just $5 up to $40. Items are priced on the complexity, quality and use of the file. The site is home to a bustling community of web designers and developers and is the biggest marketplace of its kind."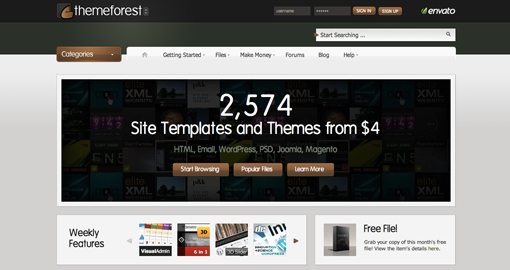 "At VideoHive you can buy and sell royalty-free footage and motion graphics as well as After Effects Project files starting at just a few dollars. Items are priced on the complexity, quality and use of the file. The site is home to a bustling community of motion graphics junkies!"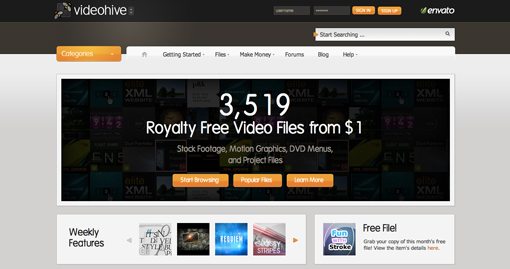 "At GraphicRiver you can buy and sell royalty-free, layered Photoshop files, vectors, icon packs, Adobe add-ons and design templates for just a few dollars. Items are priced on the complexity, quality and use of the file. The site is home to a bustling community of graphic designers and illustrators."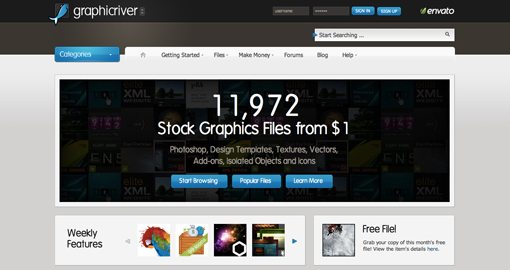 "At 3DOcean you can buy and sell royalty-free 3D models, textures, concepts, and materials and shaders. Items are priced on the complexity, quality and use of the file."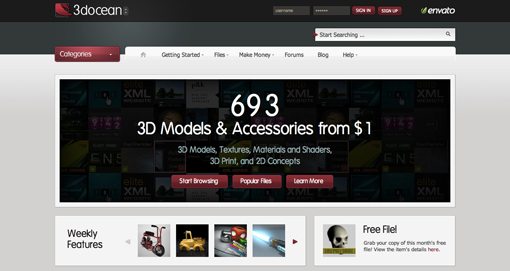 "At CodeCanyon, you can purchase and sell scripts and components for a variety of languages and frameworks, currently including JavaScript, PHP, ASP.NET, and Java. Items are priced between $3 and $25; we review complexity, quality, and overall appeal when determining the specific value to assign to an item."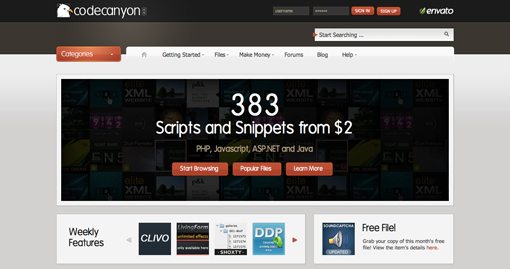 Becoming an Author & Submitting Files
Signing up to become an Envato author is similar to the iStock process, only on a much easier level. Like iStock, you have to sign up for each section individually, read some content and take a brief quiz. However, for the Envato sites there is much less reading involved and the quizzes are real no brainers. This means you can be up and running within minutes from the time you stop by the site.
Further, there is no approval process to become an author. This means that everyone that passes the quiz becomes an official author. However, each submission will still be put through a review process similar to iStock's. A reviewer will examine your work and get back to you within a few days of submission, though as these sites grow the process is becoming longer and longer.
In my experience, the Envato reviewers are a much more gracious bunch than those at iStock and it's not too difficult to get something past them. However, they do still pride themselves on the quality of the items in their marketplaces so be sure to submit your best work.
One thing Envato seems to be really picky about is items too similar to something already uploaded. They are very quick too say "we have too much of this" and therefore squelch any hope you have of throwing your hat into that particular ring. No matter what their reason for rejecting your file is, they always state it plainly in an email and offer suggestions for how to improve the submission before you try again.
Envato Payment Rates
Envato starts every author at a generous 40% of every sale and gives them the opportunity to earn their way up to a stunning 70%. Their system is extremely straightforward and not complicated by fluctuating credit prices like you see on iStock. Here's a snap of their rate schedule (click for bigger preview).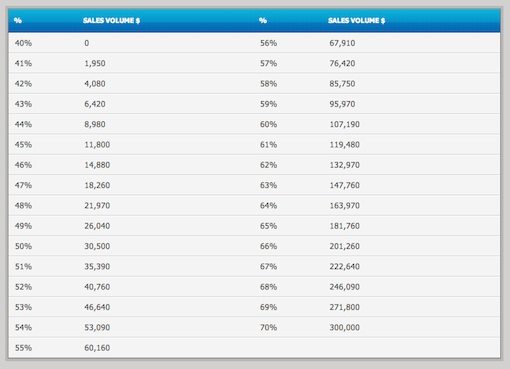 Keep in mind that these numbers are deceptively enticing. I would wager that the vast majority of authors never make it past the first rate bump and therefore stay stagnant at 40%.
Submitting Files
Each Envato site has different types of files that they accept, but all the sites are fairly flexible about what you can offer. For instance, GraphicRiver lets you include anything from fully layered PSDs to flat JPGs and transparent PNGs.
Carefully read the brief requirements listed on each site before uploading so you make sure to get everything right. Some sites require things you might not think to include such as readme files and multiple JPG previews. In fact, Envato usually let's you completely customize both the thumbnail and expanded preview of your submission. Where iStock simply shows visitors a preview of your image, Envato sites allow you to construct a sales pitch and list attractive features in your preview image.
More Stock Sites Where You Can Earn Money
Though I recommend getting started with the sites above, there are plenty of other options to check out for selling images online. Here are a few more:
Help us out by letting us know what we missed! Post any links you know of in the comment section below.
How to Actually Make Sales
Now that you know all about the typical process of signing up and submitting artwork, let's close off with some brief discussion on what it takes to start earning money by making sales.
Analyze the Competition
One of the most important things you can do is to familiarize yourself with what's currently for sale on a given marketplace. Take a close look at authors and items that are selling particularly well and analyze their methods. Don't seek to duplicate their work, instead think about what it is people are looking for that leads them to buy this specific file and ask yourself if you can meet the same need in a different manner.
The key to making sells is to stand out, not to follow what everyone else is doing. Getting even more than a couple of views per month can be extremely difficult on bigger sites like iStock, much less actual sales. Put yourself in the shoes of a customer and try to find your files. For instance, if you've created an attractive but generic icon set, go to iStock and search for "icons." Odds are, after sorting through a couple hundred pages, searching unsuccessfully for your file, you'll see what I mean.
The best way to battle this is to carve out a niche for yourself. Find a group of people whose needs are not being met and try to pioneer and own that category of images. If you're able to discover such a niche, upload tons of files that fit this category. This way, when someone runs a search for that particular type of image, you dominate the results!
Offer More
Another method for blowing away the competition is to simply offer a lot more in your download than they do. As I said before, sites like Envato allow you to cram in the features and extras so go crazy.
For instance, if you create a website template to sell, consider creating 5-10 alternate versions by varying the layout and colors. Even just a little variation such as a color change can drastically impact the perceived value of the product. If someone is trying to decide between two similarly priced templates, their is a good chance they'll go with the one that has more options and features.
Create an Awesome Visual Sales Pitch
As I said before, your preview image on the Envato marketplaces is 100% customizable. Many of the best selling authors can attribute a good deal of their success to taking the time to create a preview image that really sells the file.
Go all out in making your file look good. Use exciting headlines, complete feature lists and detailed descriptions of what your file has to offer. Consider showing zoomed-in detail shots of the really attractive parts and always emphasize the presence of multiple versions.
Offer Support
If you're selling complicated objects like themes or code snippets, offer free support to anyone having trouble working with your files. Showing purchasers that you care enough to take the time to personally help them out is a great way to boost your ratings and show others that your files are worth the money.
Promote From Within
Get to know the marketplace that you're selling on and really explore all of the promotion opportunities therein. This includes anything that will increase the chances of your files getting seen by others.
Creating lightboxes and collections that mix your work with popular files, commenting positively on the work of other authors, and participating in forum discussions or contests are great ways to gain exposure.
Closing Thoughts
To sum up, you can definitely begin making money through selling stock items today if you're confident in your ability to produce quality work, can identify a group of customers whose needs you are uniquely positioned to fill, and have the time and energy it takes to ensure sales.
I have personally been selling stock for about a year and have made hundreds of dollars with a pretty mild amount of effort (less than 20 files). I definitely make a lot more money on the months when I put forth more effort and continually upload new items. However, now that I've built up a pretty decent foundation, even when I don't have time to make a single upload all month, I still enjoy a decent return.
This promise of passive income is perhaps the single biggest thing that draws me to selling stock. There are very few ways life to continually make money for work that you've already finished and this is genuinely one of them.
So how about you? Do you think selling stock is a venture worthy of your time? If you don't currently sell stock, let us know why and if you'd like to in the future. If you do currently sell stock, tell us where and whether you've had any success.