Find Web Design Clients Free With Haystack
Today we'll check out Haystack, a new web designer directory site from 37signals. We'll go over what it's all about, their pricing structure and how to get yourself listed!
Get unlimited downloads of 2 million+ design resources, themes, templates, photos, graphics and more. Envato Elements starts at $16 per month, and is the best creative subscription we've ever seen.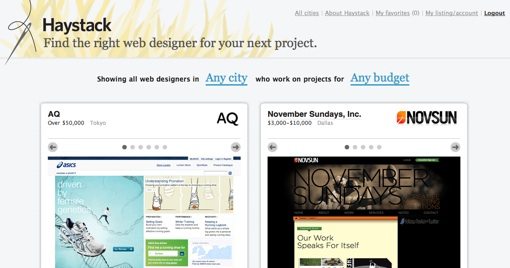 37 Who?
37signals makes some of the most popular professional tools on the web. If you're not familiar with their company, you should be. They created a wildly popular framework called Ruby on Rails that drastically speeds up the development of complex systems. Check out their corporate website for the full scoop on all of their products. Here's a pic with the gist: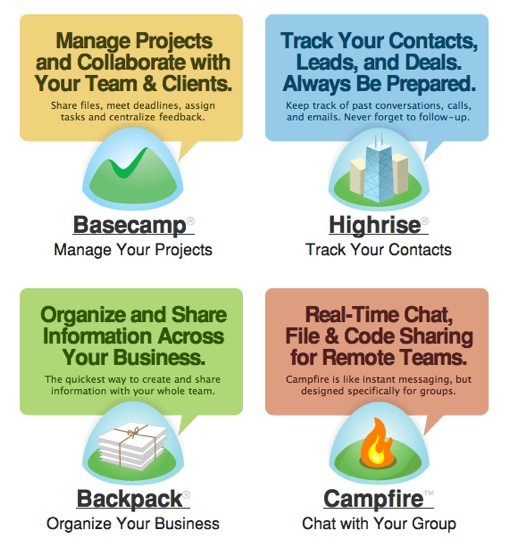 For Web Designers
Haystack offers an easy way to get your web design company (freelancers included) noticed by potential clients. You sign up and they post a sample of your work and contact information. It's that easy. The best part: Haystack lets potential clients contact you directly, through your own contact information. There's no site specific messaging system or complicated procedures, buyers can just grab your email address from your page. The reason this is so great is because Haystack doesn't play the part of a meddling middle man. They don't take a percentage or a fee if a client hires you, they just provide a way for you to meet people who are interested in hiring you.
For Buyers
If you're looking for a web designer, Haystack is the perfect place to start. You can simply browse through the freshest listings or filter your results by city and budget. For example, say you want a web designer in Phoenix, Arizona for under $3,000. Just enter your terms and you're off. Here's a pic of what that search would get you: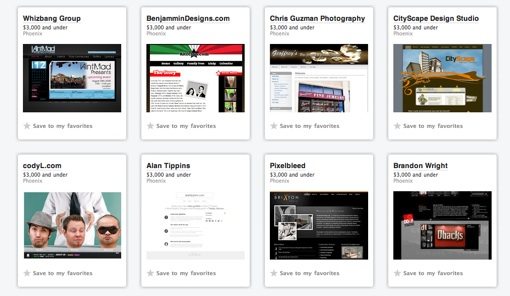 As you can see, your results are presented in a nice thumbnail format so you can instantly see if a designer's style matches what you're looking for. When you click on a thumbnail, you are taken to that designer's portfolio. Like the search results, the portfolios are mostly images with a little bit of text about the company. Here's a sample portfolio from MetaLab: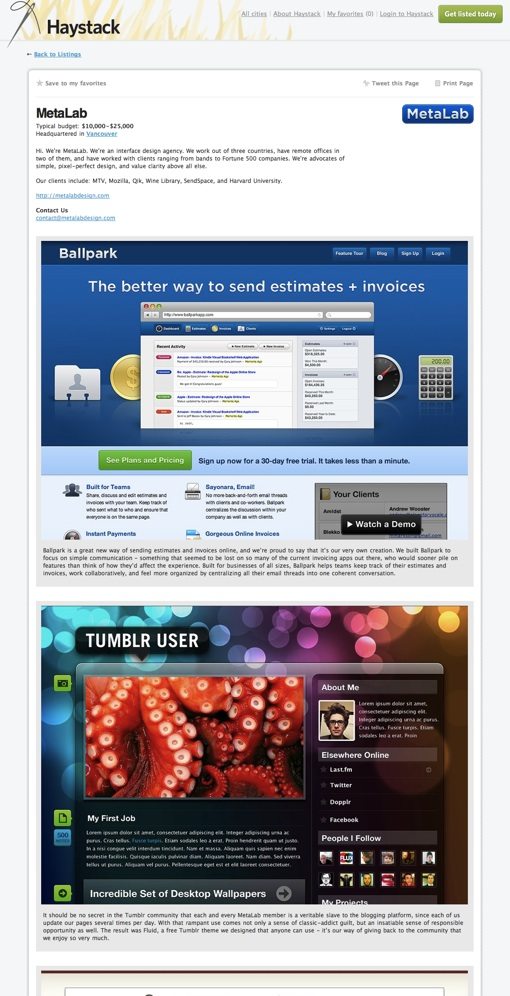 Other Features
Since Haystack is essentially a big website gallery, it can be a great source of design inspiration. With a free account you can create a list of favorite listings and hit a button to tweet any listings that you find interesting.
Pricing
The pricing structure is simple. You have two options: free or premium. Free gets you a listing and a simple profile page with one image. Premium membership is a whopping $99/month and gets you "a larger interactive display ad, up to 6 large images, placement above free ads, and a spot for your logo." $99 per month may sound like a lot, but if it scores you at least one client each month it pays for itself many times over.
Getting Listed
Signing up is quick and easy. Excuse the horribly shameless self-plug but I figured the best way to show you was just to sign myself up and walk you through the process visually. First, you upload a 900×630 image of your favorite piece of work. Add a quick description to the image and a few details such as your company name and the typical budget you work with.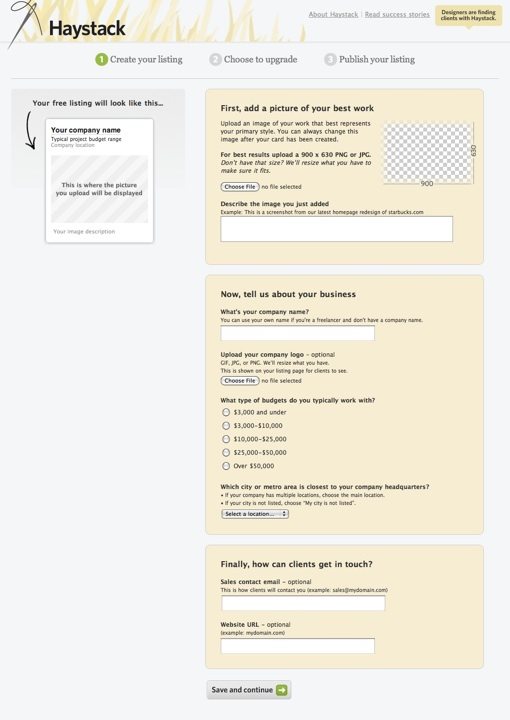 Next you choose whether you want a free or paid plan. As I mentioned above, you get a lot more with a paid plan and you can choose to downgrade at anytime to the free plan if the expense isn't being justified by a steady stream of work.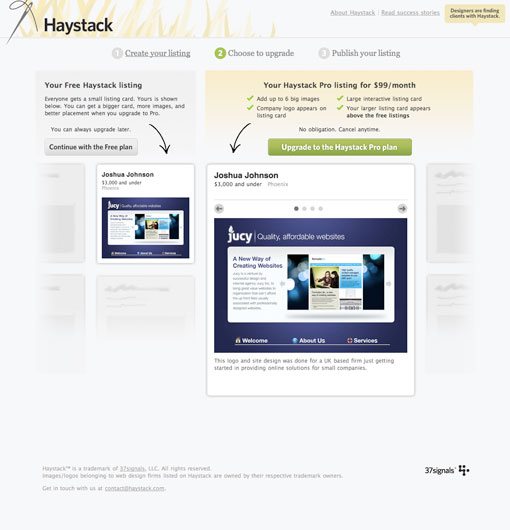 Finally, you create your account on Haystack by entering your email and password.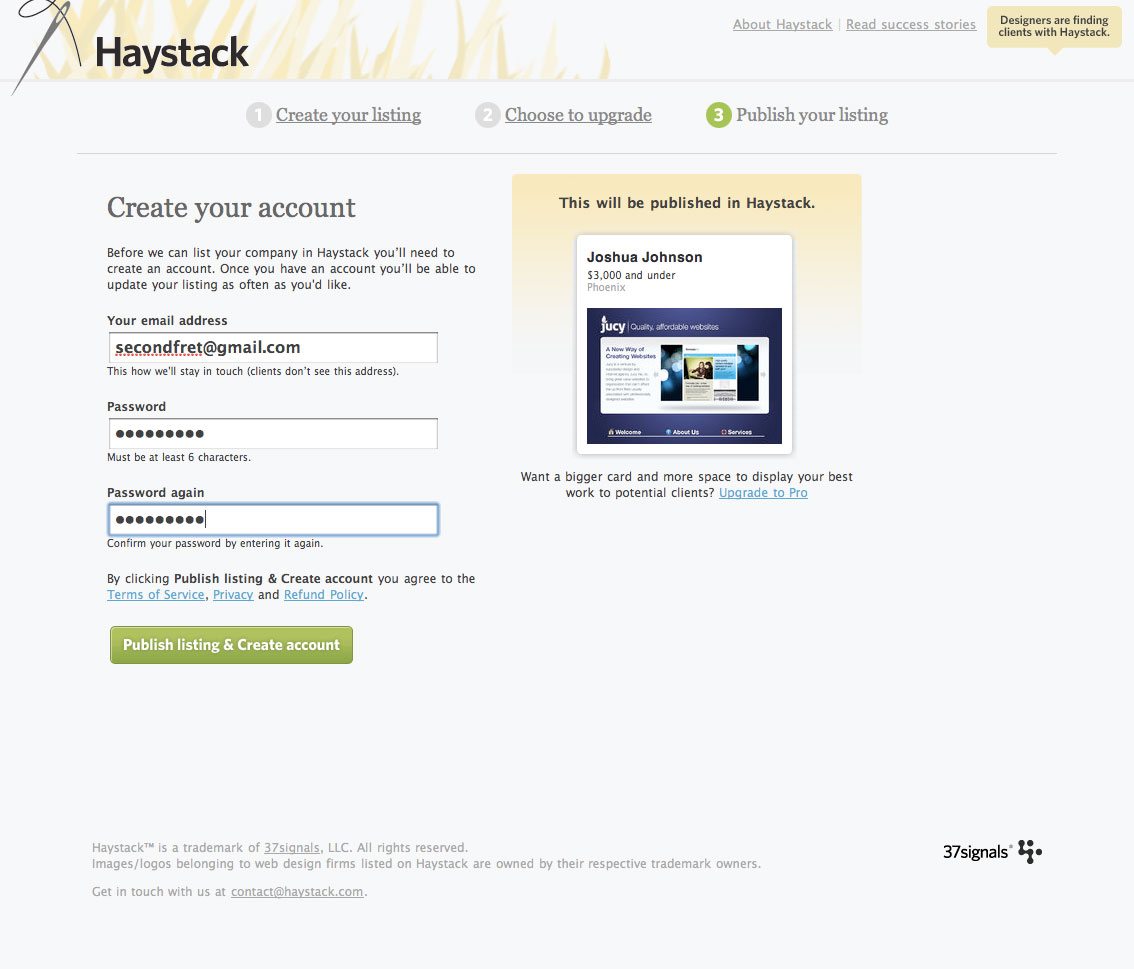 That's it! Fill in some more optional company info and you're finished. Now just sit back and wait for the emails to roll in (hopefully). I chose the free account so I only get a single image.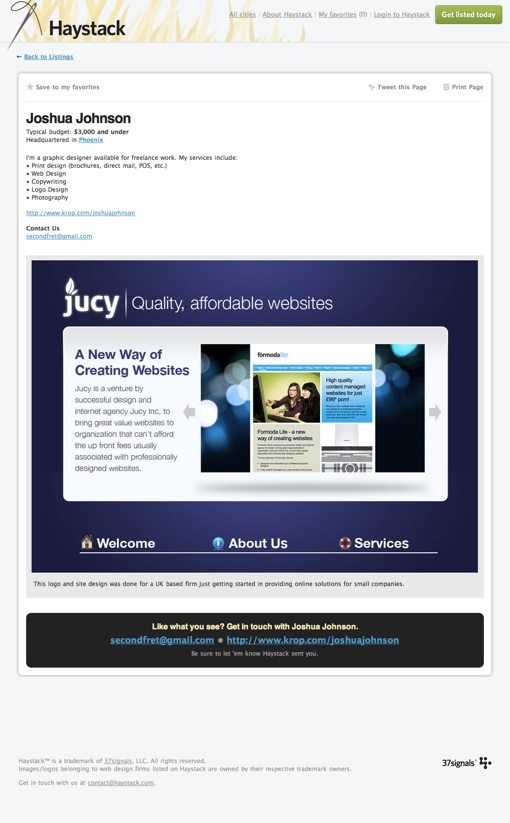 Conclusion
To sum up, Haystack looks like a great new way for buyers and sellers of web design services to find each other. Haystack makes no commission when a client hires you and doesn't interfere or play any part whatsoever in your communication. My advice is to get in now so you can take advantage of the fact that it's a new site that probably hasn't reached complete over-saturation in your area. Which means you actually have a chance of getting found and scoring a few clients. You can't beat free advertising so get outta here and go sign up!