Free Websites: Who Has Them and Which You Should Use
It's the dream isn't it? A completely free website! No paying greedy designers, no web hosting free, no purchasing of a domain; just a pure and simple free presence on the web.
The world of free websites has come a long way in recent years, there are some truly viable options that just might suit your needs. However, there's always a catch! Below you'll find out which services have restrictions that you can live with and which you might want to avoid.
Get unlimited downloads of 2 million+ design resources, themes, templates, photos, graphics and more. Envato Elements starts at $16 per month, and is the best creative subscription we've ever seen.
Why Are We Talking About This?
Since the core audience of this site is people who make a living designing websites, there might be a few readers that are genuinely offended at this attempt to put them out of a job. Fear not however, as it will all wrap nicely by the end.
Further, how often are you approached by potential clients who want you to give them free work in exchange for "exposure" or something equally as vague and non-existant? Wouldn't it be nice to have some services to recommend to those people that actually fit in their budget (which is of course zero)?
Finally, for the non-designers out there genuinely looking for a free website, this article will help you learn what's out there and what options are the best from this designer's perspective.
Blogs
Let's start off with the easy targets: blogs. These little pieces of web real estate have advanced immensely and are becoming more and more like full-blown websites every day. I would wager that many people searching for a way to snag a free website would be quite surprised with how much they can accomplish with a free blog.
The problem is, there are a million blogging solutions, most of which are genuinely free. For today's purposes we'll stick to a few of the big guys. There's a reason these solutions made it big: they're really good!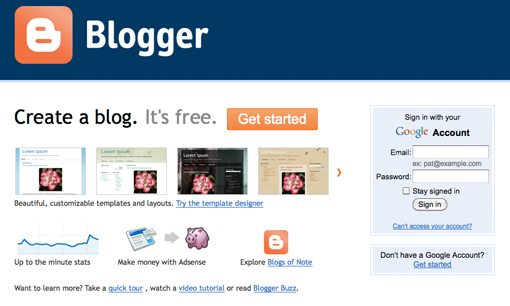 Blogger has been around since before I regularly used the Internet, which is a long time! This fact has both pros and cons. Let's start with the cons.
Blogger is an old man trying to keep up with the new kids, and it's not really doing a great job. Whenever I see I blogger page, I instantly can't help but think that it mirrors what web design was five, eight, heck even ten years ago for certain blogs.
In an attempt to modernize their service with some minimalist templates, I think their slim template offering has gone from outdated to simply lackluster.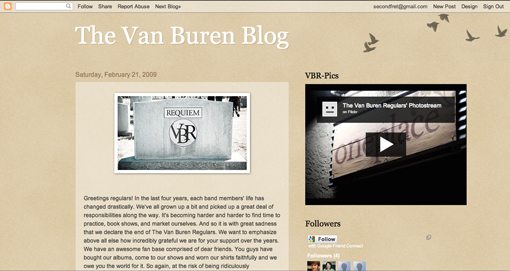 However, there are plenty of upsides to Blogger. For one thing, the fact that it's been around so long means you can find tons of free templates online with a quick Google search. This can and does trump my complaint about the built-in templates.
Further, Bloggers layout tools are a lot better than they used to be. You now have a remarkable amount of freedom to adjust the look of your site right down to columns widths and positioning, all with a simple GUI that even your grandma could (and probably does) use.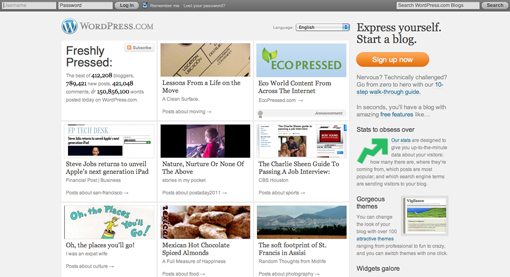 This one is a bit confusing because WordPress.org and WordPress.com are two distinct yet related services. At WordPress.org you can download the system to develop highly custom themes for blogs like the one you're reading now. This gets really technical really fast though and not only requires strong skills in PHP, but also requires you to host the site yourself, which ruins our "free" requirement.
WordPress.com on the other hand, is a free hosting service much like Blogger. You sign up, pick your theme and fill your site with custom content, all without being forced to even peek at PHP, HTML or CSS.
With a free WordPress.com account, you can only install the themes featured in their Theme Showcase. Once upon a time I hated just about every default theme that this gallery had but that's definitely not the case anymore. There are still plenty of ugly options available but there are also several themes that are quite stunning!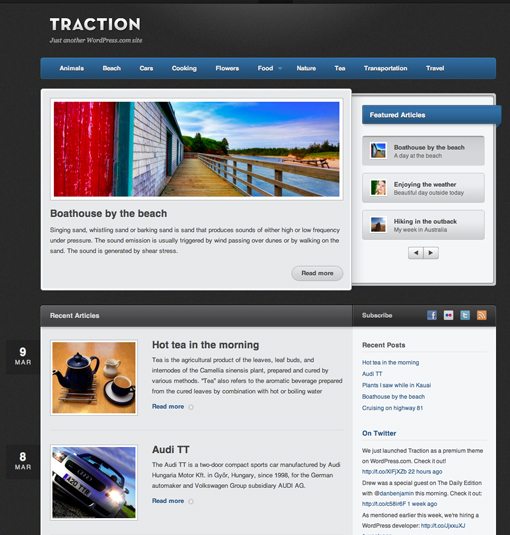 WordPress has tons of widgets and plugins to customize your blog in addition to a thriving community of users consistently creating and sharing resources. Trust me, before settling on Blogger just because you already have a Google account, check out WordPress!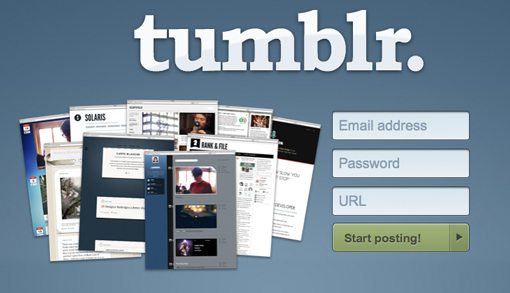 When compared to Blogger and WordPress, Tumblr is definitely the new guy. This unique service has a lot going for it: Tons of gorgeous, fully-customizable themes that install with a single click, a focus on brief, multimedia-rich posts, and an awesome dashboard feature that helps you keep up on the blogs that interest you.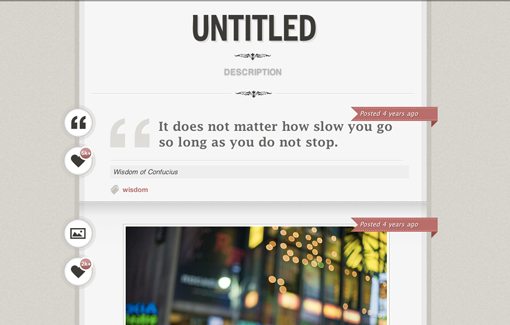 Tumblr is quirky, but in a revolutionary way that appeals to me both as a designer and a writer. It's actually pretty easy to go beyond blogging and create a full on Tumblr-powered portfolio or other website. This rockstar service is growing rapidly in the blogging community and you should absolutely check it out. Also be sure to have a look at our recent post featuring 50 Beautifully Designed Tumblr Themes.
If you like the simplicity of Tumblr, check out Posterous, one of the easiest and fastest blogging service on the planet.
Free Websites
You didn't come here to read about blogs did you? I'm sure you've heard of all of the options above but I just wanted to remind you that they are all worth looking into if you're in the market for a free website. They tend to offer a lot more options and flexibility than free website services.
However, there are in fact a few free ways to create and publish a full-blown website. Let's check out a few of these now.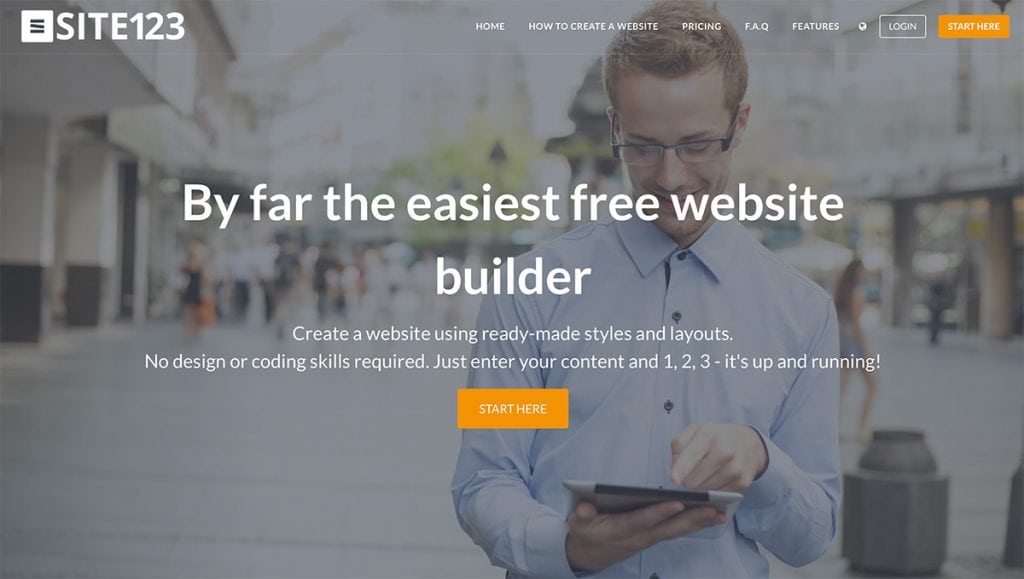 SITE123 is a free website builder, perfect for creating a high-quality website that doesn't require you to hire a professional.
Their advanced wizard, with its free templates and layouts, will teach you how to make a website. And help you set up your perfect online presence with very little effort.
You can simply upload your quality content, while they take care of all the rest, helping you come up with a totally responsive, search-engine-optimized website, fully adapted to all kinds of devices and screen resolutions.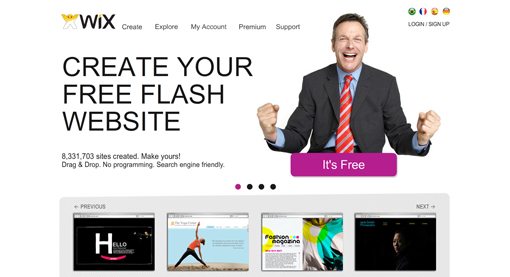 Wix ads are all over the web, so you've probably heard of them before. Wix offers a free package that's hard to beat. First of all, you get a real, multi-page website that you can customize like crazy using a WYSIWYG site builder.
You start the process by choosing from one of their many free templates. As with any template gallery, some are crap, but there are admittedly plenty of attractive and professional-looking options for you to choose from.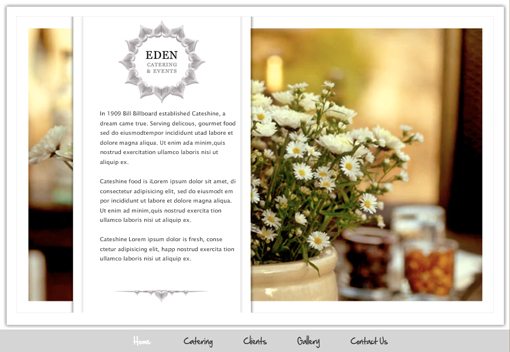 So with Wix you can create your own website, using custom photos, text and videos, add multiple pages and control the color scheme all free without writing a single line of code? What's the catch?
There are several. First of all, every free site is hosted at Wix.com, so your public domain will be something along the lines of www.wix.com/username, not www.whateveryouwant.com. This is going to be true of just about every solution you find though so it's not a valid critique of this service, just a limitation to think about.
Further, Wix places ads on your free site advertising their service. So while your free site may look great, a big stamp that says it's a freebie might cheapen things a bit.

Finally, and here comes the clincher, Wix websites are Flash-based. If you're clueless as to what this means just know that if the web design industry were a high school, Flash would be the formerly popular cheerleader now widely castigated as a dirty tramp. There are several pros and cons to Flash, too many for this article, but one thing is for sure: it's everyone's favorite target right now.
Again, you can't make too many demands if you're not willing to pay anything. Ultimately, Wix is still a pretty cool service that is perfect for individuals just getting started in a profession such as photography and need a free place to send people to look at their work.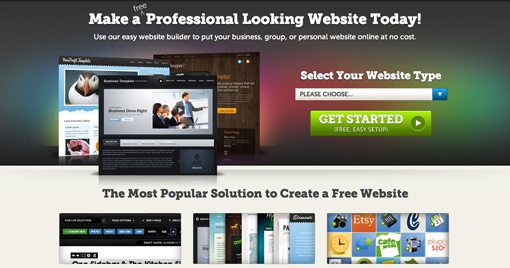 Webs is a service very much like Wix. You sign up free with the option of paying for premium upgrades, choose your template, outline your pages and set off to customizing.
The WYSIWYG website builder is pretty straightforward and allows you to completely customize the content without any web design knowledge. Even better, the resulting site is good old HTML and CSS, so if you're a Flash hater this should definitely appeal to you more than Wix.
When I first saw the Webs homepage I was immediately impressed, the design was awesome. The available free templates however were admittedly less than satisfactory. Essentially, most of the really attractive themes are for paying customers.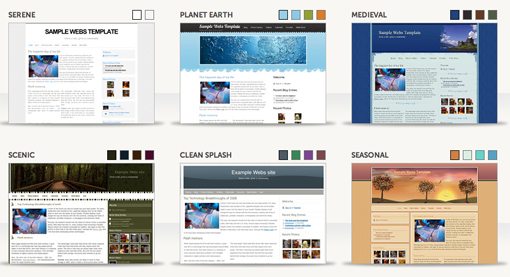 As with Wix, you are forced to use their domain. However, the result is something along the lines of www.joeblack.webs.com. In my opinion, "Webs" is such a generic term that this actually feels like your own domain! This may seem small, but it's a major bonus in my book. I'll bet that most people wouldn't even look twice at such a URL and wonder whether or not it was a freebie.
Also, as you can see below, Webs puts ads on your free site. These aren't just ads for Webs.com mind you, they're from whoever happens to be purchasing ad spots at the moment. In my tests I received a rather embarrassing illustration of a fat belly! Definitely not ideal if you were sending potential clients to this site.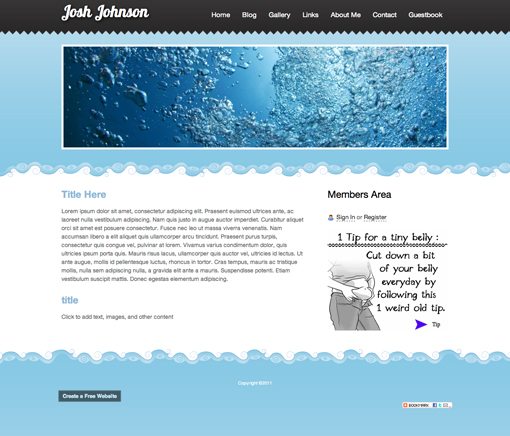 Despite some major downfalls, I really liked Webs much better than Wix. If you're going for something flashy and dynamic, Wix is a better service, but if you want simple and moderately attractive, check out Webs.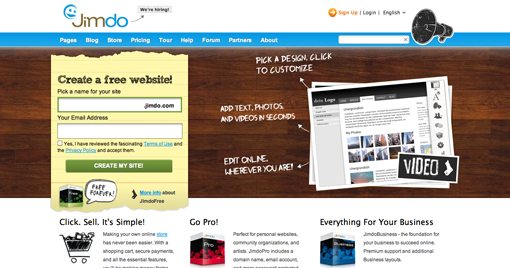 Jimdo is yet another player in the free website game. As with Webs, the sites are HTML and CSS and you even have the option to build and edit the site with these, though a WYSIWYG is the primary method. The site builder is more direct than a lot of the competition and felt much less buggy, I actually enjoyed playing around with it.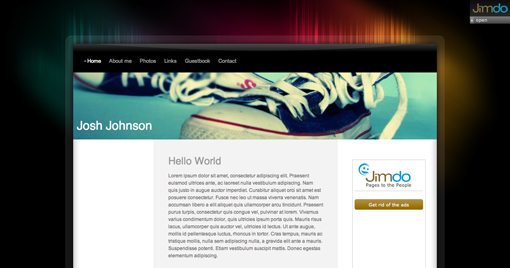 The pre-built templates are really lacking but they're really more for layout purposes than aesthetics as you seem to have lots of room for customization. If you know a little bit about design, you might like the options here better than those from the two previous options.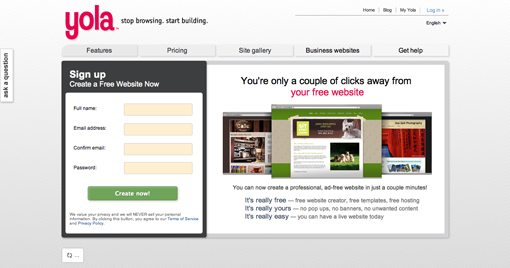 Honestly, after you try a few of these things you feel like you've tried them all. Yola has the same story as the other services above: no Flash, you get a Yola sub-domain, choose and customize a template, then publish a site with an ad to their service on the bottom. As far as I could tell, there were no other third party ads, which is nice.
I really hated just about all of the Yola templates, anything that looked remotely good was for premium members only. However, their layout tools seemed more robust than some of the other services. I really liked how much freedom you had to dice up the body into however many columns you wanted and easily control the padding on each.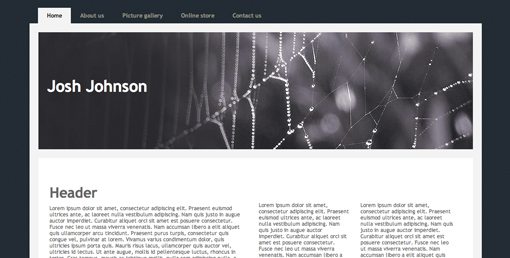 Which One Should You Pick?
Out of all of the services I tried, I liked Webs.com them best. The experience and UI was an overall great experience and as I said before it has the least conspicuous URL. Unfortunately, it also has the most ridiculous ads so it's definitely not perfect. If you can't live with these, try Yola as it seems to have fairly minimal ad space.
I'm not the biggest fan of Flash but if you really don't care, then some of the Wix sites really do look as close to professional as you're going to get in the free world.
Honestly, if all you need is a portfolio, I'd skip all of these and go with Krop, Coroflot or CarbonMade, but that's a different article!
Closing Thoughts: When Free Isn't Good Enough
The lesson we've learned here is that, despite a wealth of stellar and flexible free blog services, the free website market isn't really that impressive. I think the main reason for this is that even though blogging services like Tumblr have premium content available, they're really aimed at providing a truly awesome free service. Free website providers on the other hand, really just want your money and set up free site builders with limited features as a way to entice you to subscribe to their premium offerings.
In the end, there's a reason websites cost money. People have to put valuable time into designing and developing them and hosts have to purchase expensive servers to hold them. This makes it difficult for you to jump in as a freeloader, not impossible mind you, just difficult.
If you just want something fun and personal, or maybe you're just getting started on the web, the free options above might be just what you're looking for. Unfortunately, if you're looking for a beautiful and professional website with your own custom domain name, it's going to cost you. The good news is that there are tons and tons of awesome developers, like the commenters you see on our posts, that are more than willing to work with you to develop a site that you'll love within a reasonable budget.