How Much Money Do Designers Make?
Design isn't about money, it's about something higher. It's about loving what you do, making the world more attractive and satisfying your never-ending need for intellectual stimulation. Good designers don't see design as a job, but a lifestyle. We think about design constantly while looking at the things around us, our hobbies are design-centric, we read and write about design; on and on.
Who needs money when you have a passion like this? Me, that's who. Don't get me wrong, lots of that mumbo jumbo above describes me pretty accurately. But let's face it folks, we all have mortgages, bills, student loans and other factors that ensure our need for green stays intact. Today we're going to have some fun and see how much money we should be making!
Get unlimited downloads of 2 million+ design resources, themes, templates, photos, graphics and more. Envato Elements starts at $16 per month, and is the best creative subscription we've ever seen.
Are We Allowed to Talk About This?
Designers are an interesting breed when it comes to income. Some of us make ridiculous amounts of money for doing very little, others work 60+ hour weeks while barely scraping rent together each month. The majority of us though are probably floating somewhere between these two extremes wondering how we rank with everyone else. We're not sure whether we're doing something very wrong or very right and it's not always the most polite thing to start asking around to see what our peers on Twitter are pulling in each week.
So let's talk about this shall we? Let's throw political correctness to the wind, let our greedy sides show and figure out just how much we should be making. It's not going to be easy because every situation is different (education, years of experience, location, etc.), but with a little research we should be able to arrive at some general estimates.
Ballpark It: Finding Industry Averages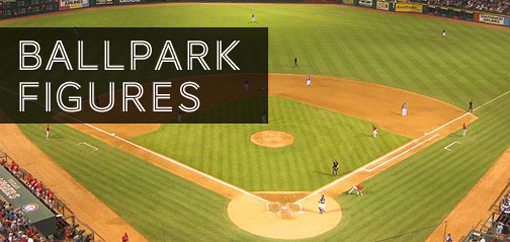 It's always best to start with the easiest solution, so I googled "average salaries" to see where that would take me. I wound up on Salary.com, a website claiming to have accurate statistics for salaries in various fields. I began with the generic term "graphic designer" for which the website suggested "Graphic Design Specialist" (fair enough). I also told the site where I live (Phoenix, Arizona), this could have a significant impact on the results so you might want to check on your city as well.
The website showed me a few helpful statistics about education, company size, etc. but after clicking through that and a few ads I found what I was after. The chart below was what I received: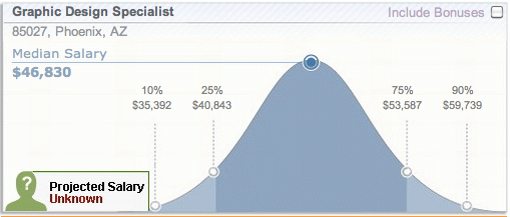 This made things abundantly clear. According to Salary.com, the median salary for a graphic designer in my area $46,830. The low side of the scale wasn't very far off at just over $35,000 and the high side was $60,000, with very few designers getting either of those extremes.
These number were for entry level "graphic design specialists." I ran through the process again for "Sr. Graphic Design specialists," which the site defined as those with 4+ years in the field, and got the following result.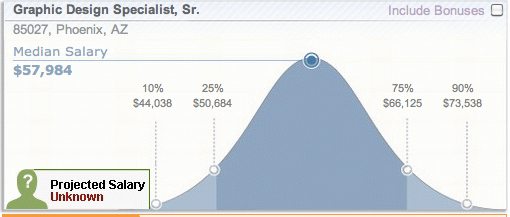 As you can see, with just a little experience your salary expectations start to get dramatically better. This time the median is just under $60,000 with the high just under $74,000. Translation: if you're new, don't worry, things get better!
Web Designer Salaries
Now, many of you are no doubt not just plain old graphic designers, but web designers. It's no secret that web design is a much more promising field than print at the moment and the numbers show it. Check out the average wages for entry and senior level web designers below.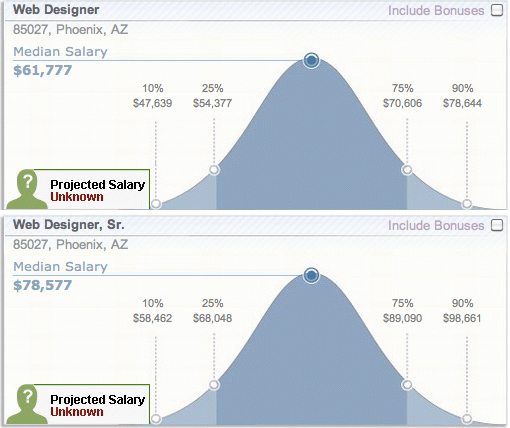 Wow! Senior level graphic designers are pulling in around $78,000 on average and pushing $100,000 on the high side (How much do I make? Hint: not this much!). If you're a web designer with 4-6 years of solid experience and a decent degree pulling in less than $50,000 per year, it may be time to start job hunting!
Checking Our Numbers
Never trust a single source, always do your fact checking! I looked around a little further and found CareerOverview.com, a site with a more generic overview of average salaries. Their chart for full-time graphic designers in the U.S. shows a median of just under $40,000.

This is a bit lower than our initial $46,830 for graphic designers but Phoenix may have an inflated rate versus the U.S. as a whole. One more source, SimplyHired had this helpful chart: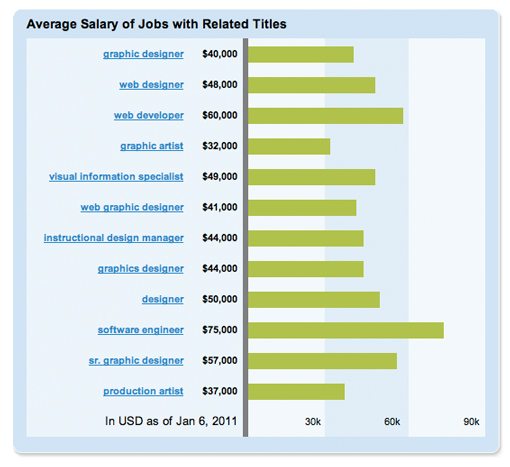 By putting all this together, we see trends emerge. Full-time graphic designers in the U.S. can expect to earn around $40,000-50,000 while web designers can hope for more along the lines of $50,000-$60,000.
These ballpark figures should help ease your questions about how much money you should be making and how much you can bet your designer pals are making. At this point you're either ready to quit your job or have affirmed that you're in a decent place. I hope it's the latter!
Real Jobs with Real Salaries
The information above is helpful, but national salary averages don't mean squat when you're hitting the pavement with a resume in hand. If you really want to know what you're worth as of today, take a look at some jobs and see what people are offering.
Let's start with a free site that you may think sounds like a ghetto place to look for a job but is in fact a really great resource for positions of all kinds: Craigslist. Again, I'll have to search in a specific location so to keep things consistent I went with Phoenix again.
Right off the bat I found a handful of listings with the compensation mentioned:
Web Developer
Experience/Skills: HTML/CSS/JavaScript/OOP
Compensation: $50,000-$60,000 + benefits
Graphic Designer / Production Artist
Experience/Skills: Bachelor's degree, 2 years in print design, HTML
Compensation: $25,000-$30,000
Graphic Designer / Web Design
Experience/Skills: CSS, HTML, graphic design, web layout
Compensation: $12-$15/hr
Web Designer
Experience/Skills: Adobe Photoshop, Dreamweaver, HTML and CSS
Compensation: $13-$18/hr
Other Sources
These jobs are a little scattered with compensation, but hey, that's the real world folks. If you find fifty versions of the same job, you'll probably find five or more different ranges for pay grades. Again, it's no good to check just one site so I hopped around a bit and found a few more real jobs. Here are the results:
Graphic Design Specialist: Arizona State University
Minimum Qualifications: Bachelor's degree in Graphic Design or related field and four (4) years experience in graphic design and/or website design; OR, Eight (8) years experience in graphic design and/or website design; OR, Any equivalent combination of education and/or experience from which comparable knowledge, skills and abilities have been achieved.
Compensation: $40,000-$52,000 per year; DOE
Site: Monster.com
Graphic/Web Designer: Gould Staffing
Expertise level in: Adobe CS suite (Flash, Photoshop, Dreamweaver, InDesign, Illustrator) and Microsoft Office; Working Knowledge of: FTP, HTML/JSP, Javascript, Outlook, Thunderbird.
Compensation: $18-$22 per hour; DOE
Site: Jobing.com
Graphic Designer: Maricopa Community Colleges District Office
Knowledge of techniques, methods, procedures, equipment and current trends of graphic design,including visual communication, the use of illustrative process, website graphics, Flash animation, typography, 4-color process, and navigational and organizational design – Experience with Adobe CS Suite. Two (2) or more years of experience as a graphic designer in an agency or in-house setting.
Compensation: $35,601-$41,883; DOE
Site: Jobing.com
How Do I Make the Big Bucks?
Let's face it, we're designers, not CEOs. Most of us will unfortunately never drive an Aston Martin or own a yacht, we're lucky to afford the computers and software we need to do our jobs! The numbers above prove that most of us make well under $100,000 per year and will probably continue this way for years to come.
So where do we go from here? Short of starting our own massively successful business or website, how do we reach our full income potential over the life of our careers?
If you want something to aim for, you could do a lot worse than becoming a Senior Art Director. This is the fancy job title for the guy/girl who bosses around graphic designers. This person has been where you are and worked their way to the top. They didn't land the job right out of college, they've been in the game for 10+ years and possess not only a high level of design skill but some noteworthy management experience as well. They're comfortable breaking outside the cubicle to run an entire office of designers and aren't afraid to take the blame when a six month $300,000 project tanks.
Think you have what it takes? Let's return to Salary.com with the term "Art Director" and see what we find. The result is the graph below: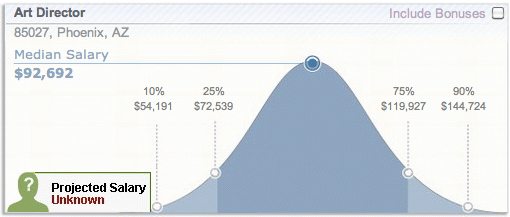 Here we see that almost half of the art directors in my area make around $100,000 per year, some as high $140,000. I don't know about you, but for a lot of people, that's dang good money. It may take ten years to get there, but having this sort of goal in mind helps get you through those early, low paying years when you are forced to tell your wife that a Little Caesar's Hot and Ready Pizza and a Redbox movie rental is the best you can do for date night (total cost: $6).
Closing Thoughts
Now that we've played the part of greedy misers for a while, let's jump back to reality and remember that how much money you make isn't something that should define you or your worth as a human. If you blow away the numbers above, yahoo for you, send me something expensive. If you're way under them, no big deal as long as you're happy.
This article is merely meant to get your brain going and to encourage you to not settle for less if you genuinely want or need more income. If you've served your time, opportunities are out there and complacency is your biggest threat. If your employer is taking advantage of you, fire up Google and start looking around. I know first hand that it's incredibly scary (I went through it last year) but in the end you can find yourself a lot better off.
For all of you newbies out there who came to this article out of curiosity to see what your income potential would be as a designer, these are the numbers. They're not immensely encouraging but they're not half bad either. I simply love being a designer and wouldn't trade it for the world. It's quite the bonus that I can actually make a decent living doing it.
Most of the numbers above are accurate for my area, but may differ in yours. Leave a comment below and let us know what your research revealed for the area you live in. Were pay rates better or worse than Phoenix?