How to Make a Confident First Impression With Clients
When it comes to winning new clients, "confidence is key."
Forgive the trite expression, but in this case it couldn't be more true. Potential clients will judge the quality and professionalism of both you and your work based on their first contact. Screwing this up could mean spending months reshaping that individual's image of you or even result in losing the client altogether.
Today we'll go over some tips and techniques you can use to make a positive, lasting first impression with your clients.
Envato Elements gives you unlimited access to 2 million+ pro design resources, themes, templates, photos, graphics and more. Everything you'll ever need in your design resource toolkit.
Have a Rockin' Portfolio Site
It is often the case that a potential client's first impression of you is your website and/or online portfolio. For this reason you want to put a ton of effort into making your online portfolio the best it can be.
Select Only Your Best Work
Obviously, the first step is to select your absolute best work to populate the portfolio. Make careful selections of work that represents you as a designer instead of simply including everything you've ever made. We've all had those projects that didn't quite turn out as great as we intended (usually the client's fault!), don't feel bad about leaving these out completely as they are not a good representation of what you normally produce.
What if I Don't Have Enough Work to Show?
If you're just getting started in freelance design, you might not have any "real jobs" to show. My advice here is to create some. We all have friends and/or professional acquaintances who could use some type of design work whether it be business cards, logo, websites or T-Shirts. Contact these people and tell them you'll help them out free of charge.
I know what you're thinking, "Wait what!? Free!?" Yes, free. It's not easy to get paid clients unless you have something to show them, so in the mean time, the best way to build your portfolio is to go pro-bono. Even if your friend hates the logo you made for him and never uses it, you still walk away with a portfolio piece. Don't let anyone take advantage of your kindness, be clear up front about how much time you are willing to spend to help them out and how you plan on using the work to sell yourself to other clients.
Inspiration
Every good designer knows that you can never have too much inspiration. Looking at the work of others opens your mind to new possibilities and teaches you how to break out of your typical style. Here are a few inspirational tutorials on building a portfolio site to kick the right side of your brain into overdrive.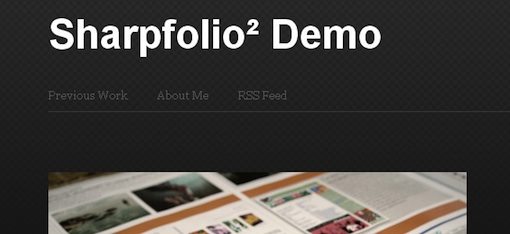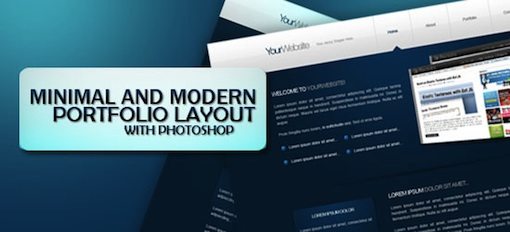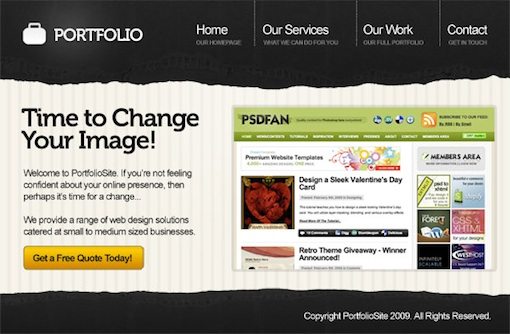 Testimonials
One final way you can add credibility to your portfolio site is by asking your current or past clients to provide a brief testimonial for display on your site. What better way to instill confidence than to show an updating stream of praise from satisfied clients? For some great examples of how to integrate testimonials into the design of your site, check out the article below.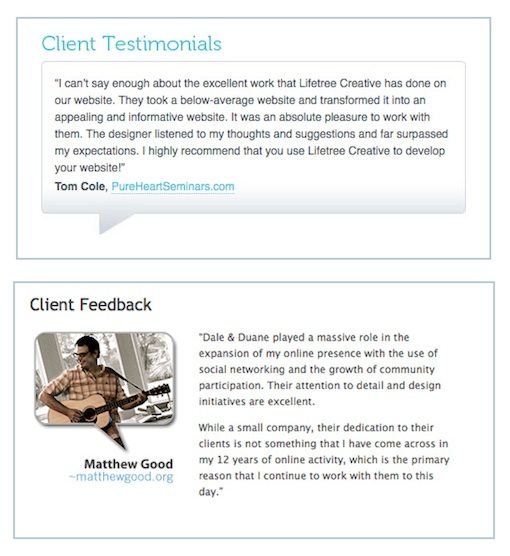 Design Your Resume
Your resume and portfolio go hand in hand. Usually, when someone asks for your resume, you should also forward your portfolio and vice versa. For this reason, your resume should visually reflect, or even be integrated with, your portfolio. Whether you have your own company or you're just Joe Smith Designer, create a personal brand that flows across all levels of communication to current and potential clients.
I recently had a wake up call on the resume front. As a business major at ASU, I learned to make a resume the boring way. As a result, my resume was a relatively plain looking document focusing primarily on copy to sell me as a designer. A few months ago, one of my clients revealed to me that he found my resume to be completely unimpressive. Sure, I had worked for tons of big name clients all over the US, but he hadn't even taken the time to read this fact. He merely gave it a quick glance and wondered why a designer would try to sell his design skills with a document that had virtually no design.
The point is, you're a designer and many potential clients will expect this to come through on nearly everything they see. Make your resume stand out in a stack of lame Microsoft Word documents by approaching the project just like any other design job. Go full color, use a real page layout program, and crank up the awesomeness.
For more information on what a designer's resume should be, check out the article below (click the pic).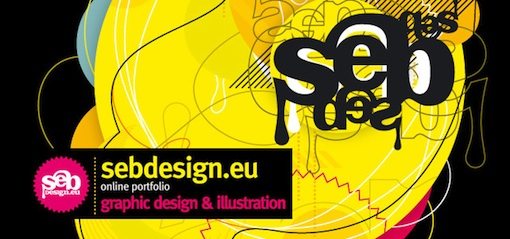 Written Communication
If you're anything like me, your first real contact with potential clients is often an email. For this reason, I simply can't stress enough that you should constantly work to improve your written communication skills. This includes not only avoiding grammatical mistakes and spelling errors, but also focusing on the clarity of your message. Always be sure that your ideas and main points are organized in a logical, easy to follow manner. If I have multiple points I want to get across to a client, I almost always use bulleted lists to make sure my message is crystal clear in as few words as possible.
Always consider the medium of the communication before you begin writing. Emails can be tricky. The tone should be professional, but relaxed; formal but approachable. Avoid using industry jargon when possible and be sure to define any confusing terms. Odds are your client won't know what the heck you're saying if you start rambling about customizing backend PHP APIs. Keep it simple and genial. Express your eagerness to work with the individual while conveying a strong sense of confidence in your ability you can perform the work they need.
Grammar School
That said, a big part of sounding confident is getting the technical stuff right. Here are a couple of resources I use to continually improve my writing.

Oral Communication
The two main types of oral communication are face-to-face and phone conversations. No matter which of these you're engaged in, remember that you are a salesman. I know that sucks, but if your position is such that you're trying to win more business, you my friend, are in the sales industry.
Your initial contact can set the tone for your entire working relationship. Just as in your written communication, focus on being friendly. The kind of professionals who have the money to hire a designer tend to see designers as somewhat quirky and "out there" and are pleasantly surprised to meet intelligent, down to Earth individuals.
Dress Like You Mean It
If you're a freelance designer, chances are you cringe at the thought of buying a suit (let's face it, there's no way you actually own one already). Honestly, for the average one-on-one client meeting there's no reason to break out the Armani. But that doesn't mean that your vintage TMNT t-shirt is ideal. Find a happy medium, look professional but make sure you're comfortable. People can tell when you're out of your element so avoid anything that will make you feel awkward.
Plan Ahead
One last thought on making a confident first impression. I've definitely learned the hard way to decide up front on specifics like what I charge per hour, what my availability is, and how I prefer to receive creative direction (I require all direction in an email so I have a clear record). If you don't address these things in a casual, procedural way up front, you're stuck with trying to decide when and how to approach them later. This will inevitably lead to a client who is shocked by the absurd amount you seek to charge and refuses to pay that amount despite all the work you've done thus far.
Further, and even more to my point, addressing all of this information up front makes it look like you "have it together" so to speak. Having a list of reasonable requirements, perhaps even in a concise physical document, increases your believability as a confident professional who knows his/her stuff and can get the job done expediently and satisfactorily.
To learn more about what you should sort out with your client up front, here's another helpful article from Noupe.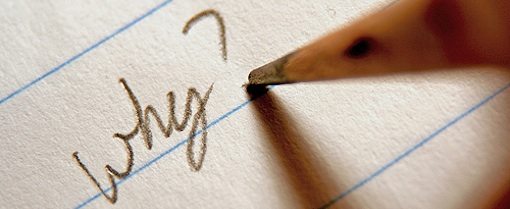 What's Your Take?
To sum up, I recommend taking a good look at all the points of contact you have with potential clients and ensuring that they are as professional and confident as you can make them.
I'm interested to hear your thoughts as well. Use the comments below to share how you go about making a confident first impression. Which form of communication do you prefer for an initial contact? Is your resume boring or have you gone out of your way to make it represent you as a designer? If you have a cool resume, please post the link below so we can see it!