Intro to Gridgum: The Responsive Theme Marketplace
Later this month a new theme marketplace website is launching. What's neat about Gridgum is that it offers themes for a variety of platforms and every theme on the site will be responsive.
A responsive theme is a must-have in today's web landscape and the idea of a one stop shop is a good one. Gridgum is a marketplace for both buyers of themes and theme designers. And right now, theme designers can submit themes for a chance to win $2,000 in prizes before the full site launch.
Envato Elements gives you unlimited access to 2 million+ pro design resources, themes, templates, photos, graphics and more. Everything you'll ever need in your design resource toolkit.
What is GridGum?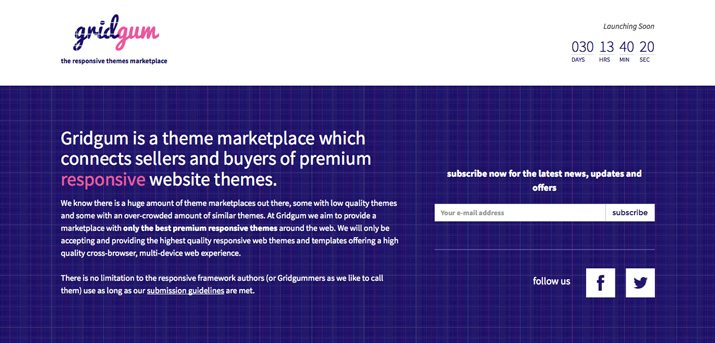 Simply, Gridgum is a theme marketplace. But what makes this marketplace different is the theme vetting process. Gridgum is designed for only responsive themes and will only showcase top-notch premium themes.
Gridgum plans to offer themes for multiple platforms and uses. The site will accept themes created using the Bootstrap, Foundation, Gumby or Skeleton frameworks or you can use your own responsive framework. Themes can be designed for WordPress or Joomla sites and can work for any number of uses including portfolio sites, e-commerce, blogs or business. Gridgum also offer theme developers an option to add an installation package option for buyers.
For a theme to be considered for Gridgum, it must work in multiple browser environments, look great, have a clean and easy to understand description and can't look like other themes on the site. What this means for buyers is that you know themes will be of a quality nature and you won't have to hunt multiple places for the best available themes. You can get on Gridgum's mailing list now if you want to be alerted when the theme sales begin.
For Theme Sellers

Gridgum is not one of those theme sites that just anyone can add a theme to. There is a detailed process for theme sellers and each premium theme must meet a set of guidelines before submission. Themes will be tested based on a set of general guidelines, visual quality, theme images and demo, and applicable licensing and attribution.
Here are some of the basics. You can learn about all of the exact guidelines from Gridgum.
General Guidelines
Themes must be responsive.
Themes must be tested in multiple browsers.
Documentation and descriptions must be in English and checked for grammar and spelling.
Each theme must have a unique name.
Static HTML templates must use index.html as the filename for the home/default page.
Markup, styles, and scripts must be neatly formatted with proper, consistent indentation and consistent use of tabs or spaces.
Files uploaded must be free of errors.
Visual Quality
Themes can't resemble similar themes available or copy existing themes.
Large images must be compressed to ensure load times are optimized.
Theme should display consistent use of spacing, padding and line height for typography and element placement.
Themes should use attractive, high quality images and include any copyright details for images used.
Theme Images and Demo
Images uploaded must be of high quality and not distorted in any way.
Screenshots must be kept up-to-date and reflect the latest approved version.
Images must meet Gridgum specifications for size.
Live previews can't use redirects or use URL shorteners.
Live previews must load quickly and without error.
Applicable Licensing
Item descriptions and documentation must include attribution links to third-party assets.
Third-party assets must be properly licensed or free for commercial use.
The Fine Print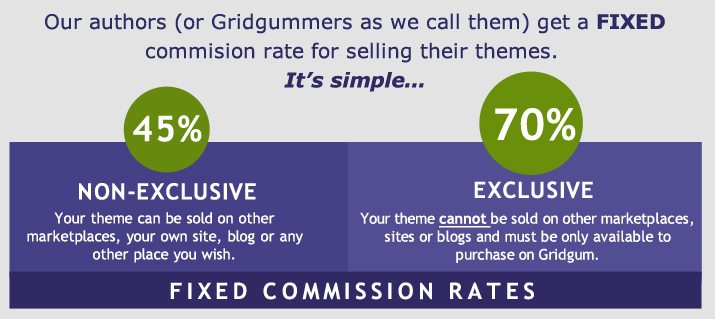 If you think Gridgum is a good sales option for you, there are some details to consider. Gridgum uses a fixed commission structure for theme sales. (The site also plans to offer an affiliate system in the future.)
Here's how it works:
Sellers earn 45 percent on items sold non-exclusively (on Gridgum and other sites).
Sellers earn 70 percent on items sold exclusively (only on Gridgum).
Commission is paid on the 15th of each month with a $50 minimum payout.
Sellers are paid via PayPal.
Gridgum is accepting theme submissions. To submit a theme, register for a vendor account and follow the instructions. If you have questions or want to know more, email Gridgum directly.
$2,000 Giveaway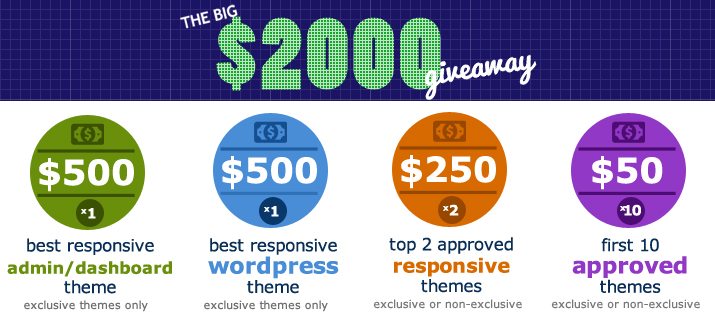 Now through April 30, theme developers can enter to win $2,000 in prizes from Gridgum. All themes submitted to the site are entered to win some of the cash awards. (See full terms for rules.)
Prizes include $500 for the best responsive exclusive admin or dashboard theme, $500 for the best responsive exclusive WordPress theme, $250 for the best responsive theme (two prizes) and $50 for the first 10 approved themes. There is no entry fee and every theme you register on the site is automatically entered.
Good luck!
Conclusion
We are excited for the launch of Gridgum. The concept is a great idea and we hope to see a quality theme marketplace with plenty of opportunities for theme designers emerge.
Good luck to all the Design Shack readers who enter the Gridgum contest as well. Make sure to drop us a line in the comments if you win one of the prizes or have a theme featured on the site.