Learn a New Skill in 2016 With Treehouse
Are you ready to learn a few new tricks? Make this the year that you expand your knowledgebase and take greater control of your career.
You can do it with Treehouse. The online learning tool can help you learn a skill that you don't have, help you get familiar with the latest tools and trends, or take the first step toward learning to code. Here's a look at how it works!
Get unlimited downloads of 2 million+ design resources, themes, templates, photos, graphics and more. Envato Elements starts at $16 per month, and is the best creative subscription we've ever seen.
What is Treehouse?

Treehouse is a massive online learning resources with thousands of hours of instructional videos from some of the best names in various fields. These expert teachers will help you learn more about web design, coding, best business practices and more.
And once you are a member, the learning never stops. The Treehouse database is growing all the time with information on the latest information on web technology and trends so that you will always be on top of the game.
Treehouse is more than just an online classroom. The service is packed with fun elements that will make you actually want to refresh your skills. From quizzes and interactive code challenges to earning badges for successes, you can share your accomplishments and maybe even use them to get a new job or promotion.
Importance of Online Learning
What's nice about a tool like Treehouse is that you can keep learning all the time, on your own and at your own pace. This is vital in today's ever-changing website design, development and business climate where technology is almost changing right in front of our eyes.
Whether you are new to the industry or a seasoned veteran, continued education is important. What's nice about online courses is that you really can fit learning the skills you need into the time you have. Treehouse has more than 177,000 students worldwide that have made the most of these offerings, and you can do it with as little as 30 minutes a day.
Continued education is something you can feel good about, and it can help you advance in your current career or change jobs. One of the other distinct bonuses from online resources such as Treehouse is cost. Online courses are typically much more affordable than traditional classroom programs. They are also ever-changing and keep up with the latest technology.
Courses Available

So what do you want to learn today? Web design? Coding? How to build an app? How to start a business Treehouse has a class for that. The topics available on Treehouse include HTML, JavaScript, WordPress, Development Tools, Java, CSS, iOS, Business, Digital Literacy, Android, and much more!
Within each subject area, there are dozens of classes to choose from. Just select the topic that is of the most interest, pick a class and go. Instruction is divided into classes and workshops so you can get an introduction to topics and then do hands-on work. (And there are plenty of games along the way and badges to earn, so you'll want to do your best!)
There are also instructional tracks so that you can learn broader topics as well. These include:
These tracks are fully immersive learning programs that can take you from beginner to expert in specific fields. Take Web Design, for example, the track includes more than 50 hours of instruction that focuses on the basic principles of design like branding, color theory, and typography, plus common code languages HTML and CSS.
Costs
If you are ready to start learning something new, start today. You can try Treehouse for free for 7 days, then choose from one of two plan options based on your learning goals.
Basic Plan: For $25 per month, you get access to more than 1,000 videos, live practice with the Code Challenge Engine and plenty of support in the members-only forums.
Pro Plan: You get everything in the basic plan plus access to talks from industry leaders, exclusive bonus content and downloadable videos so you can continue your courses offline.
You don't need any books or special software with Treehouse. Everything is included online (unless you are planning to take iOS courses and in that case you will need to work on a Mac). There's no contract. So when you finish your courses, you can cancel at any time.
A Solid Resolution for 2016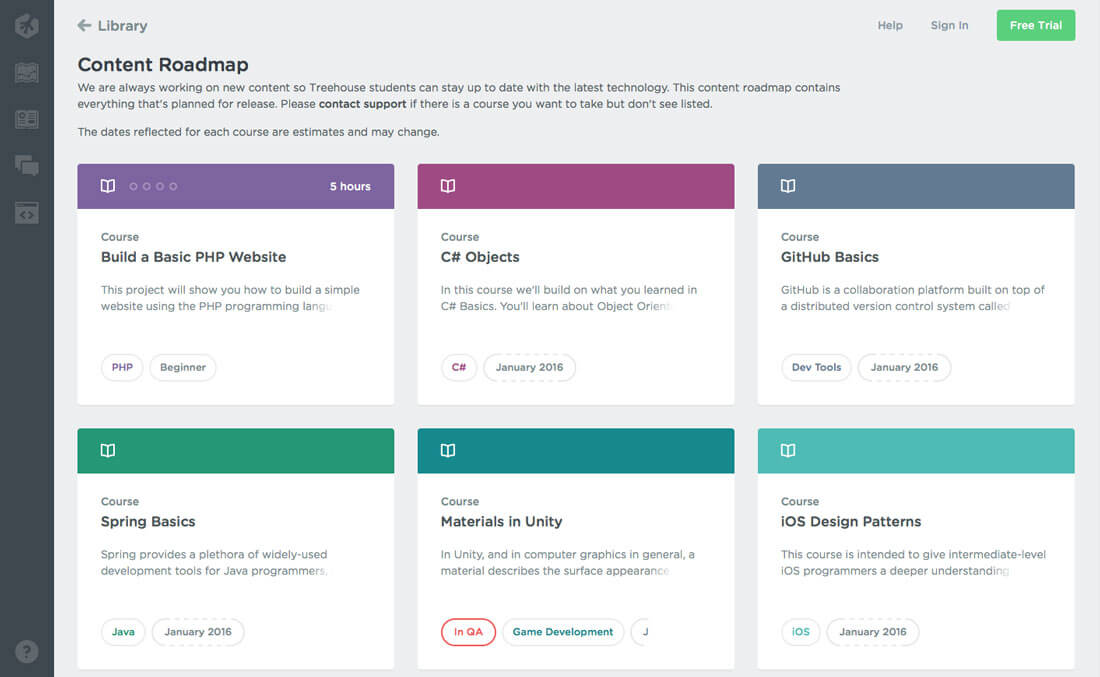 What are you waiting for? Don't break that resolution to learn something new this year. (And if that's not your resolution, commit to it right now.)
Depending on your schedule, you can actively start using new skills almost right away. Many Treehouse users are building real websites and apps after only a month. How long it takes you to finish a course and starting using new tools and skills completely depends on the courses you choose and how much time you have to work through the instruction.
And there are new courses released weekly, so there's always something new to learn. (New courses this month include User Research, iOS Design Patterns and UX Basics.)
Treehouse really does have something for anyone who is working in the design or development industry. The tools are current and usable. You are pretty much guaranteed to learn something if you take a little time to poke around and find something that interests you.
Personally, I am a big fan of the badges you earn for successes along the way. You can make these elements public so that your boss or recruiters can see what skills you have mastery of. (This is a definite resume booster.)
Conclusion
Whether you work for a big firm, as a freelancer or are in between jobs looking for something new, Treehouse is a good place to start if you have goals to work in the digital industry.
Take it for a spin. See what you can learn. Become a better you in 2016. Once you have this knowledge, it's yours forever, so what do you have to loose?