Meet Creative Market: A New Platform for Buying and Selling Creative Resources
The folks that brought you COLOURlovers have cooked up something new and exciting: Creative Market, a beautiful and simple way to buy and sell digital creative goods online.
Join us as we jump in to see what Creative Market is all about and how they're uniquely positioning themselves in this market.
Envato Elements gives you unlimited access to 2 million+ pro design resources, themes, templates, photos, graphics and more. Everything you'll ever need in your design resource toolkit.
What is Creative Market?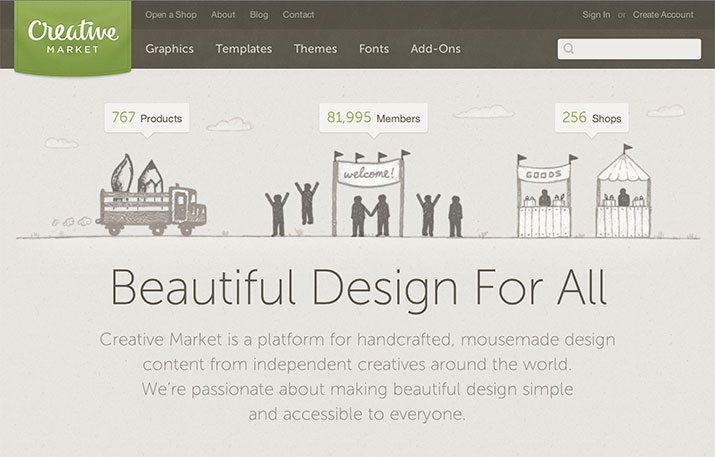 The basic idea behind Creative Market is familiar. As a designer, you can sign up to purchase goods, sell goods or both. The site cleverly refers to itself as "a platform for handcrafted, mousemade design content." There are currently five different categories of items available for purchase.
Graphics
In this section, you'll find icons, background textures, UI kits and other non-coded graphical resources. There's a good bit of breadth in the selection here already, you'll find items ranging from $5 all the way up to $60.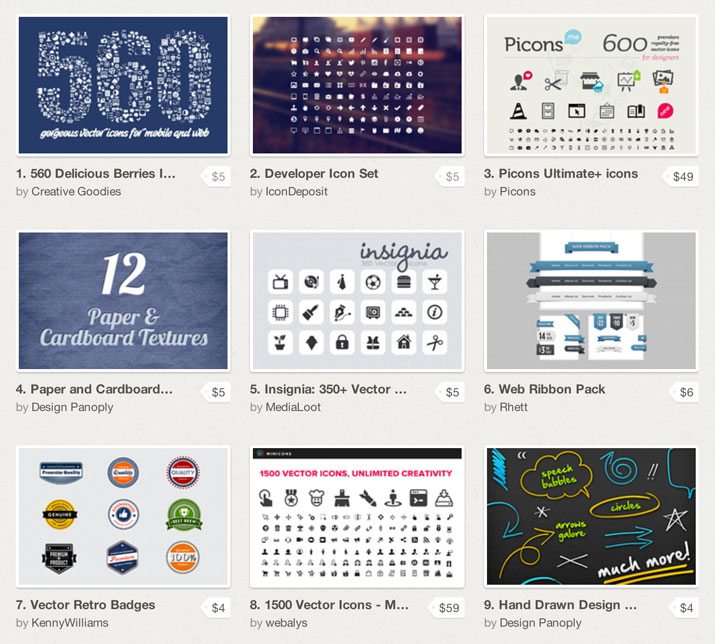 Templates
The templates section is where you'll find layered PSD and vector files for brochures, business cards, flyers, invitations, presentations, and even websites. There are a lot of really attractive designs in here, most of which are going for less than $10.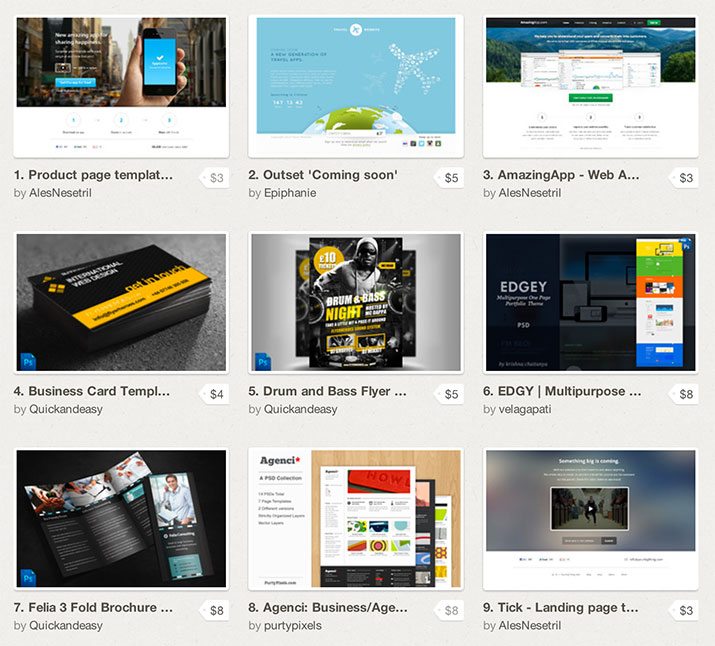 Themes
At the moment, the themes section is primarily filled with WordPress themes, though a few simple Tumblr themes are included as well. The contributors here are big names that you'll recognize: UpThemes, MediaLoot, ThemeFuse, etc. Prices here currently top out around $60.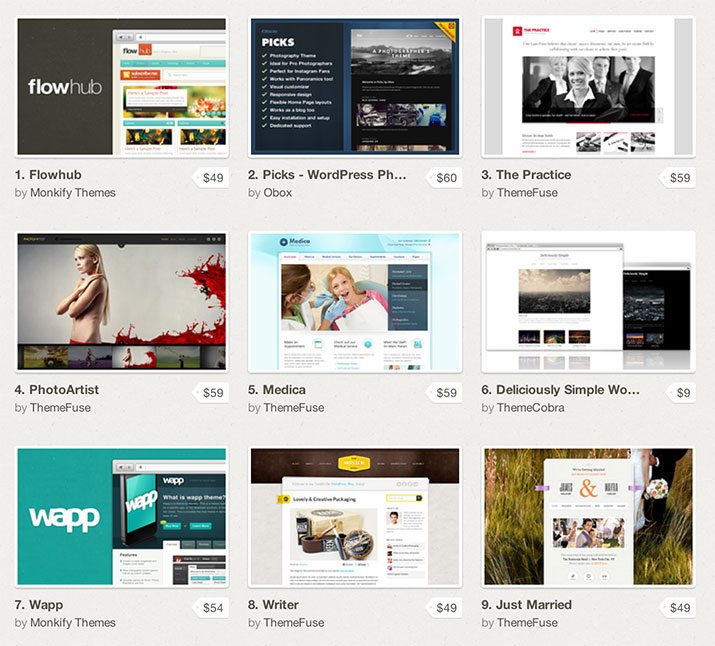 Fonts
Really solid, yet affordable typefaces are not always easy to find. It seems that fonts either go free or jump up to hundreds of dollars. Creative Market is challenging this idea though with a pretty impressive collection of attractive fonts that range from $2 to $25.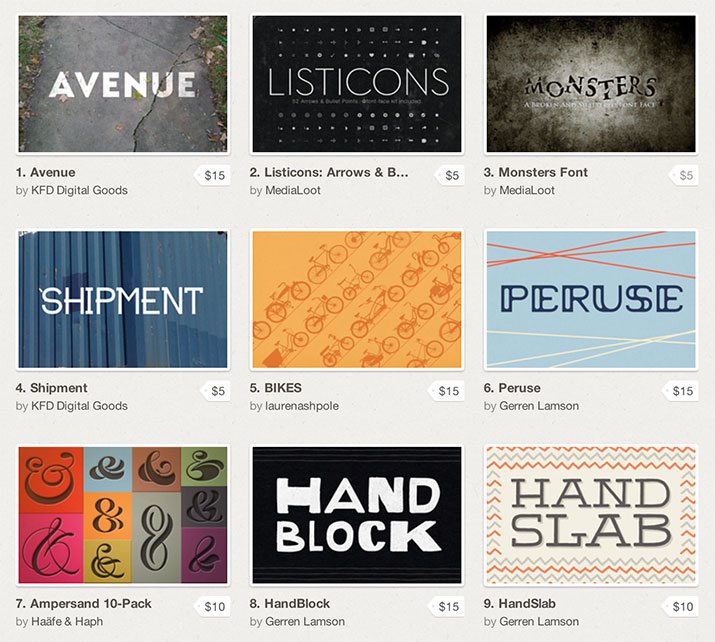 Add-Ons
This is where you'll find all the extra design goodies: brushes, actions, shapes, layer styles; all of which plug right into Photoshop or Illustrator so you can achieve awesome results with almost zero effort. There are a few higher priced items, but most of the stuff here is under $10.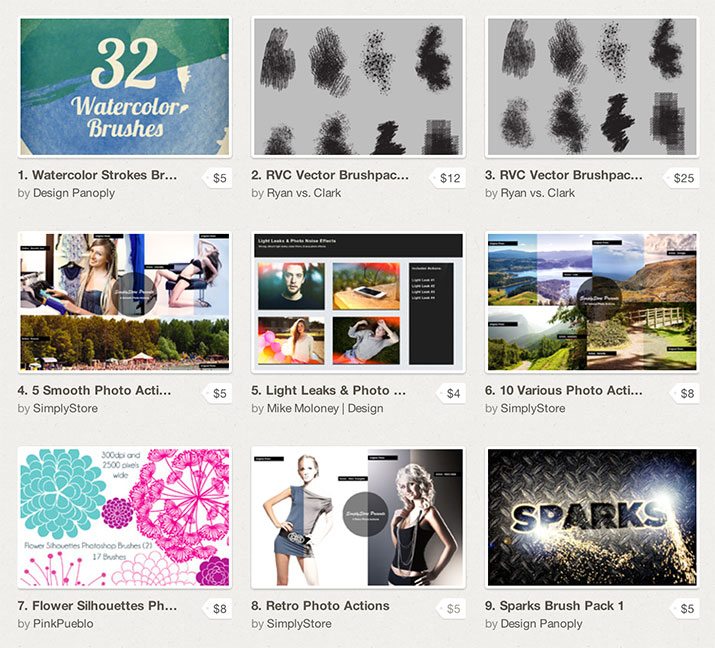 What Makes Creative Market Unique?
"It seems that they set out to do pretty much the opposite of what we're used to seeing from creative marketplaces."
Typically, another place to buy design goods online is hardly newsworthy. There are a lot of strong contenders in this category already and any newbie is going to have some difficulty attracting customers who might already be loyal to other marketplaces.
However, the thing that made us take a closer look at Creative Market is their intentionally unique positioning. It seems that they set out to do pretty much the opposite of what we're used to seeing from creative marketplaces.
There are four primary strategies here that are really impressive from a seller's perspective.
70% Commission
There's no complicated, tiered system here where you have to start at a low commission and work your way up to something decent. Every seller gets to keep a whopping 70% of their sales. In case you haven't shopped around, this is a dang good rate and something that will really set this site apart.
Set Your Own Prices
Typically with these types of sites, you upload the thing that you put a lot of hard work and dedication into only to have someone else decide how much its worth. Your entire pricing strategy is at the mercy of a random reviewer. Not on Creative Market. This site gives you complete control over pricing your items. How cool is that?
No Exclusivity Promise
All the big players, such as iStock Photo, either outright require exclusivity or drastically reduce your commission rate if you're not willing to sign their exclusivity agreement. By contrast, Creative Market simply doesn't seem to care. Be exclusive, sell elsewhere, it's up to you.
No Review Process
If you've ever sold stock artwork before, you know the drill. You work hard on something that you know can sell well only to be rejected by a reviewer who woke up on the wrong side of the bed. I know from experience that this is beyond frustrating. Creative Market is tossing this idea out completely. You sell whatever you want to sell. If your items are no good, your reputation and ratings will tank. If your items are great, potential buyers will see that and know they can trust you.
That Local, Homegrown Feel

In addition to the impressive unique selling propositions above, Creative Market is attempting to distance itself from the overly corporate feel of the larger stock sites by using the metaphor of a small town farmer's market.
You don't simply upload and sell items, you "open a shop." Further, the site is heavily geared towards introducing you to the great people behind the products so you make that personal connection when you purchase an item (pretty brilliant from a marketing perspective).
My Thoughts on Creative Market
Now that we know what Creative Market is and how they plan on carving out a niche for themselves in this super competitive industry, let's jump into my personal thoughts on the service.
Design
First of all, it must be said that Creative Market is one of the most attractive design marketplaces I've seen. Given that everyone just rips off whatever Envato does, these types of sites all start to look the same after a while. Creative Market, on the other hand, feels fresh and different. The color palette is so incredibly cozy, the textures are perfect and I love the hand drawn artwork that defines the brand.
Seller-Focused to the Max
If you're planning on selling goods, Creative Market has to look good. The 70% commission rate, freedom to set prices, lack of a review process and freedom to sell elsewhere pretty much eliminate all of the gripes that designers typically have with online marketplaces.
For this reason, I think they'll attract a ton of designers to the service, which means their content will hopefully grow pretty quickly. They are in an "invite only" mode at the moment though, which I assume is temporary.

The Downside of a Seller-Focused Model
"All of the other marketplaces swear that they have to abide by certain practices to survive, most of which really suck for sellers."
If you're focused on making sellers happy, some of that happiness is bound to come at the expense of the buyers. To a certain degree, you can see that taking place here.
For example, take the lack of an exclusivity agreement. This sounds awesome to a seller, but to a buyer this could, in the long run, equate to a site full of the same old content that you see everywhere else. If I wanted to purchase something from this site, I'd likely Google around to see if I could find the same file elsewhere for a better price.
Similarly, it's awesome for a seller that there's no review process, but from the buyer's perspective, how long until the vultures swoop in and fill the site with subpar content? Hopefully, the current invite system will keep this from happening any time soon.
In the end though, I'm thrilled to see someone finally standing up and trying out this stance. All of the other marketplaces swear that they have to abide by certain practices to survive, most of which really suck for sellers. Creative Market is boldly challenging these ideas, and if they're successful, they'll shake up this market considerably.
What Do You Think?
Creative Market is definitely an exciting new platform and I really think that it's going to do well. If you're at all interested in selling stock products, I encourage you to jump on board and catch some of that early adopter seller action.
Stop by the site and let us know what you think. Are you excited about the unique approach being taken here? Do you think it'll work? We want to know!